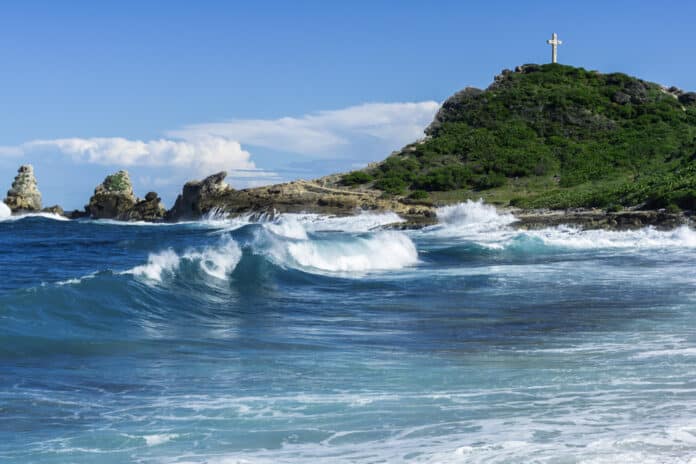 La Pointe Des Chateaux
La Pointe Des Chateaux is a gorgeous rugged area on the Southeastern coast of Grande-Terre island in Guadeloupe.
At first you might think that La Pointe Des Chateaux is only the the far tip of the Grande-Terre island in Guadeloupe. It is, but what you might not realize is that there are a ton of different things to see and do there.
The most common expectation is being able to watch crashing waves on rocky shores/cliffs. I loved that this was available, but once again, there is more.
This area features great hikes, beautiful beaches, as well as a site of spiritual significance. Even though a lot of people show up here, the area is large and you will find plenty of space regardless of which activity you choose.
Where is Le Pointe Des Chateaux located?
How to get there
To get there, the best thing to do in rent a car and drive there. It is well marked and all the roads are paved well.
Where to Stay in Saint Francois
If you are planning on visiting during sunrise or looking to avoid the crowds I highly recommend staying a few nights close by. Nothing worse than having to drive an hour before sunset to get there. Below are a few places I recommend
Résidence de tourisme Domaine – Free bikes, an outdoor swimming pool, a garden, a terrace and a bar. Both WiFi and private parking are available at the lodge free of charge.
Gîte Pointe des Châteaux – This beachfront property is a perfect little home. It is equipped with a washer machine, free parking, kitchen, terrace, BBQ and so much more. This property is only a 11-minute walk from Anse a la Gourde Beach and 0.9 miles from La Douche Beach.
What to Expect at Pointe Des Chateaux
When you pull in there a a looping parking lot. The area will likely be buzzing with lots of people, including tour busses. Do not let this dissuade you as most people are quickly in and out of the area.
You will see various vendors set up in the parking lot offering things for sale as well other tours.
Unfortunately, the one thing they don't have is restroom facilities!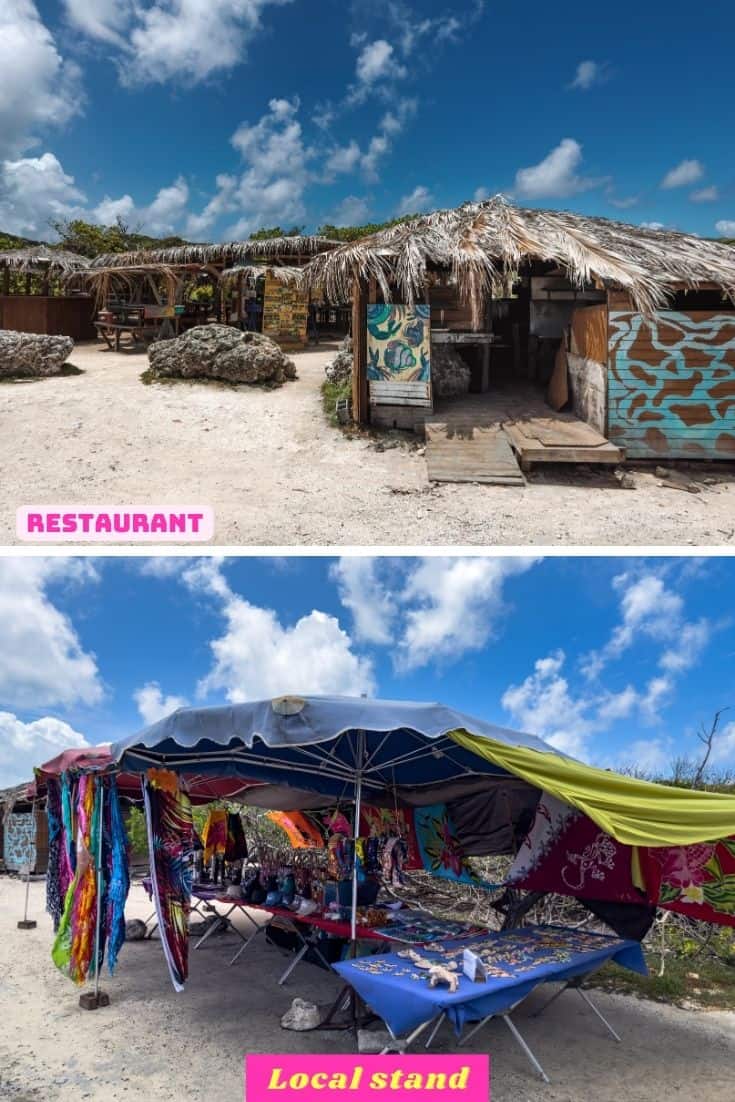 From here you can quickly take pictures of the cliffs, begin a hike, or even lounge on a beach.
La Pointe Des Chateaux Parking
There is plenty of free parking that is located right next to the beach and hiking trails. We had no issues finding a spot on Saturday mid day.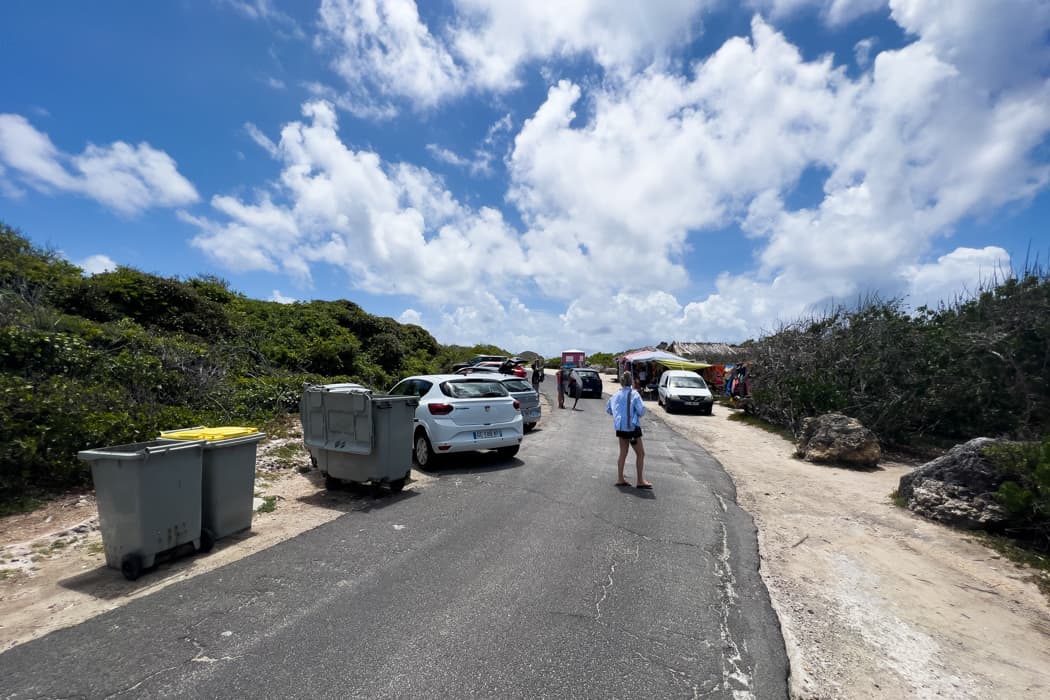 Top Beaches in the Area
Not just for photo-ops and hikes, there are few different beaches you can plan to spend your afternoon on!
La Douche (The Shower)
This place is perfect to visit on your way or coming back from La Pointe Des Chateaux. It is on the way.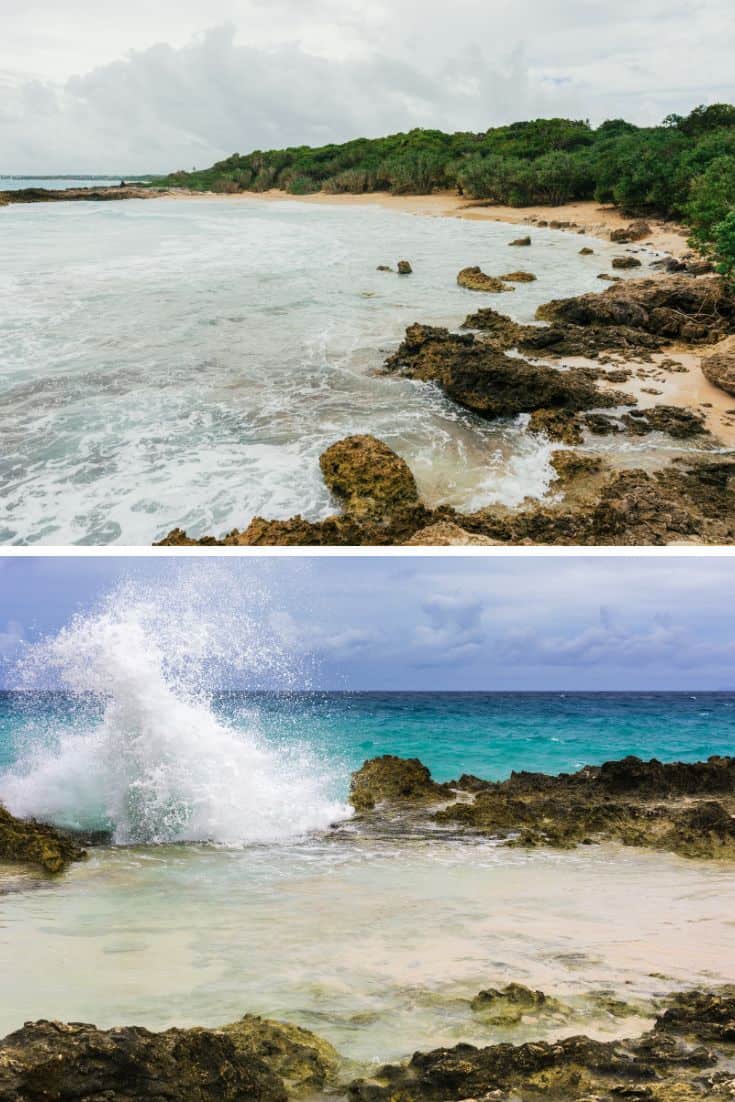 Anse Des Chateaux
Anse Des Chateaux is the mini cove beach that is directly at the parking lot and along the main hike. The waves here are often turbulent and there will be lots of people hiking in the area. People generally don't lounge on this beach.
Plage Grande Anse Des Salines
First off, do not confuse Plage Grande Anse Des Salines with Plage Des Salines! Plage Des Salines isn't worth going to and Plage Grande Anse Des Salines is.
This beach is a couple hundred yards east of the main Pointe Des Chateaux parking lot. It features a long stretch of white sand and the gorgeous clear water.
The wind and wave conditions can vary though, so if it's rough be wary of swimming due to strong currents. With little wind and calm water it can be a good spot for snorkeling.
Anse A La Gourde
Anse A La Gourde is a little bit further west of Plage Grande Anse Des Salines and Pointe Tarare, but is still in the entire Pointe Des Chateaux area. This beach has plenty of its own parking a a reef offshore that is perfect for snorkeling when the water is calm enough (unfortunately the waters are frequently too aggressive).
Pointe Tarare
This is a gorgeous cove beach, but word of warning, it is definitely a nude beach.
Hikes at Le Pointe Des Chateaux
Pointes Des Colibris
If you want to drive all the way to the point and park, you can hike up to the giant cross on the promontory. If you don't want to do a much longer hike, from the parking lot up to the cross is less than 15 minutes and under 1/2 a mile.
There is a well worn and widely marked trail. It's easy to do, even with kids. From the top you can see the other beaches in the area. Just be careful when the rocks are wet.
Pointe Chateaux – "hiking Pointe Chateuax" is generally known as hiking the trail to the cross. The last time I was there a Catholic tour group all got off of a bus and wanted to visit the cross as part of their religious pilgrimage.
Anse A La Gourde to Le Pointe Des Chateau
If you are looking for a longer hike you can follow one trail from Anse A La Gourde and all the way around covering Le Pointe Des Chateaux.
This loop trail is about 7.5 miles. It is well marked and typically takes about 2 to 3 hours to complete. You can read more about it here.
Anse Degrat
Conclusion: Is La Pointe des Chateaux worth visiting?
Absolutely. In my mind, this is one of the most beautiful areas on Guadeloupe. And while it is more touristy than anywhere else on the island, it wasn't overrun. There is still plenty of space to not feel crowded.
This area if famous for producing amazing photos! Even if you don't want to hike or lounge on one of the beaches it is still worth a quick stop!