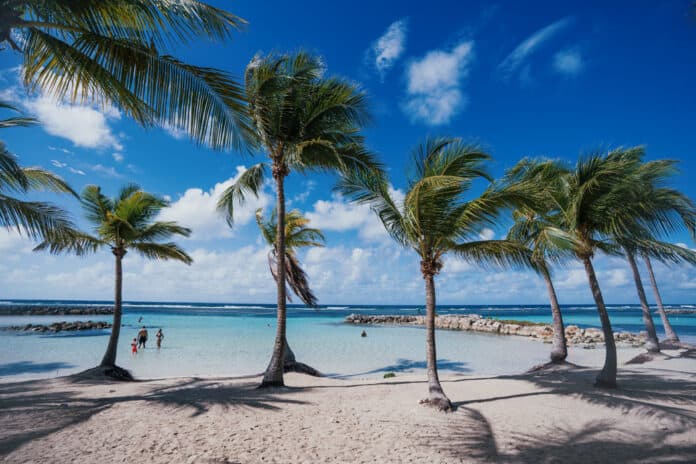 Plage Du Bourg is a gorgeous, must-see beach located in Sainte-Anne on Grande-Terre island in Guadeloupe. You can expect clear turquoise water, soft white sand and calm water perfect for families and swimming.
If you are looking for a buzzing city beach (located just .3 miles from the city center) then you should consider Plage Du Bourg in Sainte Anne Guadeloupe. This gorgeous beach is in the center of the action. There are tons of amenities on the beach and in the area.
What you sacrifice in crowds you can compensate for in cool offerings like food trucks or massages on the beach.
The beach itself is gorgeous, just know that no matter how early or late you show up there will be other people in the area. That being said, this is still Guadeloupe, meaning that even on the busiest days it won't be overrun leaving you to compete for a stretch of sand.
Plage Du Bourg Info
Where: Sainte Anne, Grande-Terre, Guadeloupe
Facilities/Amenities: Volleyball, food vendors, bathrooms
Parking: crowded lots directly off the beach, but plenty of nearby street parking
Available excursions:
Cost: free
Name Translation: Plage Du Bourg
Plage Du Bourg translates to the beach of the village. This name is fitting since this beach is in the middle of Saint Anne. The size of Saint Anne could accurately be described as a village.
Where is Plage Du Bourg Located?
Plage du Bourg is located 250 meters (820 ft) east of Sainte Anne beach. The two beaches are connected so it is possible to walk from one to the other.
Located on the southern tip of the island of Grande-Terre. Of the connected two main islands, this one is on the bottom right side (as oriented by most maps).
How to Get To Plage Du Bourg
If you are coming from the airport the drive will take you about 35 minutes. Thankfully, the routing doesn't take you on the main shoreline road, so even at busy times you are likely to avoid the worst of the traffic.
I highly recommend renting your own car in Guadeloupe! They are generally cheap and it gives you access to all sorts of amazing places. It would be really hard to get around without one. Reserve your car far enough in advance to make sure you get the best rates – book here now.
If you are staying close to the beach it is possible to walk there. La Toubana hotel is one of the nicest on the entire island and very close to Plage du Bourg.
Plage du Bourg Parking
Parking at Plage du Bourg is free.
You may panic if you only look in the mini lots directly off the beach. Those spots fill up really quick (likely from many of the vendors showing up early to cook their food or organize their wares.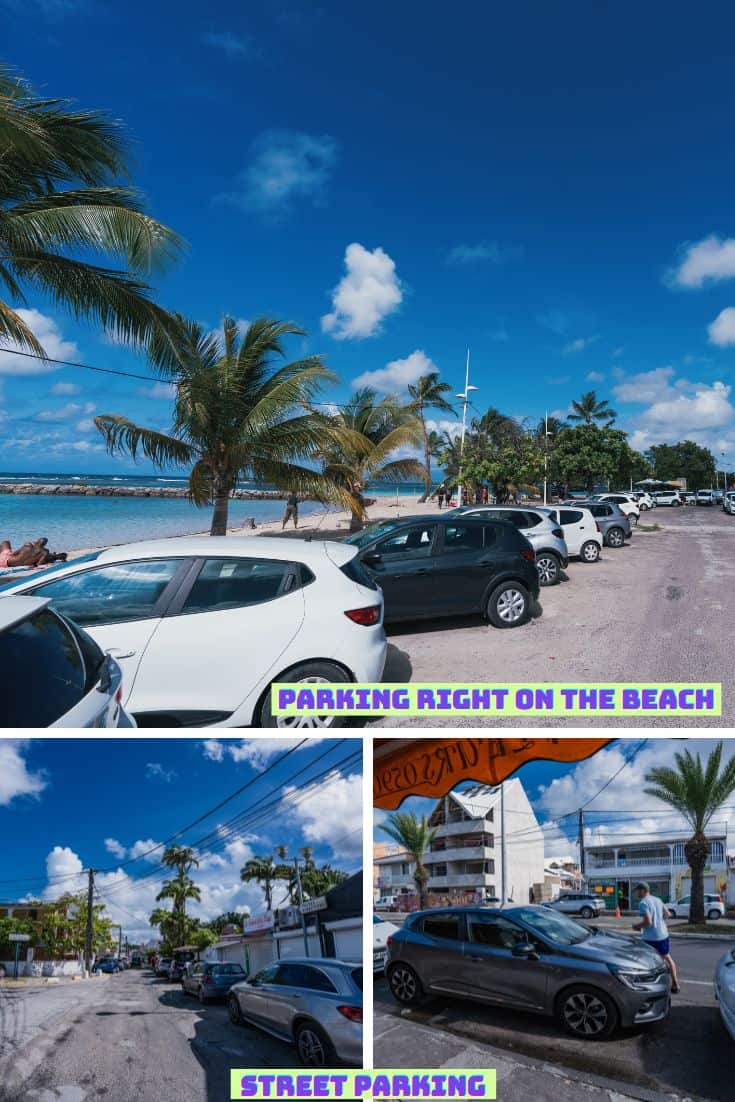 What you can Expect at Plage Du Bourg
Water: Crystal clear turquoise water, calm, stays shallow far out, easy entry.
Length: 500 meters (1,640 ft) so long.
Sand: Fine white sand
You will find the gorgeous white sand and crystal clear turquoise water the the Caribbean is famous for. If you are looking for that "postcard" look with palm trees gently swing in the breeze then this is it!
The shore shape is pretty unique as it consists of several bays.
You will also find plenty of vendors and offerings along the shore. I love the restaurants, bars, and especially the food trucks. There are some more "local" offerings of jewelry and other crafts manufactured by residents.
One perk is that if you just want to zone out on the sand you aren't likely to be approached very often. While lounging on the beach for a few hours I can only remember one vendor approaching us to try and sell us something.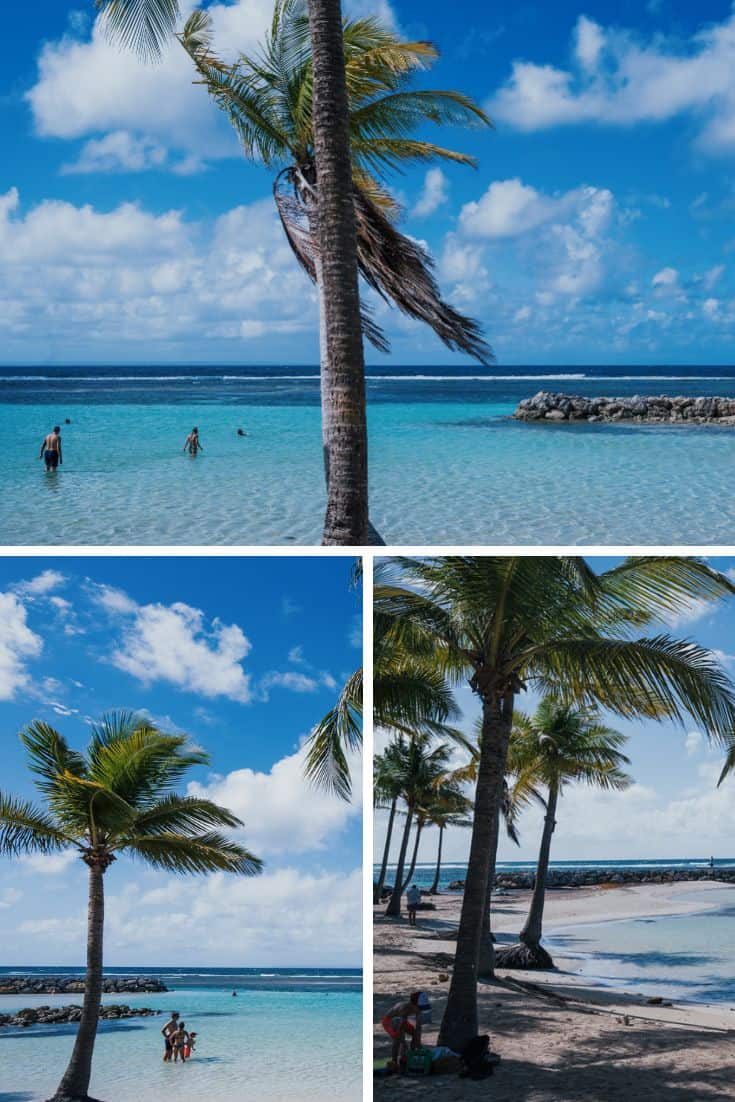 Unique Bathroom/Booths
The free bathrooms on the beach look like old-school phone booths. It is the type of space that I would imagine Clark Kent using to change into his Superman Costume. While they aren't fancy they are located through the beach and get the job done.
Crowds
The only real downfall of this beach is the crowds. It was not crowded when we were there (May, Saturday morning) but during high season it can become overrun with locals and tourists.
Even though there aren't likely to be a lot of vendors approaching you to sell stuff (more seem to set up tables) you are almost guaranteed to not have this beach to yourself. It is really popular to locals as well as tourists. Thankfully the stretches of sand are wide enough that you shouldn't have any problem finding your own space.
Tip – Walk to the East End
At the east end of the beach there is a protected cove. Not only is the calm water perfect for kids to swim in, but it also has way less people. When we were there, there was only saw one other couple in the cove. This area is especially nice if you are looking to keep swimming kids contained.
Swimming Conditions
Plage du Bourg is fully protected from the waves by a cove. This is a great place to swim if you are looking for calm waters. In general, this beach seems to have less waves than others on this part of the island. The sea floor is sandy to not hurt your feet.
Plage Du Bourg Snorkeling
This should be a decent beach for snorkeling. While there isn't a ton of sealife, you can see some near the rocks on the edges of the beach, and the water is generally calm enough to allow you to peacefully enjoy it.
Things to do in the area
There are a few other beaches close to this one. My favorite on this part of the island is Plage De Bois Jolan. You are also close to Plage De Petite Havre.
Other beaches close by:
Plage de Sainte Anne – walking distance (2 minute drive)
Plage de la Caravelle – 7 minute drive away (this beach is one of my favorites in the island. Definitely worth checking out.
Plage de Gros Sable – Exclusively a surfers beach (13 minute drive away). Great beach to watch surfers. Beautiful and very different than most of the other beaches we visited in Guadeloupe.
Conclusion: Is Plage du Bourg worth visiting?
This is a must visit beach in Guadeloupe! It's gorgeous, right in the center of town, shallow and calm water that is perfect for swimming and relaxing in the water.
If you are on the southeast side of Guadeloupe and want a beach with absolutely all of the offerings then this is the beach for you. I do think there are others that are slightly prettier, but it's not like this one isn't gorgeous.