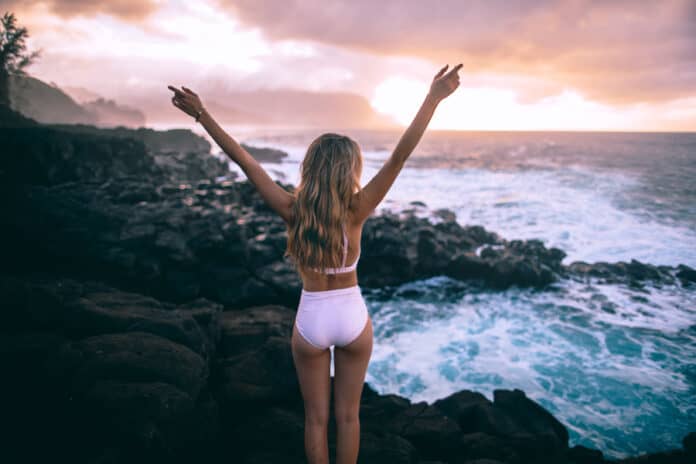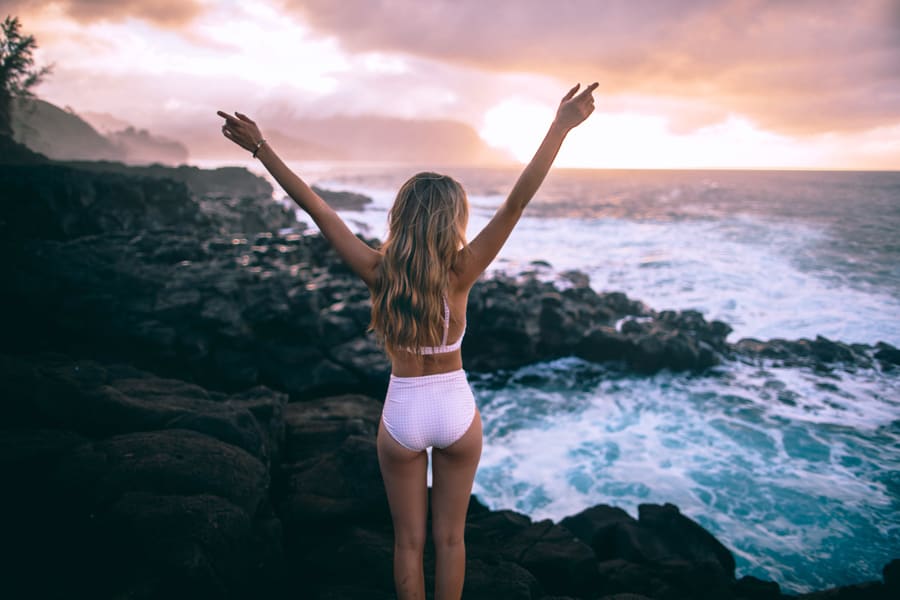 I love the Kauai Queens Bath! It sounds weird to want to visit a spot where royalty used to bathe (yes that's how it got its name). Once you realize that it's not really a bathroom and see what the site is actually like, it stops sounding weird really quick.
The Queen's Bath Kauai presents is actually a tide pool created by waves crashing against lava rock. The waves gather inside the rocks creating an area about the size of a swimming pool. This swimming pool of gorgeous clear water is perfect for a dip to avoid the hot Hawaiian sun.
You can access this awesome pool in the Princeville area of Kauai via a quick hike.
Quick Warnings
The short hike to get to the Queen's Bath has a couple difficult stretches and wave conditions can make the pool 100% not safe to swim in.
Queen's Bath Location
The Kauai Queen's Bath is located in the Princeville resort area. Even if you don't stay in this area, it is still worth making the trek to this part of the island. Many people will unknowingly pass it on their way to the Napali Coast.
It is located on the northern coast of Kauai about 15 minutes from the Hanalei resort area and about 1 hour from the airport.
Queen's Bath Parking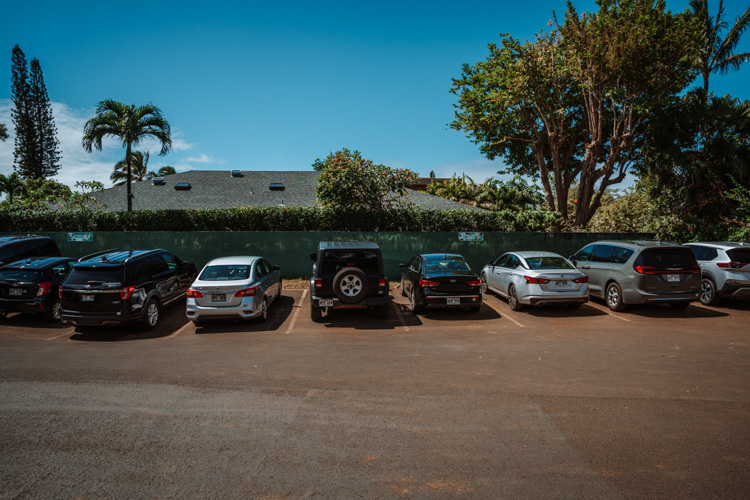 Full disclosure, this is probably the biggest negative of the attraction. There are very few spots and there are signs all over forbidding you from waiting for someone to finish the trail and pull out of their spot.
A lot of people will park a mile away and have to hike to the trail head. If you get there early in the morning or later in the day you are much more likely to get a spot in the limited lot.
Queen's Bath Hike Details
Distance: 1 mile out and back
Difficulty: some people say easy, but I say moderately difficult due to a couple steep stretches
What to bring: since it's not long you could do it in flip flops, but I recommend sturdy footwear
Queen's Bath Trail Entrance
Be careful since the Queens Bath trail head is actually easy to miss. It is a little counterintuitive if you are looking at your GPS as you ultimately hike around to the Queen's Bath beginning in the opposite direction.
From the parking lot you will go to the right. If you are facing the cars and then make a left at the trail sign. (See photo below)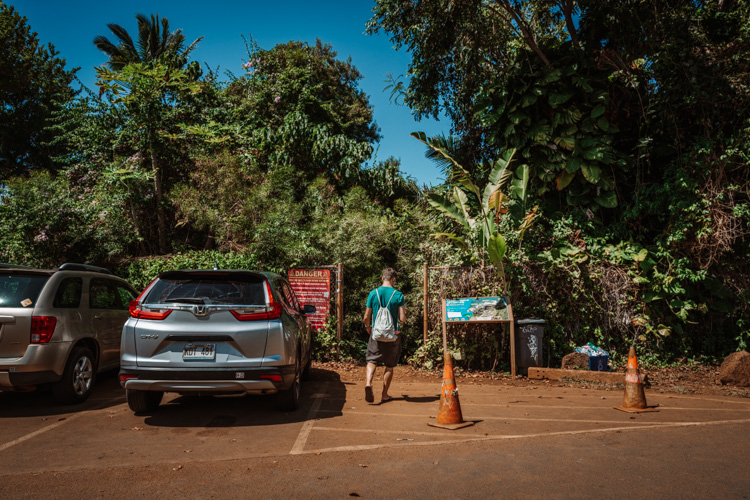 Start of the Queens Bath Trail
At the very start of the Queens Bath hike the terrain can get a little tricky. Make sure you wear proper shoes and be careful if it has rained recently. The trail can get super muddy and slippery.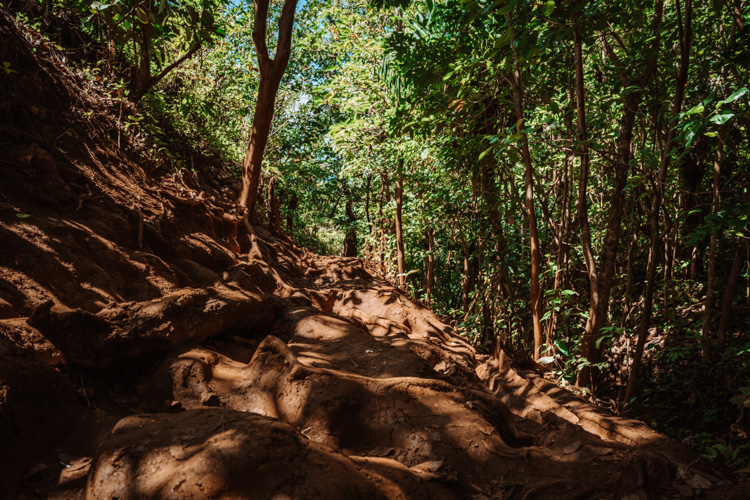 Don't fret if the beginning of the hike is difficult as it ends quickly. You will soon pop out of hte forest and be able to walk across the rocky coast.
You will need to traverse a bit of the rocky coastline to get to the actual Queen's Bath.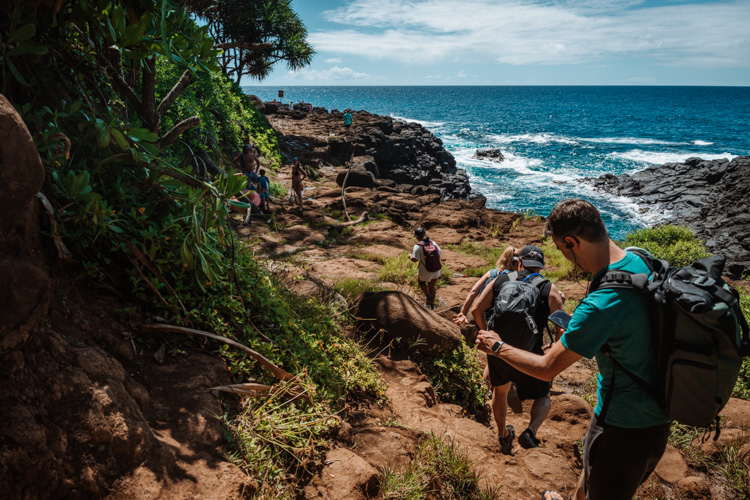 Queen's Bath Safety Information
The Pool of Death Isn't The Queens Bath
Before you get to the actual Queen's Bath you will pass a similar looking pool, except this one is open directly to the ocean and allows waves to flow in and out quickly.
This pool has been nicknamed the "pool of death". You can see why it earned this name in this intense YouTube video.
WARNING – Queens Bath Deaths Are A Real Thing
Yes, Queens Bath Kauai deaths are a real thing! At times (more common in the winter) the waves get so intense that you literally cannot swim.
Waves can wash over the cliff and slam you against the incredibly sharp rocks and then pull you out to sea. Unfortunately this has happened to unsuspecting travelers.
The trail is marked with a headstone for those that died here. There are safety tubes lining the coastline in the event of an emergency, but if you get pulled out to see you might not be in good enough condition to grab a hold of one.
Safety tubes in the event of an emergency can be found along the coastline at Queen's Bath.
This is not Queen's Bath but is actually known as the "Pool of Death," the subject of a viral YouTube video.
Queens Bath Kauai Deaths
Heed the warnings and proceed with extreme caution at Queen's Bath. Deaths and numerous injuries have occurred in the area. Read more here.
Pool of Death Videos
A few additional examples of the danger are illustrated below.
The Actual Queen's Bath
The actual Queen's Bath is usually much more peaceful. The standing water is perfect for a soak, and there are even some rocks that allow you to cliff jump into the pool. If you do want to do this, make sure you test the depth ahead of time.
I've been there when it is close to 10 ft deep and at others times it is only a couple of feet deep, obviously making it unsafe to dive in.
WHAT TO BRING
Reef-safe sunscreen or a rashguard: The sun here can be very strong. Make sure to wear a reef safe sunscreen or a rashguard. I wear the one from Skims and I love not having to worry about getting burned when I am out in the sun ALL DAY. Free people also has some amazing rash guards you can shop here.
Backpack or waterbottle sling – This is my favorite backpack, I take this thing everywhere with me. If you don't want to bring a full backpack this Beis waterbottle sling is my absolute favorite. It fits a waterbottle, iphone 13 pro max, plus some extra space for bars or snacks or your wallet. Anything else you might need. I always hike with these That's it bars from Amazon. OMG, they are sooo good and only have a few minimal ingredients.