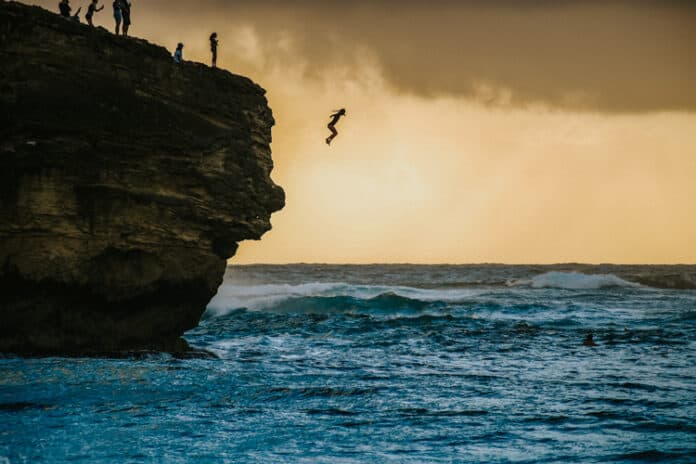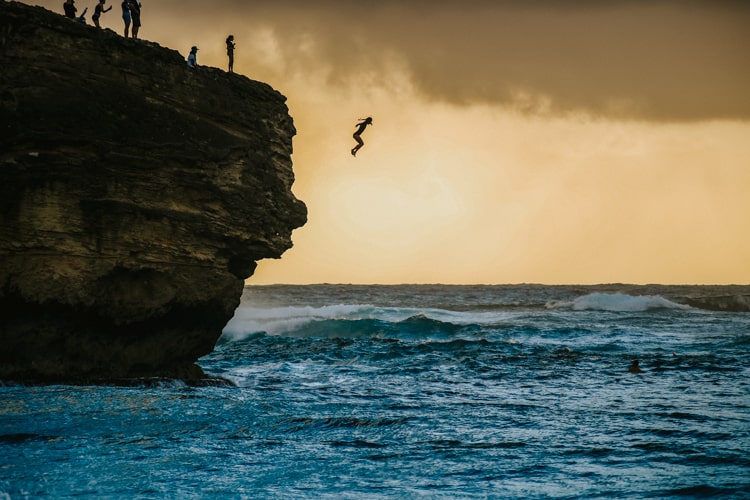 Shipwreck Beach of Kauai is one of the most popular beaches on the entire island. Its popularity makes sense once you realize that this beach genuinely has it all!
It is located close to a lot of different hotels in one of the popular resort areas. In addition to being stunning, it also provides consistent waves for surfing or body boarding.
If you are looking for even more adventure it features a spot for cliff jumping and houses a trail head for an amazing hike.
The only real negative is that this beach isn't really a secret and you are not likely to have it to yourself. Don't let the crowds deter though; I've gone twice and both times there was still plenty of space to spread out.
Shipwreck Beach Basic Info
Sand Color: Golden soft sand (Once in the water there were quite a few large rocks which made it a little harder to swim)
Water color: Bright blue (see here)
Best For: lounging, cliff jumping, surfing, starting point to hike the Mahaulepu Heritage Trail, and wedding photos
Famous for: Wedding photo spot & cliff jumping
Swimming Conditions: Okay conditions in the summer, strong surf and currents at times that would make swimming more difficult. Steep shoreline, water gets deep fast. Also, a lot of rocks in the water when we were there. Big rocks.
Days and times I visited: Friday afternoon and Saturday morning (busy but not overcrowded)
Facilities: bathrooms, showers, and picnic tables
Lifeguards: No
Cost: Free
Parking: Small lot that fills up quick. There was a line of cars waiting to park when we arrived.
Source of the Name Shipwreck Beach
Not surprisingly the beach earned its name as being the previous site of a shipwreck, though there isn't currently any remnants you can explore.
Shipwrecks Kauai Location
Shipwreck Beach is located in the Poipu resort area on the south east coast of Kauai. There are a lot of nice hotels in the area, so there is a chance you can walk here from your hotel.
It is about a 25 minute drive from the airport, and about 5 minutes from the famous Poipu Beach.
Shipwreck Beach Map
Shipwrecks Beach Parking
There are a couple of small lots that you can park in if you aren't staying in one of the resorts. Unfortunately they do fill up quickly so you may want to try to arrive earlier or later in the day if you can.
Cool Things To Do On This Beach
Aside from the obvious soaking up of the sun while lounging in the sand, there are a number of extra things available at this beach.
Cliff Jumping at Shipwrecks Beach Poipu
If you are feeling adventurous you can cliff jump off of the rock cliffs that jut out into the ocean on the east end of the beach. If you are facing the ocean this will be on your left side. The height of this cliff is about 40 feet.
Before you jump though you need to make sure that the waves and currents are not too intense. I've seen the cliff with calm waters and lots of people jumping and also see waves being way too intense to safely jump.
I'm no expert on the waves and currents at Shipwrecks Beach, so only jump if you are 100% confident you can do it safely.
Shipwreck beach cliff jump height: about 40 feet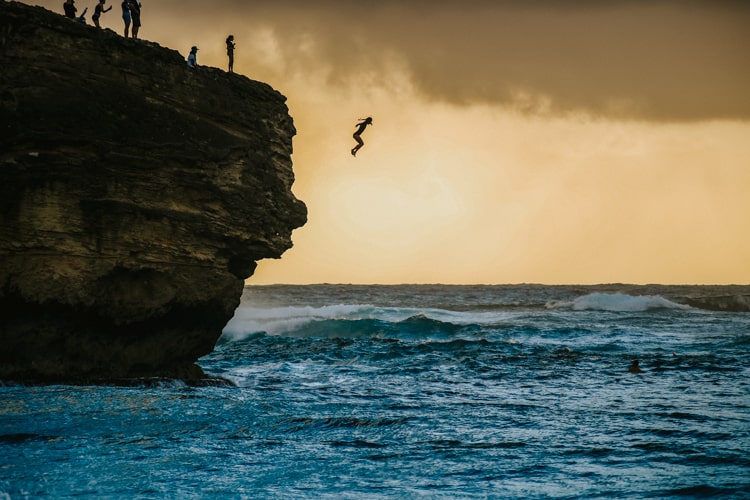 Cliff jumping at Shipwrecks beach in Kauai Hawaii
Consistent Waves For Surfing or Body Boarding
This beach features regular waves that are perfect for surfers looking to catch one. Even if you aren't a surfer, the waves are still fun to play in, though you will want to be careful about letting little kids in the water.
Check out my YouTube video of this beach here.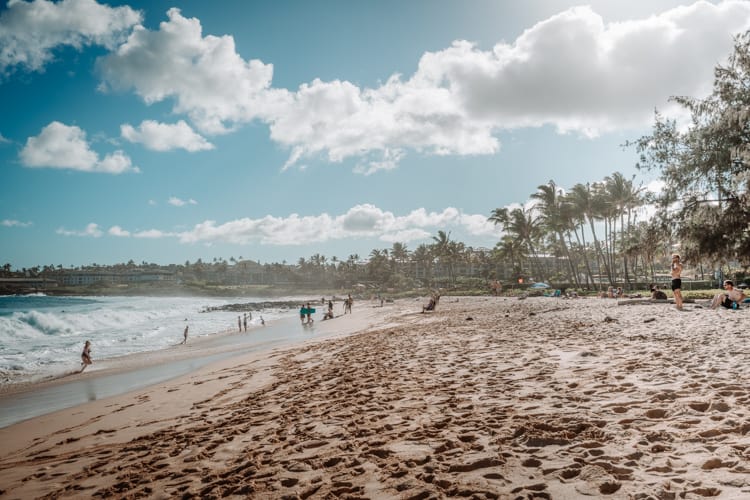 Swimming conditions at Shipwrecks beach
Generally, this beach has decent conditions for swimming during the summer. But strong waves and a powerful current can make swimming dangerous.
Also worth mentioning were the rocks in the water. I didn't find this mentioned anywhere else while researching so I was thrown off to find out once there that there were A LOT of rocks rolling around in the waves when we were there. Like, big rocks.
It made it so hard to swim because the rocks were large and kept moving with the current. It was honestly pretty annoying. (See the photo below and imagine trying to swim or play in the waves with those big volcanic rocks rolling around in the water.) Doesn't exactly make for a good time.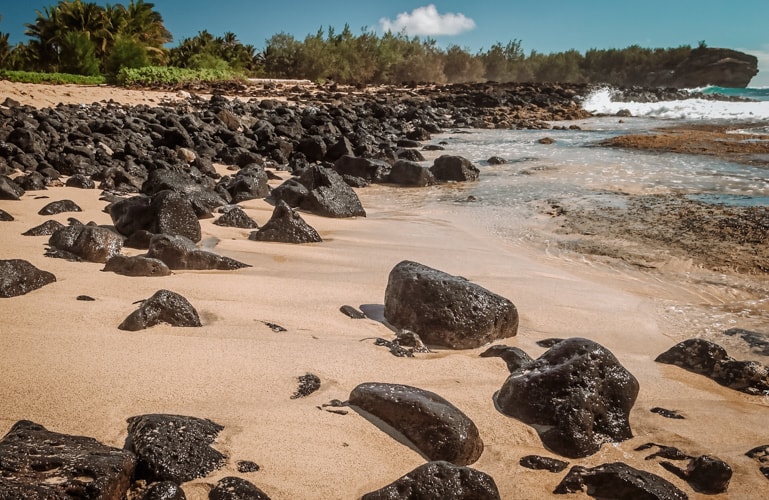 The snorkeling isn't great
Also, I'm sure it's not surprising the waves generally make the water unsuitable for snorkeling. Instead, I recommend checking out Ke'e Beach or Tunnels beach.
Shipwreck Beach Kauai Wedding Photos
If you are planning on getting married in Kauai Shipwreck's beach is famous for taking spectacular wedding photos. We saw multiple couples getting their wedding photos taken while we were there.
Hike the Maha'ulepu Heritage Trail
The Mahaulepu Heritage Trail leaves directly from Shipwreck Beach.
You can easily find it if you walk towards the cliff jump and simply continue along the coast line.
This trail follows the southern coast of Kauai and provides consistently amazing views. You will waves crashing against rocky coasts, tide pools, and mini cove beaches. If you make it all the way to the end you will pass a resort golf course and have a chance to explore a cave.
If you go all the way out and back it is about 4 miles, but even if you want to only go a bit you will have striking views immediately.
Keep your eyes open for Kauai's famous sea turtles along the way! Read more about this hike here.
Beach Amenities
There are no lifeguards which can be scary given what can be intense wave conditions, but there are restrooms, showers, and picnic tables.
Conclusion Pros and Cons
I love this beach, but to summarize.
Pros
Striking views
Consistent waves
cliff jumping
Hike trail head
Convenient location
Cons
Can get crowded
Waves can get a little intense
Rocky in spots
No lifeguards
Hotels near Shipwreck Beach
Here are some of the best hotels near Shipwreck beach.
The most obvious hotel is the Grand Hyatt Kauai Resort & Spa which is basically located on Shipwreck beach. It is expensive, but it is an amazing hotel if you have the money.
Check out this page for more details.
Hilton Vacation Club The Point at Poipu – An amazing resort with a fitness center, hot tub/jacuzzi, fishing and so many amenities. Also, located very close to Shipwreck beach.
Check out this page for more details.
Discover more of the best hotels near Shipwreck beach here.
Conclusion: Is Shipwreck's Beach worth visiting?
Yes! Although the waves when we were there were a little too intense for me personally to swim, this beach is honestly amazing. The cliff jumping, the sand, the nearby trails! It's definitely a beach worth visiting.
What to do nearby:
Maha'ulepu Heritage Trail (Awesome trail! Easy trail with non-stop views along the coast) – Trailhead is located on Shipwreck's Beach.
Poipu Beach Park – 5 Minute drive from Shipwreck beach
Haʻula Beach
Brennecke's Beach – 5 minute drive
Planning a trip to Kauai? Read everything we know about Kauai here:
My husband and I have been to Kauai many, many times and have written up more guides to help you plan your trip. These are my most popular blog posts and Kauai travel guides to help you plan your trip.
Kauai Beaches
Best Beaches for Snorkeling on Kauai
Best Cliff Jumping in Kauai
More awesome beaches
Kauai Hiking Guides
Read about all the hikes we have done in Kauai here.
Read all other posts on Kauai here.