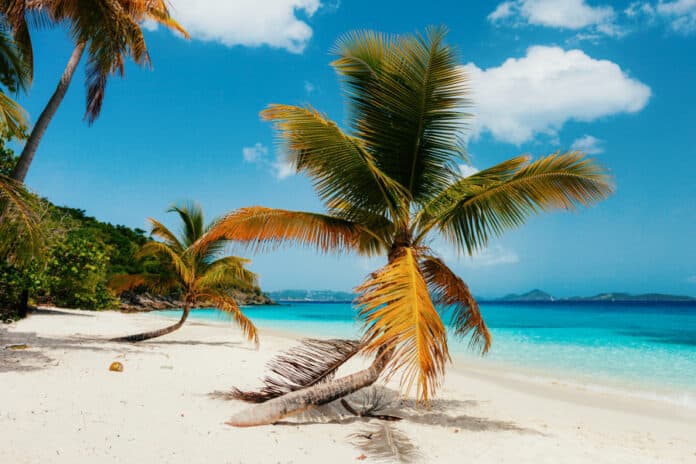 It takes a bit of effort to get to this beach. First off, you probably have to fly to the US Virgin Islands (no passport needed). The problem is that flights into the US Virgin Islands land on St. Thomas or further away St. Croix, completely different islands.
There are no flights to the island of St. John, but thankfully there are consistent, quick, and cheap ferries to get across. Once you make it to the island you still have another hurdle to pass. Getting to this beach requires a 1.5 mile hike via the Lind Point Trail!
Once you've completed all that effort you will be greeted with an amazing, and largely secluded beach. Side note – the hike iteself is amazing. Salomon Beach features gorgeous water but it is a little bit rocky. Thankfully, this beach isn't the only thing in the area; it is immediately next door to the more famous Honeymoon Beach.
Salomon Bay Beach in St. John (US Virgin Islands)
Salomon Bay Location
Wondering where is Solomon Beach? It is located on the northwest shore of the island of St. John island in the USVI (US Virgin Islands). If you are coming from the Crown Bay Ferry Terminal you are already really close. It is less than a 10 minute walk to the trailhead that leads to Salomon Bay Beach.
How to get to Salomon Beach
In order to get to Salomon Beach you have to hike. There is no direct beach access! Previously you could access from the Caneel Bay Resort, but following a hurricane this resort closed. Authorities don't want to reopen the resort to keep the area more natural, but if you are one who wants the resort to reopen you can sign their petition here.
Now, the only way to get there is to hike just over 1 mile each way on the Lind Point Trail.
Tip – When in the US Virgin Islands I recommend renting a car to get the most out of your experience. It would be difficult to see all the beautiful places in the islands without a car. Reserve a car here.
Some People Say the Proper Name is Solomon Beach Virgin Islands
Even though most of the markings say Salomon Beach, you will see some that are labeled as Solomon Beach. Regardless of which is correct, they are both the same beach.
Hiking via the Lind Point Trail
Distance: just over 1 mile each way
Difficulty: Moderate to easy, though you shoes and not flip flops
Time: about 30 minutes each way
To get to this beach you will start at the National Park Visitor's Center on the east side of Cruz Bay. Thankfully the Lind Point Trail is well marked. There are a couple forks, but you shouldn't have any difficulty figuring out which way is correct.
While the hike isn't difficult, there are definitely some elevation changes and rocky areas. You do not want to hike this in flip flops. I wouldn't say you need full on hiking boots, just don't expect it to be totally easy.
Driving – No Longer Allowed
As discussed above you now cannot drive to this beach since the Caneel Bay Resort is closed. Previously you could drive and park there, but not anymore.
What to expect at the actual beach
The beach itself is a little bit rocky. To get into the water you will have to cross some rocks. While this isn't ideal, there is sand and the water is still gorgeous.
There is plenty of shade for you to relax in, and the sand that is there is soft and white. You can expect very few people to be there.
Salomon Beach snorkeling
The island of St John has some of the best snorkeling in all the Caribbean. Salomon Bay Beach is no exception. If you snorkel here you will see fish of all colors, coral without having to go out too far, and jelly fish!
Facilities
There are no facilities here, BUT if you want them you can go just 50 yards further to Honeymoon Beach. It is nice that Honeymoon beach is just next door because it has all the amenities (snacks, water toy rentals, and drinks etc).
Crowds
Usually people just pass by this beach and don't really stay on it. There is a chance you could have it to yourself.
St. John Nude Beach
Is Salomon Beach a nude beach?
Nude sunbathing is illegal in the US Virgin Islands, BUT historically people gathered on this beach to swim and sunbathe while naked. Supposedly authorities didn't stop anyone from doing this.
This is no longer the case. Salomon Beach is NO LONGER A NUDE BEACH. If there are nudists on the beach supposedly the will be fined by park rangers.
Things to do near Salomon Beach
Honeymoon Beach– highly recommend visiting here. Great snorkeling with easy access.
Salomon Beach or Honeymoon Beach?
Which should you visit?
Salomon Beach is more rocky compared to Honeymoon Beach but also more secluded without all the resort tourists. The short answer is that you should visit both, and it doesn't really take much effort since the two beaches are directly next to each other.
When is the best time to visit Salomon Beach?
The best time to visit is really any time. This beach will not get very crowded even at mid day.
How do I get to St. John island?
99.9% of the travelers that come to St. John come by boat. There is no airport on the island.
Most people stay on St. Thomas island and take the ferry to St. John for the day. The beaches in St. John are all very close together making it perfect to beach hop in a day.
Ferries run every hour between 6:00 am and midnight. Check the exact cost and times of ferry departures here. There are even car ferries, but they don't run as early or as late, but you can get your car across to St. John.
The most popular ferries are out of Charlotte Amalie and Red Hook in St. Thomas (USVI).
Read more on St. John here.