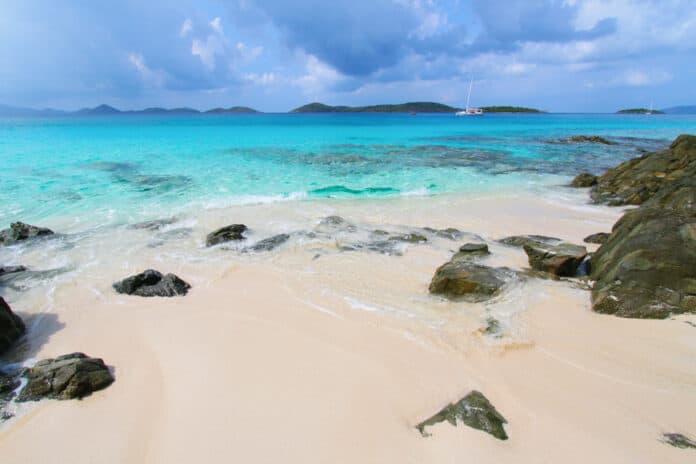 You can probably guess why this beach got its name. When a couple goes on a honeymoon they obviously want to go to the most beautiful place ever. Honeymoon Beach delivers almost exactly what you would imagine!
This gorgeous beach requires a bit of effort to access though. It is in the US Virgin Islands on the island of St. John. One extra difficulty is that the island of St. John doesn't have an airport, so that means you are probably flying into St. Thomas and taking a ferry over instead.
The flight and ferry aren't the only difficulties though. Since a hurricane damaged the closest resort to the beach it's been closed and to get to this beach you now have to complete a mile hike!
Your efforts will be well worth it though since this beach is an ABSOLUTELY PERFECT perfect spot to snorkel, sunbathe, and swim. The calm and shallow waters make it perfect for beginners to snorkel in and there is plenty of shade if you want to escape from the sun.
This beach truly is paradise!
Honeymoon Beach St. John (Virgin Islands National Park)
Where is Honeymoon Beach Located?
Honeymoon Beach is located on the island of St. John in the US Virgin islands. It is on the northwest side of the island. It is really close to the Crown Bay Ferry Terminal though, so if you come over on the ferry you don't have to rent a car or taxi to be able to get to the beach, though you do have a bit of a hike.
To get to the trailhead from the ferry terminal the walk is less than 10 minutes.
You will also pass Salomon Beach on your way to Honeymoon Beach. The rocky Salomon Beach is gorgeous, but keep going just a little further.
Tip – When in the US Virgin Islands I highly recommend renting a car to get the most out of your experience. It would be difficult to see all the beautiful places in the islands without a car. Reserve a car here.
Parking at Honeymoon Beach
There is no beach parking. You will have to park at the Nature Park Visitor Center. Make sure to go inside for a parking pass. The visitor centers is currently open from 9 am to 3 pm. Times are subject to change so make sure you check before you go.
How to get to Honeymoon Beach
Previously you could access from the Caneel Bay Resort, but following a hurricane this resort closed. Authorities don't want to reopen the resort to keep the area more natural, but if you are one who wants the resort to reopen you can sign their petition here.
Getting there via the Lind Point Trail
In order to get there you will have to take the Lind Point Trail to Honeymoon beach.
The Lind Point Trail and hike about 1 mile each way. You can expect this hike to take about 20-30 minutes each way.
Hiking the Lind Point Trail to Honeymoon Beach:
Distance: 2 miles round trip
Difficulty: Easy to moderate
Time: 20-30 minutes one way
The Lind Point Trail starts at the Virgin Islands National Park Visitor Center on the east side of Cruz Bay.
This trail connects the visitor center to Salomon Beach and Honeymoon Beach.
The hike is very scenic and alluring in its own right! The trail itself is mainly dirt with some rocky sections and some tree roots. Expect a few hills/steep parts but its nothing too intense. My husband and I are not huge hikers and we considered this to be an easy hike. Make sure to wear supportive shoes.
The trail is well identified with markers.
There are two trail options you can take: the lower trail (closest to the water) and the upper trail.
Lower trail – The lower trail follows the shore line and is very well defined.
Upper trail – The upper trail has better views of the whole bay, but it is a bit more rocky.
Remember it gets hot, so make sure you take enough water!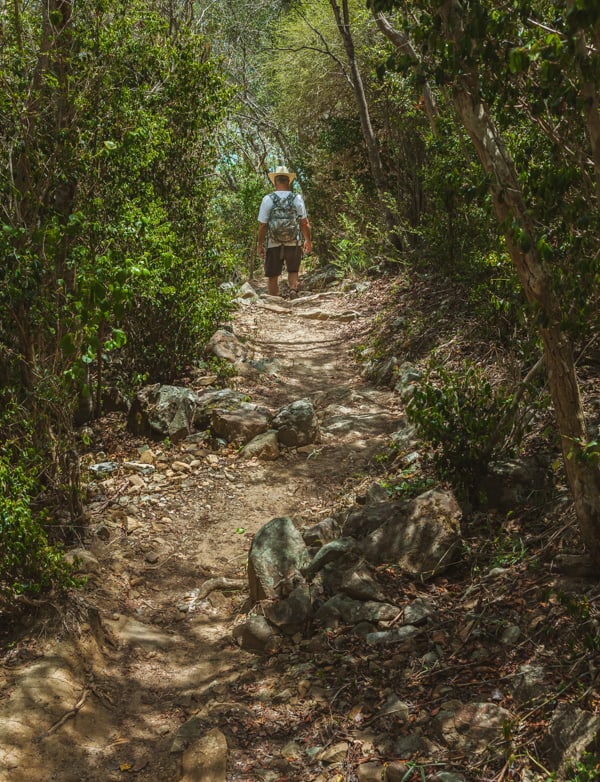 What to Expect at the Actual Beach
Great snorkeling
Sea turtles!!
Easy swimming
Shallow water
White, fine sand (amazing!)
Clear, turquoise water
Crowds will depend on the time of day and the time of the year
Honeymoon Beach Snorkeling
Honeymoon beach has amazing snorkeling. The best snorkeling is located on the west side of the beach, between Honeymoon and Salomon beach.
A lot of the reef is in pretty shallow water, making it easy to see fish, turtles, sting rays, and beautiful coral reef up close! (See photos below)
Snorkel & Swim with Turtles – Semi Private Tour to Buck Island & Honeymoon Beach
Tip – Make sure if you snorkel you have a waterproof phone case (I have this waterproof housing from amazon that works ridiculously well) and a good dry bag for your electronics. This is my favorite dry bag. I never travel without it. Go pro also works wonders!
If you want to be able to take over/under water pics you will need an additional dome housing. I have this one from amazon that connects perfectly to my axis go waterproof phone case and is expensive, but works amazing.
Best Snorkeling for Children on St. John
If you are traveling with children these are the three St. John beaches I recommend that have great snorkeling for children.
Maho Bay – Easy access, shallow water, shade and a great chance you'll see turtles, sting rays and so many colorful fish!
Caneel Bay beach – Shallow entry, calm waters and plenty to see close to shore.
Trunk Bay – This beach, has its very own Virgin Islands National Park snorkeling trail! Pretty amazing. Also has lifeguards.
Facilities
Water-sport rentals
Seasonal bar
Clean bathroom
Lots of Awesome Water Activities to do –
The best time to visit Honeymoon Beach is in the morning. There will be fewer people there, the hike will not be as hot as it will be during the middle of the day. And you will have time to claim the best spot on the beach before it fills up.
Things to do in the area
Salomon Beach – more secluded than honeymoon beach.
How do I get to St John island?
99.9% of the travelers that come to St. John come by boat. There is no airport on the island.
Most people stay on St. Thomas island and take the ferry to St. John for the day. The beaches in St. John are all very close together making it perfect to beach hop in a day.
All the islands of the USVI and British Virgin Islands are very connected via busy ferry routes that connect all the islands together.
Ferries run every hour between 6:00 am and midnight. Check the exact cost and times of ferry departures here.
The most popular ferries are out of Charlotte Amalie and Red Hook in St. Thomas (USVI).
Read more on St. John here.