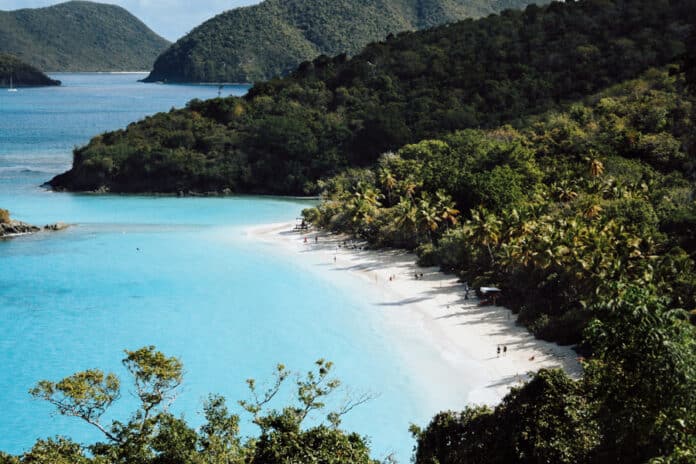 Trunk Bay in St. John (Most Beautiful Beach in the USVI)
There is a lot of hype surrounding Trunk Bay in the Virgin Islands. I typically believe that the hype can ultimately exceed what a beach delivers. Even with Trunk Bay being rated a top 10 beach on earth, I STILL THINK IT IS UNDERRATED!
The only negatives of this beach are that it costs $5 to get in and it can sometimes get crowded. Even with these negatives, it is still a near perfect beach!
The water is so clear it literally feels like you are swimming in a pool! The soft white sand stretches down far enough to give everyone space to spread out on. Not surprisingly it gets rated the best beach in the US Virgin Islands and often one of the top ten beaches on earth.
Trunk Bay Quick Facts:
Other names: Trunk Cay, Trunk Bay Beach, Trunk Beach
Water color: Clear, turquoise blue – as clear as a swimming pool!
Sand quality: Powdery soft white sand
Known for: being an island paradise – routinely voted as a top ten most beautiful beach in the world.
Swimming conditions: generally calm water
Snorkeling: excellent location for beginners, abundance of sealife especially around the rocky outcroppings and islet
Facilities: Restrooms, showers, snorkel rentals, beach shop, bar, and concession stand
Lifeguard: Yes, unlike most of the other beaches on St. John.
Cost: $5
Parking: medium sized lot (it can fill up) and some additional street parking nearby
Available tours: Budget Trunk Bay with Scenic Stops
Where is Trunk Bay located?
Trunk Bay is located in the US Virgin Islands National Park on St. John, USVI. St. John is located directly next to St. Thomas. There is more population on St. Thomas as most of St. John is dedicated as a nature park.
With most of St. John being a nature reserve it means it doesn't have a lot of other facilities. There are way less hotels and there isn't a commercial airport. This means that you are almost guaranteed to come in on a boat, with it probably being a ferry from St. Thomas.
Trunk Bay itself is located on the northwest part of the island. The island is quite mountainous with winding roads cutting back and forth.
Ferry Terminal To Trunk Bay
Thankfully the Cruz Bay Ferry Terminal is quite close to Trunk Bay. If you drive or take a taxi from there it will only take you 11 minutes.
How to get to Trunk Bay
The first thing you need to do is decide what type of ferry you want to take to get onto the island (almost everyone comes via ferry). There is a passenger ferry or a car barge (car ferry). Basically they both pick up and drop off at the same spot.
You can read more about ferry options here – Red Hook Car Ferry.
Drive Your Own Car To Trunk Bay
You will arrive at the Cruz Bay Ferry terminal. If you have your own car the drive is simple and will only take you about 11 minutes.
Trunk Bay Parking
The beach itself has a medium sized lot. There is another overflow lot across the street, but the last time we went both lots were full. We ended up parking a little ways down the street on the side of the road. The walk to the beach was less than 5 minutes.
Taxi To Trunk Bay
It isn't hard to get a taxi to Trunk Bay. There are plenty of options at the ferry terminal, and there are generally taxis staged in the parking lot when you want to leave.
Most of the taxis in the Virgin Islands aren't your standard cars. They are trucks that have benches welded into the bed. They can seat big groups of people at once. Typically if you want to get a taxi from the Cruz Bay ferry terminal to Trunk Bay it will cost you about $5-$10 per person.
Walk To Trunk Bay?
Theoretically you could walk to Trunk Bay since it's only 3 miles. We saw people doing it, but be warned that there aren't sidewalks, and the streets are extremely steep and winding.
Tip – When in the US Virgin Islands I recommend renting a car to get the most out of your experience. It would be difficult to see all the beautiful places in the islands without a car. Reserve a car here.
Trunk Bay Lookout
On your way to the beach you will first see it from above. The Trunk Bay Lookout is directly off of the road. There is technically no where to really pull over to see the Trunk Bay lookout, but you will see cars squeeze along the side of the road.
If you get a taxi to take you out to the beach most drivers will stop and let you snap a picture if you want.
What to expect at Trunk Bay beach
Overall the experience is exactly as advertised. I was shocked that in person the beach looks just as amazing as it does in pictures. The stretch of sand is wide and white. The waters really are clear and turqoise-ish blue.
Check out a quick video of Trunk Bay here.
Picture of Trunk Bay
Here are some more pictures of Trunk Bay to give you a better idea of what to expect.
Trunk Bay Snorkel Trail
Snorkeling in Trunk Bay is truly next level. The underwater trail is one of the coolest parts of the bay. The trail is located at the far end of the bay, pretty close to shore.
It is about 600 feet (225 yard) in length and will take about 30 minutes to complete.
Swimming Conditions
Swimming conditions are great at Trunk Cay Beach, just don't expect any big waves. The water is pretty shallow and calm. This makes it good for kids and those that aren't strong swimmers.
Further, this is the only St. John beach I saw with a lifeguard. I saw a lifeguard tower at Maho Bay Beach, but no actual lifeguard.
Trunk Bay Facilities
This beach features all the facilities you would want at a beach. Even better, they are well maintained. There are showers, generally very clean restrooms (huge perk), beach chairs for rent, and even a beach volleyball net.
I also love that there are snorkel equipment rentals, a beach gear shop in case you forgot a towel or sunscreen (not cheap though), as well as a bar and concession stand! The seats for the bar and concession stand aren't directly on the beach which isn't ideal, but it's a two second walk back to the sand.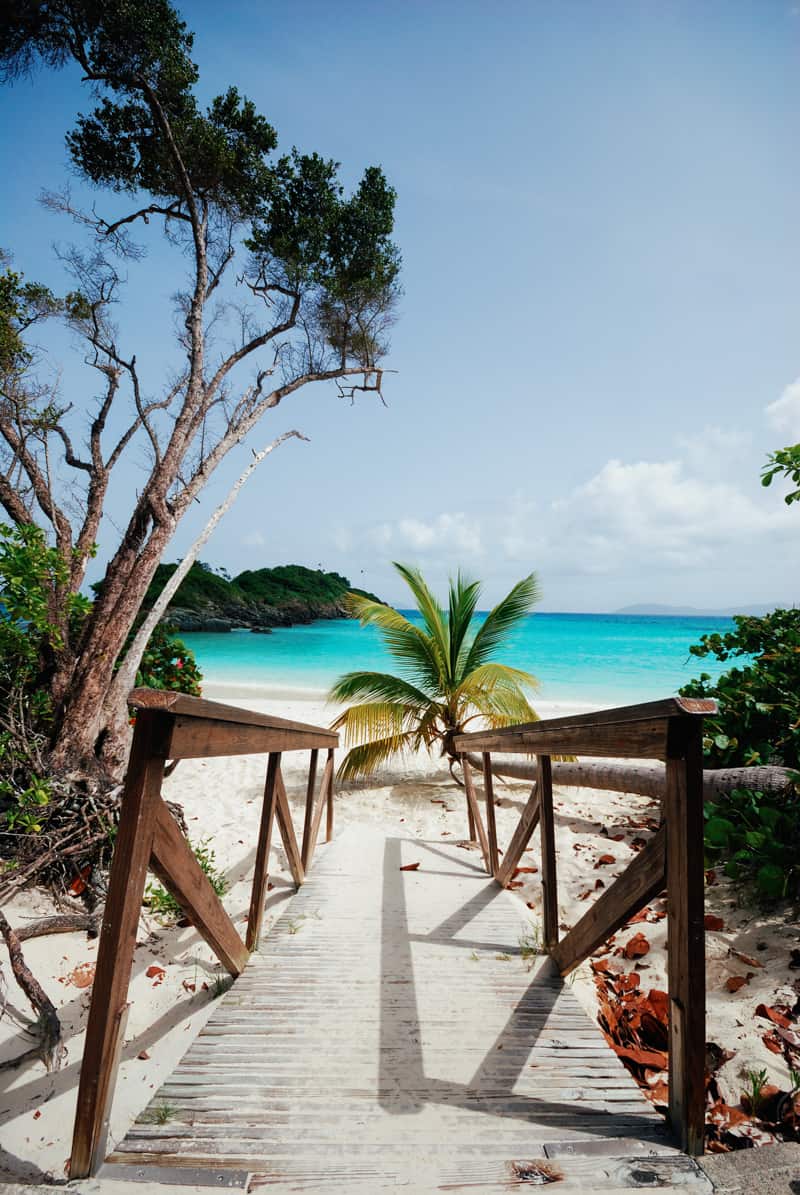 Trunk Bay Food
The concession stand carries all of the things you would expect. You can get a hamburger, nachos, french fries, etc. The prices weren't bad at all. The seating area isn't directly in view of the beach, but it was still perfect to be able to get a snack without actually having to leave.
The bar is the most popular spot on the beach. Cool drinks are mixed up and able to be enjoyed directly on the sand!
Crowds
The beach can get fairly crowded due to its popularity. If you want to beat the crowds go when there are no cruise ships docking, or early in the day. Even with a lot of people on the beach though it isn't terrible since it is pretty big. There is plenty of room to spread out.
Avoiding The Crowds Tip
If you really want to avoid the crowds you can go to one of the other nearby beaches. Directly next to Trunk Bay is Jumbie Beach – you can swim there by going around the rocks on the left side, or parking just up the road and walking down.
If you are willing to drive a little bit further you can enjoy Cinnamon Bay Beach or Maho Bay Beach.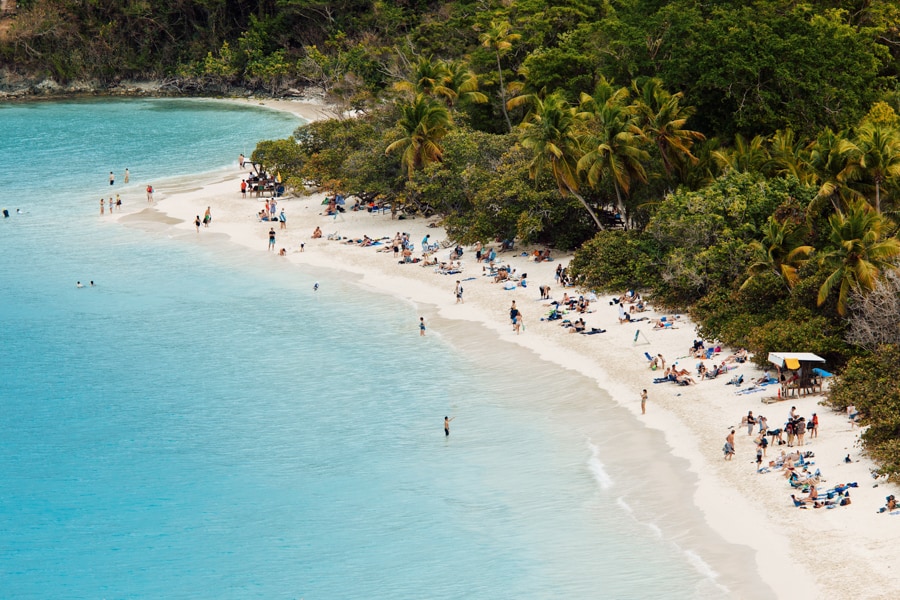 Trunk Bay Excursions
There are multiple excursions available in the area. Below are a few of my favorites.
How much does it cost to enter Trunk Bay?
A day pass to Trunk Bay is $5 per person. See entry fees here. You pay at the little booth at the entrance.
Trunk Bay Hours
The beach is only open from 8 to 4 pm. It is kind of annoying that it closes so early, so make sure you arrive early to be able to enjoy it.
When is the best time to visit Trunk Bay St. John USVI?
Sunrise is a great time to get to Trunk Bay Beach if you are up in time. I am personally not a morning person, but you will have the beach all to yourself in the early morning.
Where to Stay Near Trunk Bay
Is Trunk Bay worth visiting?
Yes! This is one of the most beautiful beaches I have ever seen.
Things to do near Trunk Bay
So many of the beaches on St. John are right next to each other!
Hawknest Beach (4 minute drive)
Little Cinnamon Bay Beach (4 minute drive)
Oppenheimer Beach (3 minute drive) – Picturesque beach with great swimming, snorkeling & hiking.
Peter Bay Beach (3 minute drive)
Maho Bay Beach (10 minute drive)
Honeymoon Beach (10 minutes drive) – Need to hike about a mile to get to the actual beach.