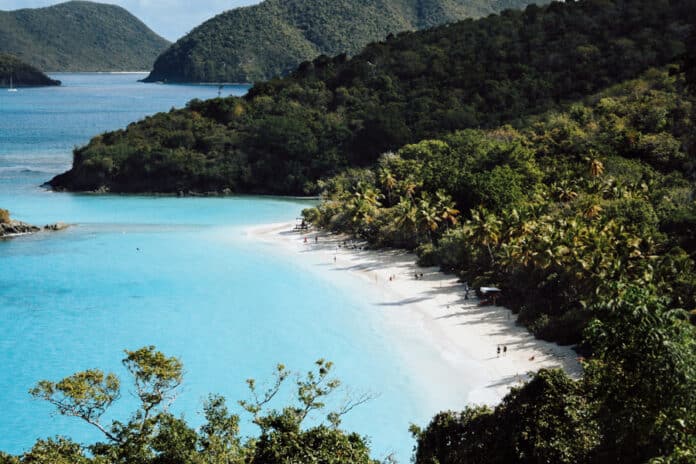 Trunk Bay in St. John (Most Beautiful Beach in the USVI)
What makes Trunk Bay different from the other beaches on St. John?
Not only is it the most beautiful and iconic beach in the Virgin islands national park, but it is probably the most beautiful beach in the US Virgin Islands.
Often voted as one of the top ten beaches in the world.
Trunk Bay Quick Facts:
Water color: Clear, turquoise blue – as clear as a swimming pool!
Sand quality: Powdery white sand
Known for: Trunk Bay has routinely been voted as a top ten most beautiful beach to visit in the world.
Swimming conditions:
Other names: Trunk Cay, Trunk Bay Beach
Facilities: Restrooms, showers, snorkel rentals, beach shop, bar and snack shack.
Lifeguard: Yes! Unlike most of the beaches on St. John.
Cost: Free
Parking: Large lot
Available tours: Budget Trunk Bay with Scenic Stops
Where is Trunk Bay located?
Trunk Bay is located in the US Virgin Islands National Park on St. John, USVI.
How to get to Trunk Bay
You can rent a car (what we did), get a taxi, or book an excursion.
If you get a taxi to take you out to the beach, a distance of about 3 miles. Most taxi drivers will stop to let you take pictures from the lookout!
Tip – When in the US Virgin Islands I highly recommend renting a car to get the most out of your experience. It would be difficult to see all the beautiful places in the islands without a car. Reserve a car here.
Trunk Bay Lookout
There is technically no where to really pull over to see the Trunk Bay lookout. But it is still worth stopping and snapping a few pics because it is truly the best view of the beach.
Trunk Bay Parking Situation
Parking at Trunk Bay is limited. There is overflow parking available on the other side of the street if you can't get a spot at the main lot.
What to expect at Trunk Bay beach
Picture of Trunk Bay
Here are some more pictures of Trunk Bay to give you a better idea of what to expect.
Trunk Bay Snorkel Trail
Snorkeling in Trunk Bay is truly next level. The underwater trail is one of the coolest parts of the bay. The trail is located at the far end of the bay, pretty close to shore.
It is about 600 feet (225 yard) in length and will take about 30 minutes to complete.
Tip – Make sure if you snorkel you have a waterproof phone case (I have this waterproof housing from amazon that works ridiculously well) and a good dry bag for your electronics. This is my favorite dry bag. I never travel without it. Go pro also works wonders!
If you want to be able to take over/under water pics you will need an additional dome housing. I have this one from amazon that connects perfectly to my axis go waterproof phone case and is expensive, but works amazing.
Swimming Conditions
Swimming conditions are great at Trunk Cay Beach. The water is pretty shallow and calm. Suitable for most swimmers.
Trunk Bay is the the only St. John beach with a lifeguard.
Trunk Bay Facilities
This beach features well maintained facilities, including showers, restrooms, beach chairs, volleyball net and snorkel equipment rentals. There is also a beach shop, bar and snack shack.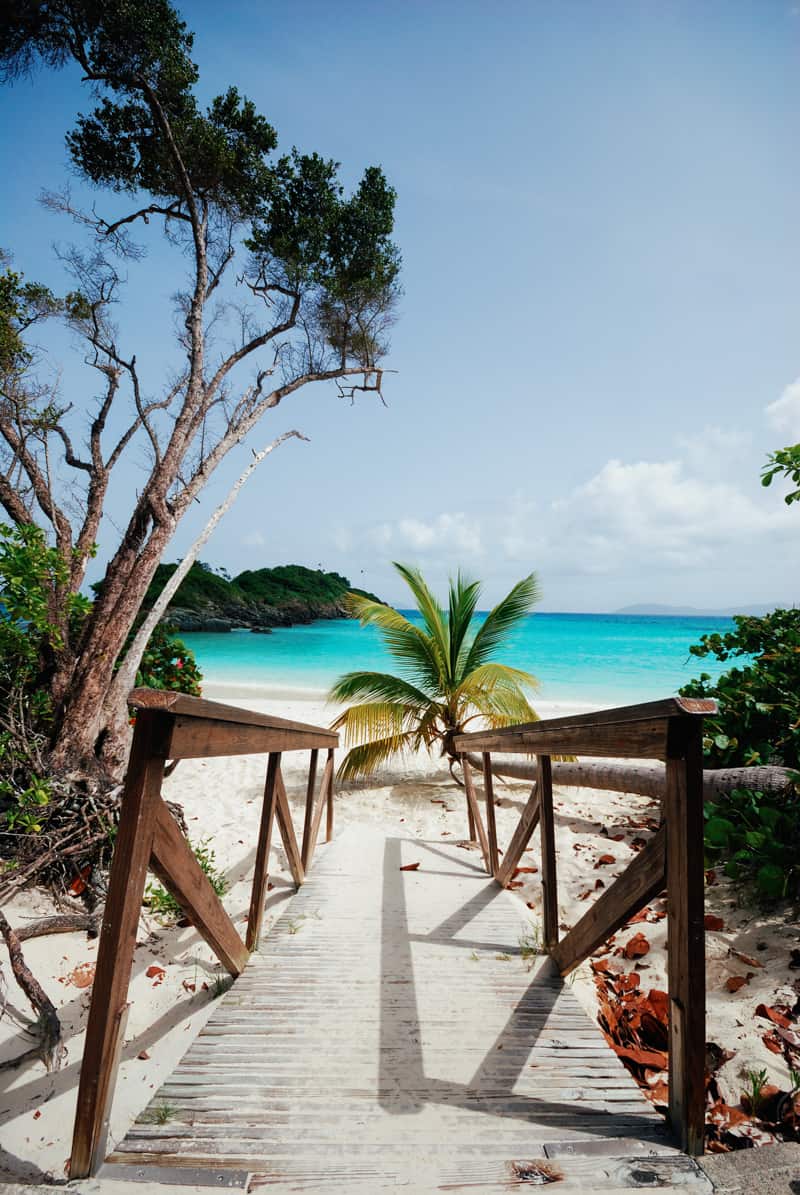 Trunk Bay Food
There is a snack shack and bar right on the beach.
Crowds
The beach can get fairly crowded due to its popularity. Get there early to have the best chance of beating the crowds.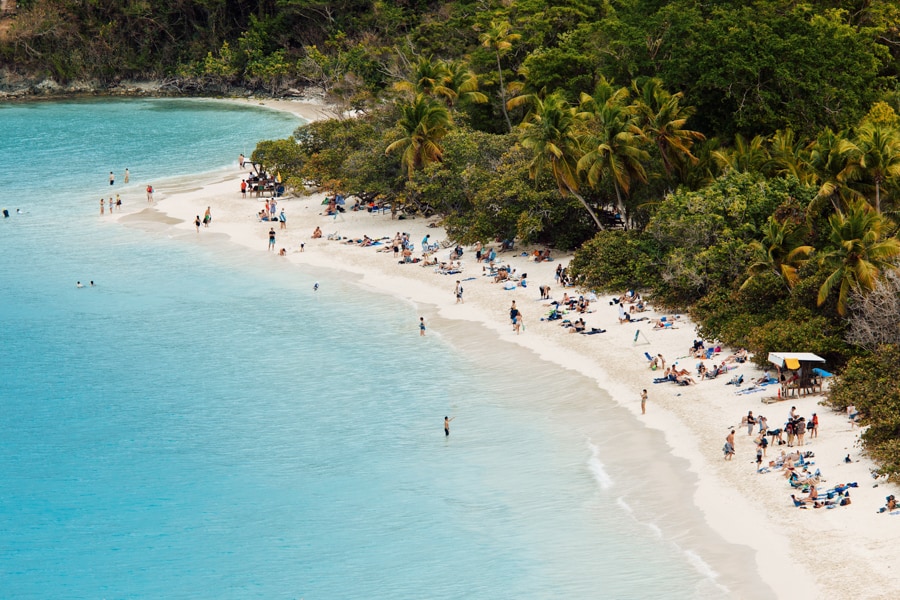 Trunk Bay Excursions
There are multiple excursions available in the area. Below are a few of my favorites.
How much does it cost to enter Trunk Bay?
For an individual Day Pass (16 years and older) it is $5 per person. See entry fees here.
Individual Day Passes for can only be purchased at the fee booth at Trunk Bay. Fee is collected from 8am to 4pm.
How far is Trunk Bay from the ferry terminal?
Trunk Bay is located 3 miles from the Cruz Bay Ferry Terminal. You can expect the drive to take anywhere from 10-15 minutes.
When is the best time to visit Trunk Bay St. John USVI?
Sunrise is a great time to get to Trunk Bay Beach if you are up in time. I am personally not a morning person, but you will have the beach all to yourself in the early morning.
Where to Stay Near Trunk Bay
Is Trunk Bay worth visiting?
Yes! This is one of the most beautiful beaches I have ever seen.
Things to do near Trunk Bay
So many of the beaches on St. John are right next to each other!
Hawknest Beach (4 minute drive)
Little Cinnamon Bay Beach (4 minute drive)
Oppenheimer Beach (3 minute drive) – Picturesque beach with great swimming, snorkeling & hiking.
Peter Bay Beach (3 minute drive)
Honeymoon Beach (10 minutes drive) – Need to hike about a mile to get to the actual beach.