Silver Lake is a gorgeous lake located in Big Cottonwood Canyon, Salt Lake City Utah. It is located right on Brighton Ski Resort.
Silver Lake Utah Details:
Distance: 0.9-mile loop trail
Duration: 20 minutes
Difficulty: Easy
Elevation gain: 19 ft
Challenges: Mosquitoes, half the trail is currently closed due to construction
Pets: Not allowed anywhere in Big Cottonwood Canyon.
Note: As of August 2023 half the trail is currently closed due to construction. It is a 1 mile out and back trail as of today.
Silver Lake Loop Trail Directions:
Located in Big Cottonwood Canyon at Brighton Ski Resort, on the east side of Salt Lake City.
Silver Lake Utah Parking
There was plenty of parking when we were there. (Saturday evening in August). There are bathrooms with soap and water to wash your hands located at the trailhead.
Silver Lake Trailhead
The Silver Lake Loop Trailhead is located right from the parking lot.
Silver Lake Loop Trail: What to Expect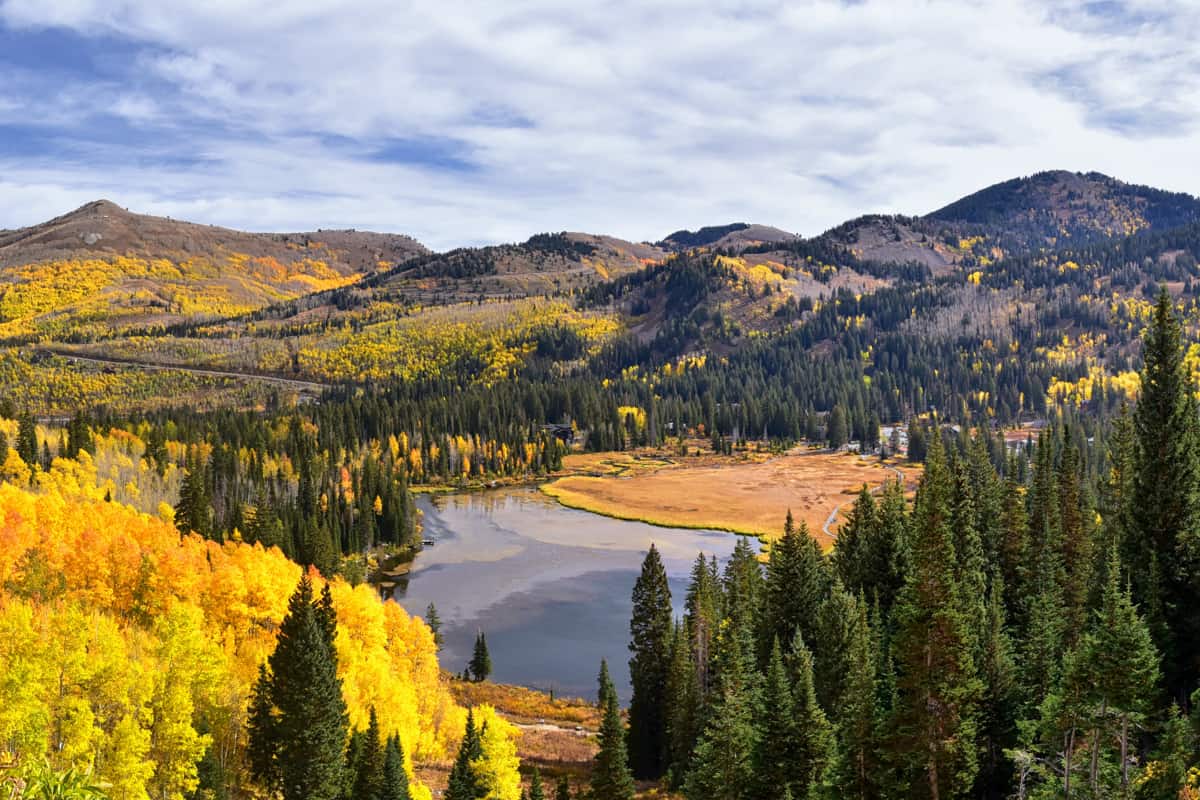 You can expect gorgeous scenery and lots of people. Because of the ease of access this trail can get quite busy. Lots of families and little kids running around.
There were people fishing, picnic's, photo taking etc. There are lots of spots to sit and take in the views of the lake.
Picnic tables are located near the parking lot.
Wildlife
There were so many little rodents running around it was so fun to watch them. These include Chipmunks, Ground Squirrels, etc.
They say you can spot moose on this trail but we did not see any while we were there. Apparently they like to hang out in the grassy area by the lake.
We even spotted a Bald Eagle sitting up in one of the trees! So cool.
Shade Cover
Depending on the time of day, a lot of the trail is covered in shade.
Terrain
You are walking along a boardwalk and a paved dirt path. Any kind of footwear is suitable.
Other Big Cottonwood Canyon Hikes I recommend
Lake Mary Trail – If you are looking for a similar-ish hike to Lake Blanche but easier I definitely recommend checking out the Lake Mary Trail. It is one of my favorite hikes in Big Cottonwood Canyon. Read the full post here.