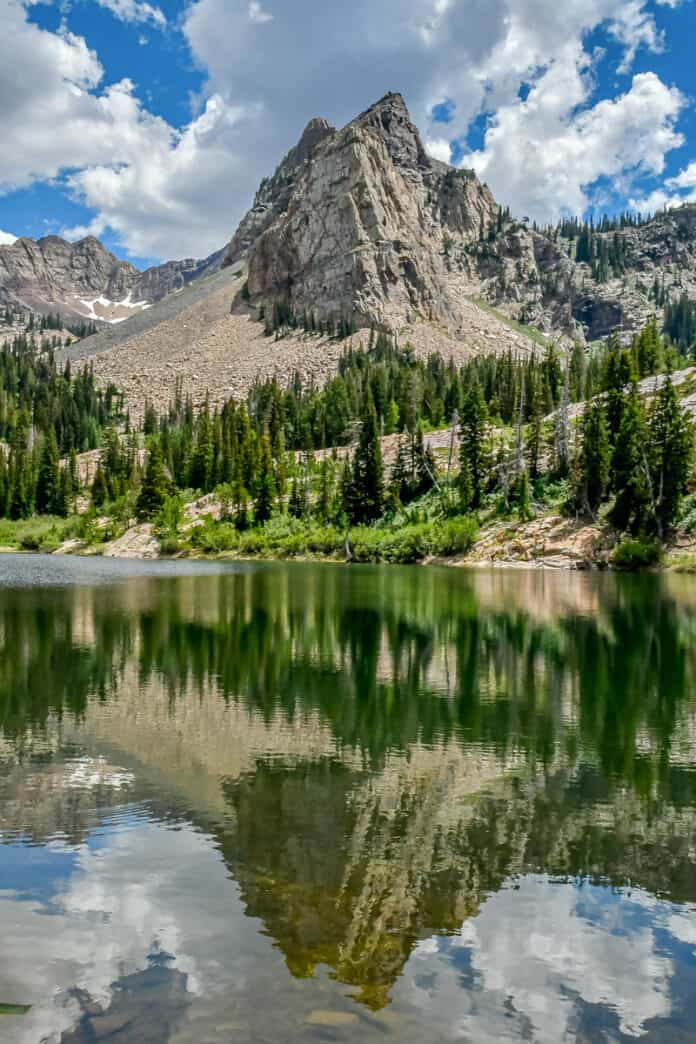 Lake Blanche trail located in Big Cottonwood Canyon is known around Utah as one of the best hikes in Salt Lake City. It is difficult, but doable for most people.
If I have to describe the hike in three words it would be – brutal, tiring and so worth it.
Lake Blanche Trail Details:
Distance: about 7 miles out and back
Duration: 4-6 hours on average to complete (Took me 3 hours up and 2 hours back)
Difficulty: Hard
Elevation gain: 2,880 ft
Challenges: uphill the entire way, rocky terrain
Lake Blanche Trail Directions:
Big Cottonwood Canyon is located on the east side of Salt Lake City. If you are familiar with Brighton Ski Resort that is also located nearby.
If you are coming from the Salt Lake City airport the trailhead is about a 30 minute drive.
Lake Blanche Trailhead
The Lake Blanche trailhead located near the Mill B South parking in Big Cottonwood Canyon.
Lake Blanche Parking
The parking lot is small and spots fill up quickly. There are warning signs at the parking lot warning of break ins. Definitely don't leave any valuables in the car or on the seats.
I started the hike around noon on a Monday and there were a few open spots available with lots of people coming and going. There are also bathrooms located at the trailhead parking.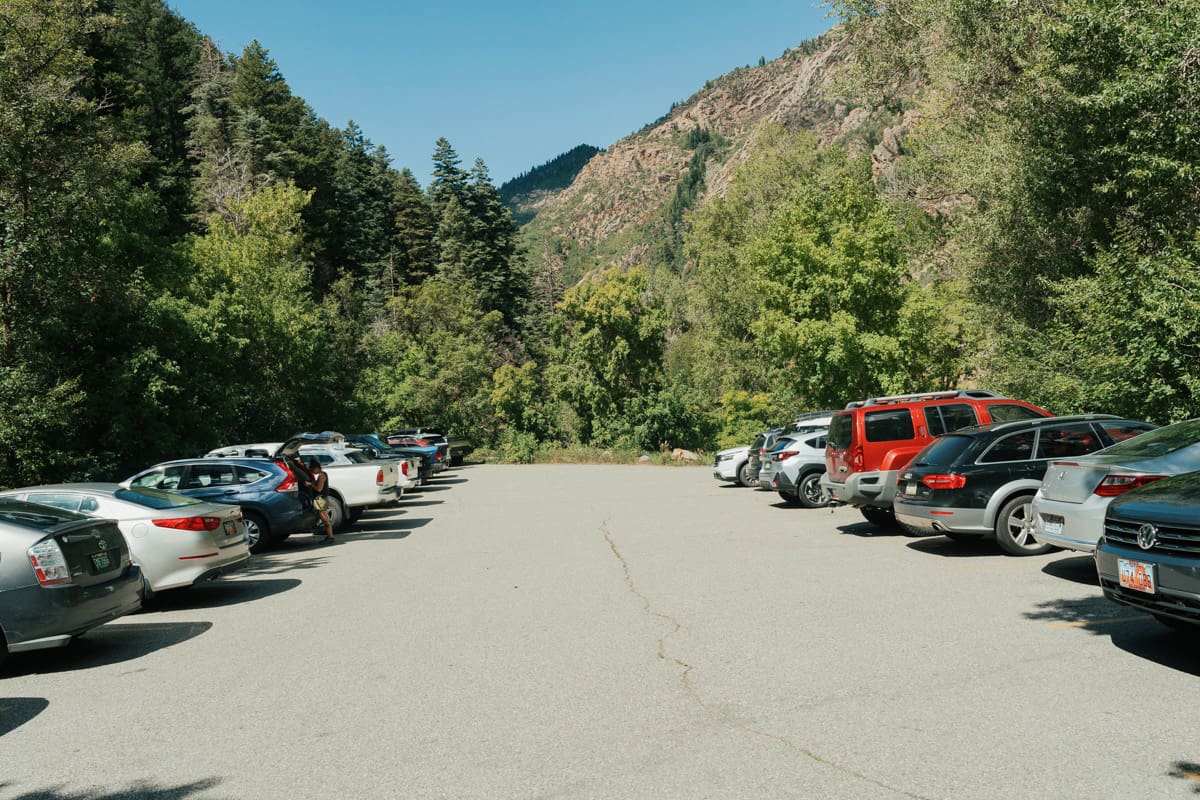 Lake Blanche Trail: What to Expect
The trail is basically uphill the entire way. I recommend wearing hiking boots because the trail is quite rocky. Depending on the time of year you go you could be hiking up through a stream as well. I always hike in my Salomon waterproof hiking boots and they are amazing for water.
Note: If you have time I recommend checking out the surrounding lakes – Lake Lillian and Lake Florence. More on that below.
Beginning of Trail
The beginning of the trail is a steady incline up. Not too steep at this point but very rocky around the trailhead. You will walk along a river and cross a bridge.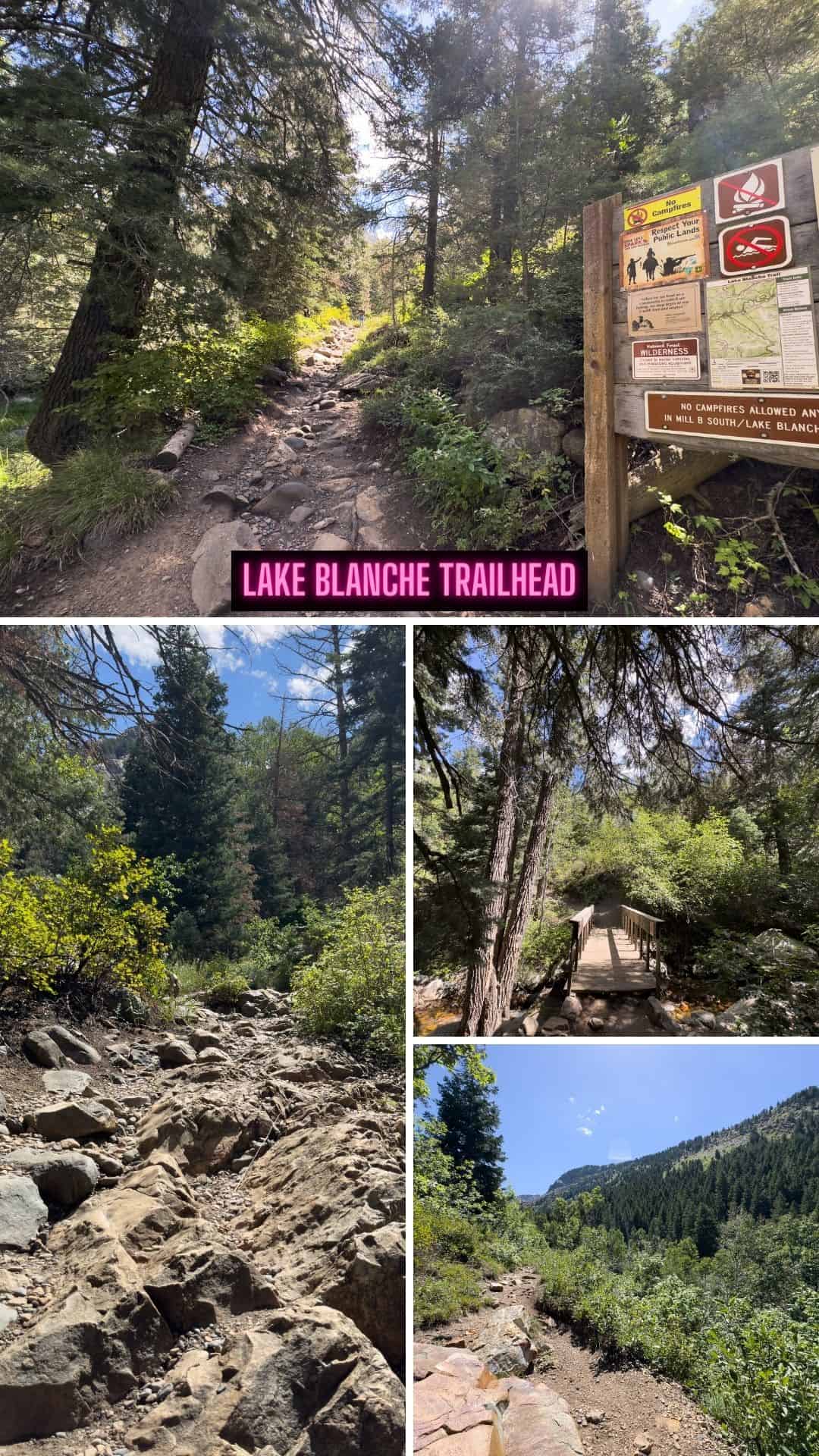 Middle of Trail
The middle of the Lake Blanche trail the views begin to become so stunning! Make sure to look back every once in a while to take in the gorgeous mountain views!
End of the Trail
You will know you have about 30-45 minutes left once the switchbacks begin. This was the hardest part of the hike for me because it just seemed to never end. I kept thinking I was almost there, but I wasn't. It just kept going and going so mentally I was challenged more towards the end when I thought it was going to end 30 minutes ago.
Not going to lie, I was so tired for the last 30-45 minutes of the trail I was walking like a drunk person. I was borderline delirious. But that's partially because of Pots syndrome and lack of fitness.
The closer you get to Lake Blanche the more rocky the trail will get. At times it will feel like you are climbing large stairs in the form of rocks.
But you want to know the good thing about a hard hike up? It's so easy going down!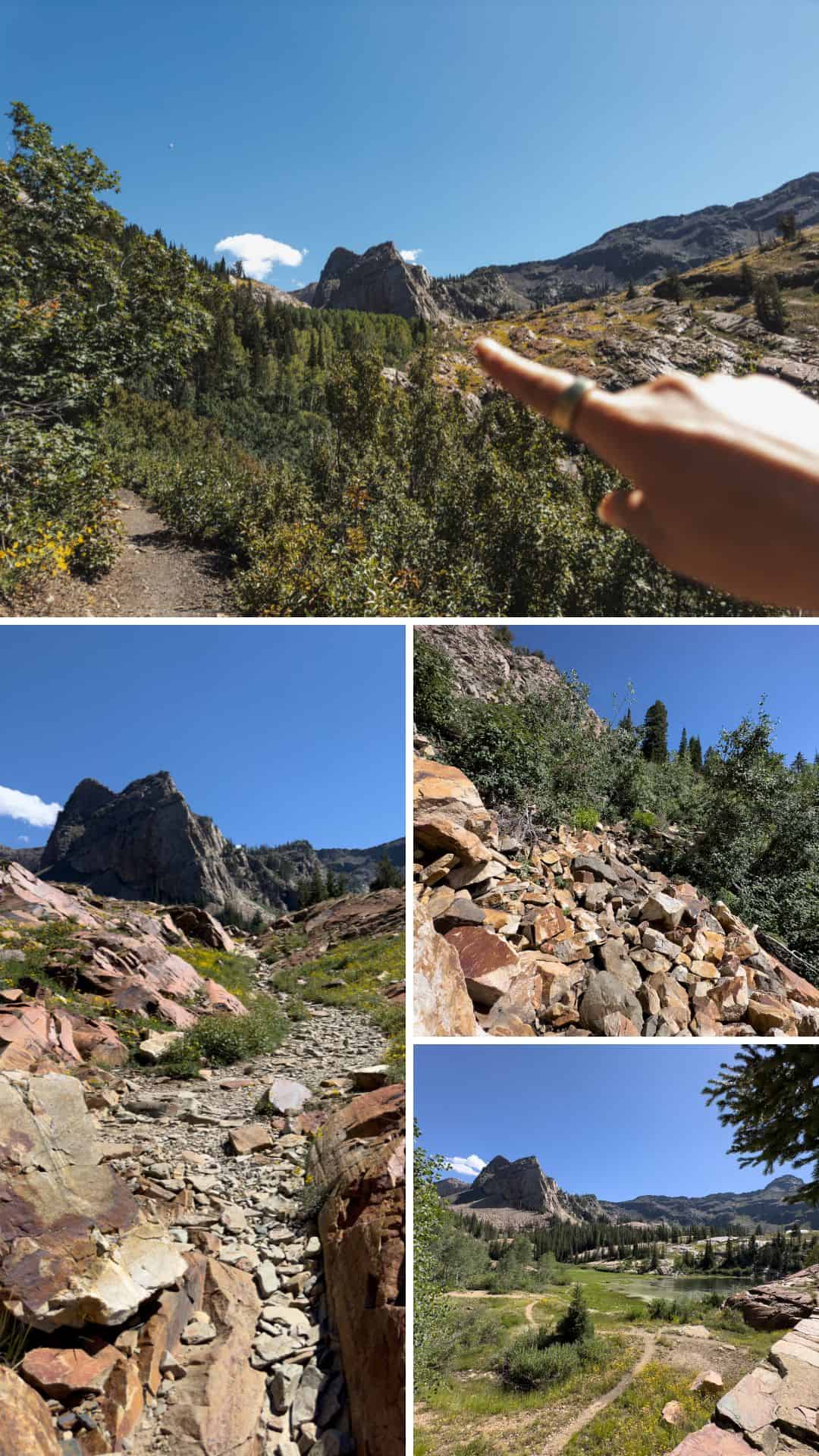 Shade Cover
You are in and out of shaded area depending on the time of day and where the sun is. It can be brutal in full sun. If you start in the early morning the trail will have more shade.
Wildflowers
During the months of July and August you will see the most beautiful wildflowers along the trail! There were a ton at the top!
Hiking to Lake Florence and Lake Lillian
If you decide to hike to Lake Florence and Lillian (highly recommend) the total trail distance one way will be 3.5 miles instead of just 3 miles. It is worth it!
I definitely recommend walking over to Lake Florence and Lake Lillian. The views were just as spectacular and it takes only a minute or two to walk over.
If you are looking at Lake Blanche Lake Florence will be to your right. You will have to walk to the far end of Lake Blanche to see Lake Florence and Lake Lillian.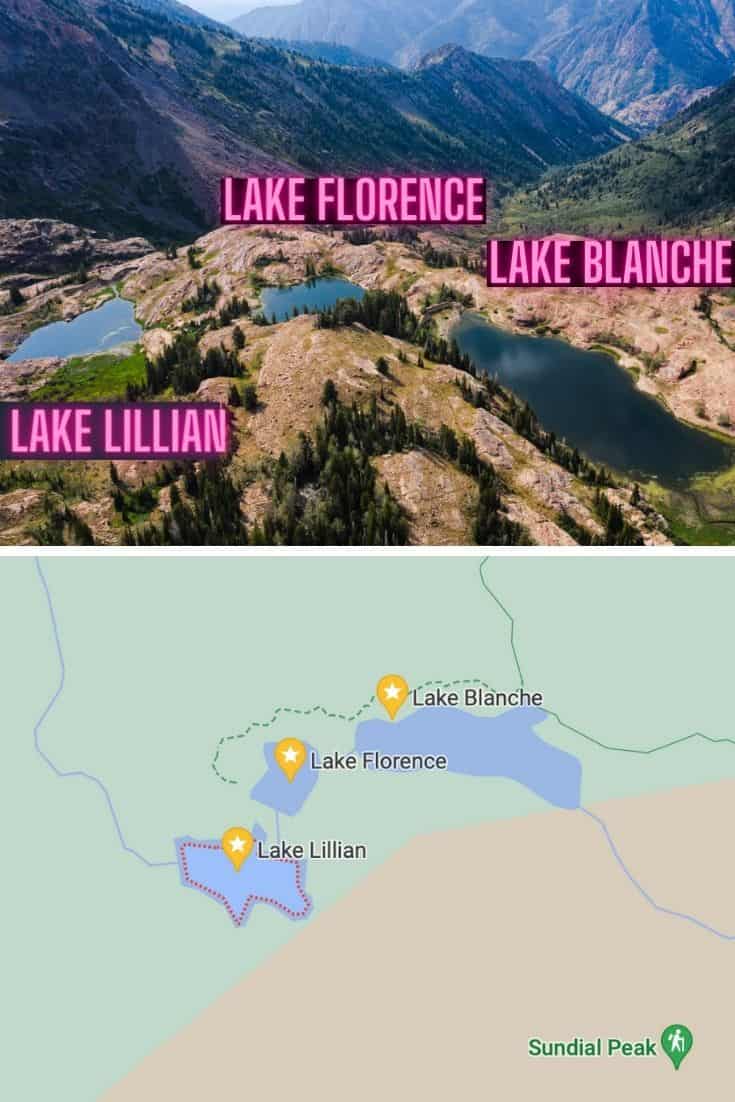 Overall Difficulty – Just how difficult is the Lake Blanche Trail?
For some context, three years ago I was in a wheelchair suffering from a condition called POTS Syndrome. Essentially anytime I tried to stand up I would pass out. This made walking impossible for me for 4 years.
The fact that I am now able to hike almost 3,000 ft up a mountain feels incredible. I am young, in decent shape, but I do not hike regularly and I am still battling my neurological condition.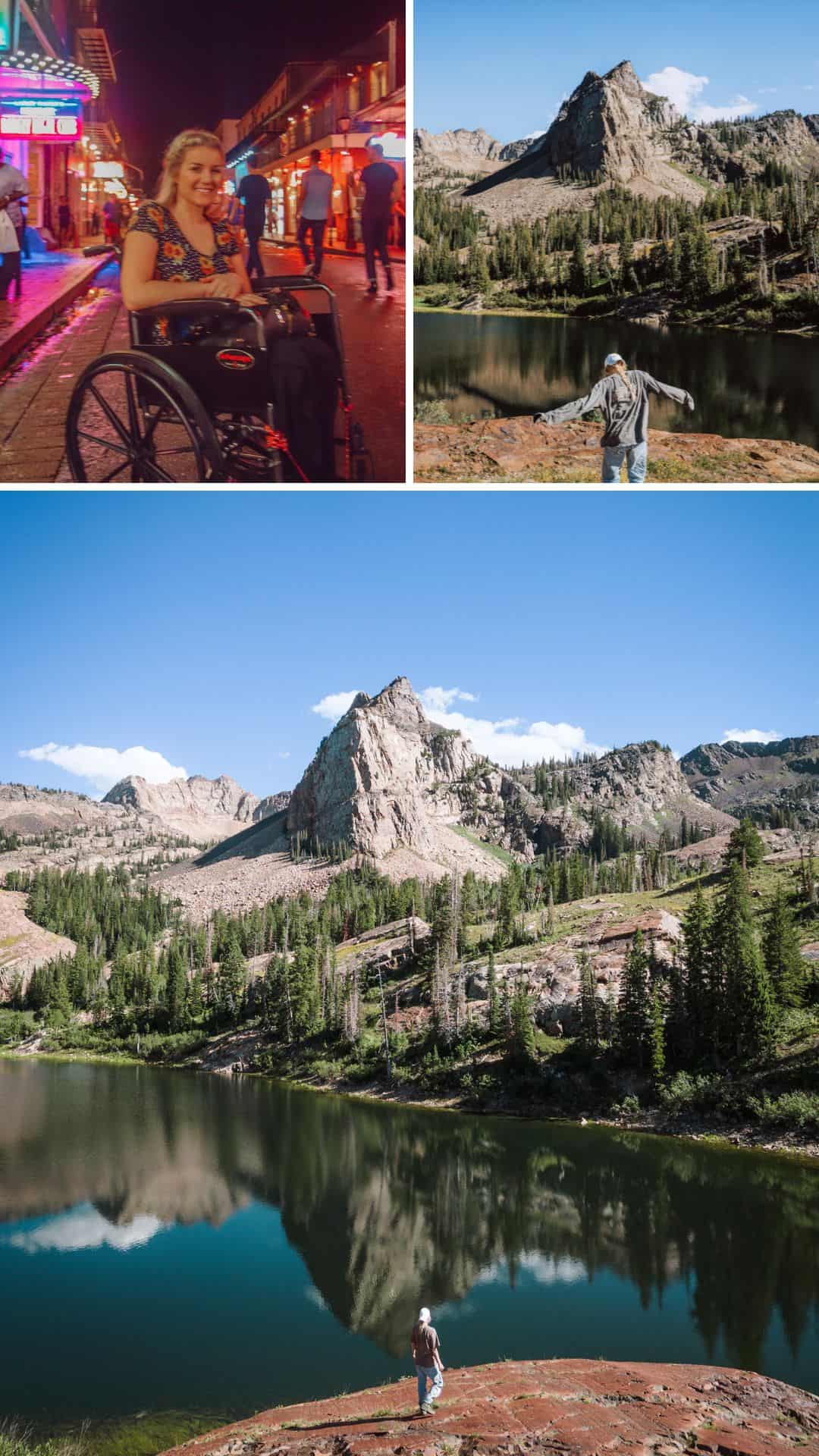 Lake Blanche is the second longest hike I have ever done. (Hiking to a volcano in Iceland being the longest. Read about that experience here.)
It took me 3 hours to get up, and two hours to get down. I took a ton of breaks on the way up. On the way down I stopped a few times to pull out my camera and take photos and videos.
It is not a hike that the avid hikers would call "technically difficult". The trail is well marked. You just have to keep going up. Your biggest hazard would be tripping on a rock.
I found the hike difficult and extremely tiring but overall doable. If you are an experienced hiker you would most likely rate this hike moderate. (Is it weird that I get irrationaly annoyed when I see others rate this hike as "moderately challenging" since I found it very hard? haha)
Tips –
I highly recommend wearing hiking boots
Water!!!! – I brought 33 oz of water and it wasn't enough, I hardly had any water to drink on the way back. I had to start rationing.
I definitely recommend downloading the map just so you can see how much further you have to go. It can be motivating.
Make sure to leave time to take photos on the way back. It is so beautiful!!!
I would bring or wear a hat. It's hot and sunny, not really any shade at the lake. And there are so many bugs. So unless you want your hair to become a nest, a hat would be nice.
If you have a sensitivity to plants I would wear long sleeves. There are multiple times where the trail gets so narrow you can't avoid hitting the bushes.
Sunscreen – bring extra!
Bring bug spray – Bugs were swarming for a lot of the trail but luckily none were biting or mosquitos.
Food!!! Make sure to bring a substantial amount of snacks or food for the trail. It's a long day.
Lake Blanche Camping
If you are planning to camp at Lake Blanche there are some awesome camping spots around the lake along with a great view of the valley. You will even be able to see Salt Lake City off in the distance.
Lesson learned on the Lake Blanche Trail
Each hike I go on I feel like I leave better. This time I saw so many "older" people, including one amazing women who was 85 years old on the trail.
It taught me not to let age become the reason you stop doing the things you love. Don't stop hiking. Don't ever stop doing what you used to do when you were younger. Don't let age become your excuse.
I hope that I will be blessed enough to be able to do the same hikes I did in my 20's in my 80's!
Other Big Cottonwood Canyon Hikes I recommend:
Silver Lake Loop Trail – Very short. Family friendly. Not really a hike, just a park and walk around the lake. So pretty. Read the full post here.
Lake Mary Trail – If you are looking for a similar-ish hike to Lake Blanche but easier I definitely recommend checking out the Lake Mary Trail. It is one of my favorite hikes in Big Cottonwood Canyon. Read the full post here.