You may have caught on from some of our previous posts that Taiwan is one of your favorite travel spots. We absolutely love it. Taipei, Taiwan is an especially great city where we think tourism is truly about to explode.
Taipei Day Trip to the mountain village of Jiufen Taiwan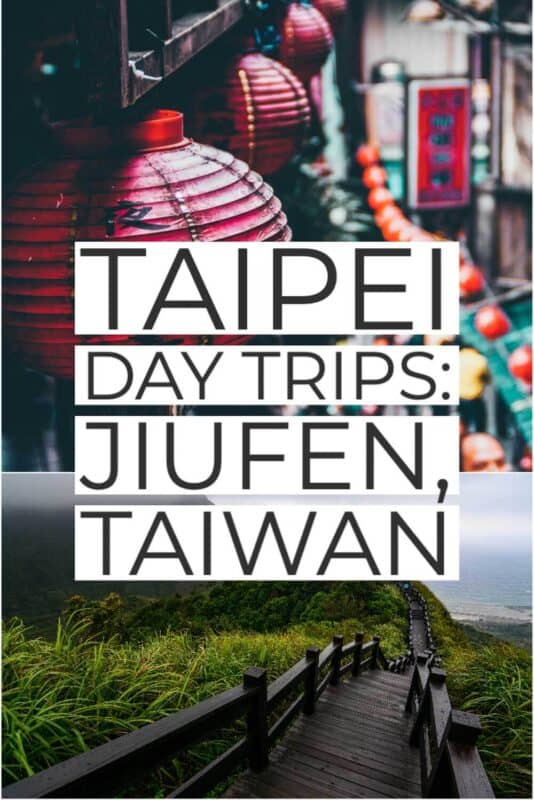 This means that it's not overrun at all…not yet! You should definitely visit before things get crazy. Read more in our post on the Top 10 Things to Do in Taiwan here.
One particular reason to visit Taiwan that's not included on our top 10 but should be, is to experience the town of Jiufen. (Sometimes spelled Chiufen Jiu Fen – Jioufen Taiwan)
Where to Stay in Jiufen
*Top Choice: Something Easy Inn – Located 350 feet from Jiufen Old Street, Something Easy Inn is a guest house with ultra modern rooms and out of this world views. Qitang Old Street is 1 mi from Something Easy Inn, while Golden Waterfall is 1.4 mi from the property.
*Top Rated: Chiu Chunt Dint B&B – Perfect location on Jiufen Old Street just a 5-minute walk from Shengping Theater. The bed and breakfast provides comfortable rooms with private bathrooms and free Wi-Fi. As an added bonus the in-house restaurant provides a selection of amazing Chinese food.
*Best Location: Sunshine B&B – Just a 2 minute walk from Jiufen Old Street you will be able to get away from the busy town centre while still enjoying the perfect location. The breakfast also came top rated.
Note – You can search for the best hotels in the Jiufen below from booking.com
History of Jiufen
Jiufen Taiwan is a small city just outside of Taipei. "Jiufen" literally means "9 portions". This is historically based on the 9 families that lived in this once isolated mountain village. Any shipments or deliveries had to come in 9 portions to accommodate each family, and the descriptive name has stuck.
Upon arrival in Jiufen, you may wonder why the entire town is essentially built on the side of a mountain. Houses and buildings look somewhat precarious as they are stacked into the mountainside.
This town structure exists because in the 1800s, flecks of gold were found in the area. A gold rush ensued and many Taiwanese, and others, rushed onto the mountain to follow their dreams. The subsequent town, then, surrounds the gold mine. Now you can enjoy amazing views from the mountain, looking out onto the ocean.
Find all: Hotels in Jiufen
What to do in Jiufen
Outside interesting architecture or city planning, Jiufen is a popular spot for the anime crowd. The town is supposedly the inspiration for the anime movie "Spirited Away". I'm not familiar with Spirited Away, but I know this one fandom is enough to attract people to the area. Jiufen has been the inspiration for other movies, too. Look into the city and its anime connections and make a day of it!
Jiufen Village was also built during the Japanese occupation. Locals consist of both Japanese and Taiwanese citizens who have persevered to this day. Jiufen culture, then, is a traditional representation of Taiwan, making it a perfect way to see the original blending.
Jiufen Hiking
Hike all around Jiufen to get an even bigger picture of the culture and its surroundings. One hike that we loved only took about an hour and was one that most people can complete. The hike goes from the city center up the Mount Jilong. The path is a clear trail with stretches of man-made steps. The view at the top is panoramic and gorgeous!
Finding directions to the hike is easy; there are signs all around town that point you there. Also, if you take a bus into town, it will drop you off in front of the Tourist Center, which has maps of the entire small town.
Try a Chinese Dress Rental
One shop in town is called Chiapo Chinese Dress Rental. Here you can rent a traditional Chinese dress (Qipao), fun for getting your perfect Instagram photos. Dress rental only costs about $15 for the day. We didn't take advantage of this, but we saw plenty of people who did, posing for gorgeous photos.
Find all: Hotels in Jiufen
Explore Jiufen Old Street
Jiufen Old Street is probably the most famous attraction in town. This street has most of the markets, the cafes, the shops. All of the action is happening here! The town was quiet for us to explore, except for here. Suddenly, Jiufen was bustling with people, but we 100% get it.
The Old Street is gorgeous, quaint, and picturesque. It's the perfect place to get famous Taipei street food, too. A sweet potato soup specialty was our favorite; it's so good! You can also get tea, taro balls, stinky tofu and dumplings.
Jiufen Old Street is the most bustling part of town, and does seem to attract a decent number of tourists (unlike almost all of the rest of Taiwan). Even though the crowds include many tourists, it isn't overrun and I did not see any other Americans while I was there.
Enjoy a cup of tea at the famous Jiufen Teahouse
One store in Jiufen Old Street is A-Mei Tea House. This tea house was a specific inspiration to the anime film Spirited Away. Even if you're not an anime fan, it's worth stopping by to sip tea, and enjoy the picturesque mountain and ocean views.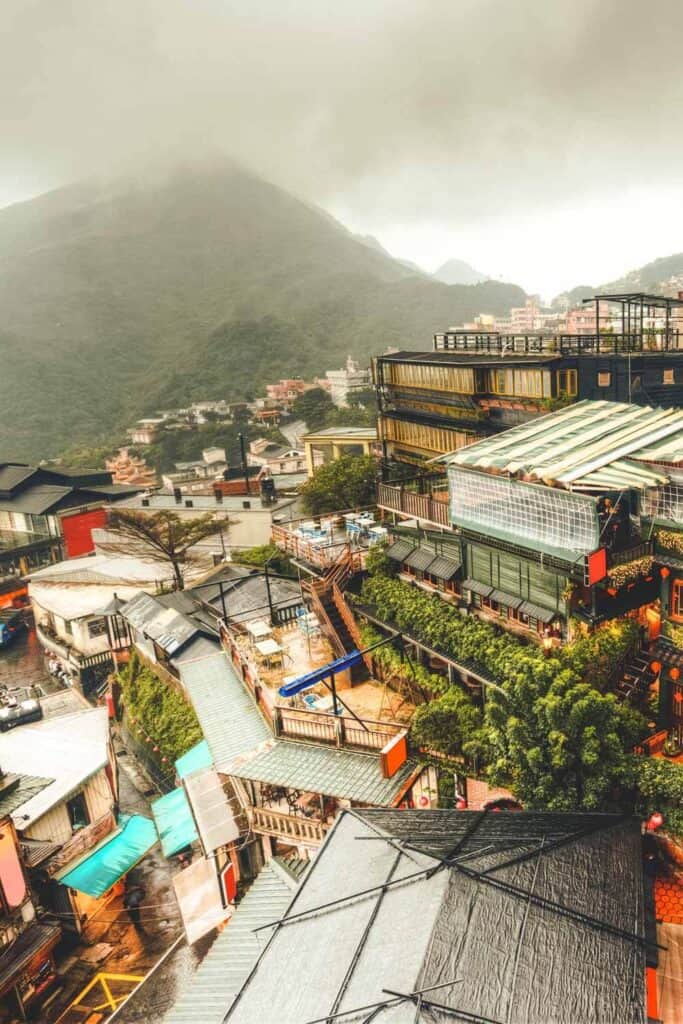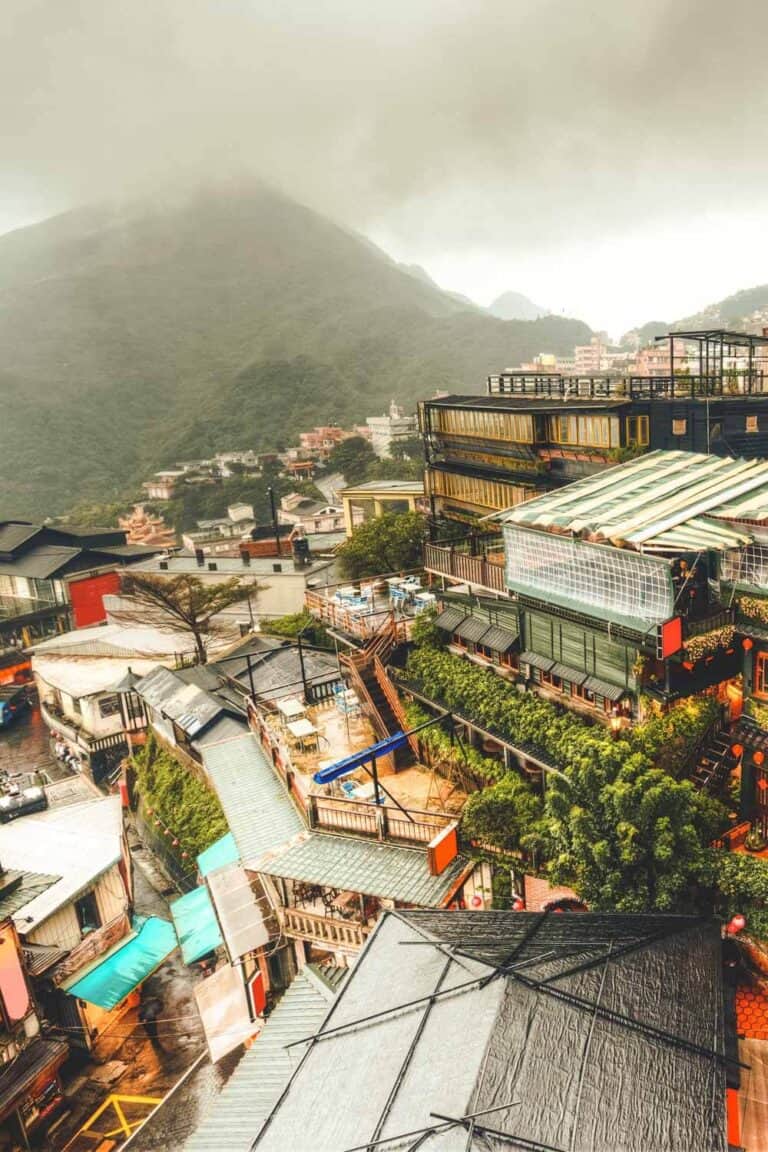 We visited on a Saturday and were lucky enough to catch a parade. After asking around we still don't know what the parade was celebrating, but we loved the music and the costumes. We even followed the last procession back to a Taiwanese temple.
You can experience all of Jiufen Taiwan on a day trip, or you can stay in one of the boutique hotels in the city.
Getting Around Jiufen
The town is easy to explore on foot, so don't shy away from just walking around. We did a lot of this and discovered some cool streets, shops, etc.
How to Get From Taipei to Jiufen
Getting from Taipei to Jiufen is actually pretty easy. Public transportation in Taiwan is excellent and affordable.
Buses and Metro – Through a combination of metro and buses, Taipei to Jiufen and Jiufen to Taipei is easily possible – going this route only takes about 90 minutes, costs around $6, and buses run regularly. From Taipei, you will start on the metro and finish by bus coming into the city. Buses run so continuously you don't have to worry about getting stuck long.
Uber (what I recommend you do)- We had a little bit of a time crunch, so we actually got out there via Uber. The drive was about 60 minutes from our hotel. In the US, this would have cost us a ridiculous amount, but in Taiwan the price was remarkably affordable. The entire trip was only about $40 for two of us.
If you find yourself in Taipei, Taiwan (and we highly recommend you do), be sure to make a quick trip over to Jiufen, Taiwan, too.