If you love the outdoors, scenic views and want to know where to find some of the best hiking in Taipei, Elephant Mountain is the perfect place to start. Keep reading to find out why Elephant Mountain Taipei is one of the most popular attractions in Taiwan.
If you haven't caught on yet, we're a bit obsessed with our experience in Taipei! If I was only going to make 2 things a requirement for Taipei sightseeing, one would be seeing and eating at a Taipei Night Market. Read our guide on the best Night Markets in Taipei.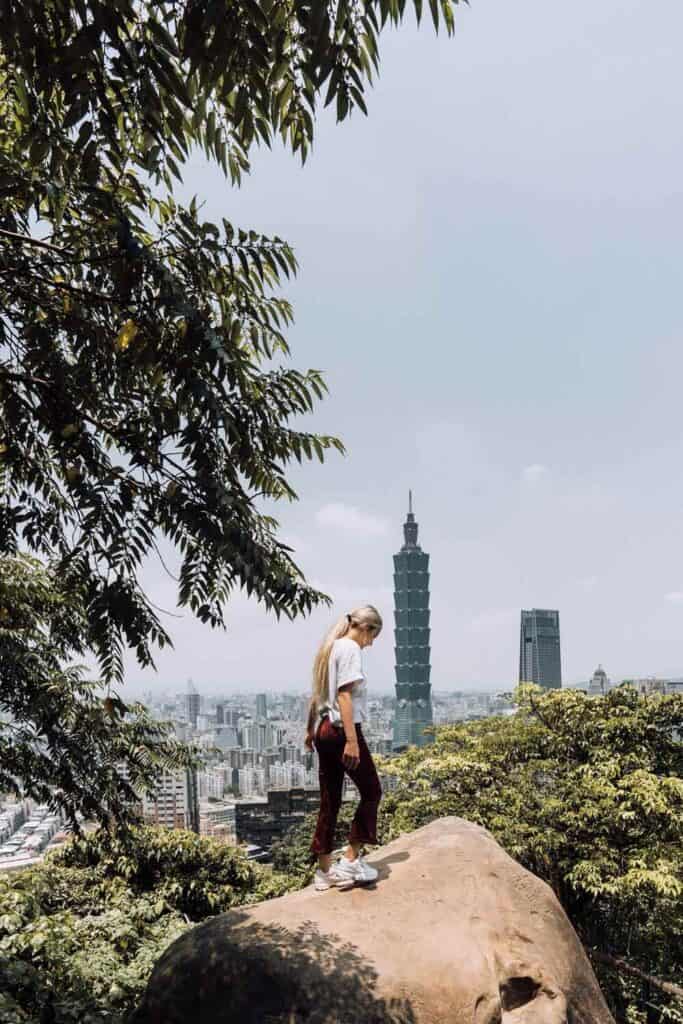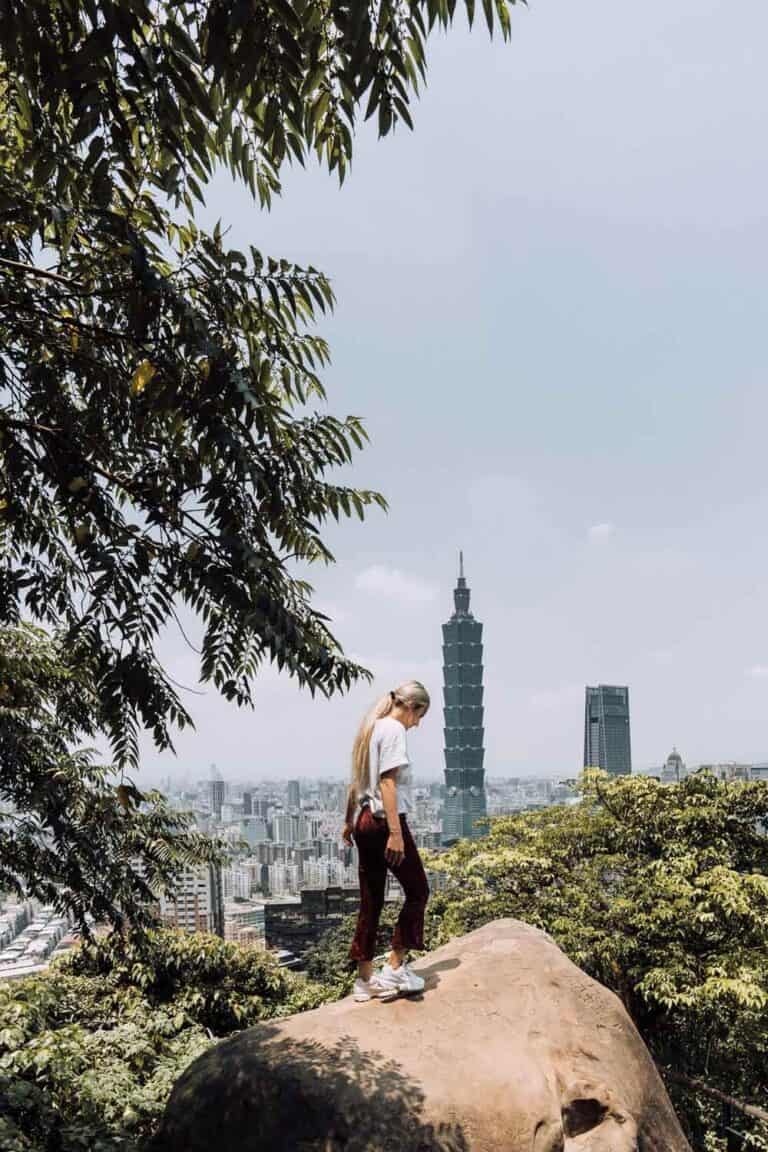 The second requirement would be to hike the Elephant Mountain trail. Elephant Mountain, Elephant Hill, Xiangshan Mountain, Xiangshan Trail, whatever you call it, it's the same worthy experience, and it's a must!
Elephant Mountain Taipei
Hiking in Taipei
There are quite a few hiking opportunities around Taipei, but none quite like this one. Elephant Mountain is right outside the city, high up, and at the perfect vantage point. Literally right on the edge of the city, meaning you can easily walk there from the metro.
Hiking up to the top of Elephant Mountain will give you the best view of the cityscape and Taipei 101. There are a lot of instagram-worthy pictures to be taken along the trail and at the top, especially if you choose to hike up for sunset.
Xiangshan Trailhead
Elephant Mountain trailhead is easily accessible by public transportation. The trailhead itself is literally right next to the city where the mountains begin to climb up. Take the MRT (metro) and head towards the Xiangshan Trail; it's the same stop as the Taipei 101.
Walk from the MRT station and follow your GPS from there. GPS should be pretty straight forward; plus, there are very clear signs directing you to the path! We weren't paying attention and somehow managed to make one wrong turn. A nice local pointed us in the opposite (and correct) direction, as he knew exactly where we should go. The locals are super friendly!
The actual Elephant Mountain Taipei hike
The hike took us about 25 minutes to go up. It may take others as much as 45 minutes depending on athleticism and shape. A short hike means you can easily fit this into your "Places to go in Taipei" agenda!
It's a short hike, but it's almost all stairs, and it's pretty steep. The experience will definitely be more enjoyable if you are in "okay" shape. If you're not though, no worries! We did get passed by an 80-year-old shirtless man putting us to shame (was definitely a local). Take it as slow as you need. There are plenty of places to stop and rest along the way, and there are multiple gorgeous places to stop for pictures.
Top Views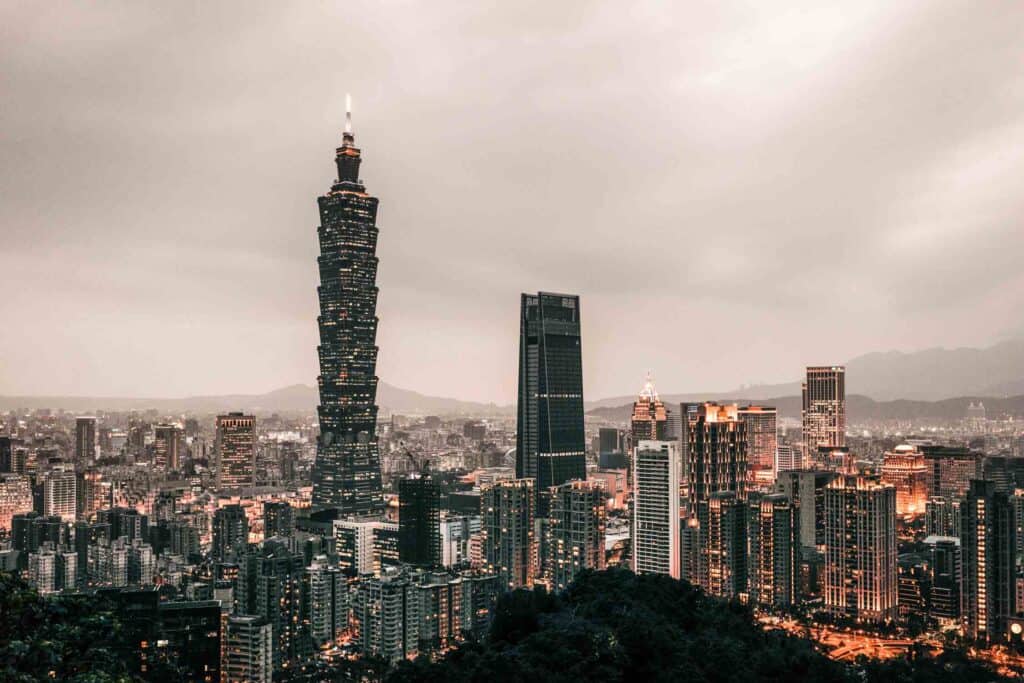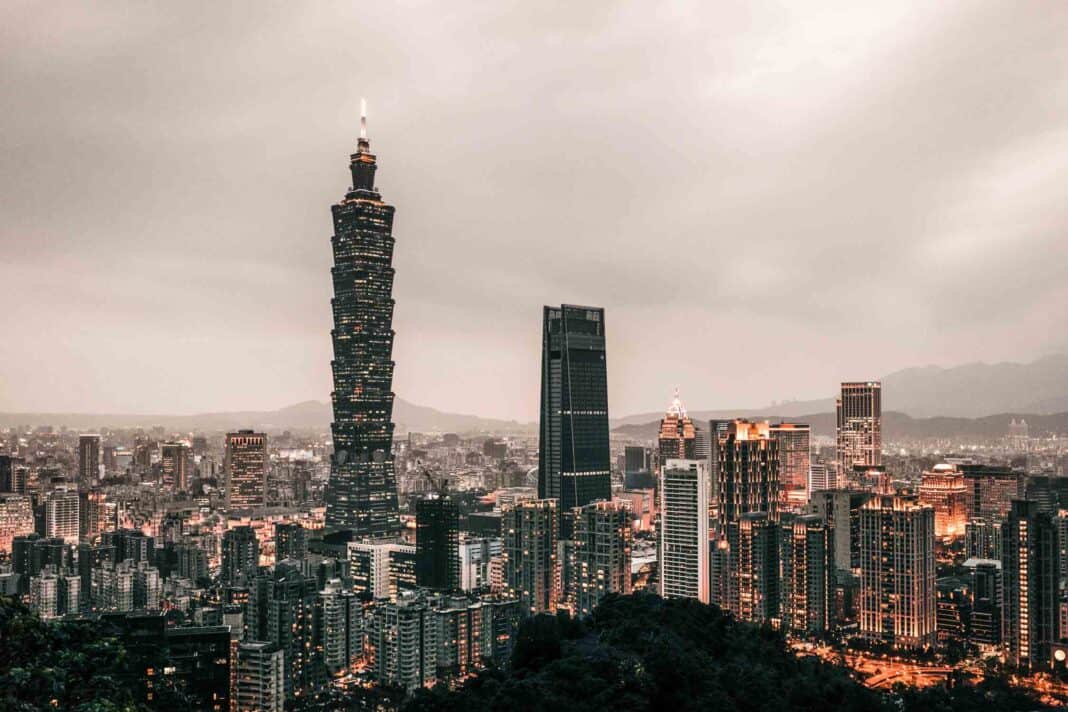 If you've seen pictures of hikers on boulders, those have been taken about 3/4 of the way up. Definitely take some time here to scramble over the boulders and play around to get some fun shots. You can turn around here, but if you can keep going up, there are even better views. You can even keep hiking past what most people consider to be the top. The trail is actually about 1 mile long and takes about an hour to go all the way up. Coming back down will go a lot faster.
If you want to go further, you can go down and along miles of trails on the backside of the mountain.
Hiking Tips
Taipei can get pretty hot, so bring water along with you. We were sure happy we did! Make sure you wear comfortable shoes (duh), but the hike isn't too long, and we actually saw people in flip flops. Not recommended, though.
Definitely make an effort to hike at sunset. The sunset always turns an incredible view into a magical one. Sunset is a more popular time for people to hike, and sunset on a weekend is even more crowded. Even still, we went on a busy weekend day, and it wasn't that bad. If you want the mountain all to yourself, the word is that you should venture out first thing in the morning.
The beauty of an experience like hiking Elephant Mountain Taipei is that the cost is free! We really enjoyed our chance to step outside of the city and take in the impressive views of the cityscape. This is one place you should absolutely know where to go in Taipei.
Read Next: 7 Best Night Markets in Taiwan