Rome is an amazing city that everyone seems to have an innate desire to see. The Italian allure is powerful enough in itself, but by adding in everything else that Rome has to offer, it makes a trip simply irresistible.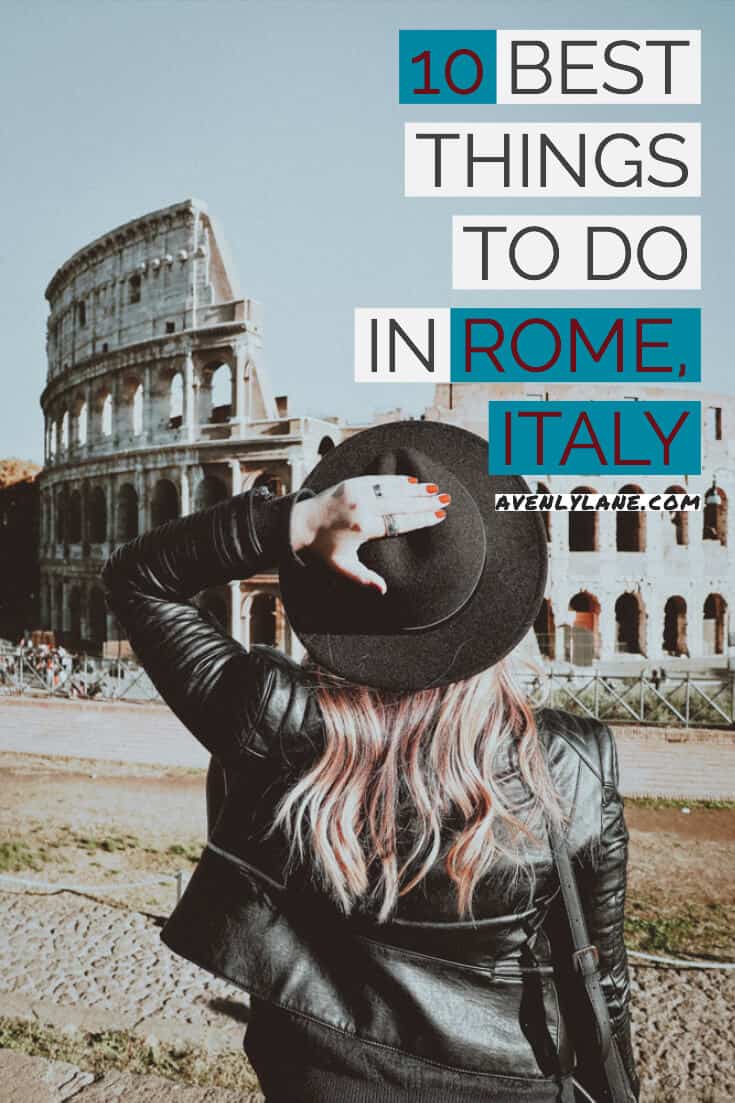 Rome features fascinating history associated with the Roman Empire, the epicenter of the Catholic faith in Vatican City, and the perfect representation of the Italian expression "la dolce vita" translation, the sweet life.
Even if you aren't a history buff, the Roman Empire has to fascinate you. At its peak the empire was so large that it ultimately would influence the spread of Christianity, all of the romance languages, many country's governments, and ultimately cultures around the world would adopt many facets of Roman culture.
Vatican City is sandwiched in the middle of Rome, but is officially the smallest country on earth. Its government is literally run by the Pope (head of the Catholic Church). Most religions have holy sites that draw their adherents in, but Vatican City's attractions can be appreciated by all.
"La dolce vita" meaning the sweet life was the name of a famous Italian movie, but the expression has come to mean find a way to live lift to the fullest. To Italians the expression can mean many things, but it is often accomplished by diving into an unexpected romance, enjoying a fine meal, and sipping the extra glass of wine.
Where to stay in Rome
Hotel Foro Romano (Overall favorite) – The reason you book this hotel is because of its location. It is right next to the Roman Forum and Coliseum, easy walking distance. This is the area you want to stay in.
Why I recommend this hotel: It's super affordable and the Colosseum isn't the only thing it is close to. It is also close to the end of the leonardo express, the train that goes to the tourist hot spots from the airport. You can expect a short walk from the end of the train to the hotel, but not bad. We easily did this walk with all our luggage at night. It was worth it to end up in the best location.
Hotel Foro Romano is right in the middle of all the action. It's close to many amazing Italian restaurants and subway access to everything else. The actual hotel is old (it's Rome) but not dirty and was suitable for what we needed. Want to be in the area on the cheap, then book this hotel. It was so nice to be able to jump out the door and be at the colosseum. Check current prices here.
Top 10 Things to See in Rome
To help you live la dolce vita while in Rome, the top things you should see are…
Colosseum Tours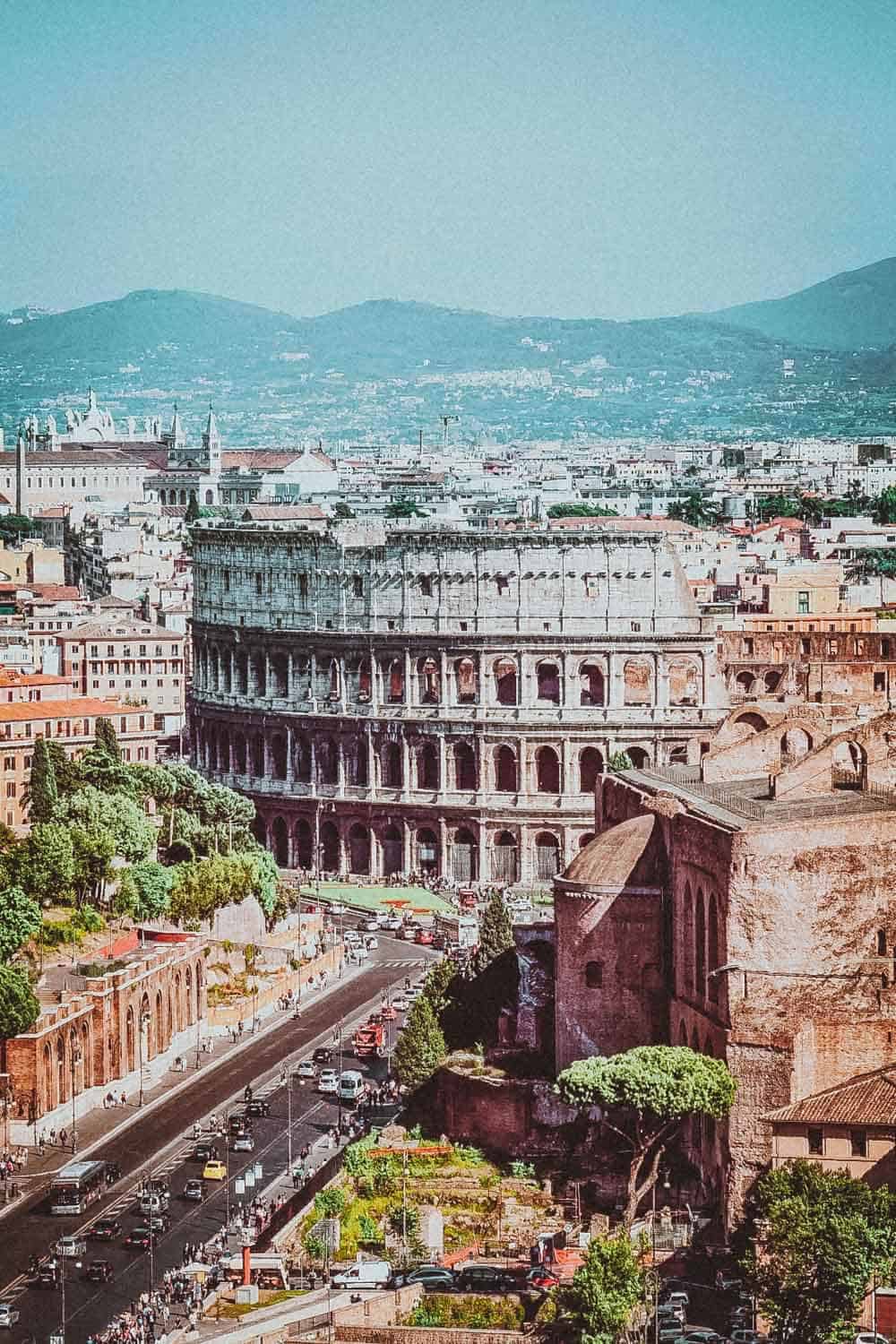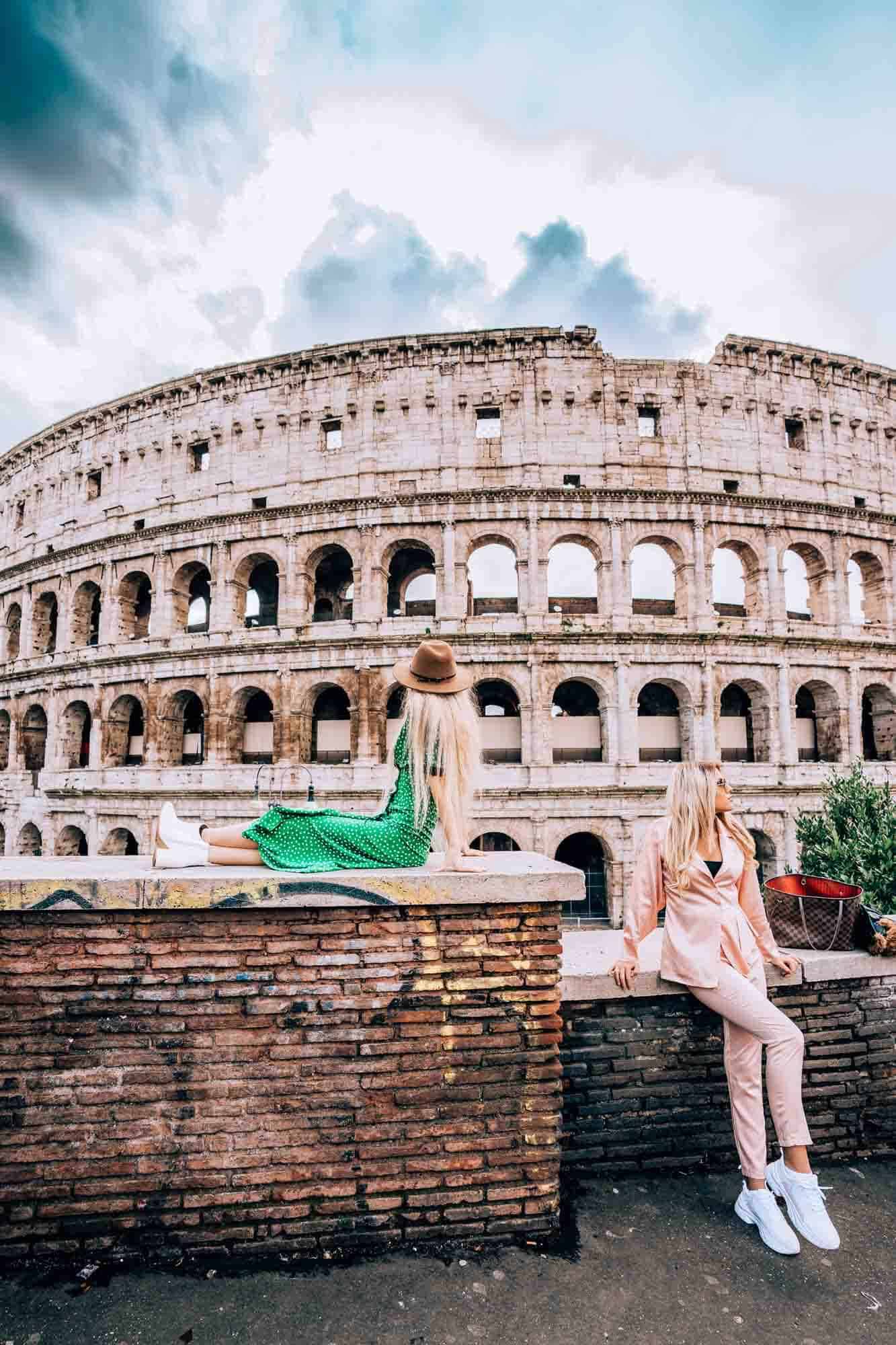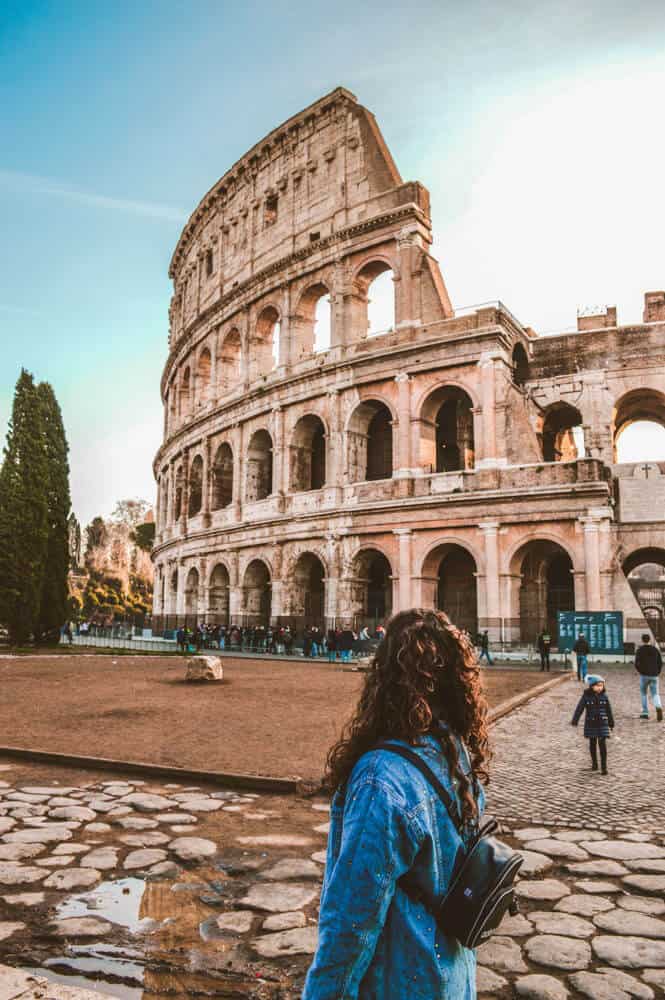 Of all Rome monuments visiting the Colosseum was the one that most exceeded my expectations. This 2,000 year old amphitheater/stadium seated up to 80,000 people and hosted gladiator battles and dramas of classical mythology. My favorite fact is that it was even designed to temporarily hold water and feature boats facing off in miniature sea battles.
Colosseum tours are easy to book, just make sure you check the Colosseum hours and buy your Rome Colosseum tickets ahead of time since the lines get crazy long! Also, beware there are a lot of hustlers outside offering fake or inflated priced ticketing.
One other benefit of pre-buying is that you can save a ton of time by buying "Skip the Line Passes". Buy your tickets to go inside the Colosseum here. (This ticket will give you access to the Colosseum, The Roman Forum and Palatine Hill.)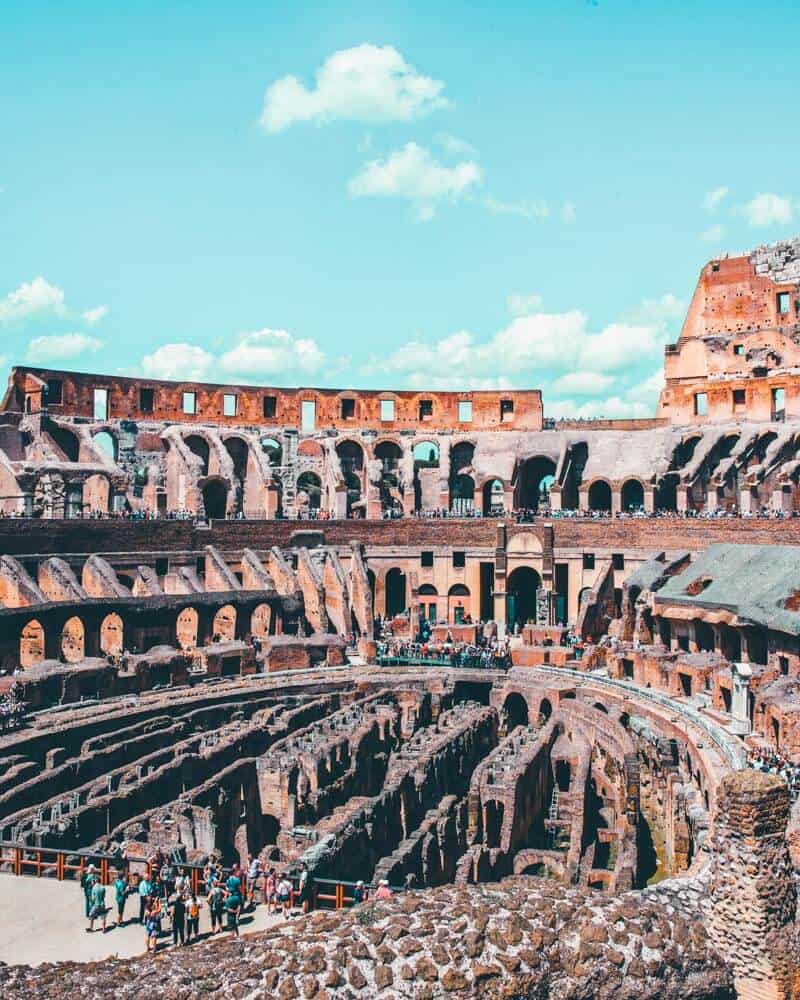 Trevi Fountain at night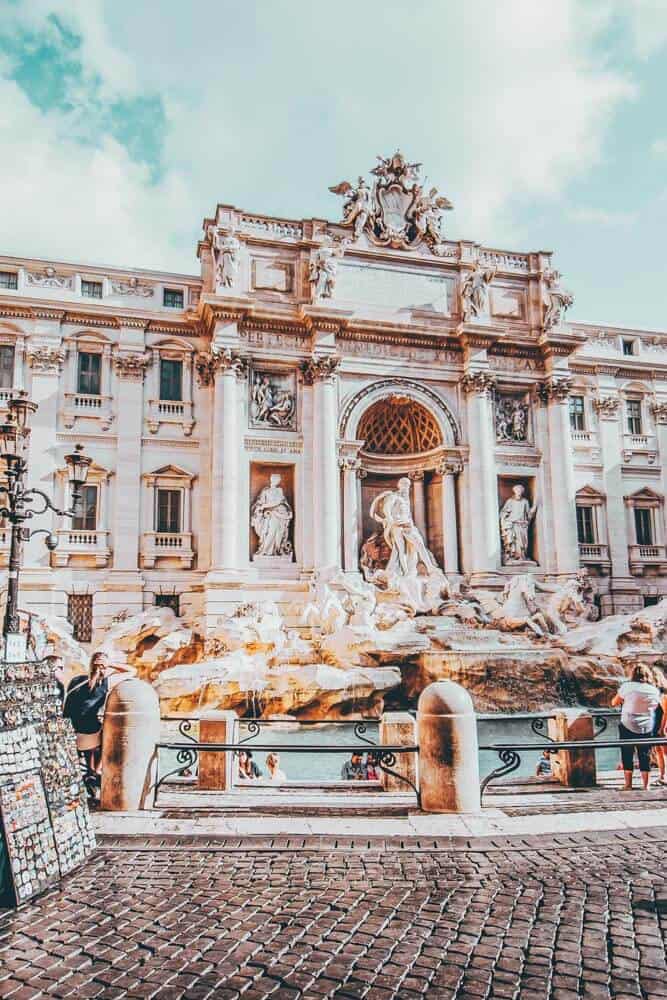 This gorgeous baroque fountain featuring carvings of mythological creatures is world famous and incredibly romantic. Tradition says that by throwing coins into the fountain you will be bestowed with an epic romance culminating in a Roman wedding.
Tons of people toss their coins in as the fountain raises over $1.5 million dollars a year. The money goes to Catholic charities, so even if your epic romance and Roman wedding don't happen, you've at least donated to a good cause.
Roman Forum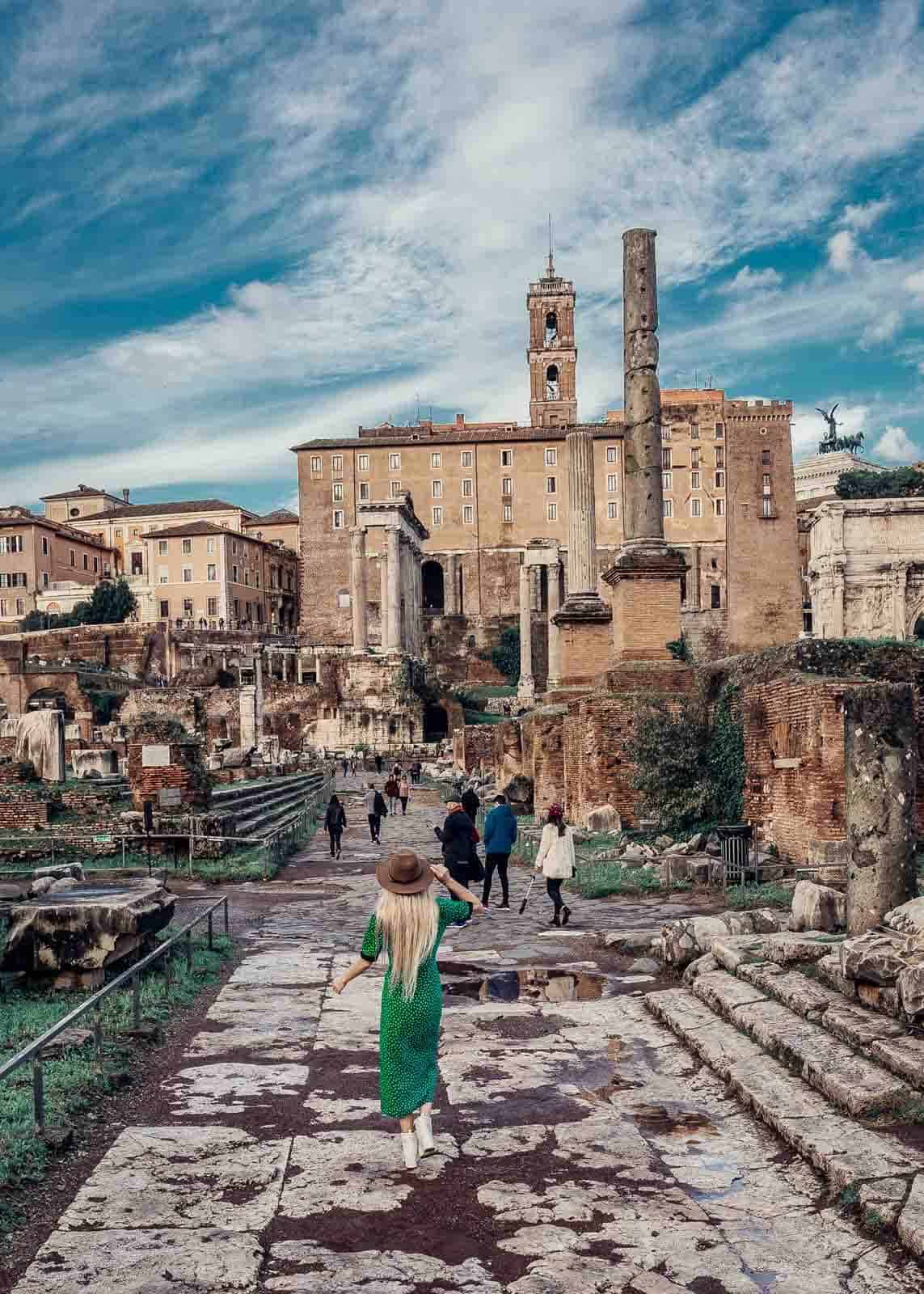 Even though the Roman Forum is constituted of crumbling ruins, it still shows the power the Roman Empire possessed. You can see what remains of government buildings, monuments, temples, and where leaders from all around the world charted their futures.
Roman Forum tickets are cheap, but know that the Roman Forum hours cause it to close before sunset every night.
Skip the line and buy your tickets in advance here >> Colosseum, Roman Forum, Palatine Hill Priority Tickets
St Peter's Square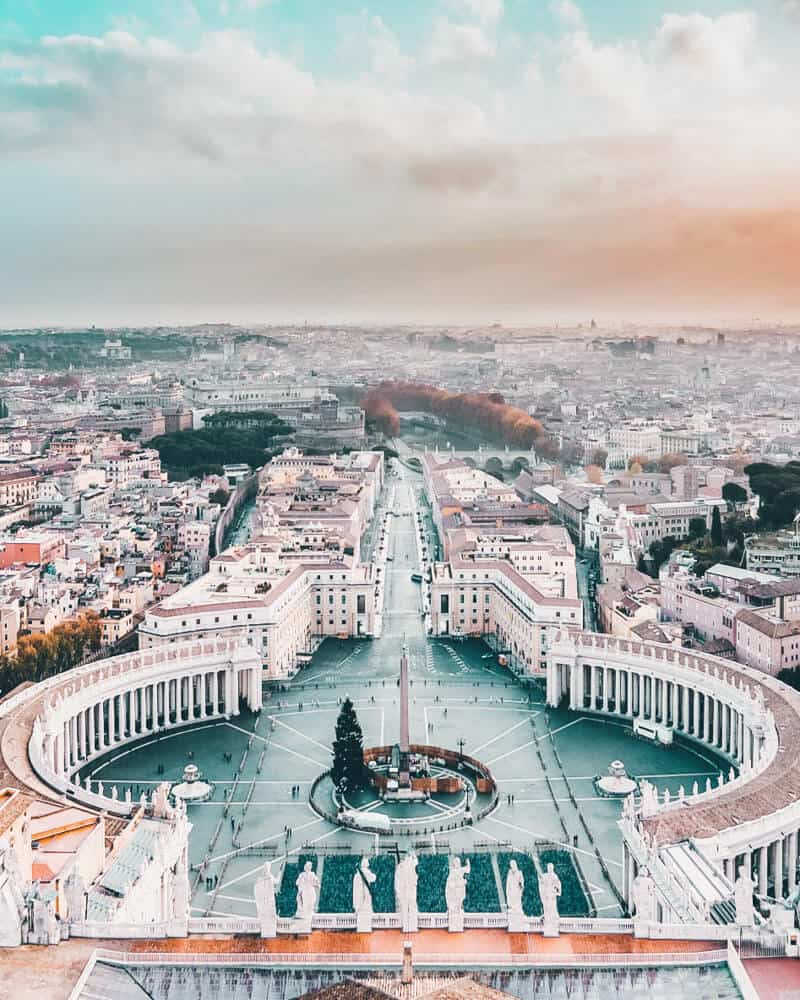 Saint Peter's Square is the only part of the Vatican that you can walk into without having to check-in or pay an admission fee. Yes, you will freely be crossing an international border. St Peters Square Vatican City is located directly in front of St Peter's Basilica.
This is the spot where thousands gather to hear the Pope make his public addresses on many Wednesdays and Sundays. It is not uncommon to have up to 100,000 people gather in the square. The square is surrounded by doric columns and also prominently features an Egyptian obelisk and large granite fountains.
St Peter's Basilica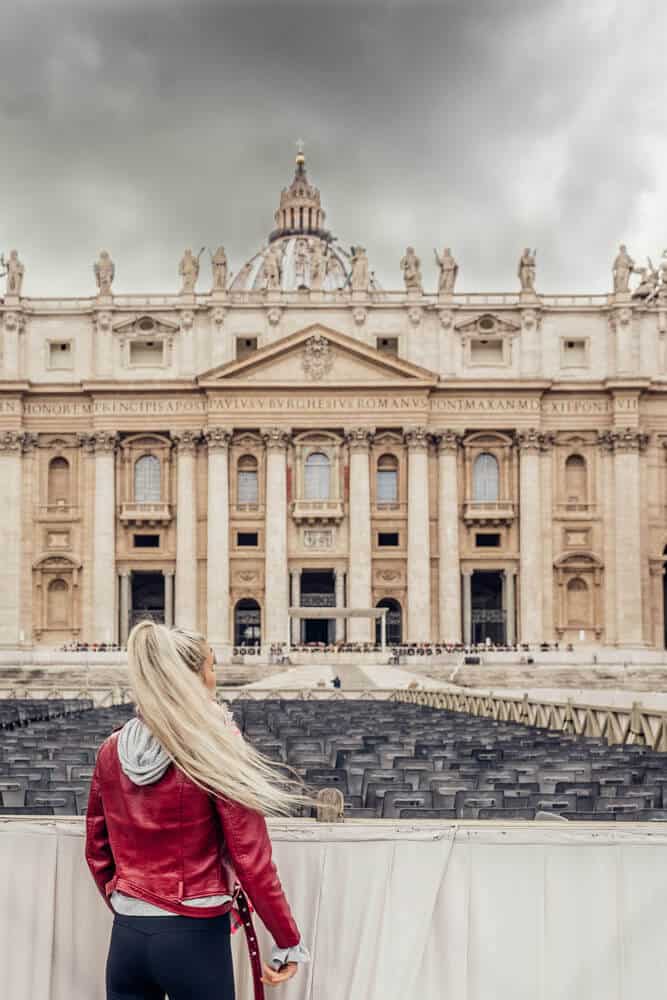 This magnificent church often gets called St Peter's Cathedral or St Peter's Dome; regardless of its proper name, depending on who you ask is the largest church in the world and an incredibly holy site for most of Christianity.
St Peters Dome is one of the best examples of renaissance architecture, and is supposedly burial site of St Peter, which has in turn made many Popes want to be buried there. St Peter's Basilica hours are from 7 to 7, and modest dress is required.
Touring St Peters Cathedral is free, but be prepared to wait in a long line as you have to go through airport like security. Once inside everything is worth seeing, but be prepared to pay extra to trek up to the dome, and make sure to not miss the underground grottoes.
Visit Sistine Chapel
No, it is not named the Sixteen Chapel, but is probably the home of the best known Michelangelo paintings in the world (though Michelangelo wasn't the only one who painted in this complex.
The Sistine Chapel is the most famous part of the Apostolic Palace, or home of the Pope. Sistine Chapel tickets are essential (but not expensive and actually part of the Vatican Museums tour – see below), and the most famous Michelangelo paintings in the world "The Last Judgment" and other intricate works across the walls and ceilings can be seen here. Buy your entrance tickets to the Sistine Chapel here.
Pantheon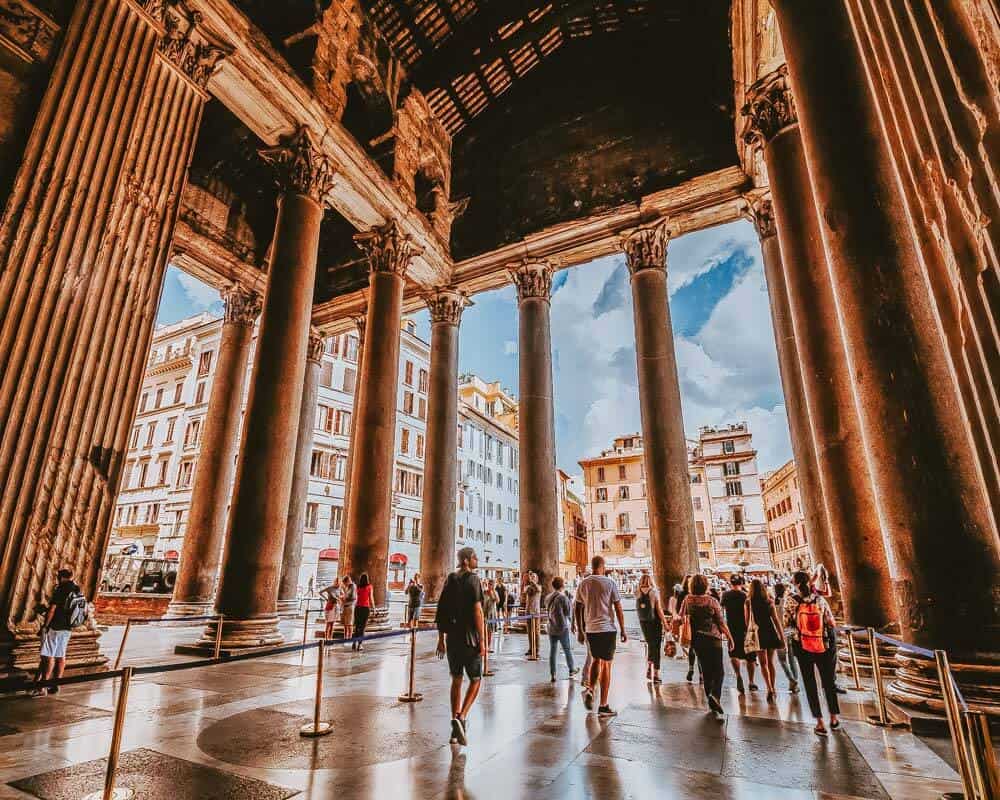 Any Pantheon guide will tell you that there are similarities to the Greek Parthenon, but know that they are completely different structures. While both ancient structures are dedicated to gods and feature columns across the front, the Pantheon build offers even more.
The gigantic spherical dome behind the front of the Pantheon is another attraction that impressed me more than I expected. The concrete dome was the largest in the world for a long time, and is still the largest unreinforced concrete dome on earth. The part the Pantheon build that impresses me most is the oculus, or open hole at the top of the dome that lets in natural light.
Spanish Steps Rome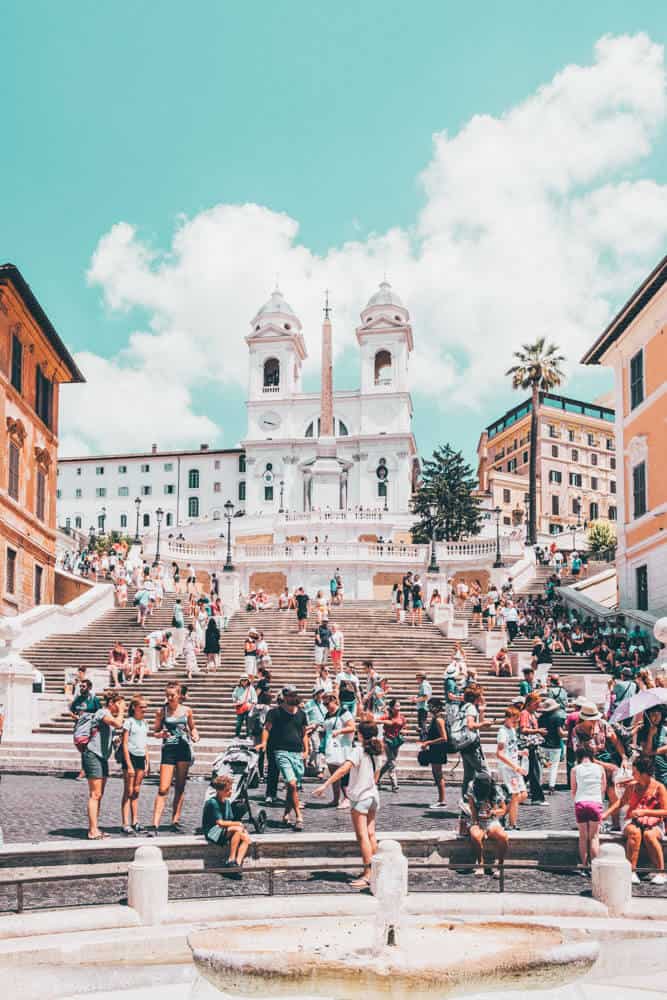 Rome is called the city of seven hills. It definitely deserves this name as it can be pretty steep in places. Most city planners design steps to be functional, but for steps in Rome purely functional is never enough. In Italy and especially with the Spanish Steps Rome Italy the ordinary seems to be transformed into a tremendous work of art.
These 174 steps connect Piazza di Spagna to Trinita dei Monti church at the top. Also at the bottom is another gorgeous fountain, the Fontana della Barcaccia. There are tons hotels near Spanish Steps Rome, so unfortunatley that means that they are very likely to be crowded day and night.
Vatican Museums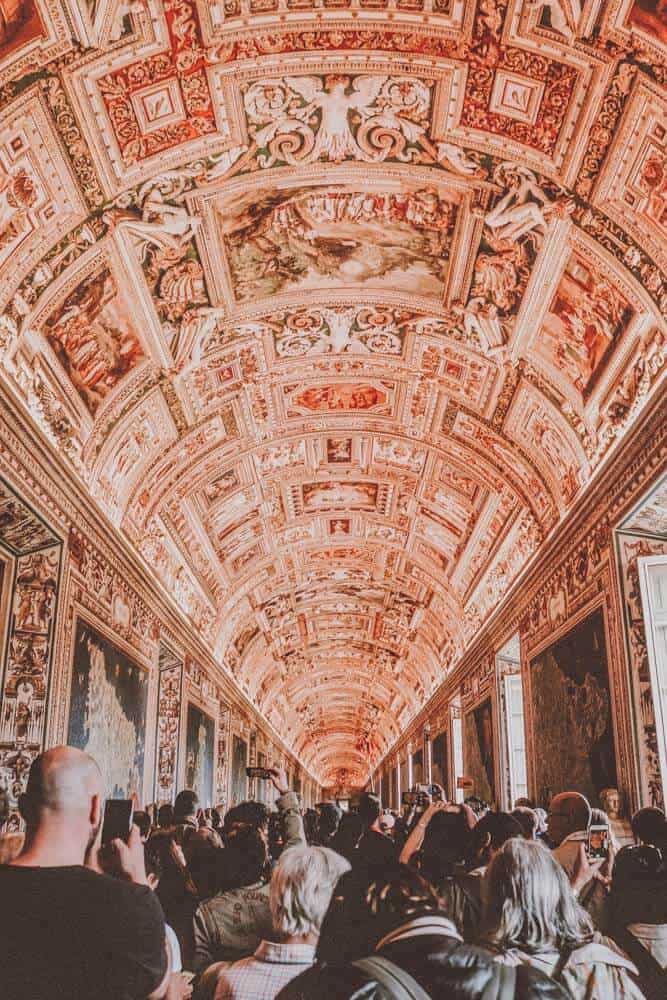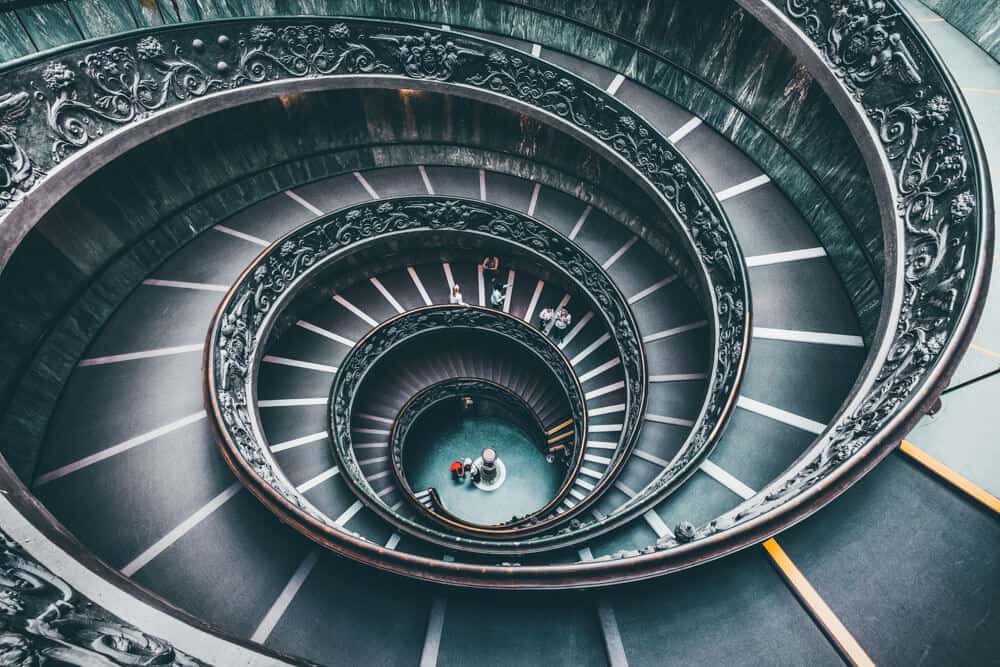 Note that there are multiple museums and not just one single museum you go through on Vatican City tours. Whether you are an art enthusiast, history buff, or just a casual observer Vatican tours are worth the effort.
The tour doesn't just include renaissance paintings and sculptures (which are amazing in themselves), but also gives you a tour religious relics and amazing architecture. One unexpected joy for me was the exit featuring the world famous double spiral staircase.
Vatican museum tickets are required, but like most of the other Rome monuments Vatican skip the line tickets can be purchased online here ahead of time. The Vatican Museums tour actually includes the Sistine Chapel, so know that you really are getting a lot for your money.
The Vatican museum hours are 9-6, with it being closed on most Sundays. Also, make sure you are aware that there is a dress code requiring you to not wear shorts and cover your shoulders and that photography is not allowed in most places.
Audio tours are more expensive, but if you want to go through on your own you can save money.
A Ton of Italian Food
While I do think good Italian dishes can be found in many places around the world, there is something special about authentic Italian food. The reputation for Italian dinner speaks for itself.
Typically Italian food focuses on perfectly executing a smaller number of ingredients rather than introducing rare and unique ingredients. There are lots of regional dishes across Italy, but the benefit of a food tour Rome is that all variations can be found in this big city.
Variations of pasta, pizzas, bread, and wine are obviously common. One of the biggest benefits I found was that even at cheaper restaurants the food was typically great.
So many of the amazing sights are clustered together, that even if they aren't on your targeted list you can't help but appreciate. On my last trip I unexpectedly encountered the Altar of the Fatherland after leaving Trevi Fountain at night, and the Arch of Constantine while approaching the Colosseum.
So tell me, what else would you add to this list?
If you enjoyed this post don't forget to share it with your friends on Pinterest, Facebook or Twitter. Thank you so much for reading!