Medellin Colombia used to be a dangerous, crime-riddled place. Now, it's much safer and an awesome vacation spot. Guatape is a small resort town located about two hours away from Medellin. If you visit Medellin, you have to tour Guatape Colombia as well.
Day Trip Medellin to Guatape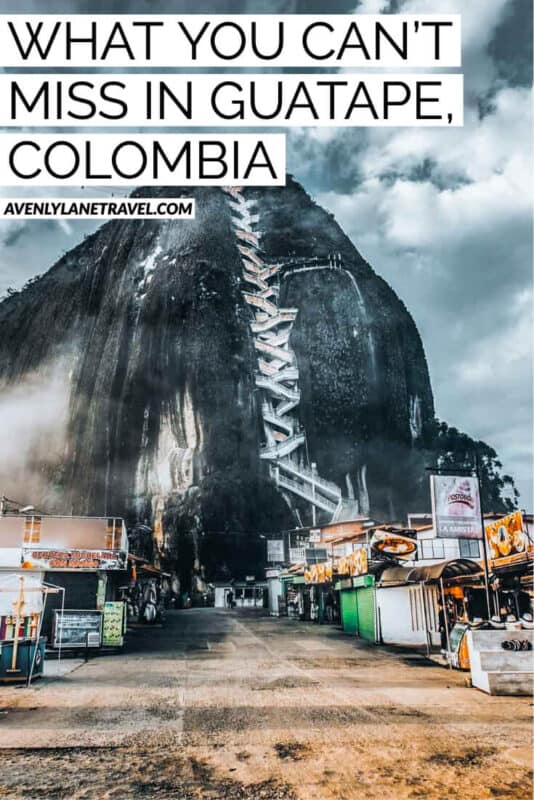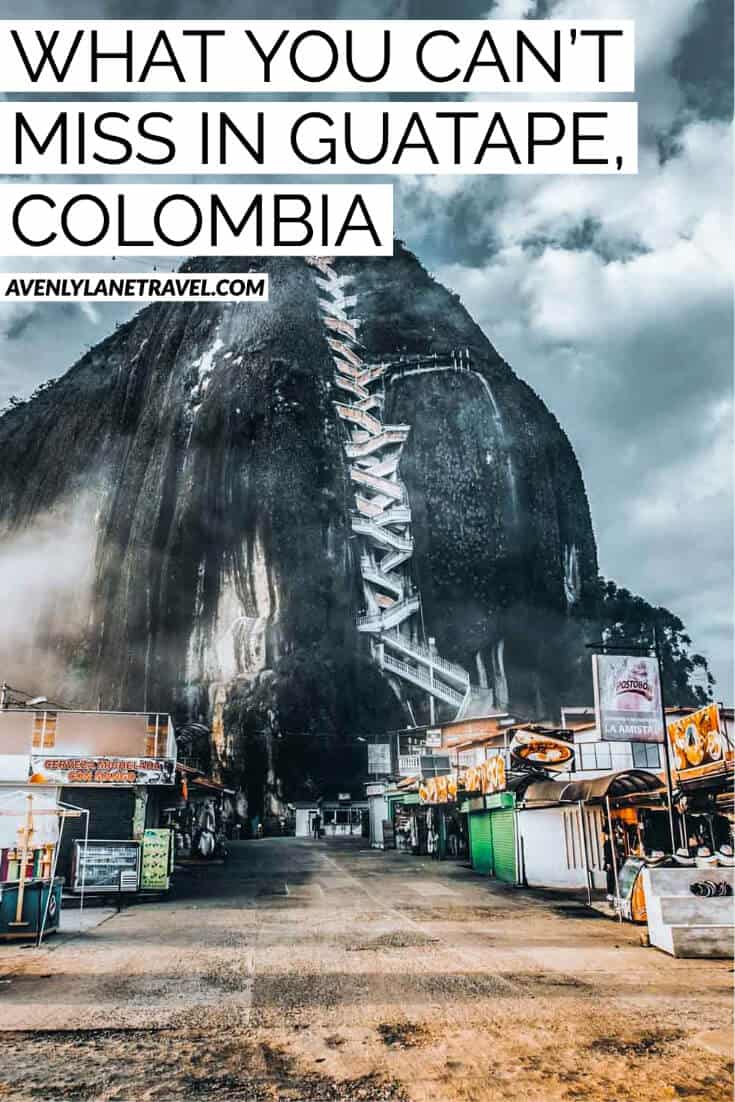 Looking to travel from Medellin to Guatape?
Visiting Guatape makes for the perfect Medellin day trip. Given that it only takes two hours to get from Medellin to Guatape, it is entirely possible to do a Guatape day trip from Medellin. That being said, I highly recommend spending at least 1 night in the area. It's hard to fully appreciate everything offered on a quick Guatape day trip from Medellin since you will have to spend at least 4 hours of your day traveling back and forth.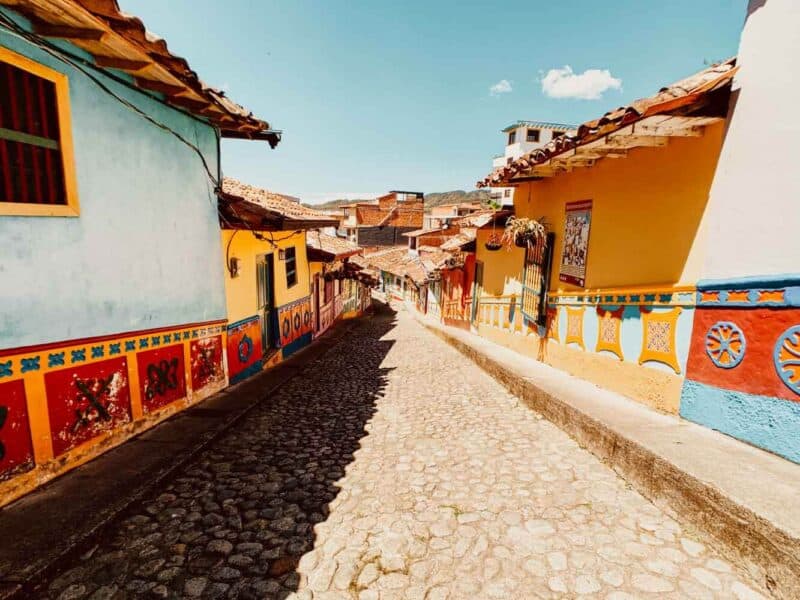 Best Things to do in Guatape Colombia
Visit Guatape Lake (Laguna de Guatape)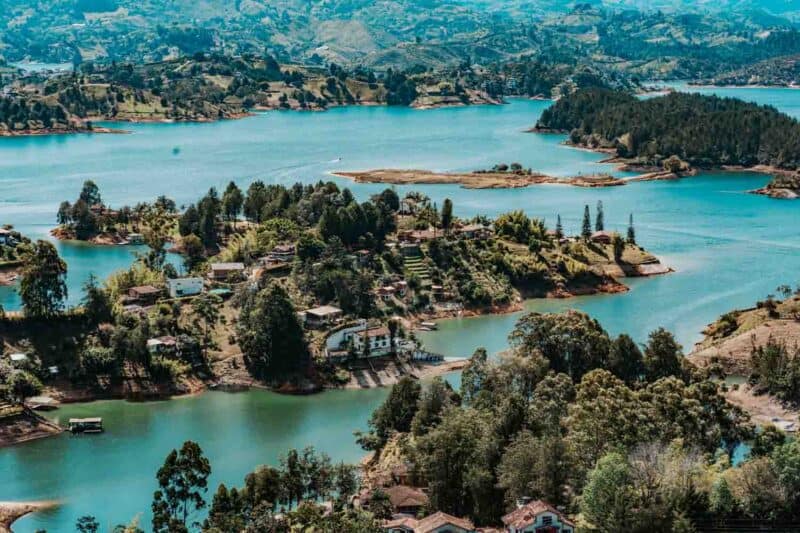 The town of Guatape itself is quaint and vibrant and it is right next to a gorgeous lake called Laguna de Guatape. What makes the Guatape lake so unique is that there are tons of beautiful hill tops and rock formations popping out of it. The scenery, almost straight out of a fantasy movie, was created by the flood of a hydroelectric dam in the 70's.
The site is most famous for the Piedra del Penol – the gigantic granite rock in the middle of the gorgeous lake/reservoir formation. Are you doubting why you should go see a giant rock? Piedra del penol is not only a unique site, but it's a unique experience as well. You get to climb 700 stairs to the top where the views truly can't be beat.
Outside of majestic scenery, there's lots of fun to be had during a Guatape tour. Where there's a lake there's lots of water activities, right? There are beach-like shores where you can swim and take out boats.
Guatape is a getaway destination, so there are many mansions and resorts with their own offered activities, such as organized hikes, etc. Despite the increase in travel interest, When planning your own Guatape tour know that it still feels relatively untouched and preserved from over-tourism while still being incredibly affordable.
Find all: Hotels in Guatape
Tour Piedra del Penol
Hiking Piedra del Penol should be at the top of everyone's itinerary. Also known at 'The Rock of Guatape' it is open from 8am-6pm, so slot it into your day anywhere you can, but DO NOT leave it out.
It only costs about 18,000 pesos, or $5 USD, to climb Guatape Rock's stairs. While 740 stairs sounds intimidating, the climb goes a lot quicker than you think.
The Rock of Guatape stairs are carved into the side of the 200 meter rock, almost like a spine. Pictures will show you how Guatape Rock's stairs weave a bit back and forth and each stair has its number marked to keep track. From afar it's an intimidating site, but the stairs really aren't bad. Even with a couple of rests, it's an adventure that will only take you about 15 minutes to climb up. A climb with unparalleled views the whole way.
The video below shows the views just half way up!
Once you've summit the rock, you'll catch the Guatape views in 360. You'll be able to enjoy those views with food and drinks. You'll find fresh fruit, cold beer, juices, snacks, and ice cream shops, all waiting for you at the top.
Insider tip: If you want the best pictures of the rock from below, walk to the town of Guatape (about 2 miles) and get your pictures on the way there. We opted to take a Tuk Tuk, and missed some of the best angles.
Search for a hotel right by Piedra del Penol by using the interactive map below.
Tour Guatape on Foot or Tuk Tuk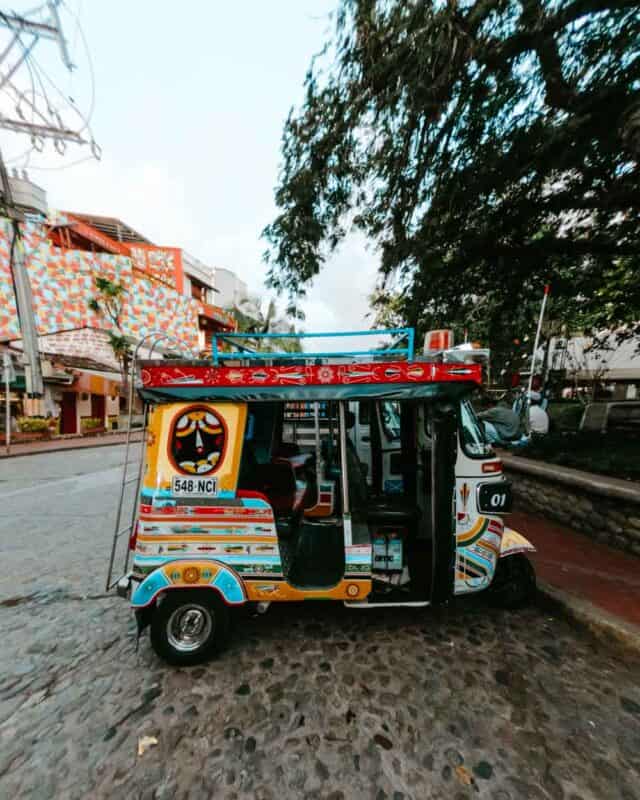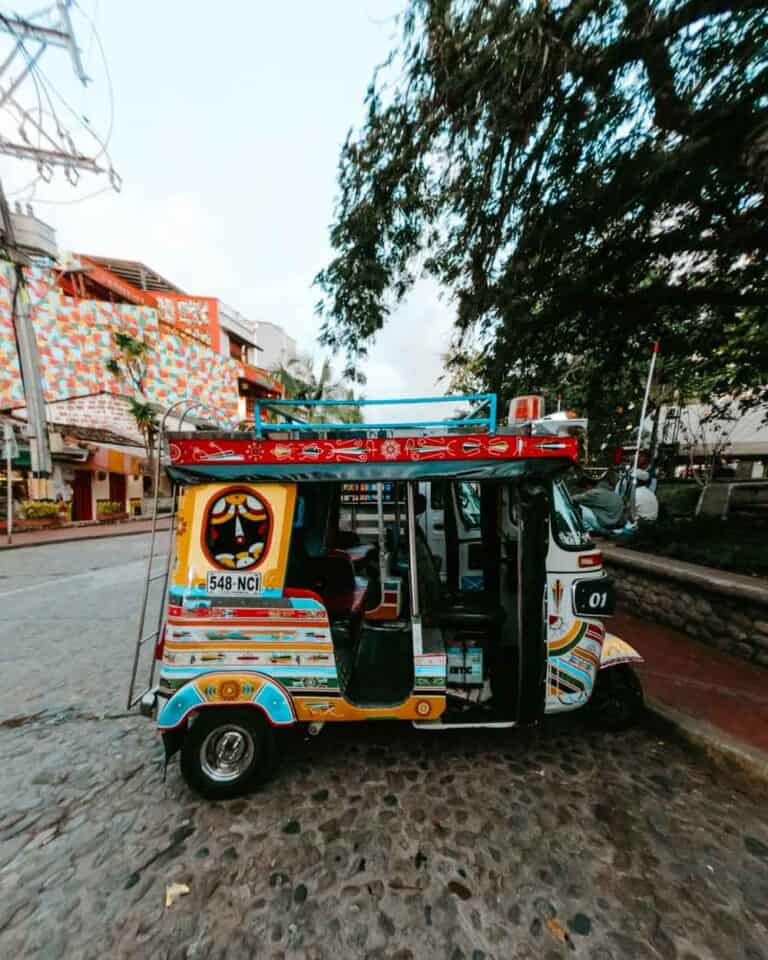 Taking a Tuk Tuk from Piedra del Penol to Guatape will cost about 12,000 Colombian pesos, or about $3.50 USD. A Tuk Tuk is basically like a 3-wheeled golf cart decorated in colorful paint and upholstery. Honestly, if you've never taken a Tuk Tuk, they can be an adventure in themselves, and it may be worth it to ditch the walk just to ride in one.
See the Zocalos on your Guatape Tour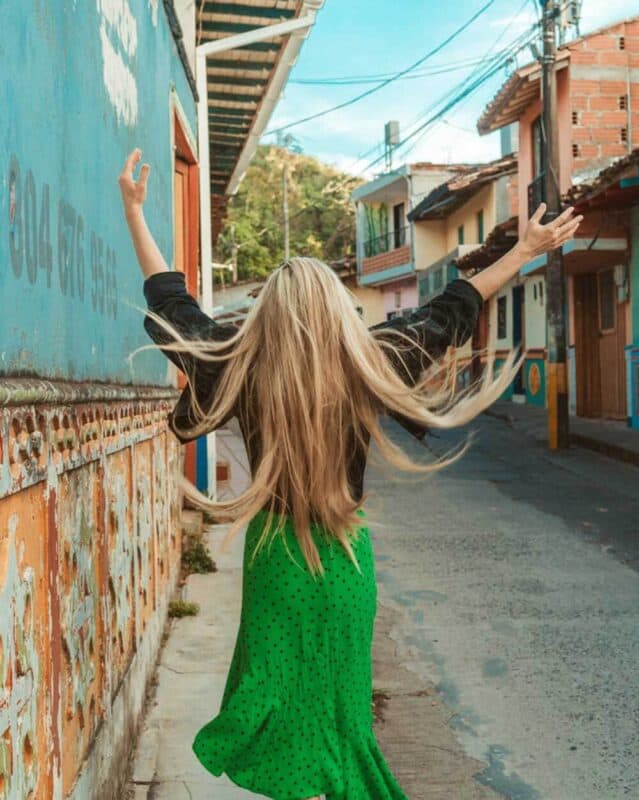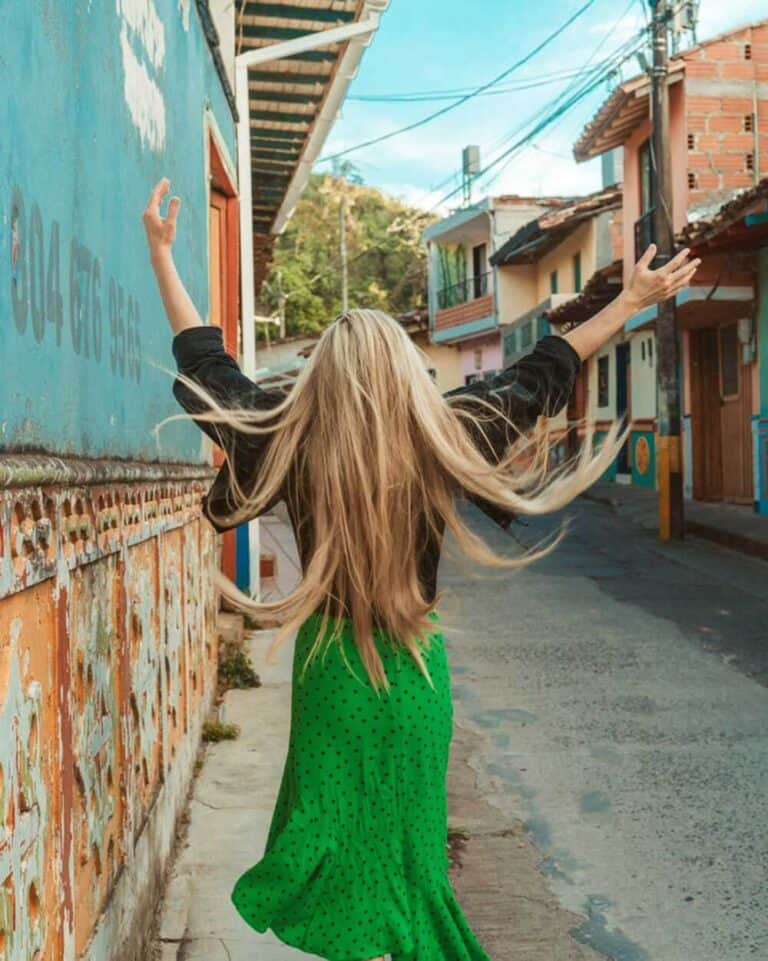 You'll know you're in Guatape because it's the most colorful town in Colombia. Once there, take a tour of the zocalos homes and buildings. Zocalos are artwork on the bottom half of the outside walls, much like wainscoting. The artwork is very intricate and generally themed. Fun decorations fit the business, like dogs or flowers, or it may be something the owner enjoys, like dragons and famous Colombians. These vibrant colors and images are on almost every building in town.
Guatape also has many shops to enjoy, restaurants with good food, quality hotels, and central square. You can splurge for a Guatape Tour, if interested, but it's small enough that you can easily explore by yourself.
Other attractions around town
Two other draws around town are water activities and Pablo Escobar's mansion.
Swim, boat, ski, kayak, it's all possible at the lake. You can rent a kayak for about 20,000 pesos, which is a steal of a deal at about $6 a day. You can also rent jet skis and boats.
Pablos Escobar's (infamous drug lord) mansion is also a big draw, which we were a bit surprised by. Before going we had read that the locals didn't like being continually reminded of Pablo Escobar, and that you shouldn't "glorify" his legacy. We ended up being surprised at how often the locals brought Escobar up and were proud of Medellin. The region has gone through a lot of change and has come away from its Narco/Cartel days. We had multiple drivers or locals point out various Pablo Escobar spots/tours even though we didn't go on any.
Regardless, the mansion called La Manuela, is only what remains after a fire burned most of it, and from what we were told, it is now supposedly a great spot to play paintball!
Taking a Bus from Medellin to Guatape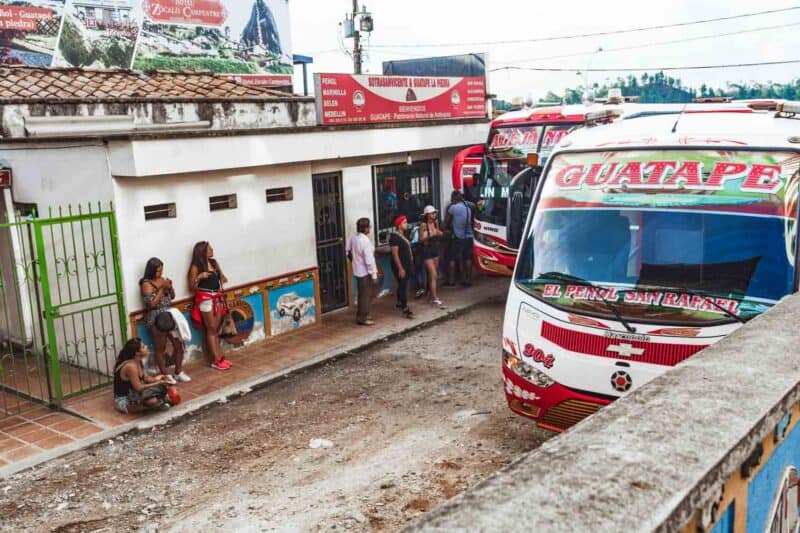 With Terminal del Norte Medellin being a big bus station in the center of the city, it is easy to access and catch the Guatape bus. To get to Terminal del Norte Medellin you can take the subway, an uber, or maybe even walk to get there.
The 2 hour bus from Medellin to Guatape costs about 14,000 pesos or about 4.50 USD. Be sure to let your bus driver know if you'd like to be dropped off in town or at Piedra del penol since they are 2 miles apart.
Pro-tip: Get your bus tickets back to Terminal del Norte Medellin ahead of time; they can sell out! We had to wait 2 hours for ours since it was a busy Sunday evening when we were trying to come back. You can take an Uber there from cheap, but they won't be able to get you back (no cars around).
The Guatape bus was far more comfortable then I was initially expecting. But warning – they fill up the entire bus, isle and all. You can pay for and have a ticket and not a seat. If you are late you will be standing for the entire 2 bus hour ride. Talk about miserable. The locals didn't seem to mind and I actually felt uplifted by their positive attitude while standing the entire bus ride.
When going back from Guatape to Medellin, the bus station in Guatape is immediately off of the main town square, so if you are stuck waiting around, it is a great place to be able to relax and spend some time.
Guatape Weather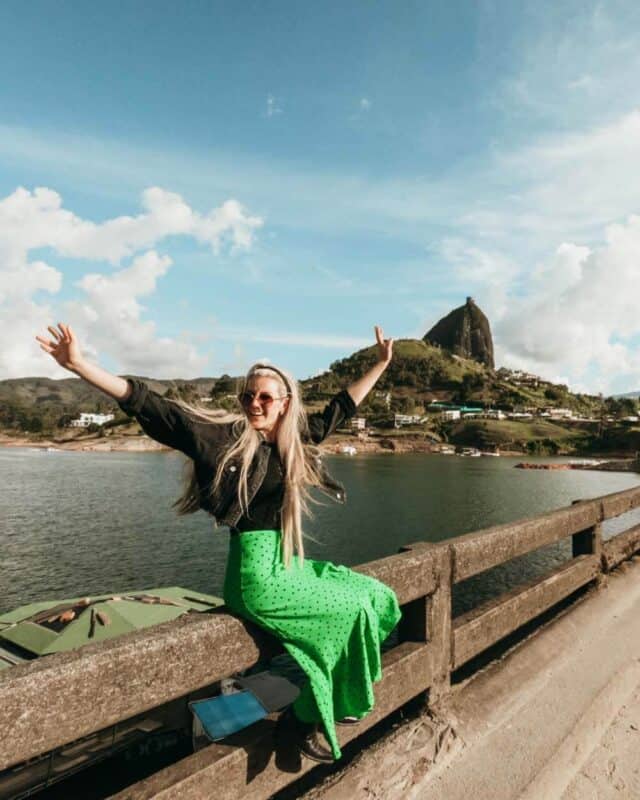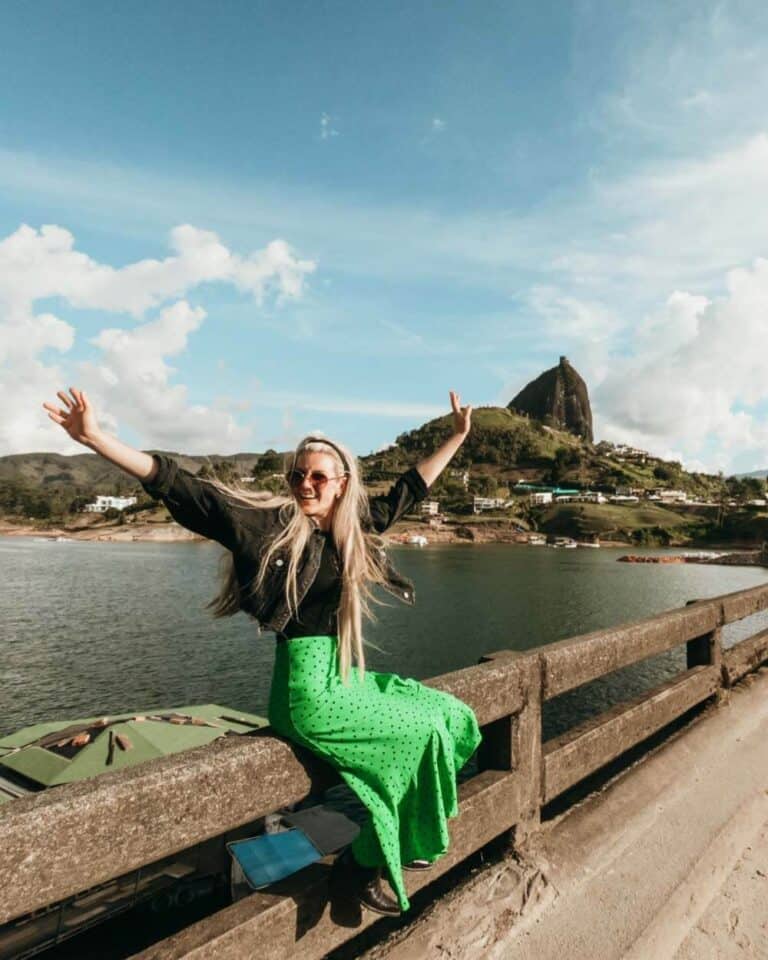 As you would imagine Guatape weather is pretty consistent given its location being pretty near the equator. It's not quite as hot as you would expect since its elevation has it sitting pretty high. The year round average temperature is about 70 degrees F, with A LOT of rain, so it's probably a good idea to pack an umbrella.
If you have any tips to add after your Guatape experience, feel free to share!