When in Colombia Guatape is a must see town. There are a ton of different things to do and see there, but the most iconic is the Piedra del Penol (also known as El Penol Rock). It may seem weird to need to visit a gigantic rock, but once you know the amazing opportunities included there, you'll want to schedule a stop.
La Piedra Del Penol – 'The Guatape Rock'
Ready to take a Guatape tour of Piedra del Penol?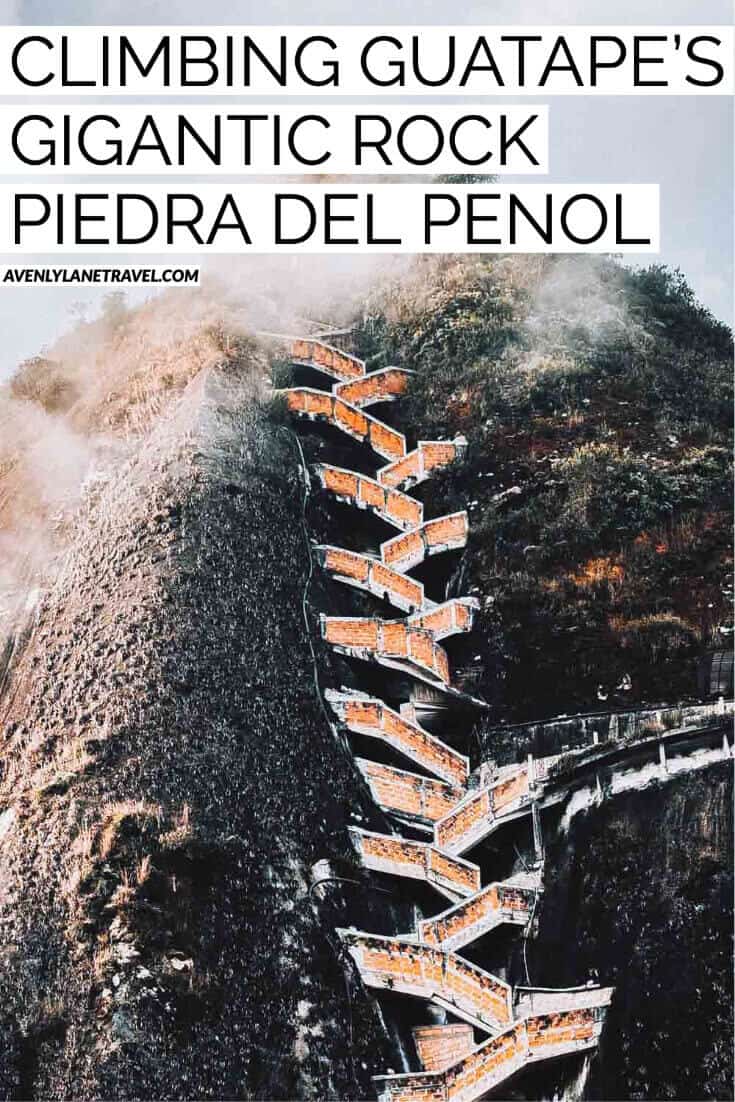 First off, the Rock of Guatape features stairs that are carved into the side of the 200 meter rock, almost like a spine. Pictures will show you how Guatape Rock's stairs weave a bit back and forth. Each stair has its number marked to keep track of your climb. From afar it's an intimidating site, but once you get climbing it isn't too bad Even with a couple short breaks it only took us about 15 minutes to climb up. This climb features unparalleled views the entire way.
Once you summit the rock, you'll catch the Guatape views in 360. You'll be able to enjoy those views with food and drinks. You'll find fresh fruit, cold beer, juices, snacks, and ice cream shops, all waiting for you at the top.
The views from El Penol (penol means peak in spanish) are absolutely incredible. Don't believe me? Check out the views from the top in my instagram video below.
La Piedra Del Peñol – Climbing Guatape Colombia's Big Rock
How difficult was was it climbing to the top?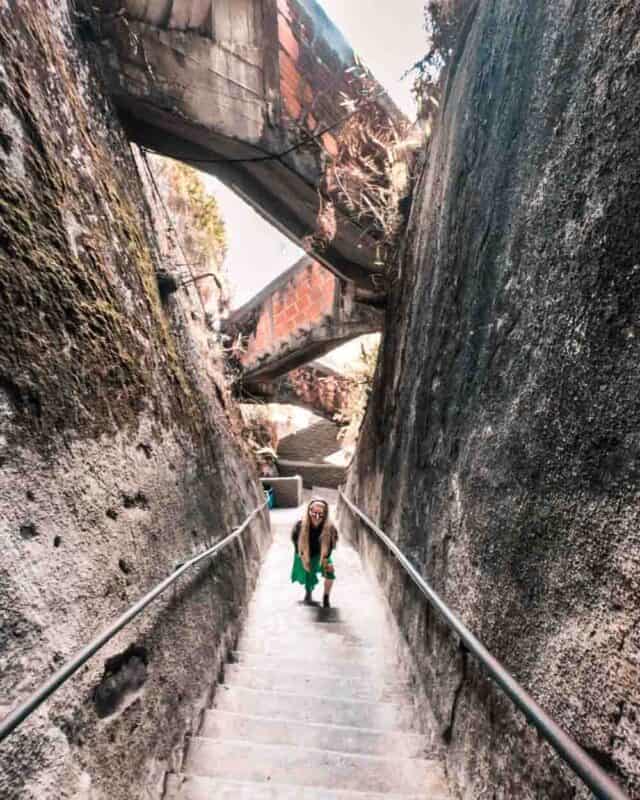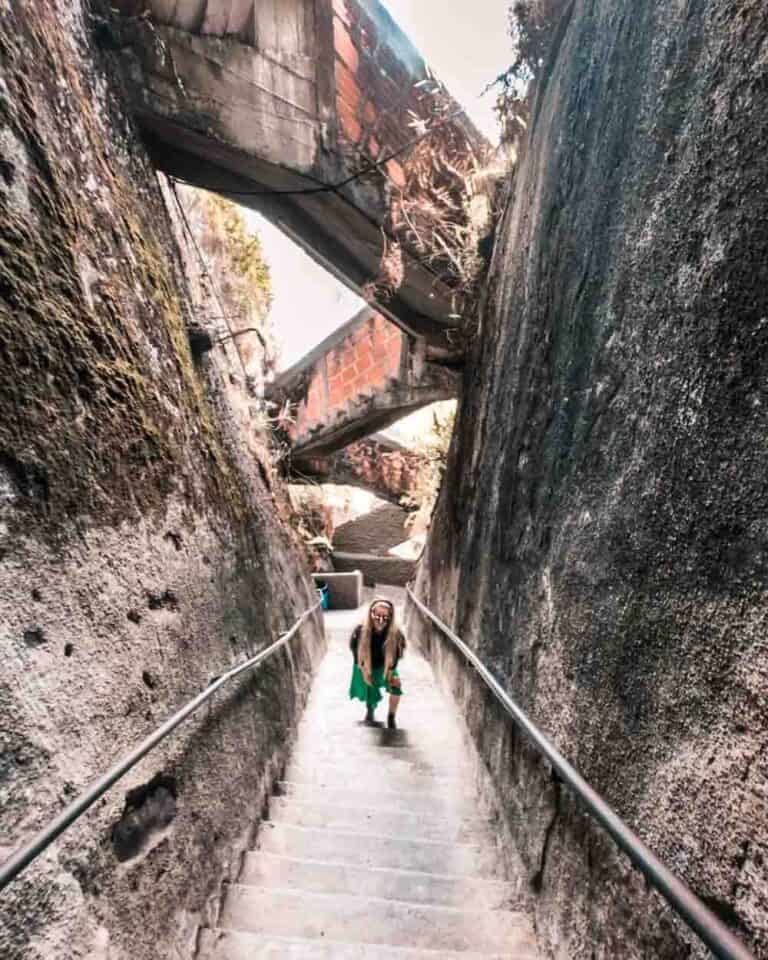 While 740 stairs sounds intimidating, the climb goes a lot quicker than you think. There were lots of kids climbing and adults with kids in their backpacks. You will also find a lot of people sitting on the stairs resting as you make your way up to the top.
I have been traveling sick with a chronic illness called POTS Syndrome. This condition affects how fast my heart beats when in an upright position. Basically my heart beats way too fast and at times I pass out from it. Exercise can exacerbate these symptoms. I was exhausted from the climb, but still managed to complete it.
Hours and Cost
The Rock of Guatape is open from 8am-6pm, so slot it into your day anywhere you can. It only costs about 18,000 pesos, or $5 USD, to climb Guatape Rock's stairs.
Hours of operation: 8am – 6pm
Cost: 18,000 pesos ($5 USD) per person
Getting from Medellin to Guatape
Option 1: Take the bus to Guatape. The cheapest way to get from Medellin to Guatape is to take a bus. The bus from Medellin to Guatape will cost you around $4-6 USD and will take you about 2 hours.
Cost of the bus – $4
Option 2: Take an Uber If you don't want to take a bus you can take an Uber. An Uber ride from Medellin to Guatape will cost you about $35 USD. Since we overslept (I was having a rough morning health wise) we opted to take an Uber. Yes, you can take an Uber from Medellin to Guatape even though the drive is about 90 minutes.
Taking an Uber is going to be more expensive than taking the bus, but it was a total life saver for us since we were running low on time (and energy). Sometimes, you just can't put a price on having a car pick you up at your hotel and drop you off at the foot of the giant rock in Guatape.
Cost of an Uber – $35
Option 3: Go with an organized tour – Personally, tours are my worst nightmare BUT, I know so many people prefer to travel with a tour guide. If this is you then we recommend this tour from Medellin to Guatape – this will include the hike up to the top of La Piedra Del Penol.
Getting from Guatape to Medellin
I wouldn't bank on being able to book an Uber driver from Guatape to Medellin. Instead I recommend taking the bus. The bus was clean and comfortable.
A word of warning – Do not buy your bus tickets last minute. The buses fill up and by fill up I don't mean you won't get on, I mean you will get on, just without a seat.
Where to Stay in Guatape
Looking for the best hotels in Guatape Colombia? Check out the map below to see all the best hotels and locations.
The Many Names of Piedra del Penol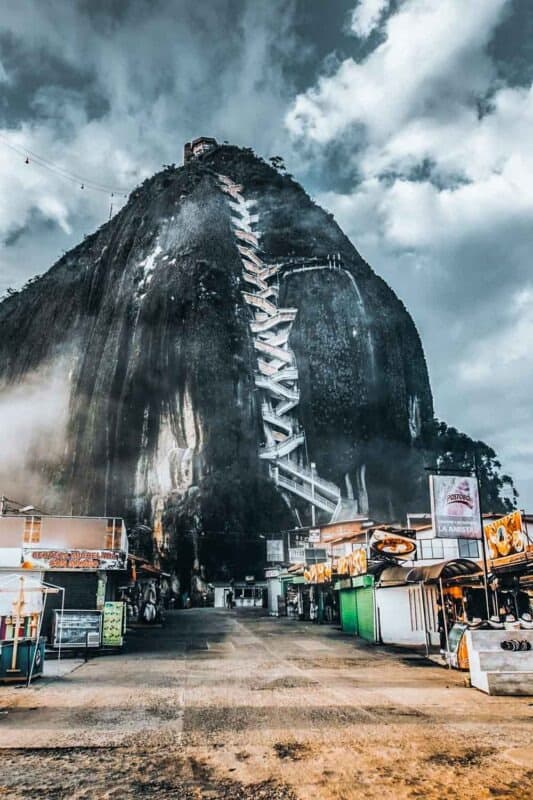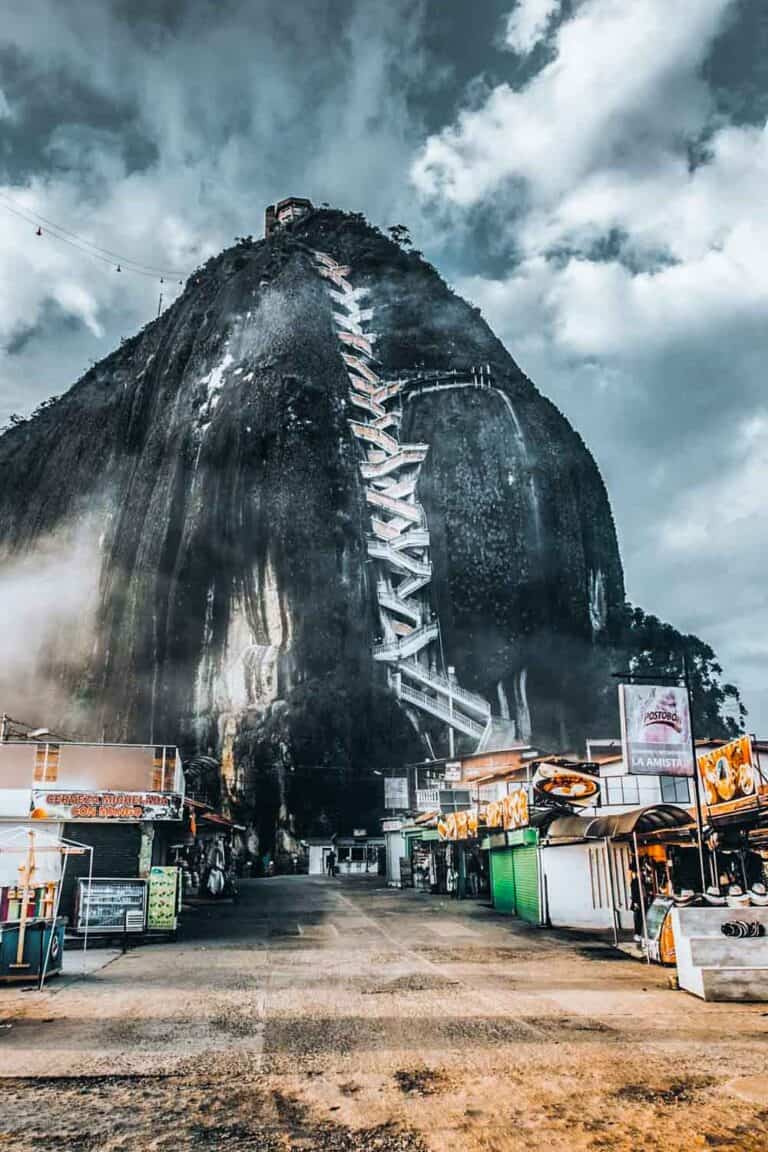 There are actually two towns that each try to climb the rock as their own – El Penol and Guatape. Because of this, you'll find the site under the names Piedra Del Penol, Guatape Mountain, La Piedra, and even Piedra del Penol Medellin sometimes.
Insider tip: If you want the best pictures of the rock from below, walk to the town of Guatape (about 2 miles) and get your pictures on the way there. We opted to take a Tuk Tuk, and missed some of the best angles.
Read Next: Amazing Things to do in Guatape Colombia