Looking for the best hotels in Guatape? Keep reading to see our favorites.
It would be a mistake to not include a trip to Guatape on your Colombian vacation. Medellin is a city on the rise that is beginning to attract visitors from all around the world. Thankfully, a visit to Guatape is easy to include if you make it to Medellin. It's close, and there are plenty of transportation options to get there.
Curious what to see in Guatape? Check out our post on the top things to see in Guatape here.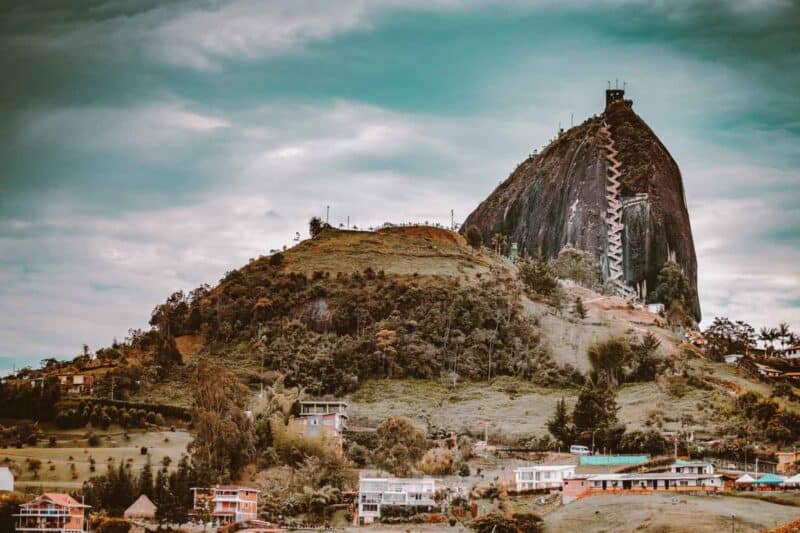 Find all >> Hotels in Guatape
What you need to know before booking hotels in Guatape
Guatape Colombia is only about 50 miles/80 kilometers away from Medellin. Some people say it only takes an hour and a half to get there, but given the windy roads and likely traffic, you should plan on two and a half hours to get there.
Some people do Guatape as a day trip from Medeillin. While it is possible, I highly recommend spending more time in the area. There is just too much to enjoy in one day. Given that the ideal trip is going to involve an overnight stay, you are going to need to book one of the hotels in Guatape. Before booking one of the hostels in Guatape, there are certain things about Guatape that you need to be aware of.
Transportation Options
You can drive your own car, can take an Uber (it is often difficult to find one to get back though), or like most people you can take the very affordable bus in from Medellin. They leave approximately every 30 minutes from the Terminal Del Norte Medellin Station.
Top things to know before booking one of the Guatape Colombia hotels
Book Early – It is an extremely popular resort town that more and more people are finding out about. Given its surge in popularity amongst Colombians as well as international visitors you need to make sure to book early as the Guatape Colombia hotels sell out.
We booked our Colombian vacation last minute and a number of the best options were sold out.
No Chain Hotels – Given that it an up and coming destination for worldwide travelers, there aren't yet tons of the worldwide chain hotels. This once again means that it is extra important to learn about the hotel you are going to book ahead of time.
Locations to be aware of
Piedra Del Penol is about 2 miles/ 3.2 kilometers away from the town. Many people mistakenly think that the two are right next to each other.
There are hotels near The Rock, but know that if you book one, you are going to have a decent walk to get into the town, or are going to have to have another transportation option. The mini motorcycle/truck style taxis (tuk-tuks) aren't too expensive, but the fees can add up if your hotel isn't walkable. You can search for all hotels by Piedra Del Penol, Guatape's main attraction by using thee map below.
Most of the hotels are in the City Center/Malecon area (pier)
Most of the hotels are clustered near the city center, or along the malecon (pier) area. Lots of these hotels have great views of the lake, but know that the action in these areas can go late into the night, especially on weekends.
There are a number of affordable hostels in this area. Even in the peak season you can book a good one for about $20 USD a night.
A number of other hotels, and lots of times the higher end ones are spread out along the lake. Given that they are a decent ways away from the town, they often include lots of their own entertainment and excursions out onto the lake. This can be a great way to not have to spend too much time traveling, but once again make sure you prepare your transportation options ahead of time so that you know you can get around.
There aren't really any "bad" neighborhoods in town, so if you find a good deal in Guatape, you do not need to worry about feeling unsafe (assuming you take the usual precautions).
Some of our favorite hotels in the area are…
The Best Hotels in Guatape
Hotel Zocalo Campestre
Hotel Zocalo Campestre is located immediately at the base of Piedra del Penol (Read more on Piedra del Penol here.). Given its location, it isn't surprising to hear that it has awesome views of the rock, but it also has great views of the lake. The hotel gives you a great flavor zocalos of the town of Guatape, but won't require you to stay next to the action that can go late into the night.
Remember, it's two miles from the town of Guatape, but it is easy enough to get a tuk-tuk to take you into town, or if you have a little bit more time you can walk it.
Hotel Mansión Guatapé
If it is available and you can afford it, stay in this hotel on your trip to Guatape. It is also located near the bottom of the Piedra del Penol. This hotel perfectly combines the small town charm of Guatape with the feel of a modern resort. It features great amenities like a pool, steam room, and spa. Unfortunately when we went it was sold out, but we still passed by to see what we were missing out on.
It also features tremendous views, and for it being one of the nicest hotels in the area it is not overly expensive.
Best Hostels in Guatape
Natural Rock Hostel
If you are looking for a cheap and clean hostel in Guatape where you can book your own room and bathroom then look no further than the Natural Rock Hostel in the heart of the Guatape city center.
This is the exact area that we spent most of our time when in Guatape. Even though it is cheap, it still features amenities like free wifi. You can often book this hostel for as little as $10 a night, which is an incredibly value for what you get!