Things To Do in North Berwick
If you are visiting Edinburgh, a trip to North Berwick is highly recommended. Read on for tips on where to stay, how to get there, and some not-to-be-missed attractions:
Where to Stay in North Berwick
Whitehaven Beachfront Property
For families, or for couples, this beachfront property just 150m from West Bay is a wonderful choice. It has two bedrooms, a full kitchen, a charming terrace outside, and everything you need for a comfortable stay.
Beach Cottage
Located right on the beach, this is a one bedroom cosy cottage perfect for couples. With stunning sea views and an equipped kitchen, with free parking and Wifi available, this is another great choice for a relaxed and relaxing stay in North Berwick.
Nether Abbey Hotel
This hotel just a stone's throw from the beach has elegant ensuite rooms, a restaurant, and free WiFi and parking. A full Scottish breakfast is included in the price of the stay.
How to Get From Edinburgh to North Berwick
By train: The easiest way to get from Edinburgh to North Berwick is to take the train from Waverley Station. There is a ScotRail service which runs very regularly, taking just over half an hour to reach this coastal village.
By bus: A slightly cheaper option is to take the Bus. Bus number 124 departs from St Andrew's House (Calton Hill) and will reach North Berwick after a number of stops in around 1 hour and 20 minutes.
Rent a car: You can also rent a car to get to North Berwick from Edinburgh. Having your own vehicle will allow you to also explore the rest of the stretch of coastline along the Firth of Forth, and perhaps also to venture further round the coastline. Electric charge points are available should you choose to hire an electric vehicle for a more eco-friendly adventure.
By bike: However, the most scenic way to get from Edinburgh to North Berwick is by bike. A cycle along the coastline to North Berwick will take around 2-3 hours. This wonderful slow travel option will also allow you to see the beautiful coastline and some other villages along the way.
If you are up for a longer trip, you can hike to North Berwick along part of the John Muir Way.
What to Do In and Around North Berwick
En Route to North Berwick:
1. Longniddry Bents
This beach area is popular in the summer months for water sports and other pursuits. This area is part of the Firth of Forth Site of Special Scientific Interest, and a Ramsar Site. Many sea birds and wading birds can be seen here and a small community of rare water voles are known to live around the burns (streams) running out of the bents. To the west grey seals are often spotted.
2. Aberlady & Aberlady Bay Nature Reserve
Aberlady is a little village which was a significant Anglo-Saxon settlement between the 7th and 10th Centuries. Here in Aberlady, the heritage project boasts a large collection of Anglo-Saxon finds. The Parish Church here dates back to the 15th Century, though it was rebuilt in 1887.
Aberlady Bay became the first Local Nature Reserve in the UK in 1952. This is a site of special scientific interest, a special protection area and a Ramsar site. There is a footbridge crossing the Pfeffer Burn that takes visitors to Luffness.
3. Gullane & Gullane Bents
Gullane is a small town where there has been a church since the 9th Century. The ruins of a 12th Century church can still be seen at the western edge of the settlement.
The nearby beach area is highly regarded – a long stretch of sand backed by large shrub covered sand dunes.
4. Dirleton Castle & Gardens
This is a ruined Medieval fortified house dating back to the 13th Century. The gardens boast the world's longest herbaceous border and date from the 19th-century. Large information boards reveal to visitors what these ruins would have looked like in their prime.
The settlement of Direlton itself is also charming, and from here, you can stroll or cycle along a pleasant pathway to reach the Yellowcraig Beach.
Things to do in North Berwick
1. Bass Rock Sea Birds & Seabird Centre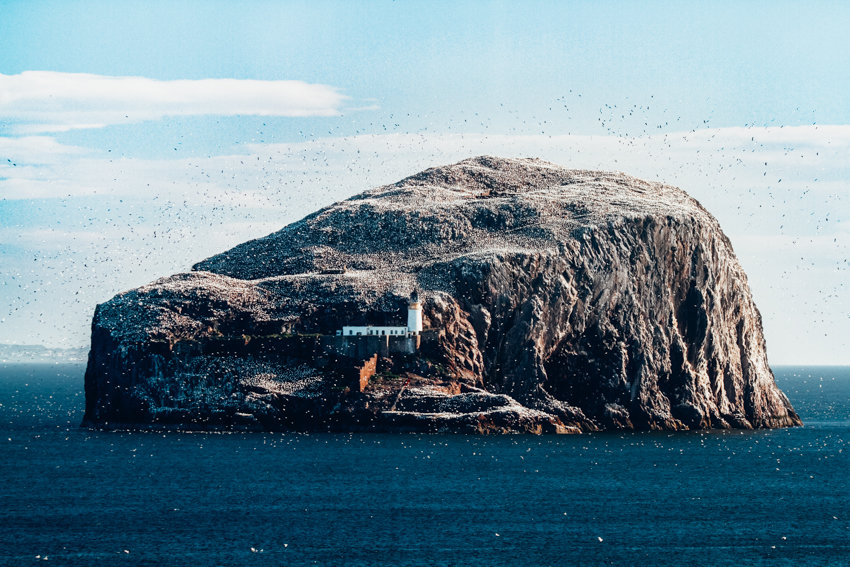 2. North Berwick Beaches
North Berwick is nestled along the coast. One of the most beautiful North Berwick walks is along the coast. At the heart of the settlement is West Bay Beach, and expansive beaches also stretch out to either side of the town.
To the west is Broadsands Beach (with Yellowcraig Beach beyond), while to the east lies Milsey Bay Beach and, a little further on, not far from town, the Drift Cafe looks out over Canty Bay.
3. Hill Walk Up Berwick Law
For expansive views out over the Firth of Forth, consider hiking up the steep conical mound of Berwick Law. This hill is the remains of a volcanic plug, which you can hike up in around an hour or so.
On the summit are the remains of an Iron Age hill fort, and the ruins of military buildings used as lookouts during the Napoleonic Wars and World War II. A replica whale bone (replacing an original removed in 2005) is also found on the peak.
Beyond North Berwick:
1. Tantallon Castle
Around 3 miles east of North Berwick you will find the ruins of a fortress which dates from the middle of the 14th Century. It perches on a promontory opposite the Bass Rock, looking into the Firth of Forth.
2. Lime Tree Walk Beach
Beyond Tantallon Castle, round the Coast, Lime Tree Walk Beach is another lovely stretch of sand along this coastline. It is also known as Tyninghame Beach. The smooth sands are large enough to make sure that this spot never feels crowded. If you get up early, this is a wonderful spot to watch the sunrise. There is a small charge for parking, and a lovely woodland walk from the car park to the beach.
3. John Muir Country Park
John Muir Country Park is another stunning stop along the coastline to Dunbar. There is another large sandy beach, backed by dunes and woodland areas to explore. This is a wonderful spot for wildlife watching, including butterflies and birds. Though some parts can get busy in summer, it is easy to escape the crowds and find quieter spots in this expansive area.
4. Dunbar
Dunbar, a little over 13 miles from North Berwick, is also well worth a visit. This historic town, a former Royal Burgh, has a harbour rating from 1574. This is the birthplace of the famous naturalist and conservationist John Muir. His birthplace has been turned into an excellent museum.