Want the chance to explore an incredibly underrated secret cove in Maui? This gorgeous mini beach is so stinking cool!
As long as it doesn't get too crowded it is a perfect spot to relax in an intimate environment. You can lounge on the beach or snorkel around the calm turquoise waters of the cove.
NOTE: Makena Cove is different from Makena Beach – though both are great, but for completely different reasons.
Makena Cove (aka Secret Cove Maui) Quick Tips
Names: Makena Cove, Secret Cove, Secret Beach and Paako Cove.
Best for: Swimming, snorkeling, photos and relaxing
Famous for: Wedding photos
Day & time I visited: Saturday at noon (not crowded)
Facilities: None
Lifeguard: None
Cost: Free
Parking: Street parking available – fills up quickly!
Entrance: Entrance is through small break in rock wall.
What to expect at Makena Cove
Makena Cove Maui looks just like the pictures. It really is a fairly small beach, but the white sand and turquoise small beach with turquoise waters and white sand.
The calm conditions of the water and lava rocks in and out of the water make it an ideal place to snorkel (most of the time at least there aren't waves crashing into the cove).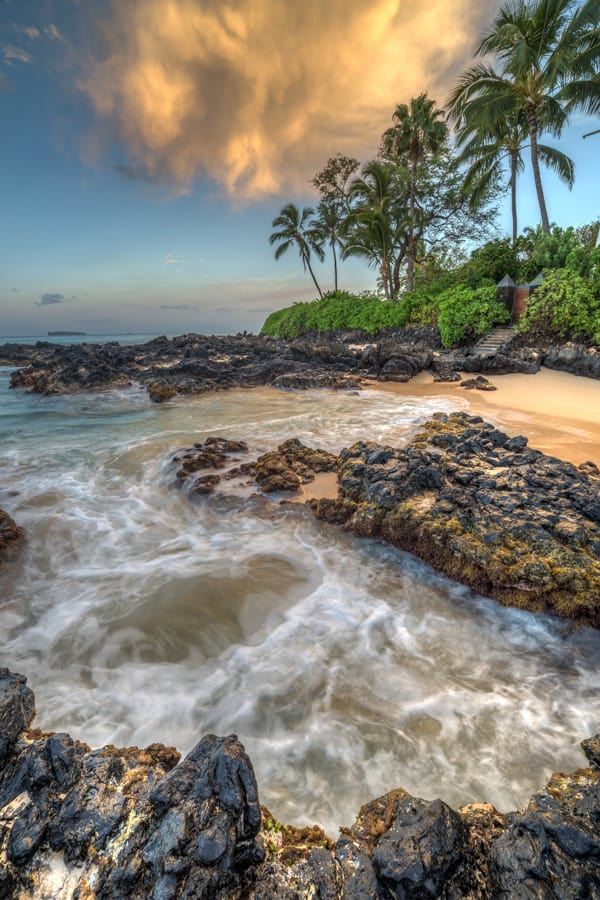 Perfect for Kids
The lava rocks protect the beach from waves crashing into it, which also makes this a perfect place to take kids if you are looking for a calm place to let them swim in while you watch from the shore. That being said, there were only a couple of kids there when I visited on a Saturday afternoon.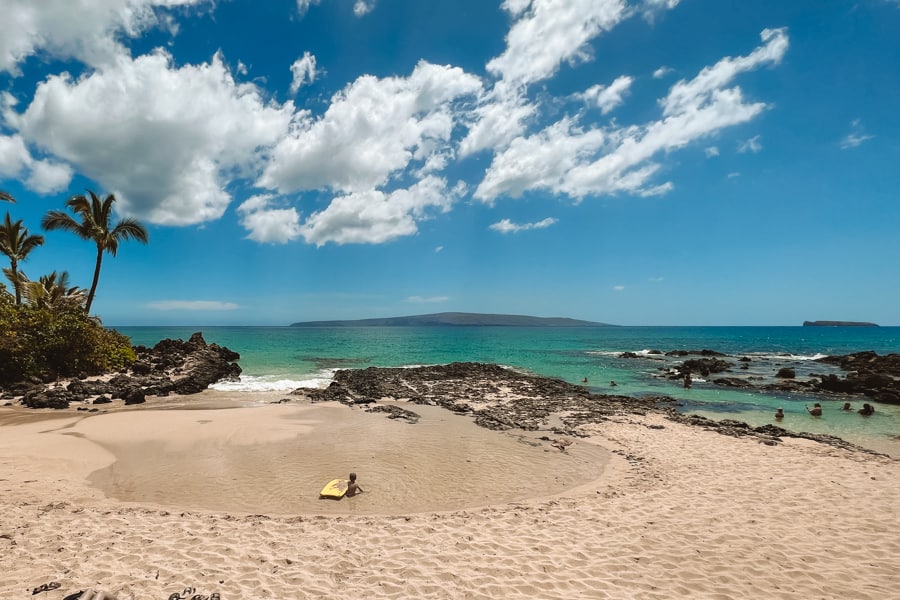 Famous for Photo Shoots (even weddings)
Makena Cove has such an intimate vibe that it often is used for photo shoots. I've even seen weddings or bridal photo shoots captured here. This beach is famous for their wedding photos.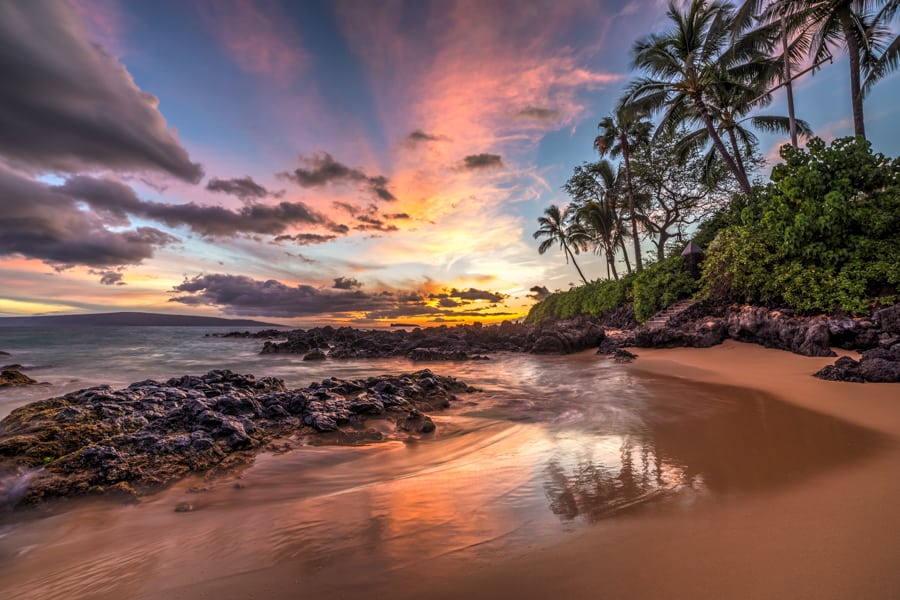 Secret Cove Beach Location
The secret cove beach is located just south of the more popular Makena Beach and north of Ahihi Nature Preserve.
The island of Maui is a weird shape. I've heard it described as an 8 that was pushed a little bit sideways, or a kneeling person praying. Regardless, when you journey down the southwest side you have to go almost to the end of the road. Because the road ends and it isn't close to a huge resort area, it isn't visited as often as other parts of the island.
This is a huge mistake for the people that miss it, but potentially an opportunity for you to explore without as many people.
Not visiting this part of the island is a huge mistake. Not only is Makena Cove amazing, this part of the island includes a ton of my other favorite spots as well.
Hard to Find – Be Careful Not to Miss It
There are no signs, no general parking lot, no big restrooms or walkway entrance. If you aren't paying attention, it's pretty easy to pass without realizing it.
What you see as you drive into the area is a wall of lava rock with some street parking lining the way. You can't really see the actual cove from the street since the lava rock wall is too high.
There is a small break in the wall that you cut through and then almost immediately pop into the cove.
When I looked through all I saw was a tree and wondered if I was going to pop into someone's front yard.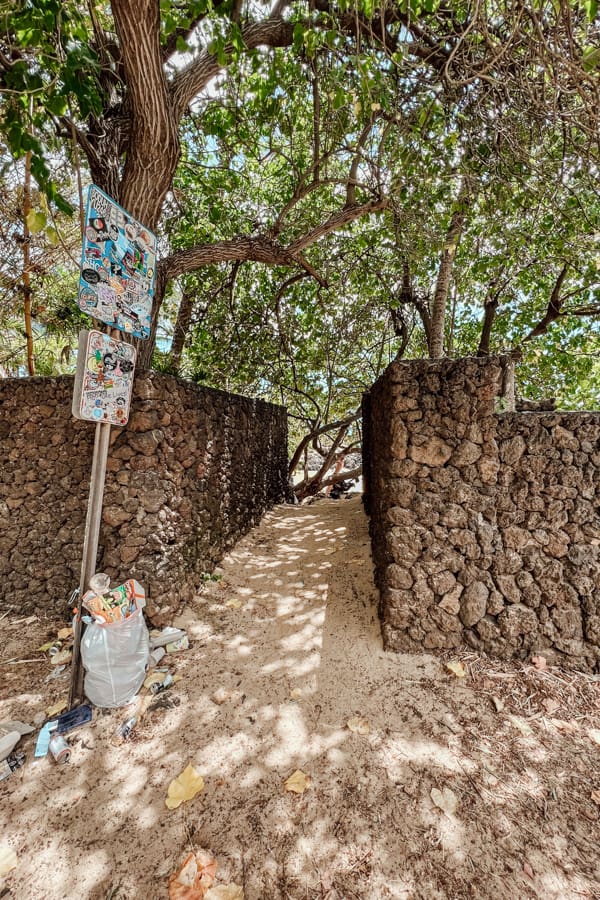 No Facilities
Not surprisingly there are no official facilities here. This means that you need to go to the restroom, you are going to have to hike back up to Makena Beach, hold it, or just go in the ocean (hopefully not).
There is no lifeguard on duty.
Parking
The nearby street parking is it. If it fills up you are just going to have to go farther down the road. The good news is that you can usually tell how crowded the cove is going to be by the amount of cars parking on the street.
Things to see near Makena Cove
Makena Beach (One of my favorite beaches in Maui)
Big Beach
Little Beach (also known as Oneloa Beach) – WARNING – nude beach.
Oneuli Beach
Maluaka Beach
OUR MOST POPULAR POSTS ON MAUI HAWAII
My husband and I have been to Hawaii many times and have written up more blog posts to help you plan your trip. These are my most popular Maui blog posts and Hawaii travel guides to help you plan your trip.
Best Things to do in Maui: 10 Cool Things to do in Maui Hawaii
The Best and Most Easily Accessible Maui Waterfalls: 6 Easily Accessible Maui Waterfalls
The Best Beach in Maui!: Guide to Visiting the Red Sand Beach, Maui
What to Pack for Hawaii: The Ultimate Hawaii Packing List
The Ultimate Guide to Visiting the Hawaiian Islands – and what to expect on each island: What To Expect On Each Of The Hawaiian Islands