Attend the Best Luau in Oahu
You can't go to Hawaii without making a concerted effort to appreciate the Hawaiian culture. There is so much more to do and see aside from the majestic ocean and Instagram worthy beaches.
That being said, don't you dare think of appreciating Hawaiian culture as something like a homework assignment.
One of the best ways to observe Hawaiian culture is to go to one of the luaus in Oahu.
Leis, fire dancers, traditional music, and truly mouthwatering buffets are only the beginning of what you can appreciate at a luau in Oahu. You absolutely cannot miss the opportunity.
Already sold? Book what in our opinion is the best Luau in Oahu, the one at Paradise Cove.
What To Expect at a Luau
Okay, so what is a luau? Traditionally a luau is exactly what you would expect, a traditional Hawaiian party or feast featuring accompanying entertainment.
What Types of Entertainment?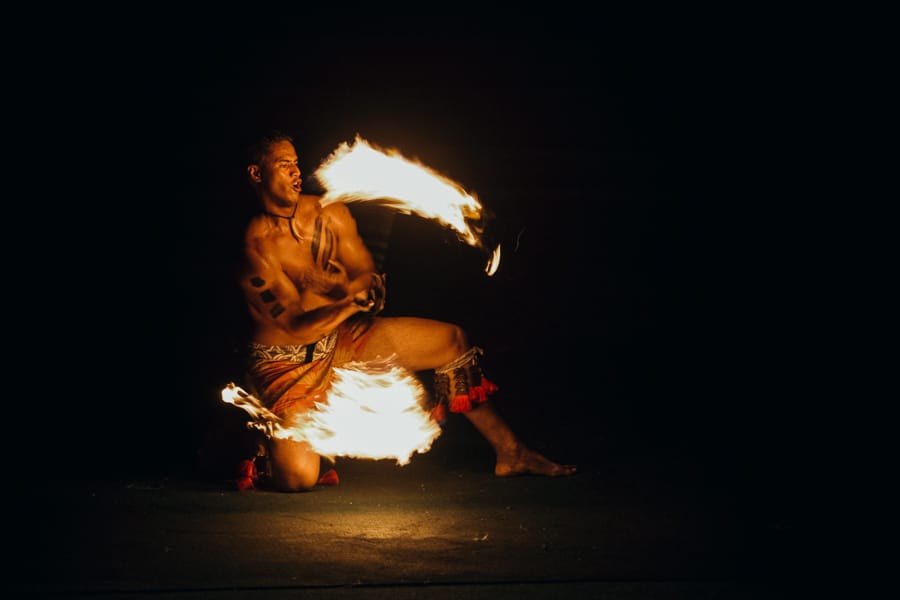 A top rated luau in Oahu is going to feature a few things.
There will definitely be hula and fire dancers, but the best will feature so much more.
First off, you are likely to start off with a traditional lei greeting.
Once you get to the entertainment portion you will find that Aa true hula dancer possesses more skill than you can ever thought possible. Wait until you see it in person. Some of the luaus will let the participants attempt the hula themselves, which will quickly show you just how talented the performers are.
You can also view and learn about traditional arts, crafts, and games.
Want to try your hand at spear throwing?
How about learning to make and use the traditional fishing nets?
Want to see a recreation of an actual Hawaiian village? You often get the ability to explore in detail the unique way they built and lived in these villages.
Hoping for a permanent/temporary memory of the occasion? A number of luaus even offer temporary Hawaiian tattoos to commemorate the night.
What Types of Foods?
First off, make sure you come hungry because virtually all of the luaus feature buffets. You will eat so much that it will make sense why so many Hawaiians get big enough to play in the NFL.
Some of the foods might not sound appetizing, but trust me you will love a lot of what you try. Some of the most popular dishes that people end up sampling are:
Poi – a taro root paste that ends up looking like a strachy yogurt. This one is hard to picture, but when done right it is delicious.
Kalua Pork – Hawaiians slow cook the pig in an underground oven called an imu. The meat ultimately becomes so tender that it is easily pulled apart for serving. It is especially popular to serve this on rice.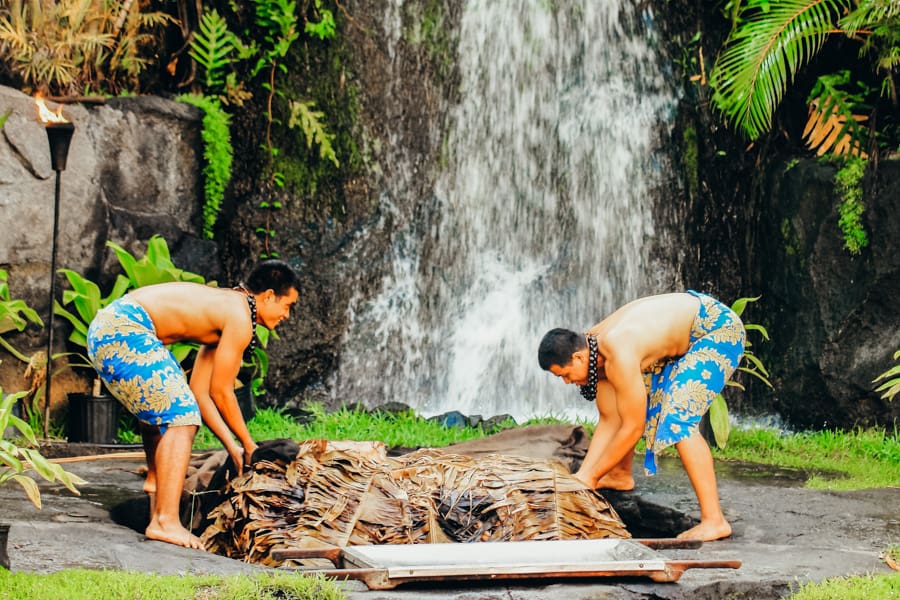 Poke – the Hawaiian version of sushi/sashimi that is typically served in cubes instead of thin slices.
Exotic Island Fruits – not just pineapple, though the local pineapples are especially delicious. You will have a chance to sample various exotic fruits incapable of growing anywhere near the mainland!
Free drinks – And yes, lots of luaus come with a number of free drinks!
Best NightLife Option = Find the Best Luau in Honolulu
Some people think there isn't a lot to do at night in Hawaii. They think that after sunset you can't hang out on the beach, hike to a waterfall, that you might as well just play cards in the room.
One of the best activities to do at night is attend the most authentic luau in Oahu! These shows and dinner typically go later into the night, which ultimately will fill your whole evening.
Cost of a Luau
Attending the best luau in Honolulu is likely to cost you about $150.
While that is pretty expensive, it helps if you think about it as show tickets like you are in Vegas as well as a fancy dinner.
Even with the expense, there is a reason that people save up to go back to Hawaii again and again. The experience simply can't be beat. I spoke to a couple that had come back to Hawaii over 10 times and had attended a luau each time!
Book Now To Reserve Your Spot (free cancellation if needed)
Visiting Hawaii is as popular as ever. This is causing key attractions to sell out faster and faster. If you reserve your space today and your plans change you can cancel for a full refund up to 24 hours ahead of time.
Best Luau in Oahu
Below are a couple unique details on our picks for the best luaus in Oahu.
Paradise Cove Luau
Location: West side of Oahu (45 minute drive from Waikiki)
Ticket price: $125 (Buy tickets in advance here.)
Great food, amazing dancers, and a party location that is actually in the sand with killer views. You will easily be able to see why this is often the top rated luau in Oahu.
There are a couple different things that I like about the Paradise Cove luau. The entire experience is longer than the others and it has an optional transportation option that will pick you up in Waikiki. This saves you from having to rent a car, or allows you to drink more than you could drive home with.
It is located on the west side of Oahu, about a 45 minute drive from Waikiki. The west side is the perfect location to enjoy the Hawaiian sunset from.
Chief's Luau
Location: West side of Oahu (45 minute drive from Waikiki)
Ticket price: $155 (Click here to reserve your spot)
This amazing luau with native Polynesian dancers is honestly, one of the best luaus in Oahu.
This luau features amazing dancers, the opportunity to learn the hula, and amazing foods as well.
What makes this luau unique is the extra cultural opportunities. You can learn traditional fishing techniques, explore a real Hawaiian village, and even get a temporary tattoo to celebrate the night.
It's called the Chief's Luau because it is hosted by Chief Sielu, who is the original World Fire Knife Dance Champion. Pretty cool. Book the Chief's Luau here.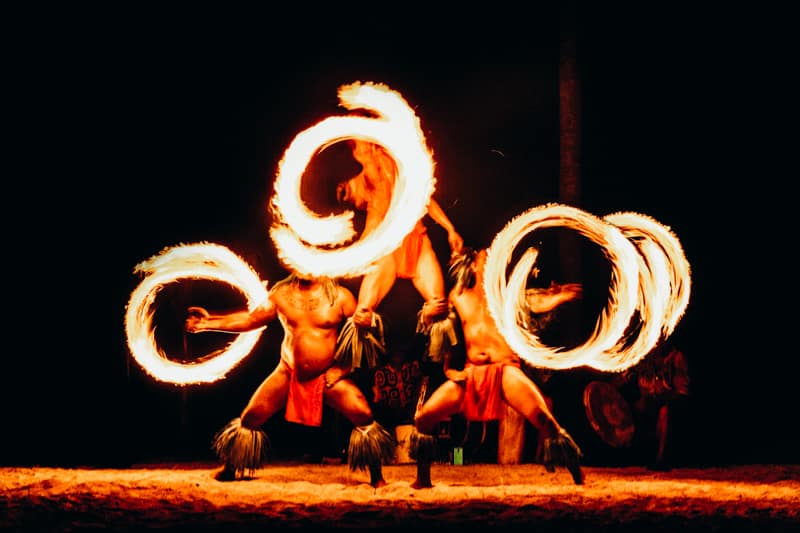 It is also located on the west side of Oahu, about a 45 minute drive from Waikiki (hopefully with very little traffic as you go through Honolulu).
Below is a map of how to get to the Chief's Luau and Paradise Cove luau from Waikiki.
Polynesian Cultural Center
Location: North Shore Oahu (1 hour 15 minute drive from Waikiki)
While the Polynesian Cultural Center is the furthest away from Waikiki, it is the biggest and most culturally representative of all the options.
It goes into great detail on the people of different islands and is almost always said to be the most authentic luau in Oahu.
It also features what seems like miles and miles of different dishes.
While the drive to the North Shore takes about an hour and 15 minutes from Waikiki, you can easily spend hours and hours exploring the cultural presentations before the actual food and show start.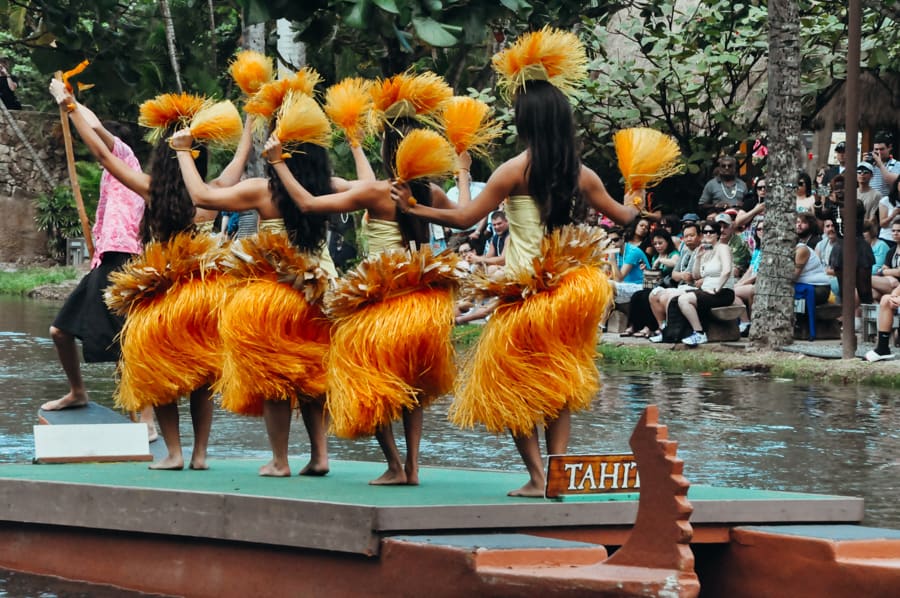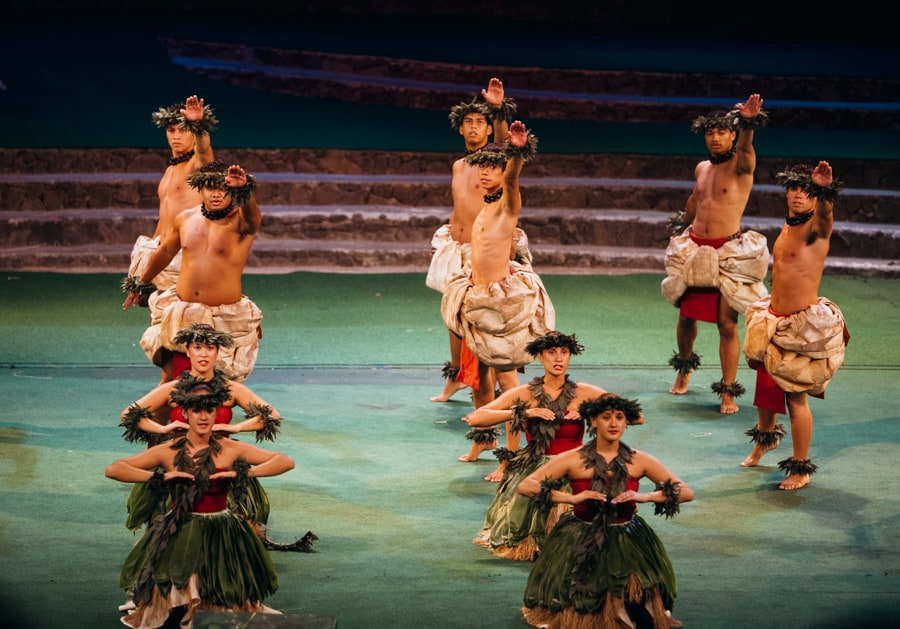 Map of the Polynesian Cultural Center from Waikiki
So which one do you think is the best luau in Oahu? Let us know in the comments below!
Planning a trip to Oahu? Read more of our Oahu blog posts below!
My husband and I have been to Oahu many times and have written up more blog posts to help you plan your trip. These are my most popular blog posts and Hawaii travel guides to help you plan your trip.
Best Things to do in Oahu
Oahu Beaches
Best Cliff Jumping in Oahu
Best Snorkeling in Oahu
More Hawaii Blog posts: