Planning a trip to Riga? Read on to discover the most incredible things to do in Riga.
I can go on and on about the allure of former Soviet states. All too often these countries are forgotten and not visited by travelers. Not only are former Soviet states overlooked, but within those overlooked states Latvia seems to get passed over even more! So many people have no idea what amazing things there are to see and do there.
The capital of Latvia is Riga and it is an absolute undiscovered gem! It has the attractions of many European capital cities without a lot of the common drawbacks. Luckily, it also has cheap flights due to the presence of budget airlines!
Riga has a great old town, booming nightlife, very little crime, and yet is extremely cheap. I love being able to see the Russian influences merging with features from other parts of Europe. The city also has unique architectural features like a ton of the city being built out of wood, and more art nouveau buildings than any other European city.
The younger generation is quickly adopting English, so even if you don't speak Latvian or Russian you will likely be able to find someone to help translate. Read on to see more of why it is wrong to pass over Riga!
Interesting facts about Riga Latvia –
Latvia is located in the Northern European district known as the "Baltics". This is due to the location being on the Baltic Sea.
Latvia is surrounded by 4 other countries, Russia, Estonia, Belarus, Lithuania.
The capital is of Lativa is Riga.
Riga is famous for its nouveau style buildings and architecture.
Riga has over 4,000 historic wooden buildings, more than any other European city.
Meals are often very hearty and typically include meat and cheese.
21 Best Things to do in Riga
Here is a list of 21 best things to do in Riga, Latvia. Comment below on any that you would add to the list.
1. Holy Saint trinity Orthodox Church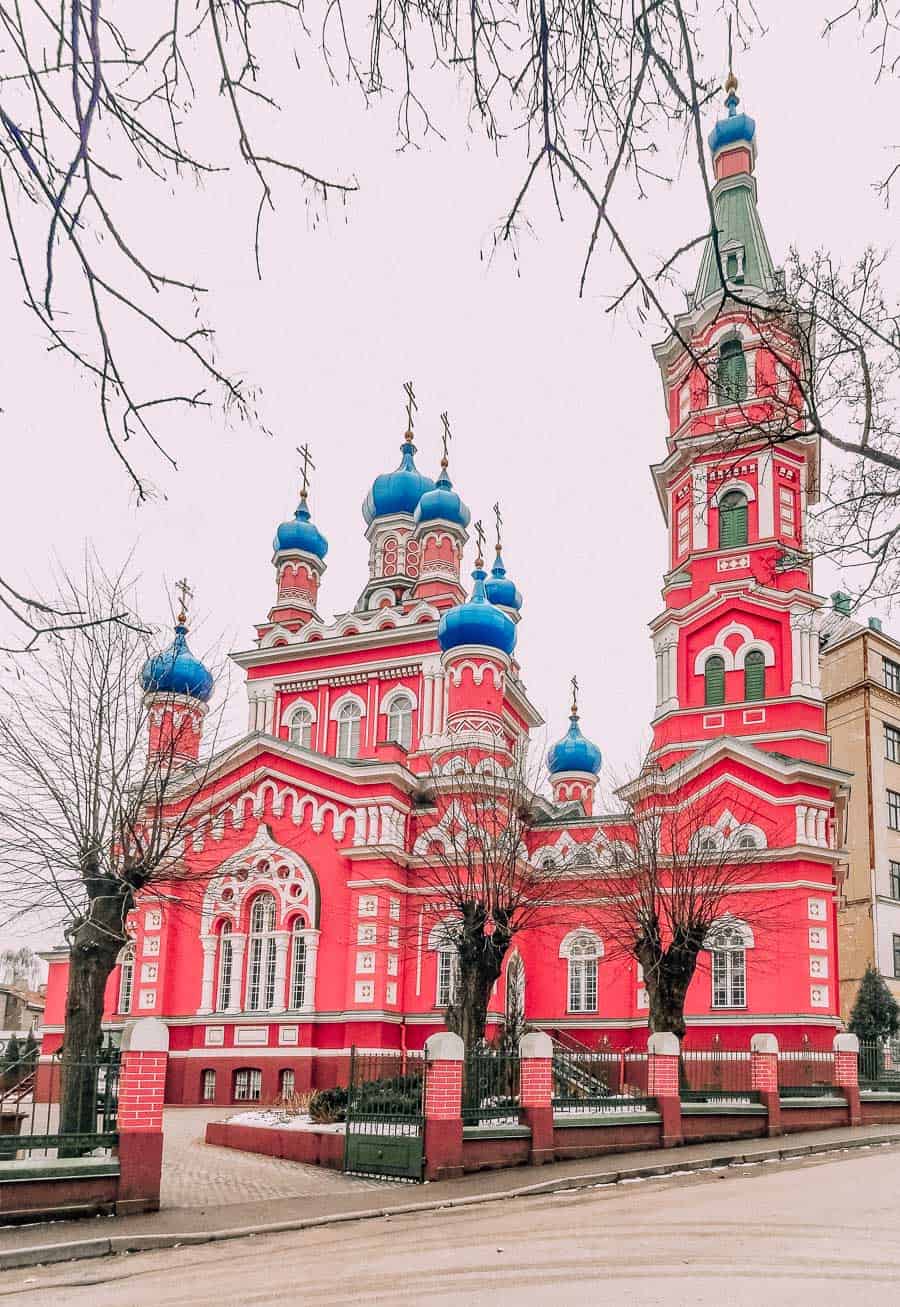 I am a sucker for the Russian baroque style. I love the "onion domes" and what makes this church especially unique is that they are blue and green. Construction completed in 1893, though the site previously had a church on it that was constructed in 1453.
This church still operates in the Russian Orthodox faith. If you want to see it make sure to be respectful, but you can find it in the Pardaugava district of Riga.
I think it is one of the best attractions in Riga.
2. Swedish Gate Riga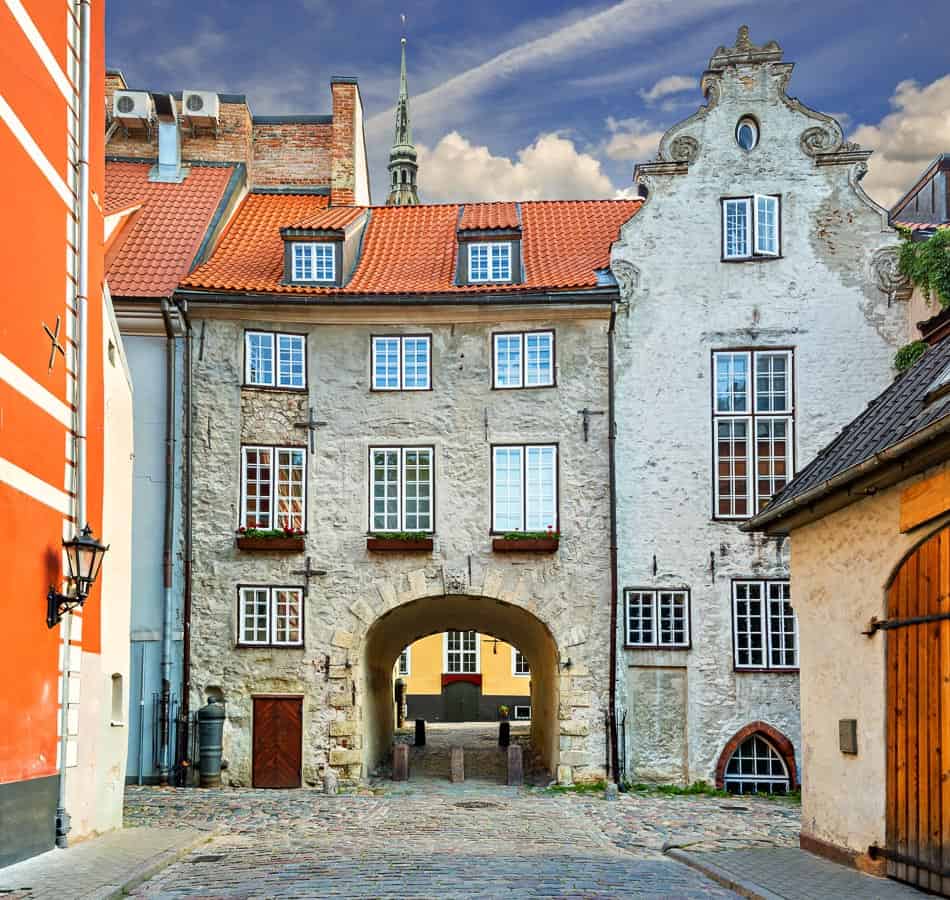 Located in the Riga old town this is the oldest remaining part of Riga's city walls. It's amazing to see how cities used to defend themselves against invaders. It is called the Swedish gate because after the Poland/Sweden war, Sweden took over the city.
3. Take a bike tour around Riga
Okay, don't be fooled by the picture above. What is really being offered is a BEER BIKE TOUR of Riga's gorgeous Old Town. You actually sit on a bike/table where you can pedal, but aren't actually driving. There is a sober drive scooting you around town while you can sip on big. It's cheap and a ton of fun!
What better way to see all the top attractions than on a guided bike tour! Book your tour – Private One Hour Riga Beer Bike Tour
4. Art Nouveau District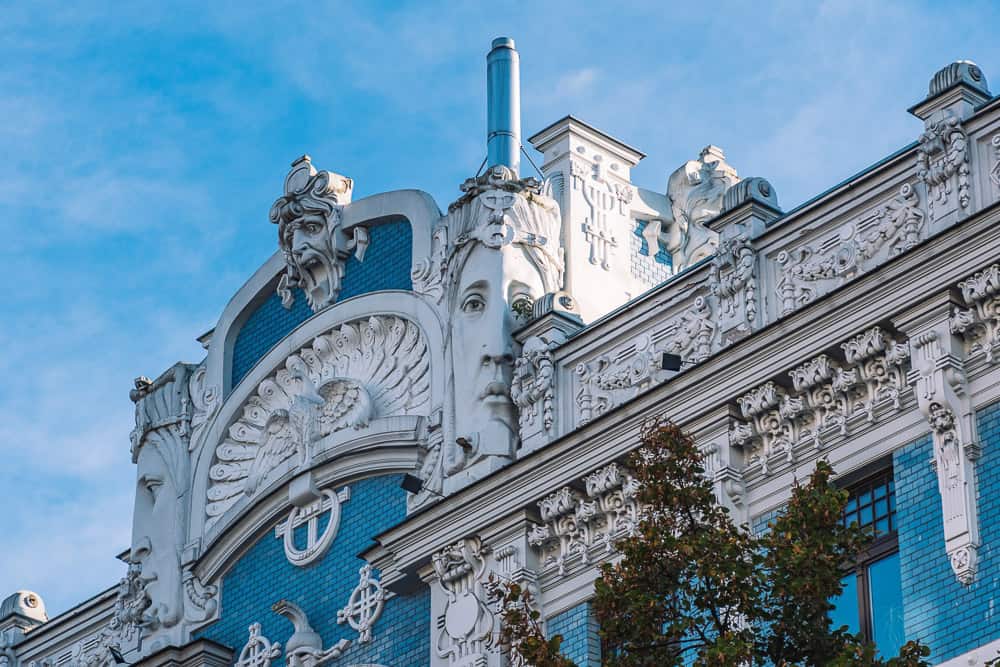 Okay so I'm not art history major, but what I do know about Art Nouveau is that it was a style of architecture that was common until World War I. My understanding of this style is that it focuses on having curved lines reminiscent of nature. Not surprisingly, many LOVE Art Nouveau architecture
There are about 800 Art Nouveau buildings in Riga. In fact this style makes up about 1/3 of all buildings in the city center. This gives Riga the highest concentration of art nouveau architecture anywhere on earth.
5. House of the Blackheads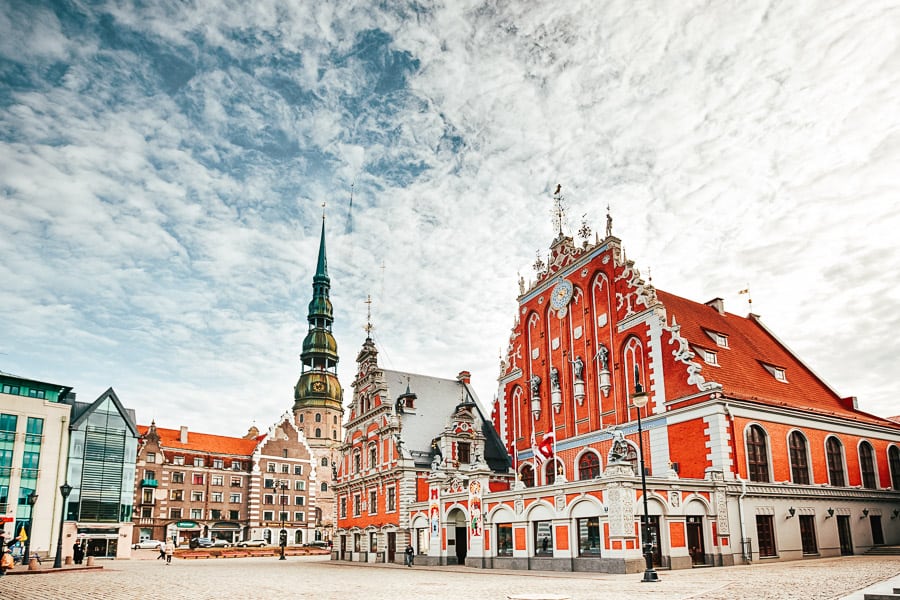 The House of the Blackheads in the heart of the Riga Old Town. It was originally built in the 1400's. Unfortunately it was bombed in World War II by the Nazis. Even though what you now see is rebuilt, I love that rebuilding it is another way to show that the Nazis couldn't win in the long run.
The House of the Blackheads was built as a meetinghouse and banquet hall for unmarried merchants and shipowners. I.e. this place was used for historical parties!
Sadly the wild parties haven't been recreated, but it is now a popular museum. Buy tickets here.
6. See the Historic wooden Buildings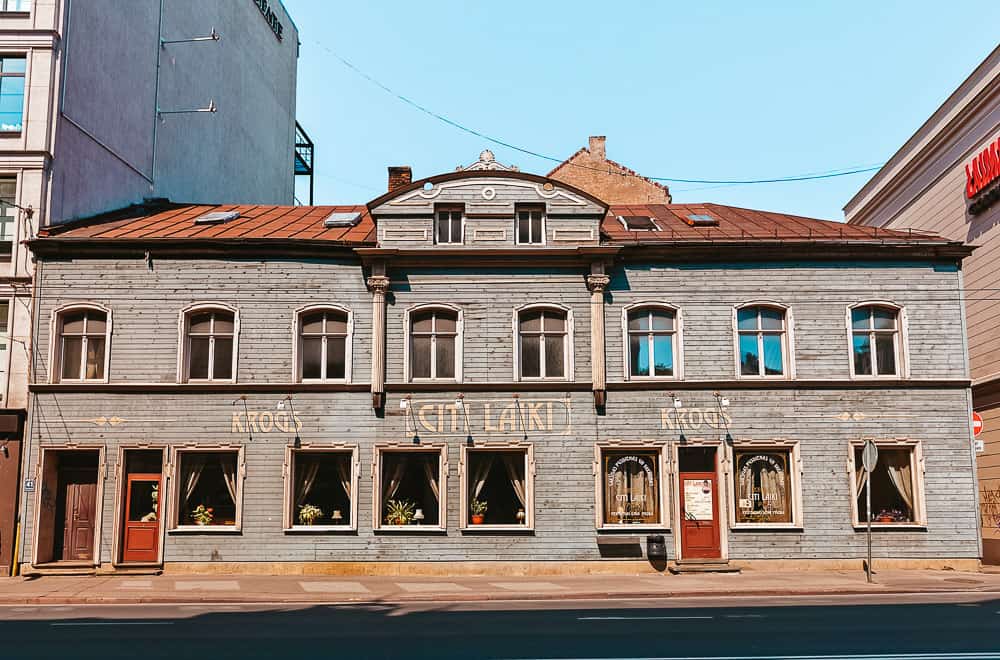 Riga has over 4,000 historic buildings built of wood. Once again, this a feat that no other European city can rival.
Unlike other European capital cities, Latvia continued to build wooden buildings right up until the beginning of World War II. At that time there were approximately 12,000 wooden buildings in Riga. Of those buildings, about 4,000 of them survive today.
If you are interested in checking out the wooden buildings in Riga, most of them are found in one of 4 areas: Grizinkalns, Sarkandaugava, Kipsala neighborhoods, and the Moscow section of town.
7. The Three Brothers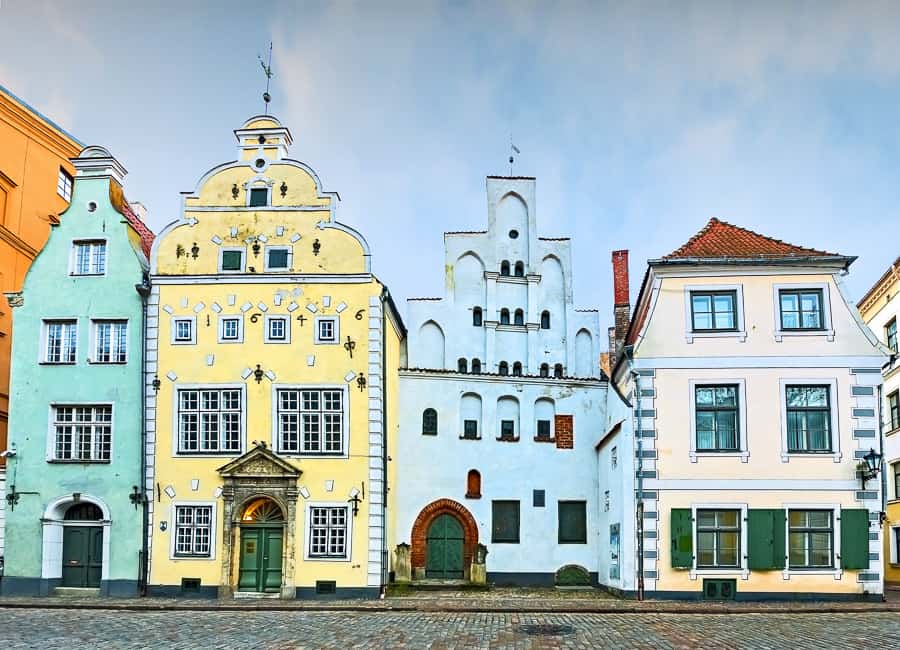 These 3 buildings are the oldest residences in the city. Not only are they famous for their age, but visitors love that they each represent a different building style. The oldest dates back to the 1400's.
It is now a museum memorializing classic Latvian architecture.
8. Visit the Nativity Cathedral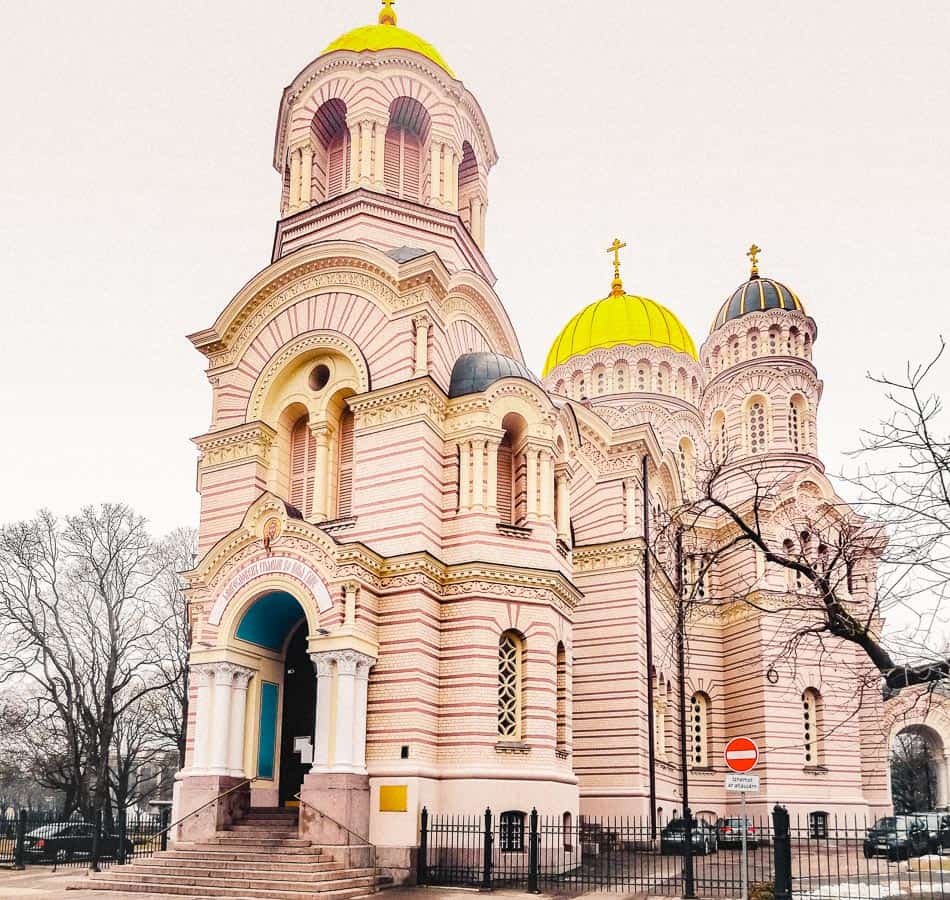 Another Russian Orthodox church that was not surprisingly built when Riga was part of the Russian Empire. You can obviously see the Russian influence all over it.
The church has been the victim of a tug-of-war with various parties not wanting it to be used as a church at various times. The Soviet Union used it as a planetarium. Even the newly independent Latvia government tried to shut it down.
Thankfully since the fall of the Soviet Union it has been restored as a house of faith.
9. Take a Stroll through the Riga Old Town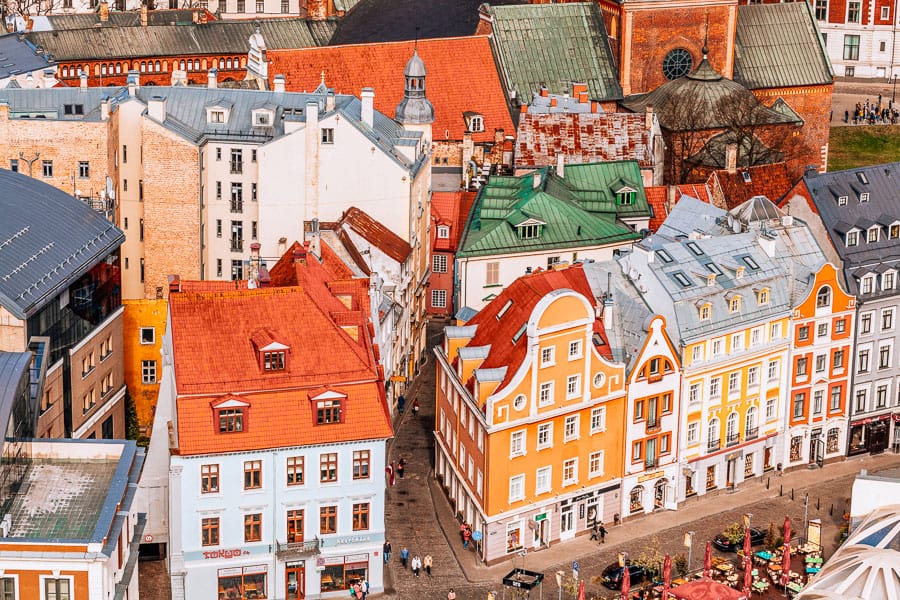 I know I've mentioned various buildings or things to do in the Old Town, but even wandering through without a specific destination is fun. It truly is one of the most beautiful old towns in the world.
You can easily spend a day walking around the art nouveau buildings or stop in at one of the many coffee shops and restaurants while calmly absorbing the ambiance of its history. Can you tell I love it?
10. St. John the Forerunner Orthodox Church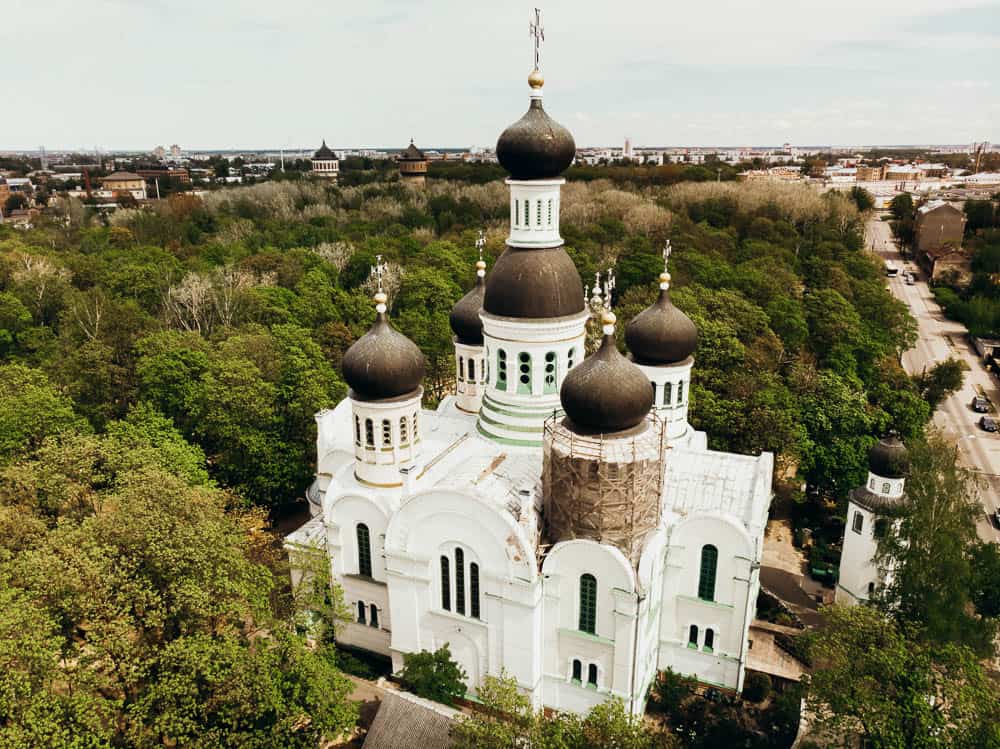 I told you I love the architecture of the Russian Orthodox church! If you are anything like me then you will want to visit the St. John the Forerunner Orthodox Church in Riga.
If you didn't know, John the Forerunner refers to John the Baptist, the cousin of Jesus. John the Forerunner is an especially venerated saint in the Eastern Orthodox Church.
11. Visit a Matryoshkas shop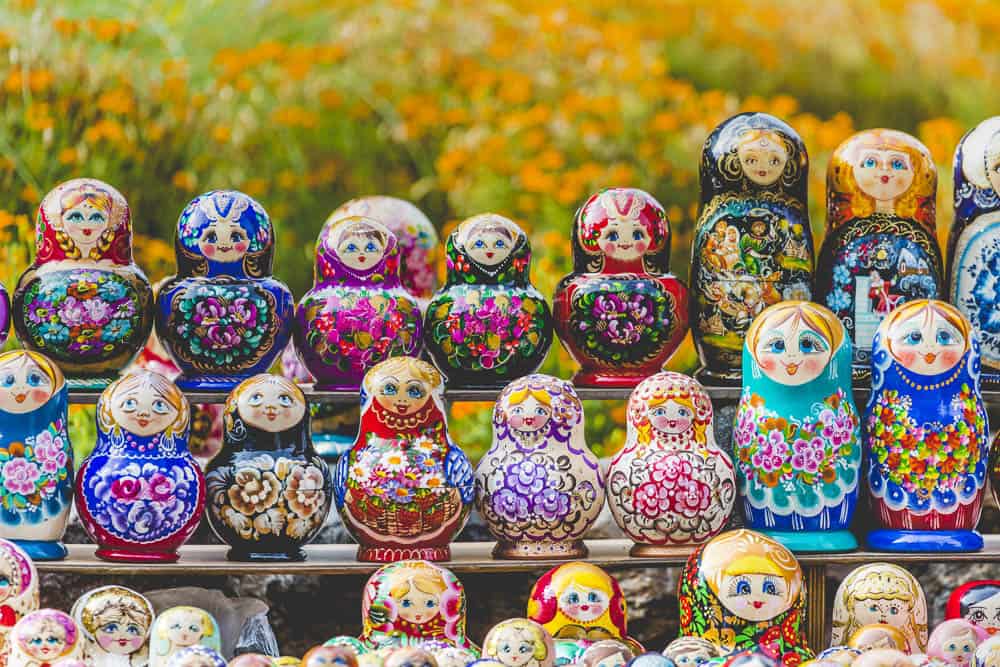 Russian "nesting dolls" or "matryoshkas" make the perfect gift or souvenir. Sometimes they are also called "babushka dolls", which is the Russian word for old woman or grandma. Not surprisingly, you can find them all over in many different kinds of shops around Riga.
If you aren't familiar, matryoshkas are typically wooden dolls that open up to reveal a substantially similar wooden doll inside. You then open the second doll and find a substantially similar third one, and so on… Typically all the dolls together make up a family.
12. Cat House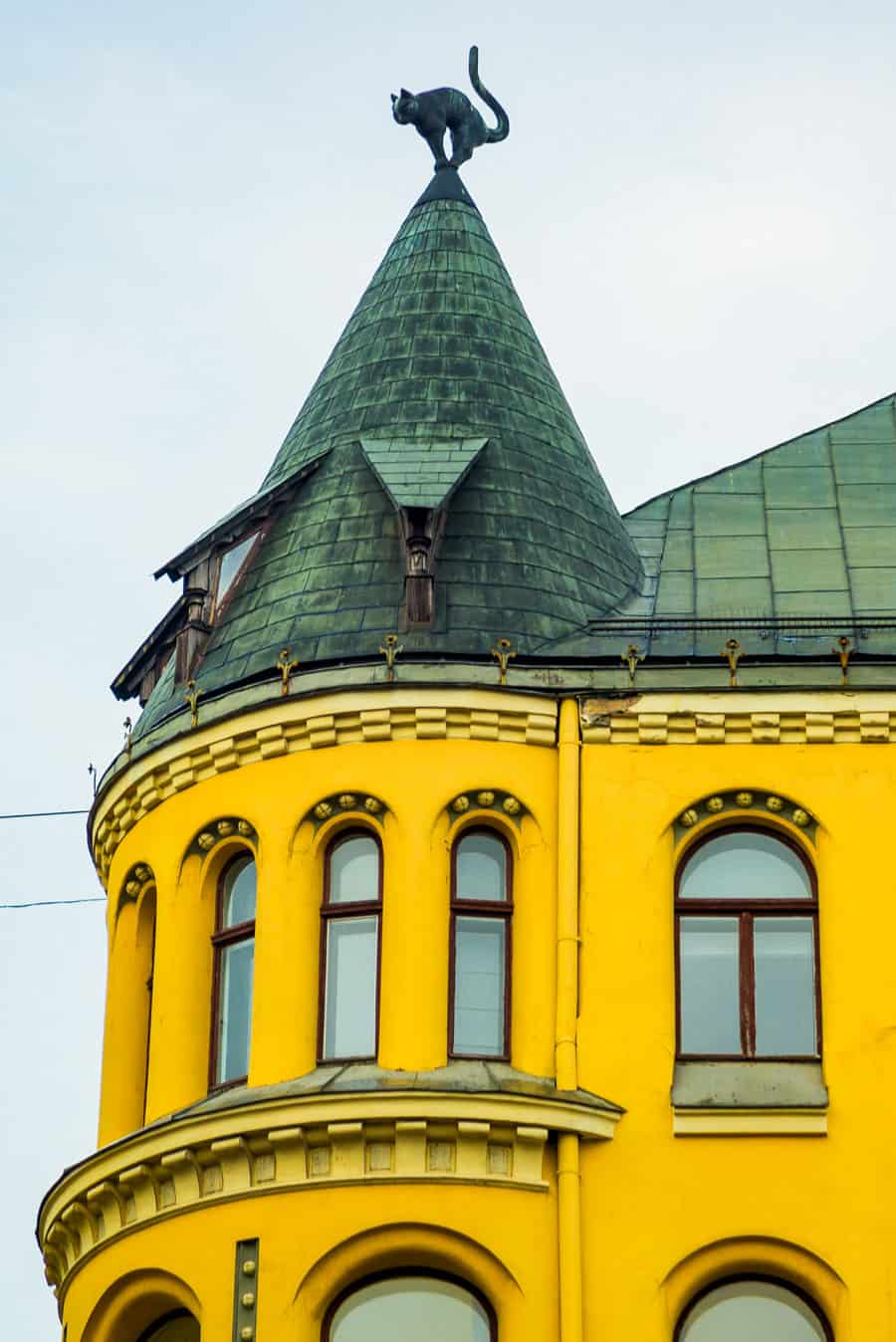 Okay, so this may look like another classic building that you find all around Latvia, but the history of this one is TRULY INSANE!
Supposedly a businessman was denied entry into a business guild. To get his revenge he built this house and put cat statues on the roof. The part that was so "vengeful" to the guild was that he pointed the cat's butts at the guild.
You might think that the guild wouldn't even notice, but instead they were incensed! It literally created a long drawn out legal fight where a settlement was finally reached that let the family into the guild once they turned the cat butts away. YES, supposedly this is legit history.
Next time someone wrongs you, consider pointing a cat butt at them.
13. Jauniela Street in the Old Town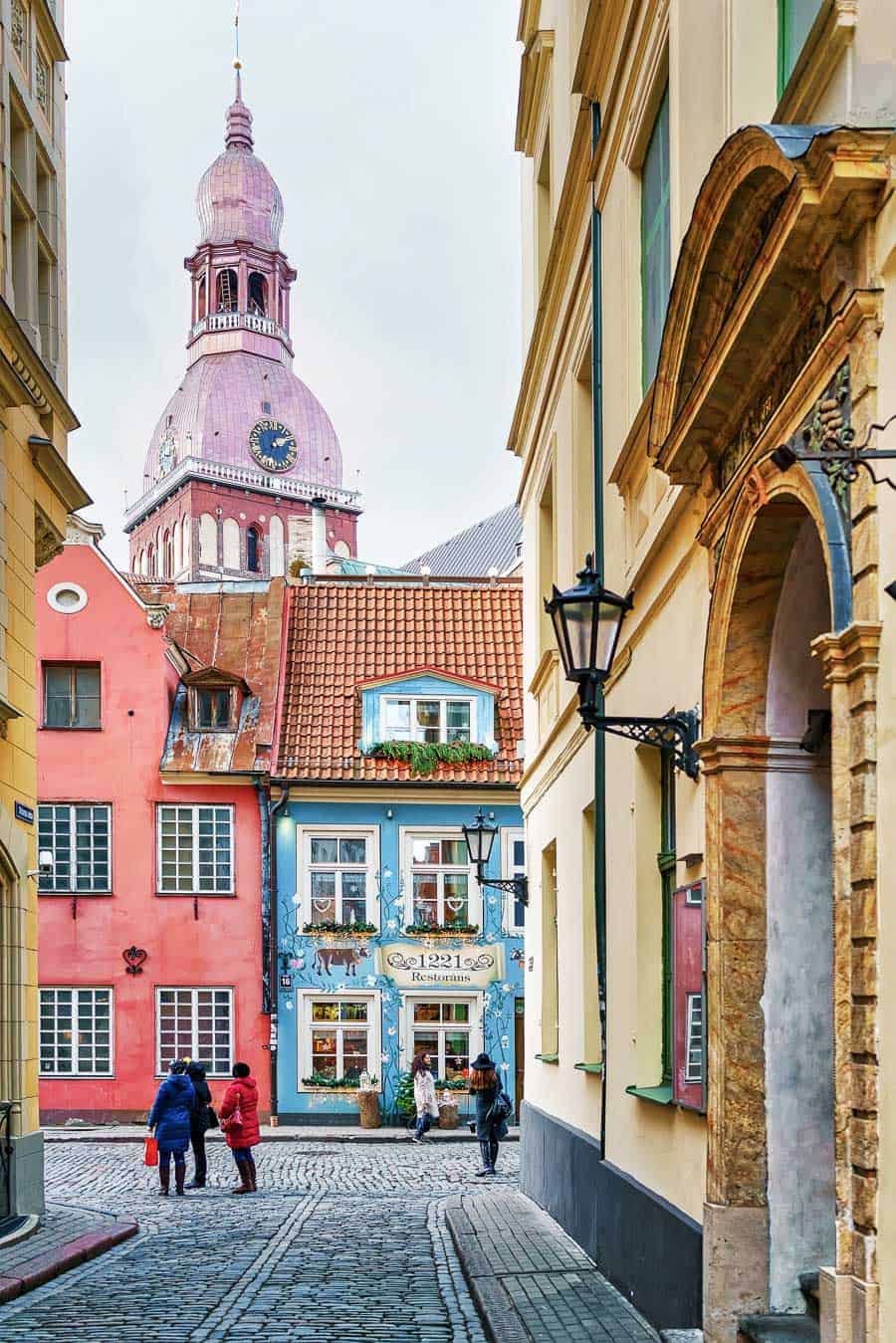 This street might look like a another street in the traditional Riga Old Town (it is). What I love about this street is that it was used as the setting for the Soviet Sherlock Holmes. Yes, when Soviet film directors were ripping off the story of the English hero, they used this as their "Baker Street."
Also, along this street is the incredibly famous and incredibly old Restaurant "1221".
14. Riga Christmas markets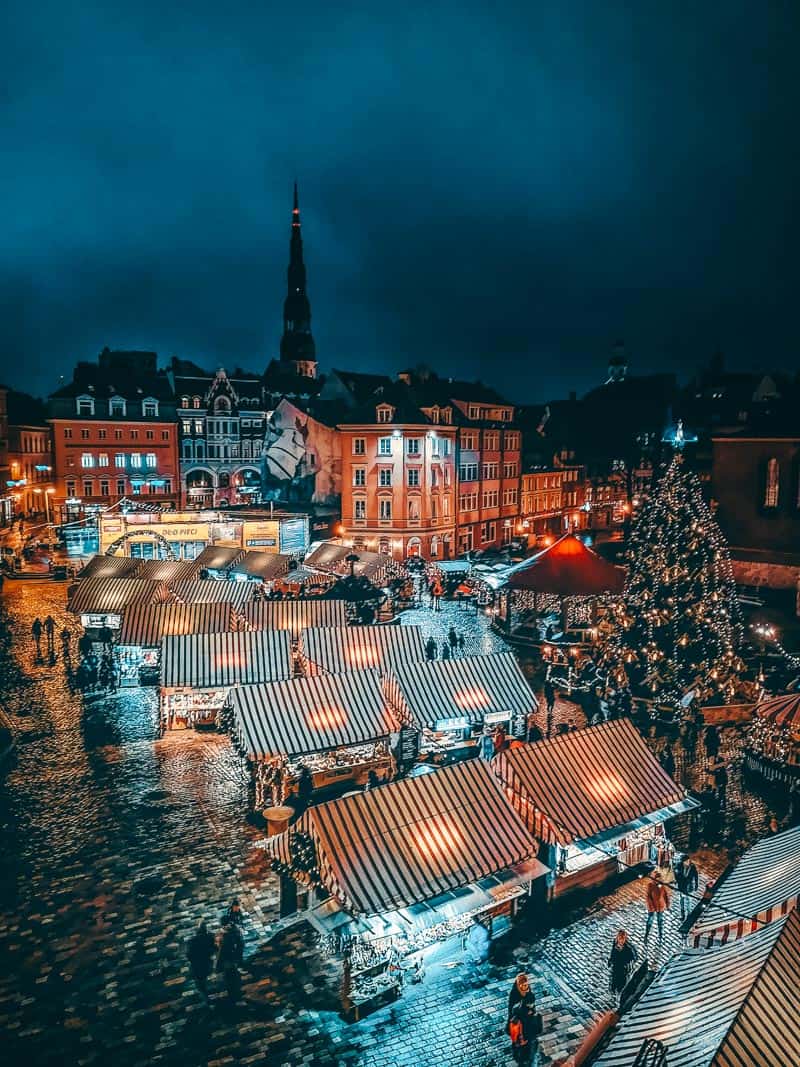 Like many European cities Latvia has a number of phenomenal Christmas markets! The most famous Riga Christmas Market is the Cathedral Square Christmas Market, Doma Laukums (here).
Dome Square (Doma laukums) is in the middle of the Riga old town. This historic site hosts the Old Riga Christmas Market. Read more on the Riga Christmas Markets here. A HUGE perk of the Riga Christmas markets is that things there cost a fraction of some of the bigger European ones.
15. The Corner House – Former KGB HQ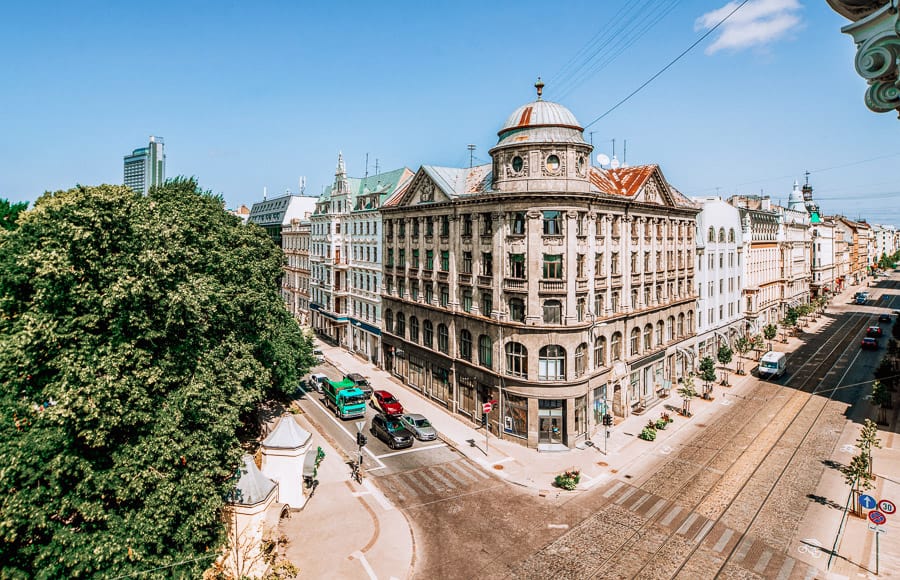 Unfortunately the brutal KGB operated out of Latvia. You can now see the previous headquarters in Latvia. It serves as another reminder of their atrocities.
This attraction previously housed KGB agents. It now is a permanent museum to the occupation of Latvia. A guided tour is only about cost 10 euros and discount tickets for students.
16. Central Market
This classic market not only is a place to find some of the best Latvian food, but the actual edifice is amazing in itself. It is constructed of 5 pavilions, that are actually old German Zeppelin hangars.
Maintaining its historical authenticity is important to the Latvian government, so they've taken measure to keep it open and make sure the offerings are fair to all visitors. Make sure to check out the Central Market Latvian Food Tour.
Book your tour: Riga – Old Town and Central Market Walking Tour
17. Climb saint Peters Church tower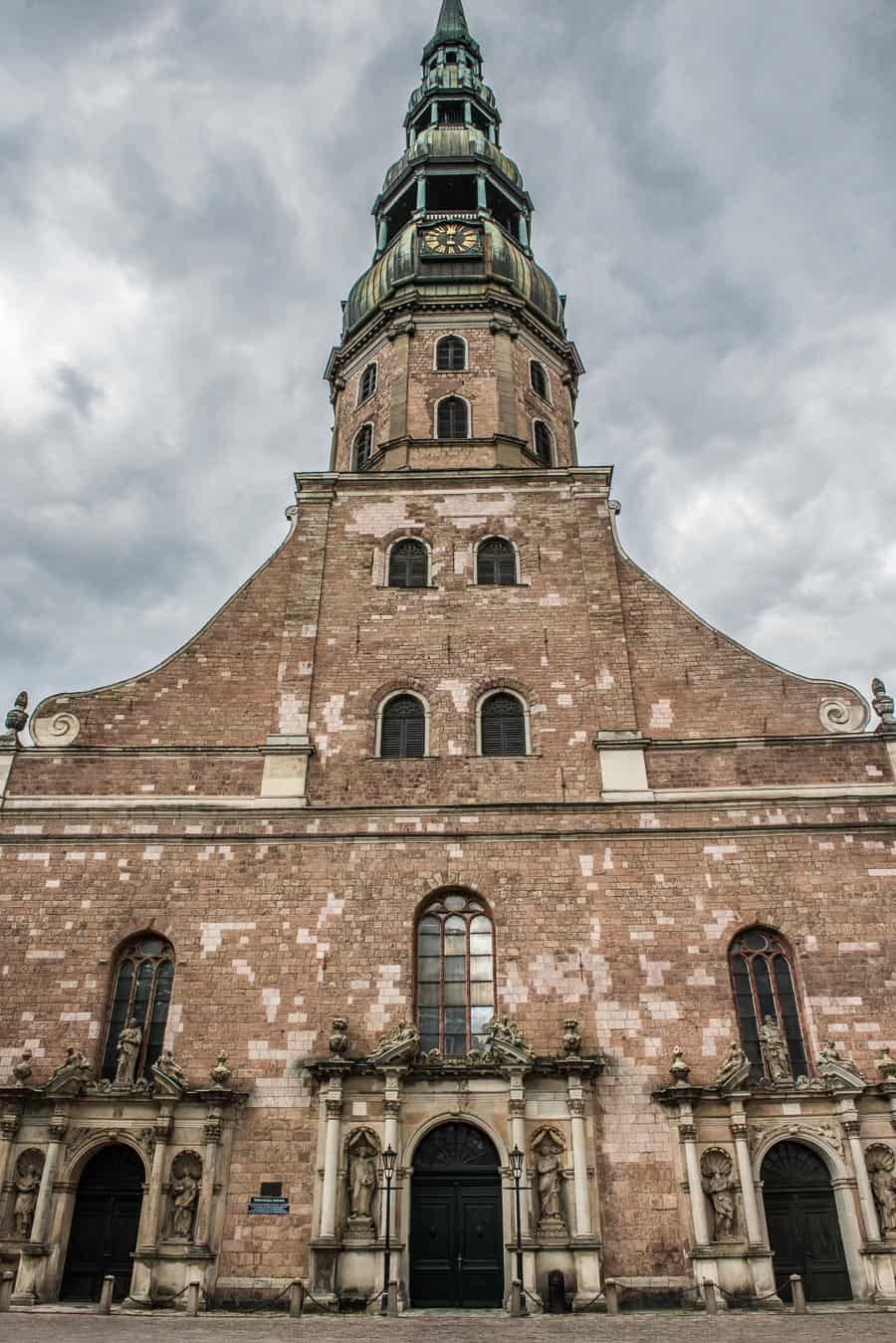 This church is one that does not actually belong to the Eastern Orthodox church. It is in fact a Lutheran church. The first church on this site was actually built in 1209, though it has been rebuilt a number of times since
Climb to the top for some of the absolutely best views in all of Riga.
18. Līvu Square Riga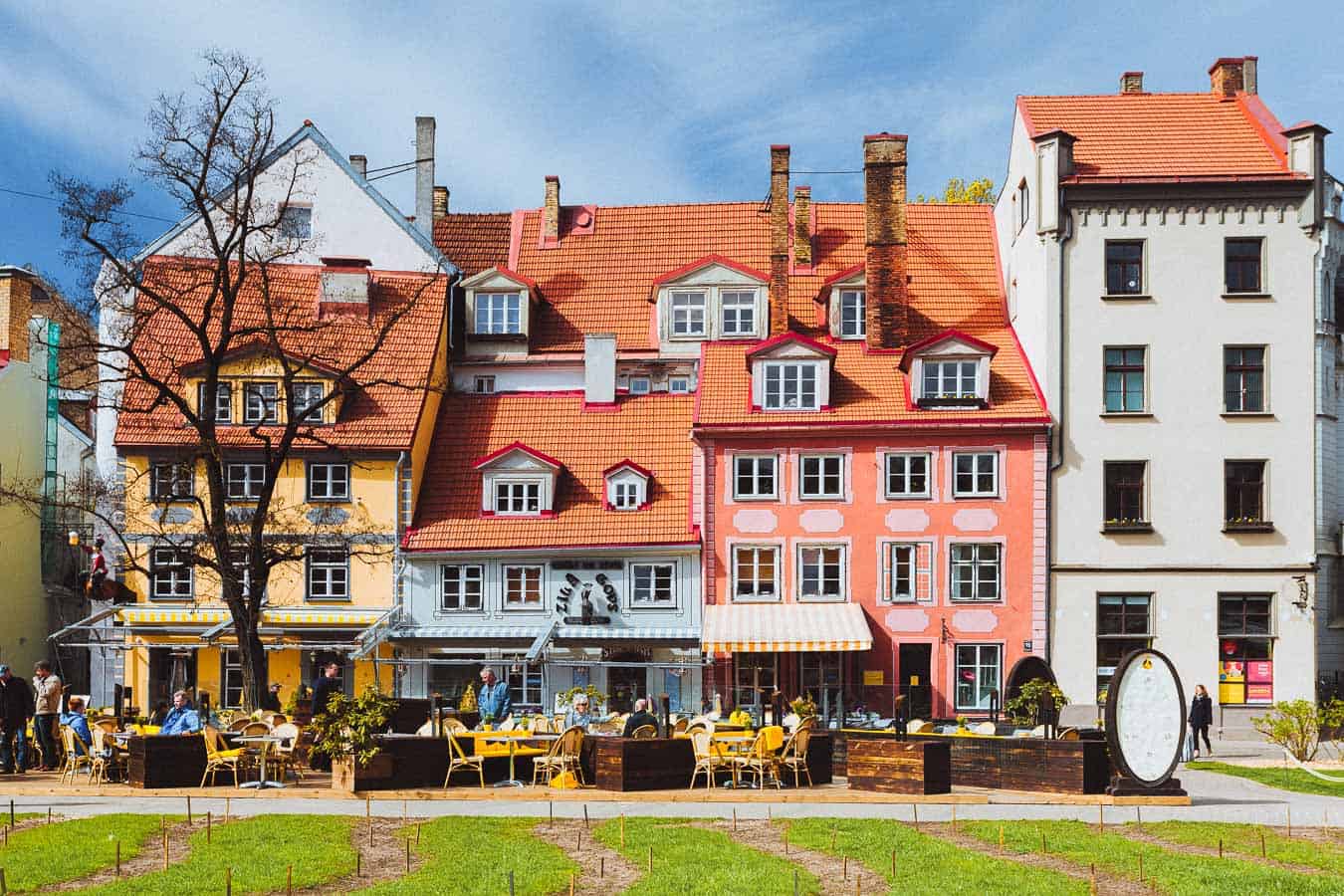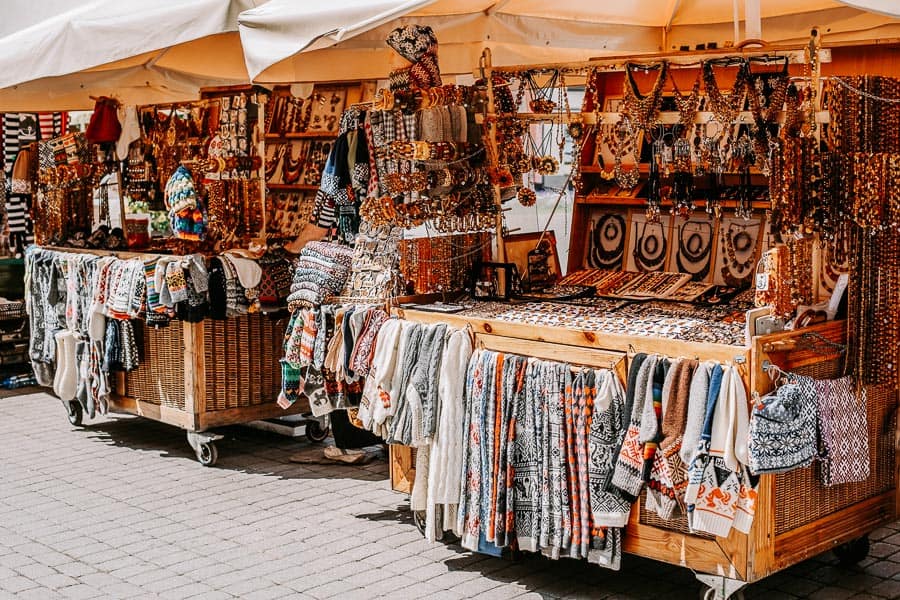 Livu Square is where the action is happening in Riga. You can find endless amounts of sweets and souvenirs made from amber and wood. Some of the most expensive hotels in the city are on this square.
If you are looking for a place to go out to at night, consider Livu Square. It is close to a number of other attractions like the Cat House, but if you go at night you will see many nightclubs welcoming in partiers.
19. The Freedom Monument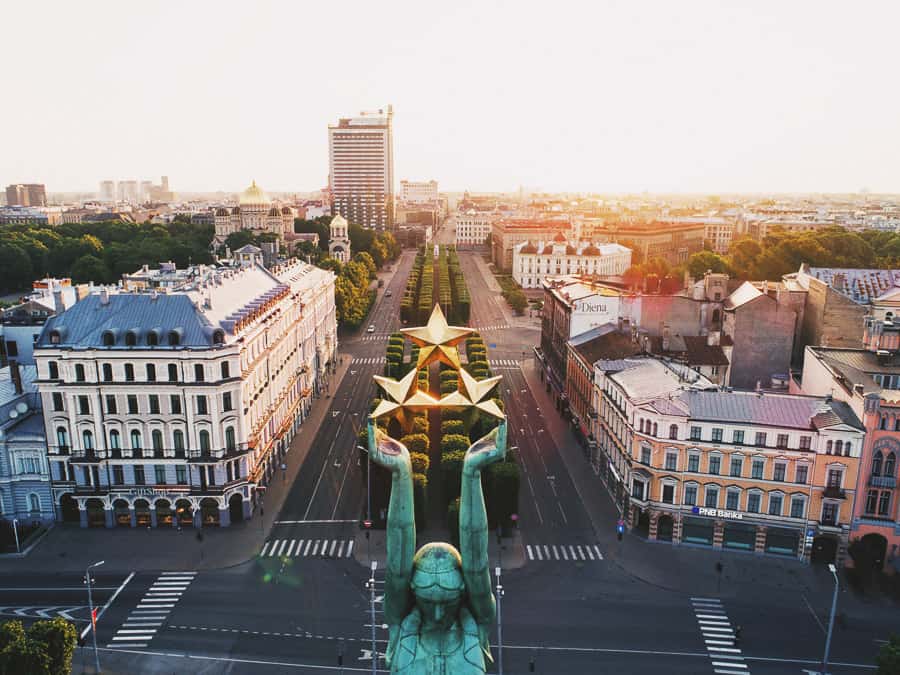 The Freedom Monument honors the soldiers who were killed during the Latvian War of Independence. This monument is almost 138 ft high (42 meters). It was completed in 1935 and is made ion granite, travertine, and copper.
Unfortunately, the Soviet Union began occupying Latvia in 1941. Not surprisingly the Soviet Union considered tearing down this monument to Latvian independence. Supposedly we can thank a Soviet sculpture named Vera Mukhina for protecting it due to its artistic value. I'm sure many Latvians are still grateful for her defense.
20. Menzendorf house XVII-XVIII
This house is now a museum. While it looks normal on the outside, the walls and ceilings inside feature truly magnificent paintings.
When it was a house, owners operated a coffee shop and pharmacy out of the first floor, and it had the reputation as the best coffee shop in town.
21. National Library of Latvia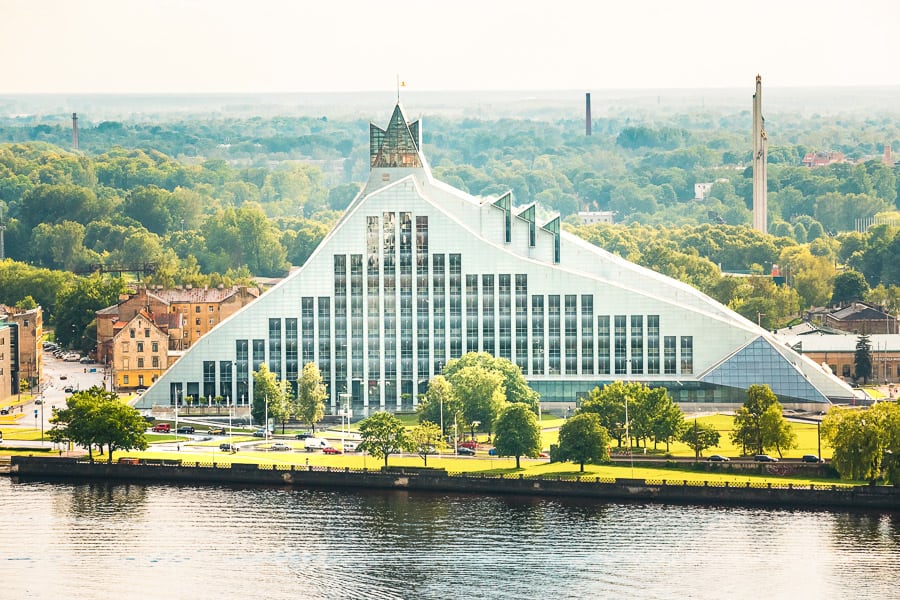 A library this nice makes me feel like I really could get lost in books reading more. When the Soviets occupied Latvia they didn't want any references to the independent country of Latvia so they renamed the library the "Country Library" – not very creative I know. Post occupation the Latvians restored its name honoring their independent country.
Make sure to visit the National Library of Lativa. It is such a unique and beautiful building that is just as beautiful on the inside.
What would you add to the list of the top things to do in Riga? If you have been, how did you like it?