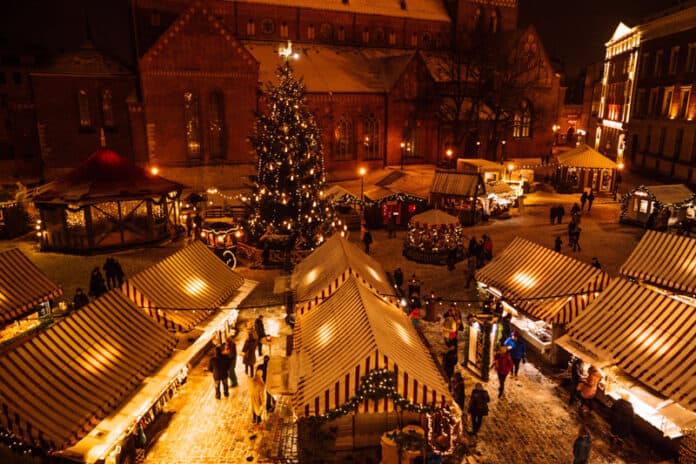 Europe knows how to do Christmas right! There is something special about the European Christmas markets that we haven't quite been able to figure out in the United States. I've taken European vacations in the middle of winter just to be able to experience Christmas markets (yes, I'm a Christmas super fan).
The amazing Christmas markets are especially true in Latvia. The experience there is magical. Here is a guide of everything you need to know before going to the Riga Christmas Market.
Side note, my other favorite Christmas market was in Tallinn, Estonia.
See also: 21 Amazing Things to do in Riga
The Most Famous Riga Christmas Market
Cathedral Square Christmas Market, Doma Laukums, Riga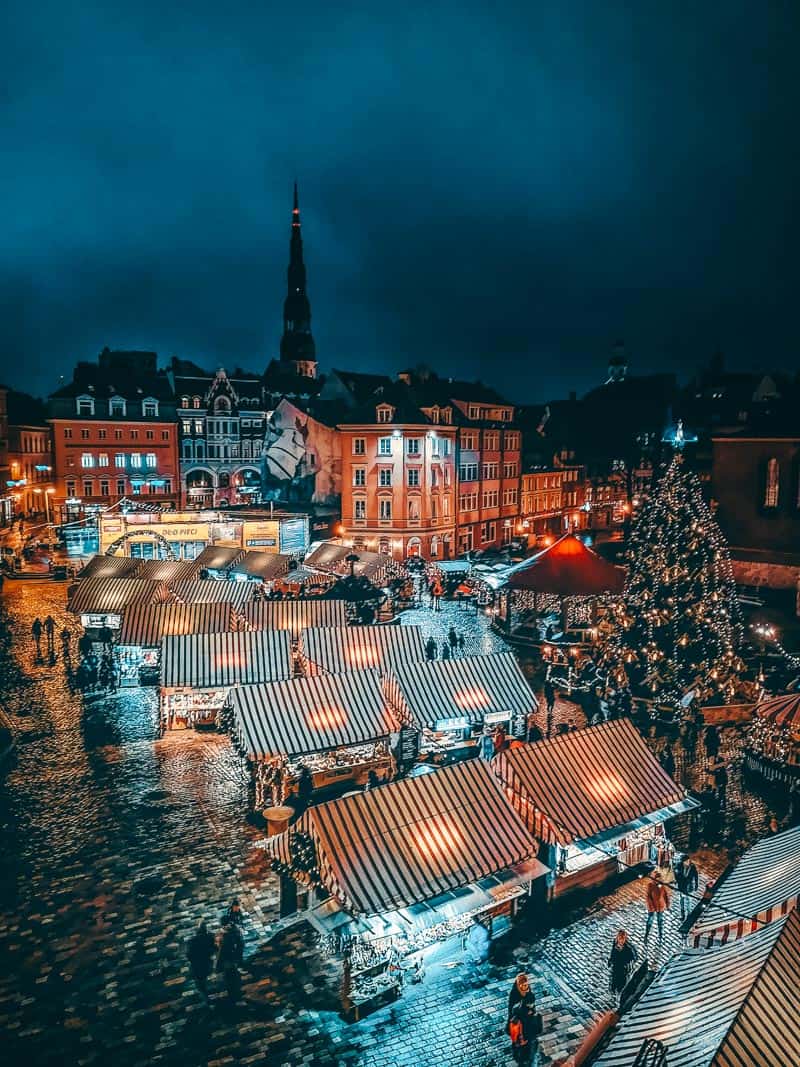 I love European "old towns." The extensive history is something that isn't offered in the United States.
Dome Square (Doma laukums) is in the middle of the Riga old town. This historic site hosts the Old Riga Christmas Market. While you will find a number of other Christmas markets around town, this one is by far the most famous one in Riga.
Riga doesn't get as many tourists as it should, but you will find them at this Christmas market as well as a ton of locals. This market is what makes Christmas in Latvia so magical.
Address: Cathedral Square, Doma Laukums, Centra Rajons, Rīga, LV-1050, Latvia
Website: Doma Laukums Riga Christmas Market
Dates Open: The exact opening hours and dates vary. Typically the market opens from the beginning of December through the beginning of January.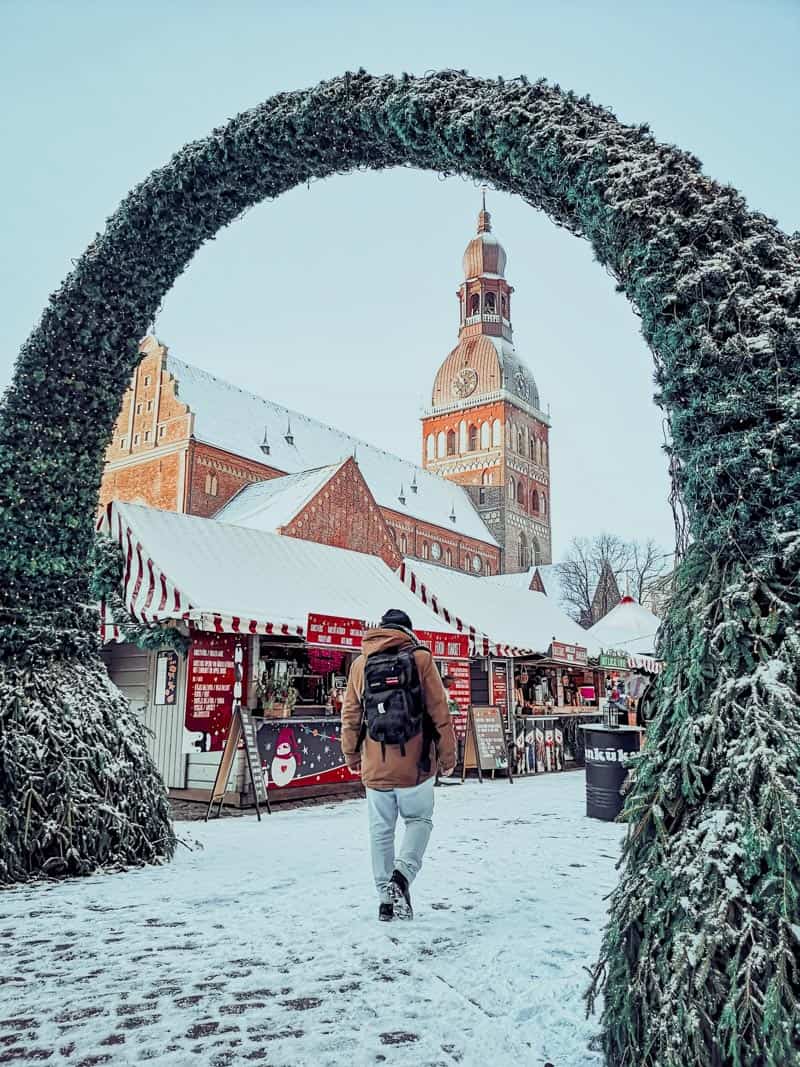 If you would like a tour to see the city and fully explore the history and culture I recommend this Riga Walking Tour here.
Did you know that at various times Latvia was ruled by the Germans, Polish, Swedish, and Russians/Soviets? You will learn about all the different occupations and ultimate independence via landmarks on this tour.
What to expect to buy at Riga's Christmas Markets
Like most Christmas markets you can expect to buy handmade clothing, gloves, scarves, and beautiful ornaments. Our tree at home may or may not be decorated with a ton of ornaments purchased from various Christmas markets.
While the hand made goods are exquisite, another of my favorite part of the Christmas markets is the delicious food and warm drinks. I love being able to experience them like a real local. Kids can enjoy sweets, candies, and gingerbread. Winter time with family and kids in Latvia is amazing.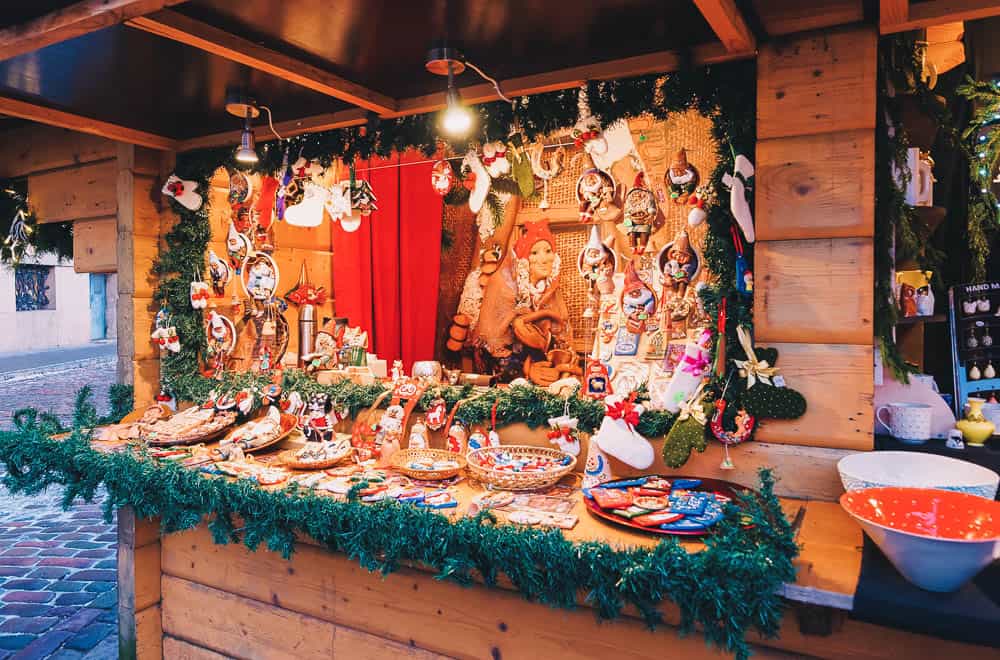 Christmas market stalls on Dome Square.
What kind of food is served?
You can get hot food and drinks like sausages, sauerkraut, gingerbread, hot chocolate and karstvīns (mulled wine).
The special Latvian Christmas Day meal includes cooked peas with bacon sauce, pies, cabbage, sausage, bacon rolls, and gingerbread. I love that they eat gingerbread on Christmas Day since that isn't something we really do in the US.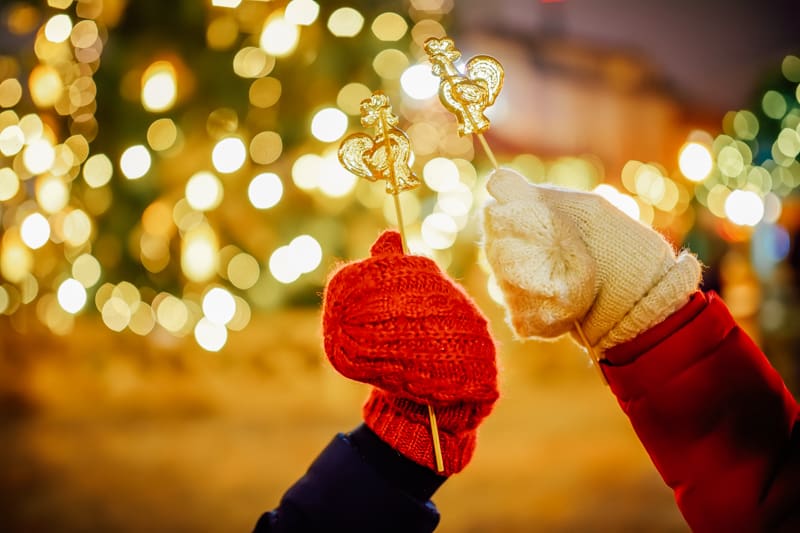 What is there to do for kids?
Christmas in Latvia can be truly magical for children. If your kids are big animal lovers, they will love that they can feed bunnies and pet sheep in a small petting zoo.
There is also a carousel with wooden animals that kids can ride. This is sure to be a big hit with the kids. Just make sure to dress warm as it can get quite cold in Latvia. Make sure to check the weather before you go.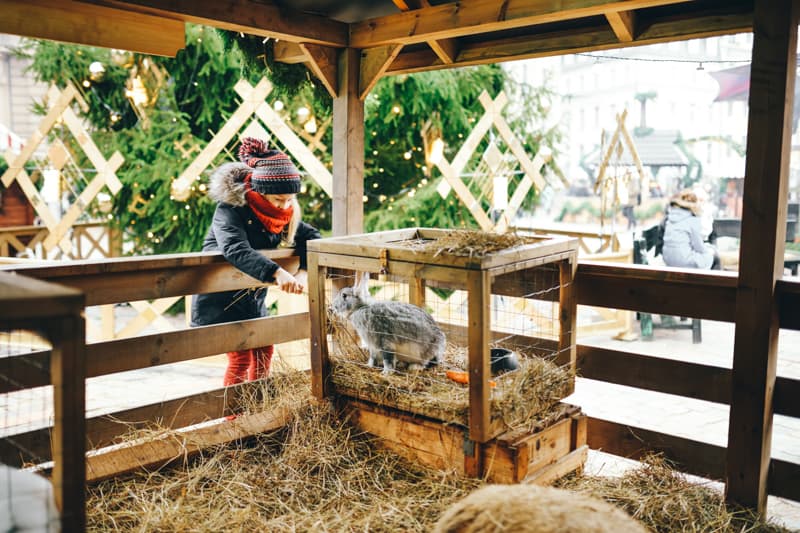 Have you ever been to the Riga Christmas markets? Comment below with your experience!
Read next: 21 Amazing Things to do in Riga