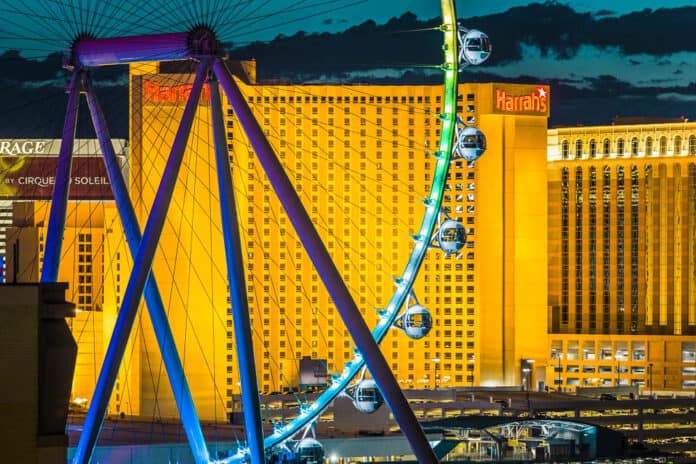 The Las Vegas skyline is world famous for its neon glow. The casinos light up the desert like no other place on earth. With such a unique skyline people are always looking for the best place to. One of the absolute best places to take in this view is on the High Roller Observation Wheel.
The High Roller Las Vegas is located just off the Strip in the Linq Promenade. This 550 foot observation wheel was until recently, the tallest observation wheel in the world (thanks Dubai). Not only are the views the best, but the experience of riding the wheel has its own Vegas spin that makes it truly unique.
With these humongous observation wheels don't picture the ferris wheel from the fair when you were 10 years old. Instead of the seats that lock you in you walk into a huge pod where you can freely explore while you glide around.
Book your tickets ahead of time so you can make sure to get on.
High Roller Observation Wheel History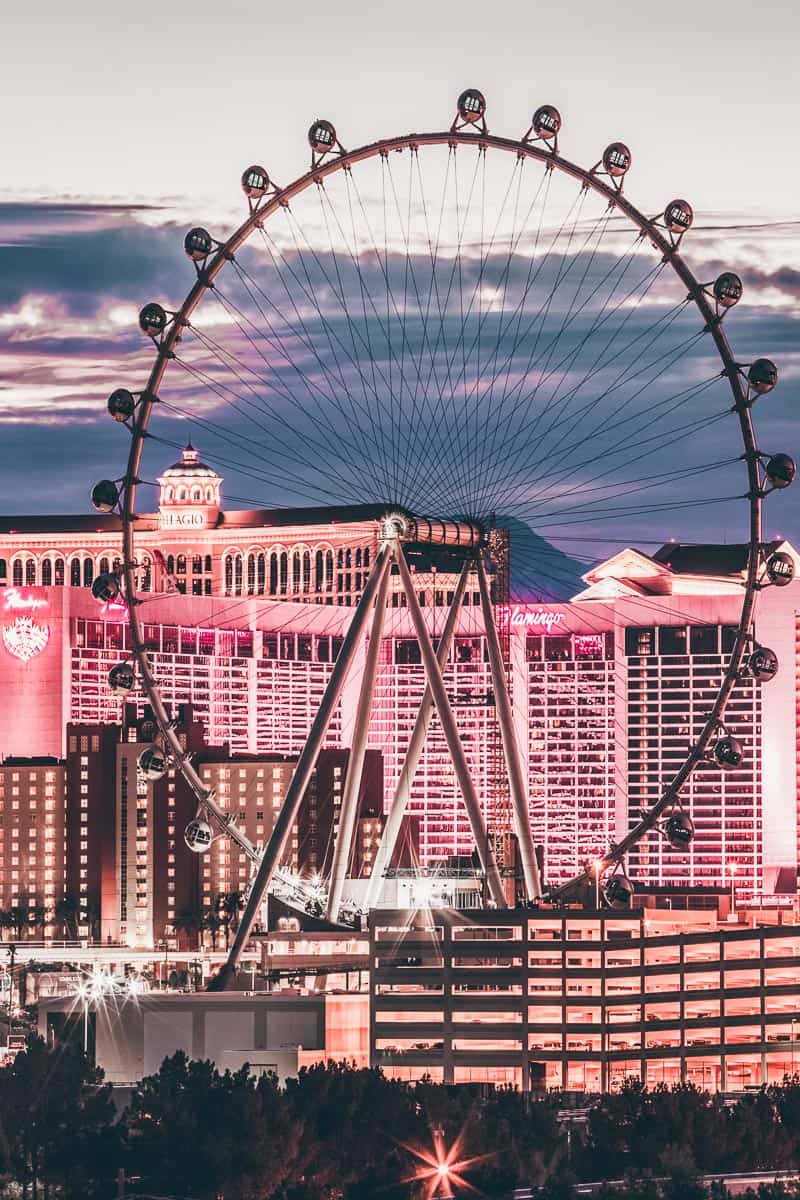 The 550 ft High Roller was completed by Caesars in 2014. At the time it was the tallest observation wheel in the world. Ain Dubai was recently completed. It is an observation wheel that is a little bit bigger, but given that Las Vegas is easier for most people to get to and that the views are better, I still think the High Roller reigns supreme.
This doesn't mean that I don't love Dubai, there are just other things I recommend doing while in Dubai.
What makes the High Roller Unique – Open Bar and Pod for 40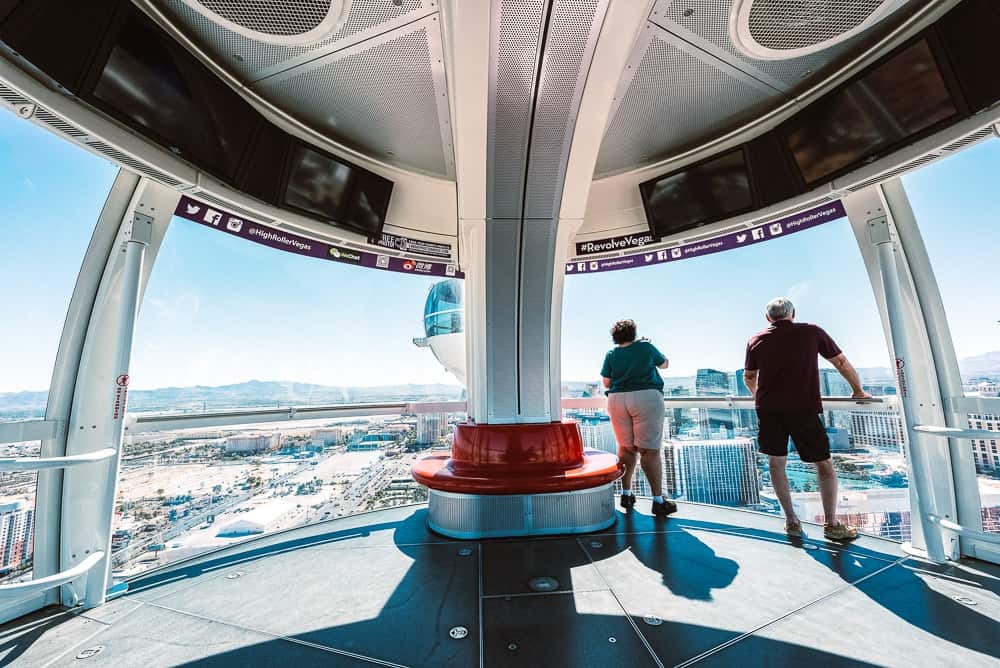 So why is the High Roller the best observation wheel in the world? I think it is because it has that truly unique Vegas spin applied of course. Not only can you take in views of the Strip on this 30 minute ride, but how would you like to enjoy the ride with approximately 40 of your friends while pounding drinks from an open bar?
The London Eye and the Ain Dubai are great, but in Vegas the 30 minute ride really can be a party. The others don't feature the lights that allow the nighttime views to truly be breathtaking, and won't allow you to purchase happy hour tickets that allow all-you-can-drink. I've known people that were able to pound 6 or 7 drinks in the 30 minute ride. Of course that will take some aggressive and strategic planning, but if that's you it is Vegas!
If you go to Vegas with a group I highly recommend booking with all of your friends. Having a group in the pod makes the experience all the more fun.
High Roller Las Vegas Price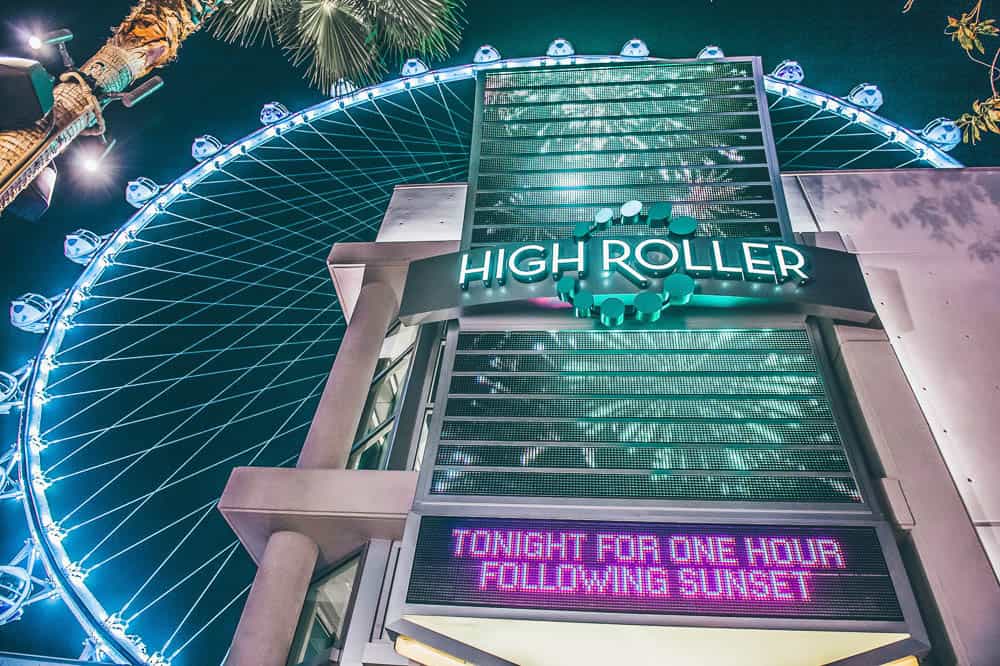 The High Roller Las Vegas cost is dynamic. To understand, think of it being priced kind of like an airline ticket. Unfortunately, the most popular times are going to be the most expensive. Just like a flight will be expensive on Thanksgiving, the High Roller Las Vegas price is likely to be most expensive on a Friday night during another holiday weekend.
The High Roller ticket prices vary from as cheap as $8.50 for kids to as expensive as $62 for an open bar happy hour ticket during a weekend. Generally, you can get a ticket for about $35 though, with them being even cheaper during the day. Discounts are available for group bookings.
You can see the High Roller ticket prices on their actual website here.
Instead of booking through their website I recommend booking here for a discount on the premium tickets. Another perk is that you can be sure to get a time on one of the most popular days.
HIgh Roller tickets for locals
Are you a Vegas local? Are you hoping to score even cheaper tickets? High Roller tickets for locals actually can be a little bit cheaper. If you show up at the box office with your local ID you can get 20% off.
My Experience on the High Roller
I've been to Dubai, London, and Las Vegas and had a chance to see the observation wheels in each. In my opinion, as far as observation wheels go the High Roller is by far the best. The views of the London skyline are nothing special, Dubai offers better views from the Burj Khalifa, and the neon glow of the Strip is just so cool. The others just can't offer the same experience at night that Las Vegas does.
I was lucky enough to go on the wheel with a group of friends and an open bar. This made the experience so much more fun. It can be a romantic escape for a couple, but I wouldn't recommend going alone unless you are a photographer trying to make a sweet time lapse.
What do you think of the High Roller Las Vegas?
Check out our most popular articles on Las Vegas:
We (me and my husband) lived in Las Vegas for almost 10 years and loved it there! Here are a few of our most popular Las Vegas posts that will help you plan your trip.
Top 10 Vegas Attractions – 10 Attractions You Can't Miss in Las Vegas (Our most popular post ever!)
The perfect guide for first time visitors – 10 Must Do's in Vegas for First Timer's
Top things to do on Fremont Street in Old Vegas – 12 Awesome Things to do on Fremont Street
Things to do during the day in Vegas – 9 Things to do in Vegas During the Day
You didn't know these things existed in Vegas – 19 Unique Things to do in Las Vegas
The best cheap things in Vegas – 45 Cheap Things to do in Vegas (Under $30)
My guide to doing Las Vegas on a budget – How to do Las Vegas on a Budget
Guide to the hottest new attraction in Las Vegas – Guide to Visiting Area 15 Las Vegas – The Hottest New Attraction
What to pack for Vegas – Vegas Packing List: What to Wear in Las Vegas
Our top recommended Vegas hotels – 5 Hotels You Have to Book in Las Vegas