The Beitou Thermal Valley is also known as Hell Valley. This hell, though, is definitely one that you'll want to visit on vacation. It's nothing like a fiery inferno and everything like a relaxing spa day in heaven.
What you need to know about the Beitou Thermal Valley
The Beitou Thermal Valley is full of some of the best hot springs in Taipei. Beitou is a valley at the base of Yangmingshan National Park. This location lends Beitou to be the source of several hot springs! Beitou is the name of the entire neighborhood, but Beitou Hot Springs, specifically, is right in the city center, public, close, accessible, and oh so rejuvenating.
Take it from me, there's nothing better than a nice hot soak after several busy days of running around the city, hiking beautiful mountains, and trying every night market food possible. In fact, Beitou Market is close to the Shilin Night Market (another must visit).
Where to Stay in Beitou
*Top Choice: Beitou Hot Spring Resort – Looking for a modern stay in Beitou? Located within a 3-minute walk from Xinbeitou MRT Station, Beitou Hot Spring Resort offers modern rooms with private hot spring bathtub. Free Wi-Fi access is available in the entire property. Book here.
*Budget Choice: Golden Hot Spring Hotel – Just 6 minutes' walk from Xinbeitou MRT Station. Golden Hot Spring Hotel is 3.1 mi from Yangmingshan National Park and Guandu Temple. Taipei City Center is a 30-minute drive away. Rooms include air-conditioning and a daily buffet breakfast. Book here.
*Top rated: JBG Hotspring Resort Hotel – Located just a 10 minute walk from the Thermal Valley. Every room at the hotel features a private hot spring tub. Yes, please! Book here.
Note – You can search for the best hotels in the Beitou Thermal Valley below from booking.com
Why Hot Springs in Taiwan?
Soaking in hot springs is a Japanese tradition adopted in Taiwan. They believe there are a lot of health benefits from these sulfur soaks. The minerals in the water, the soothing nature of water, the community of soakers, etc. all add up to a calming and restorative exercise. Beitou Hot Spring, and the pleasure those in Taipei get from soaking in it, is a remnant of being occupied by Japan.
Interested in learning more about Beitou's history? There's a Beitou Hot Spring museum in town.
You don't have to arrive with an appreciation and knowledge of Japanese tradition to enjoy the spa-like treatment of Beitou Hot Springs (we certainly didn't). Steam rises off of the green lake, completing gorgeous scenery, and you'll walk away with an appreciation no matter what (we certainly did).
Also see: 11 Amazing Things to do in Taipei
Beitou Hot Spring Price
How much does it cost to enjoy the hot springs? There are several separate hot springs in the area, but the most popular one is the Beitou public hot springs. When we went, it only cost about 40 New Taiwan dollars for entry. That's about $1.30 in the US. $1.30! It's well worth it.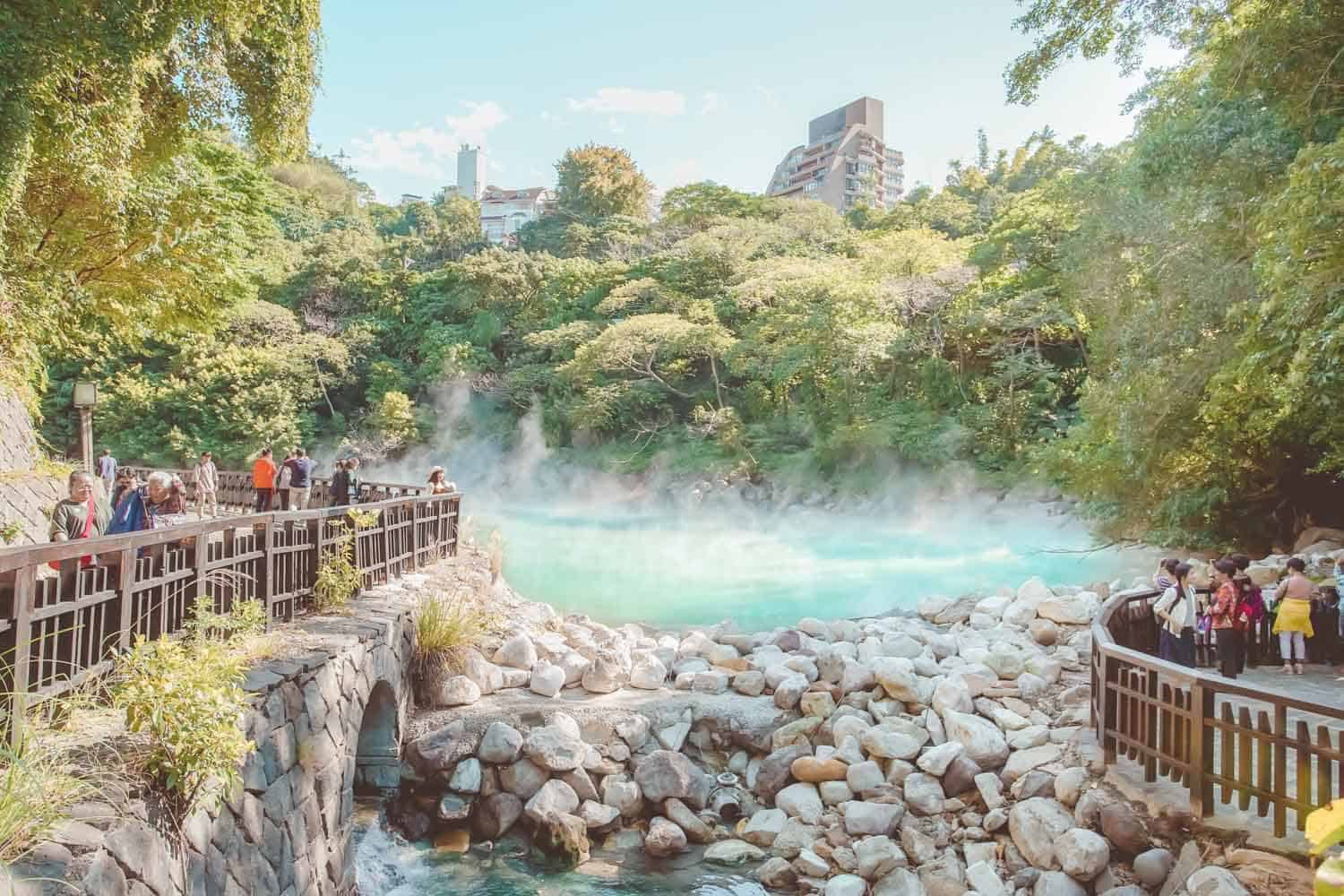 Find all: Hotels in Beitou
Taipei Hot Spring Rules
There are a few rules to attending the Beitou Hot Spring. First of all, you have to wear swimsuits. The hot springs are coed, and you'll share the water with tourists and locals alike. We found the locals to be very friendly, and we truly enjoyed talking to them. Our conversations might have actually been our favorite part!
Second of all, some say that it is required to wear swim caps. This was not our experience. If you're attending other hot springs, be aware of any rules that may differ. Also, no cameras or cell phones allowed out. We put ours in lockers right next to the hot spring area.
See also: 7 Best Taipei Night Markets
What you can expect at the Beitou Hot Springs
Even the hot springs are in the center of the city, they're open to the sky. The lake consists of multiple pools, and each one is of slightly different temperature. We enjoyed hopping from pool to pool, getting progressively hotter, and then plunging back into the cold one. We could start over as many times as we wanted. It was so fun and so invigorating.
The pools can get relatively busy, but again, we genuinely enjoyed visiting with the people, so popularity wasn't an issue.
How to get to the Beitou Hot Springs
Beitou Hot Spring is easily accessible by public transit. It's at the foot of a mountain, which is also a dormant volcano (very cool), so there's some travel involved, but it's still very close to the city center. You can get to the spring using public transportation. We suggest taking the Taipei MRT, or metro, because it's super easy and super cheap. We also love that there is free wifi, even in the cars not just the stations.
You won't have to worry about rushing into the hot springs. You really can gain entry anytime between 5am-10pm. If you look up the hours on Google, the hours look confusing with short gaps. Don't be worried, the hot springs close periodically to clean the water. If you really want to maximize time, there is a Beitou Hot Spring Resort and other hotels that are attached directly to the pools.
Find all: Hotels in Beitou
Taiwan Hot Springs
Interested in testing out other hot springs in the area? There's quite a view. If you want to experience the more traditional soaking experience where men and women separated, go to Long Nap Tan in Beitou. This is also a naked, swimming suit-less experience.
There are certain luxury hotels in the area that have their own hot springs. One of these is Radium Kagaya International Hotel. You can also check out the Grand View Resort is one and Hotel Royal Beitou. All of these hotels and their subsequent hot springs are gorgeous and look beautiful, but think of them more as high-end hotel spas, and not a natural attraction.
We highly recommend you schedule in some relaxation time during your trip to Taiwan. Or…don't schedule it, and pop in as frequently as you'd like!
Read Next: The Perfect Day Trip from Taipei to Jiufen (Mountain Village)