Are you planning a Death Valley day trip? Want to know what to do in Death Valley? As the hottest, driest, and lowest point of the United States, A Death Valley tour shows astonishing contrasts. Located in Eastern California, this piece of the globe is the largest national park in the United States (if you don't count Alaska).
How to plan the best Death Valley Tour
Most of the park is flat, dry, barren, and in the summer months the temperature is insanely hot. You may wonder, "why would anyone want to do a Death Valley hike in such an inhospitable desert?"
The reason is that the Death Valley attractions are some of the most vivid landscapes you'll ever see. It features captivating rainbow-colored mountains, snow-white salt flats, epic hiking trails, and 100-foot high dunes perfect for sandboarding. If it's an unique adventure you're after, Death Valley tours are your answer.
Death Valley is one of the Hottest Places on Earth
Back in the 1900s, Death Valley set a world record for the highest air temperature, maxing at a sweltering 134°F (57.6°C). Today, it's still one of the hottest places on Earth – both literally and figuratively.
The reason Death Valley National Park gets so hot is because its tucked between four mountain ranges, and its low elevation causes the air to compress and heat up. It doesn't help that the park gets pretty much no rainfall (less than 2.5 inches a year)! Understandably, the resulting landscape is incredibly barren.
Best Things to do in Death Valley
Visiting Death Valley National Park is well worth it for the adventure alone! Wondering what to see in Death Valley? Here are the top things to see and do…
1. Explore the one of a kind Death Valley Hikes
Given the brutal climate, you probably don't want to go on a super long hike in the summer. Even though it is often hot and barren, don't think there is no need for a hike at all! Death Valley hikes are still amazing.
2. Walk Across Badwater Basin – the Lowest Point in the USA
A salt pan in the heart of Desert Valley National Park, the unbelievable glimmering white surface of Badwater Basin stretches as far as the eye can see. Located 282 feet below sea level, this former lake is the lowest point in the United States.
Over the years the salty surface formed bizarre hexagonal shapes that are truly amazing to look at. It's particularly photogenic when the sun shines blindingly onto the ridges of salt that remain on the ground, and even more so after it's rained, when it forms a mirror-like surface.
You can park at Badwater Basin, and there are restrooms near the parking lot. But be aware that you'll have to walk about a 1/4 of mile to reach the salt pan itself, and another 3/4 of a mile to find an area to find hexagons that aren't trampled down. Scorching or not, it's one of the best Death Valley things to do!
Want to avoid the crowds and not have to walk as far? Alternatively, you can drive an additional 5 miles south and park on the side of the road, and have the hexagonal shaped salt flats immediately off the side of the road.
3. Hike up the Zabriskie Point Death Valley Viewpoint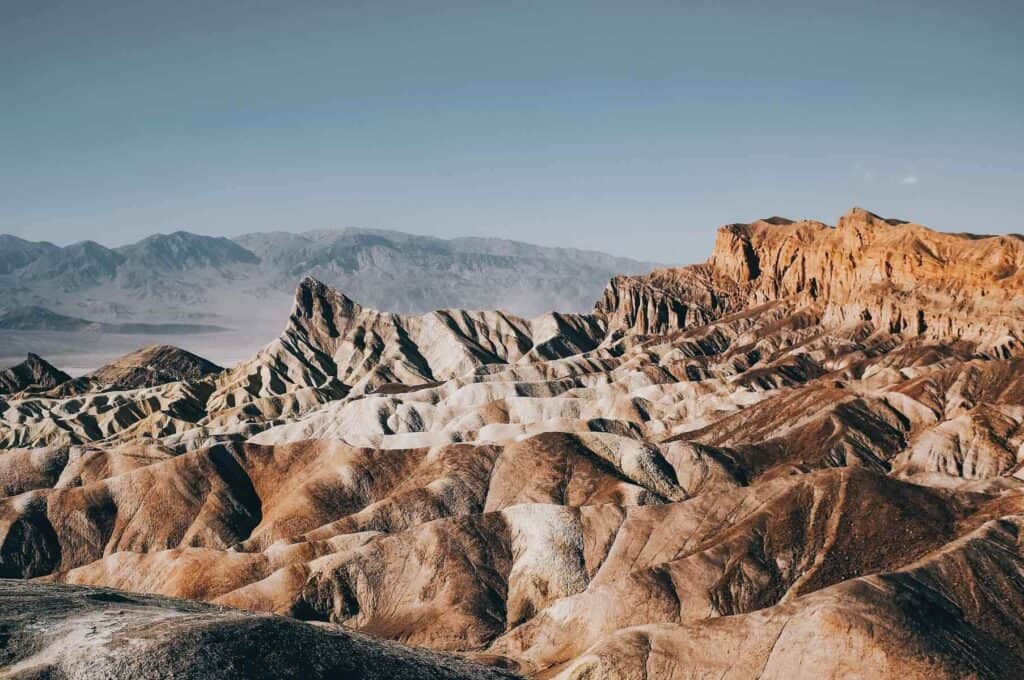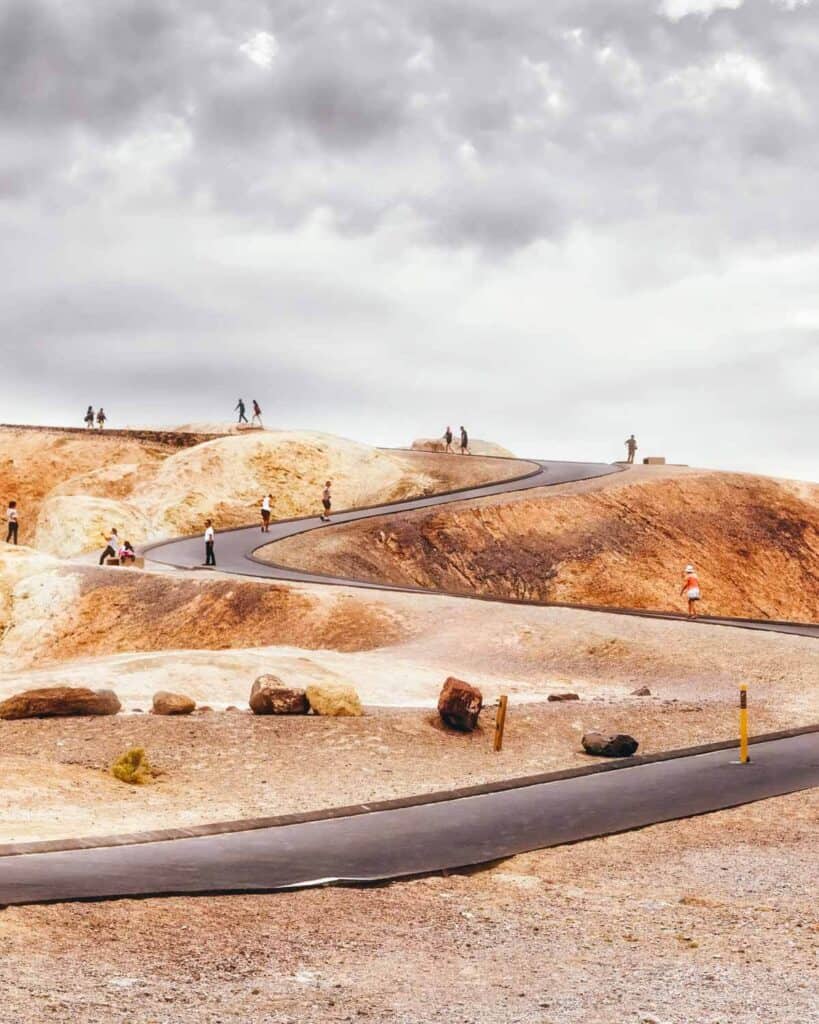 The Death Valley Zabriskie Point is an exceptional viewpoint that overlooks the wavelike and skeletal gullies of Death Valley's badlands. From the outlook, you'll be able to see Manly Beacon, Gower Gulch, Golden Canyon, and the dramatic cliffs of Red Cathedral.
It's only a 100-yard hike up the hill (see photo below) from the parking lot to this viewpoint. Even though it's short, it's still one of the best Death Valley hikes in our opinion – especially at sunrise or sunset when the views are even more impressive. Spend as much time admiring the view as you like, or hike up for a quick photo before hopping back into your air-conditioned car like we did.
4. Artist's Palette – the Rainbow Mountains
With its mountain range that features all the colors of the rainbow, the Artist's Palette is truly one of the most incredible Death Valley attractions. You can expect all sorts of shades along the slopes here, from eye-catching reds, yellows, greens, blues, and purples. The oxidation of different metals in the clay causes the colors. We expected it to be much more muted in person, but the colors really do pop!
The attraction is actually a loop road off of the main highway. The most famous stop is about five miles into the nine-mile Artist's Drive. There are plenty of other photo stops or hiking opportunities along the way. The whole drive takes about 20 minutes, depending on how often you want to stop and explore.
5. Witness the Death Valley Flowers in a Super Bloom
One of the other epic highlights is the chance to witness the thousands of unusual Death Valley flowers that sometimes sprout up across the valley in the spring, known as the 'super bloom.' Unfortunately, we didn't get to see them when we were there on our last trip as we visited in the summer.
If you'd like to make sure you catch sight of these unique super blooms, check the reports to see if they're around during your visit to Death Valley National Park.
6. Sand Boarding the Mesquite Flat Dunes
It might seem strange, but there aren't as many sand dunes as you'd expect in Death Valley National Park. There is plenty of bare rock, but there are actually only a few places where you can enjoy sandboarding or dune boarding.
In fact, the only place you're allowed to sandboard is at the Mesquite Flat Sand Dunes in the center of the park. They're not the tallest dunes in Death Valley (that's Eureka Dunes which requires a 4×4 to get to), but they are the easiest to access, so there are plenty of Death Valley tours that will take you there.
Rising 100 feet above the ground, these slopes include linear, crescent, and star-shaped dunes, particularly scenic at sunrise or sunset. You may spot some interesting wildlife while you're here, so keep your eyes peeled!
Death Valley Lodging
While visiting Death Valley is easily doable with a day trip from Las Vegas, if you want to stay in the park, there are a number of campgrounds to choose from. We chose to do the day's drive from Vegas as camping in the summer heat would have been brutal. However, if you're visiting in the cooler (but still warm) winter months, you can enjoy much milder Death Valley accommodation while camping in one of the nine campgrounds.
In terms of Death Valley lodging, there are only two hotels inside the park – The Inn at Death Valley (a 4-star historic hotel) and the Ranch at Death Valley (a 3-star ranch-style property). Both hotels are located in Furnace Creek, which is the closest thing to a little town the area has to offer. Expect to splash out on these hotels though; when we visited in the middle of July, they still cost around $300 a night, despite it being the hottest and less popular time of the year!
Not open to camping and still trying to figure out where to stay in Death Valley while not breaking the bank? You'll find some cheaper options close to the park entrances; you can get a Death Valley motel room for around $60 a night.
Getting to Death Valley National Park
Death Valley California is only about a two-hour drive from Las Vegas – it's much closer than many people think. It's just 135 miles from downtown Las Vegas to Furnace Creek, so Death Valley is the perfect day trip on your Vegas vacation if you're looking to get away from the glitz and glam of the Strip.
Most of Death Valley National Park's main roads are paved, so you can get around easily with a car or bike. Some of the trails have gravel roads where a 4×4 may be preferable, especially if you're keen for a little adventure!
Make sure you fill your tank up before you leave Las Vegas. While there are gas stations at the Ranch at Death Valley, Stovepipe Wells, and Panamint Springs, the fuel prices tend to be much higher in the park.
A drive from Los Angeles is a little bit longer, but still able to be done, though you may want to plan at least one night of Death Valley accommodation.
Death Valley Entrance Fee and Peak Season
The main season for visiting Death Valley National Park is from October to May – avoiding the hottest temperatures of course.
The Death Valley entrance fee will cost around $30 per car, which will give you unlimited access to the park for a period of seven days. If you have a National Parks annual pass ($80), you'll enjoy free entry for a year.
Death Valley National Park is an adventurer's paradise, filled with exciting things to see and do. If you're planning your trip during peak season, we recommend booking your Death Valley motel early as places fill up quickly. Have fun!