So you are planning trips to Scotland and only have two days to explore this beautiful country? Well, don't worry, there is plenty to see in Scotland in two days. And, if it makes you feel any better – for what it's worth, Scotland is a very big country and even if you had a full week you still wouldn't be able to see everything you wanted.
Everyone should visit Scotland. Every time I go there I can't help but picture myself staying longer and ultimately living there. I could easily spend weeks exploring the landscapes of the Scottish countryside, and even more weeks exploring the historic streets of Scotland's cities….but what if you only have 48 hours?
What to see in Scotland in Two Days
If your visit to Scotland has to be quick you can still see a lot of the highlights. Scotland has great public transportation options, but to be able to see the maximum amount of great things I recommend renting a car. With a car, you can still be sure to get a quick taste of the cities as well as the countryside.
Day 1 – Edinburgh
On your first day I would recommend starting in Edinburgh. Parking can be rough in downtown Edinburgh, but thankfully if you find a good spot a lot of the top spots are all within walking distance.
To start out I would begin in Calton Hill. At the top of the hills is the Scottish National Monument patterned after the Greek Parthenon. Being up here will give you tremendous views of the city. Head down the hill and you immediately run into St. Andrew's house, or Scottish Parliament and Holyrood Palace.
It is only 1 mile (thus being called the Royal Mile) to walk all the way to Edinburgh Castle. On this walk enjoy the historic buildings (especially the ones on Victoria Street) but make sure you save time for a tour of the dominating Edinburgh Castle sitting on top of a cliff in the middle of the city.
Victoria Street, Edinburgh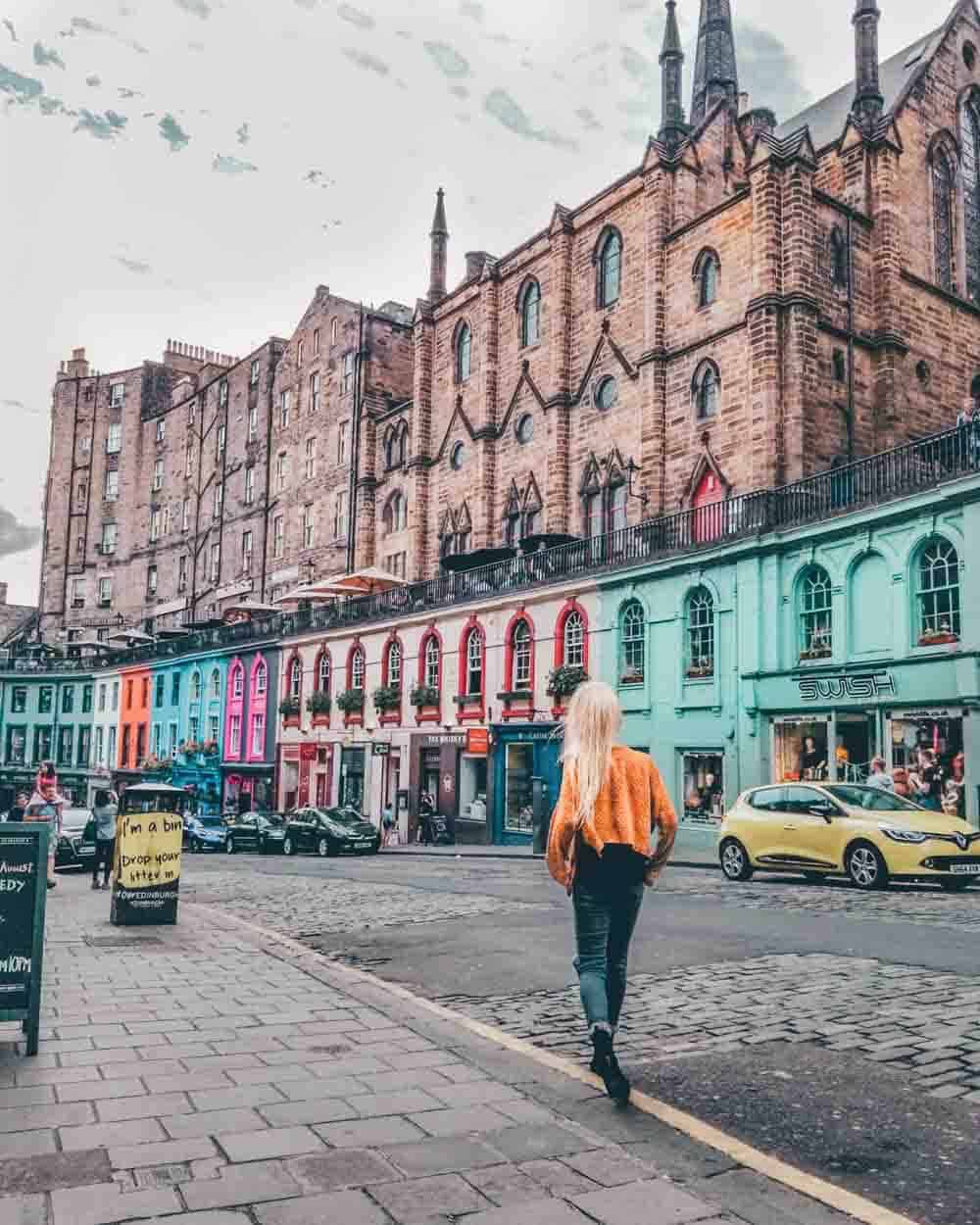 There are plenty of dining, drinking, and hotel options around this area. You will have no problem finding entertainment in this area all night.
Day 2 – Stirling / Loch Lomond
This is the day where you will cover a lot more distance in your car, but if planned properly you can still enjoy many of the top Scottish sites.
Stop 1: See the Kelpies (Aka,Giant Horseheads)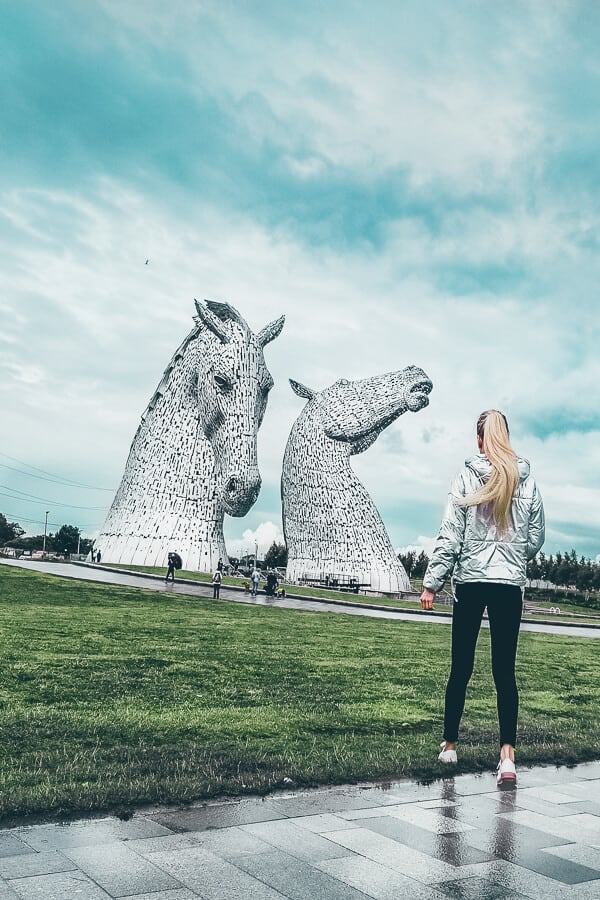 The first stop I would make on the way out of Edinburgh is at The Kelpies. These gigantic horse head statues help teach people about Scottish legends. This monument is only about 45 minutes from the city, and is a free and easy stop.
After the Kelpies, I would immediately proceed to Stirling Castle (only 15 minutes more). Stirling (also name of the small city) features a castle that is just as amazing as the Edinburgh castle, even that it sits on a cliff above the city, but you likely will only have time to tour one of them.
Right next to Stirling Castle Scotland is the Church of the Holy Rude. The architecture is stunning, but even just touring the grounds and surrounding cemetery is incredibly enjoyable.
Stop 3: The Church of the Holy Rude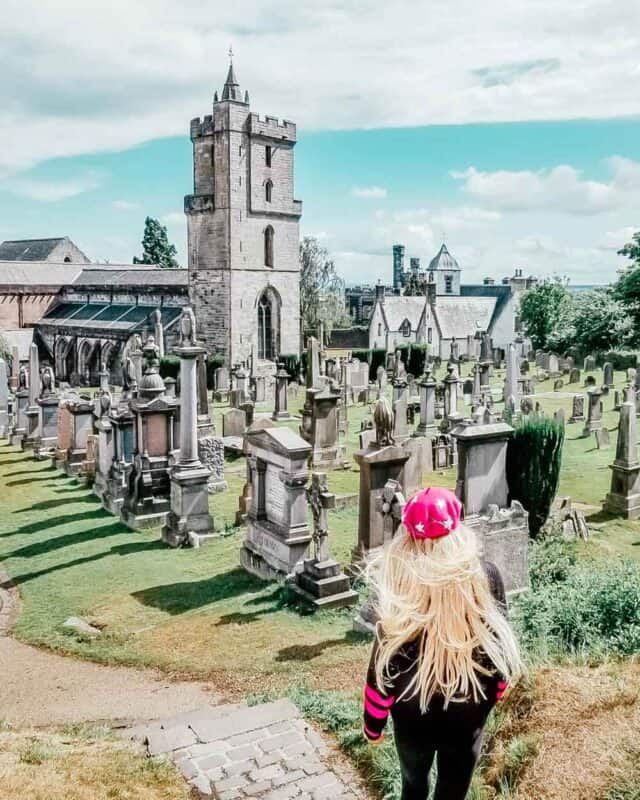 On your way out of Stirling you can quickly swing by the Wallace Monument, but get ready to start exploring the Scottish Highlands. The next stop is Loch Lomond (about 50 minutes away).
Loch Lomond is a gorgeous lake in one of Scotland's national parks. It is easy to see why people love spending time hiking, cycling, or even driving along its shores.
If you really rush you can probably get to The Devil's Pulpit (Finnich Glen). A small stream flowing through a gorge of red stone awaits you after a 15 minutes hike and descent down some incredibly steep stairs. This area isn't huge and can get crowded in the day, but by doing it later in the day/early evening you are more likely to get lucky and have the place to yourself.
After exploring The Devil's Pulpit I would begin my drive back to Edinburgh. It is going to take you about two hours, but will have given you a rushed tour of what Edinburgh and the Highlands have to offer.
For those who have been, what else would you try to include or take out with the truncated timetable?