One of Jasper's newest attractions is the Columbia Icefied Skywalk. This glacier skywalk is actually a bridge built off the top of a mountain that hangs you over the valley floor almost 1,000 feet below. What makes it truly wild is that the bridge is made out of thick glass, allowing you to see through the bridge to the expanse.
If you are afraid of heights the Jasper Skywalk experience of being high above the valley floor with nothing but glass beneath you will be a rush. There are some people who are too scared to step out onto the glacier skywalk bridge, but most people overcome their fear to enjoy the powerful natural scenery.
Columbia Icefield Skywalk (Jasper Skywalk) in Jasper National Park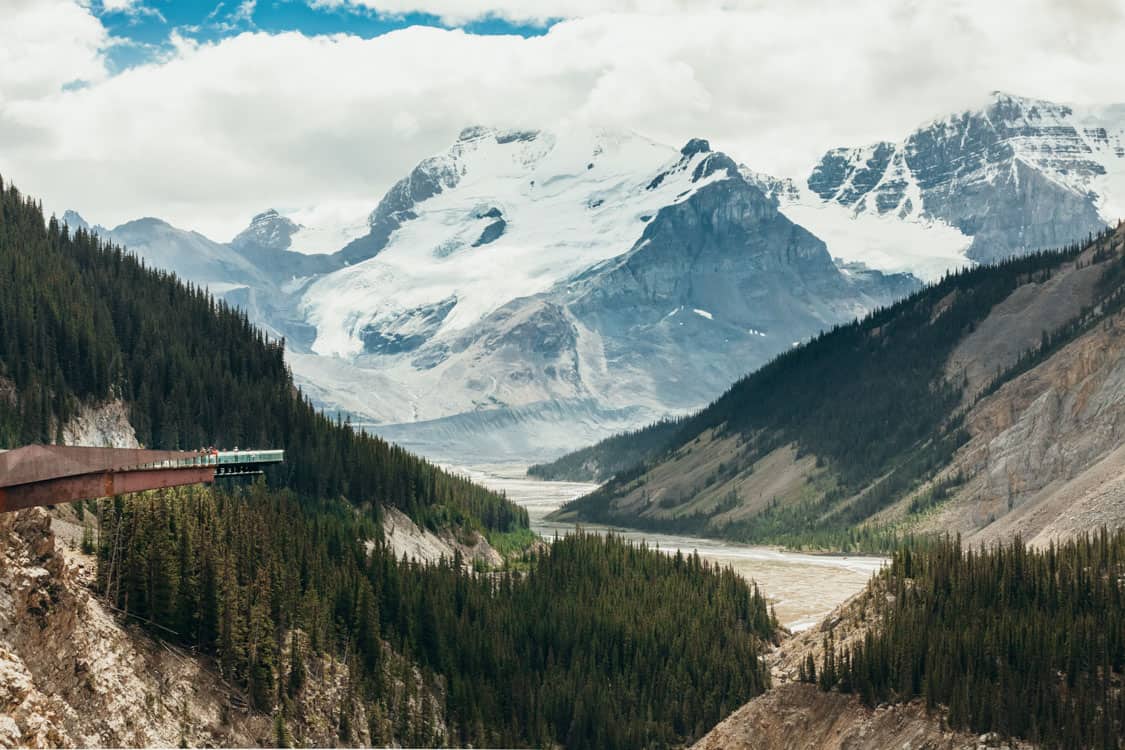 Glacier Skywalk Jasper Location
The Columbia Icefield Skywalk is located at the north end of Icefields Parkway. It is about 1 hour and 15 minutes south of Jasper, and about 2 hours and 20 minutes north of Banff.
The drive to the Columbia Icefield Skywalk is easy, but is very likely to take you longer (regardless of which way you come from) due to so many other places luring you in for stops.
What to Expect on a Glacier Skywalk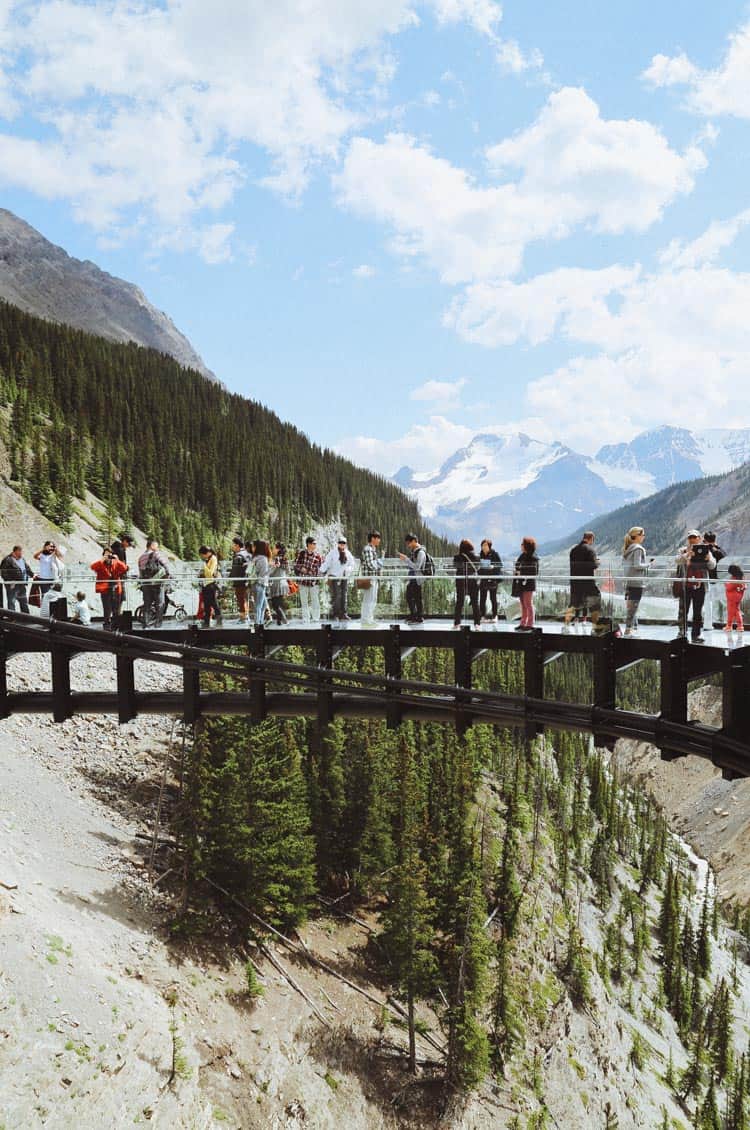 To visit you first have to pull into the Glacier Discovery Center immediately off of Icefields Parkway.
You purchase tickets (skip the lines and purchase here in advance) and then get loaded into a bus for a 5-minute drive over. Unfortunately, you can't drive yourself all the way up to the Glacier Skywalk. Thankfully, the bus ride goes quick.
You will be loaded up with an audio guide filling you in on the history of the area, the landscape, and nearby wildlife. Then after a quick walk you can stop out onto the almost ¼ mile long bridge hanging out over the valley below.
Book your tour: Jasper: Columbia Icefield Skywalk (Family Friendly)
What is the Glacier Skywalk Price?
Admission to the Skywalk, the shuttle rides, and included audio tour will cost you $32 CAD (about $24 USD).
The Glacier Skywalk price is a little steep, if you are looking for a quick way to get to the top of a mountain without a hike it can't be beat.
Looking to book a tour? Here is a link to all the top rated tours in the Columbia Icefield.
The Catch – What you will actually see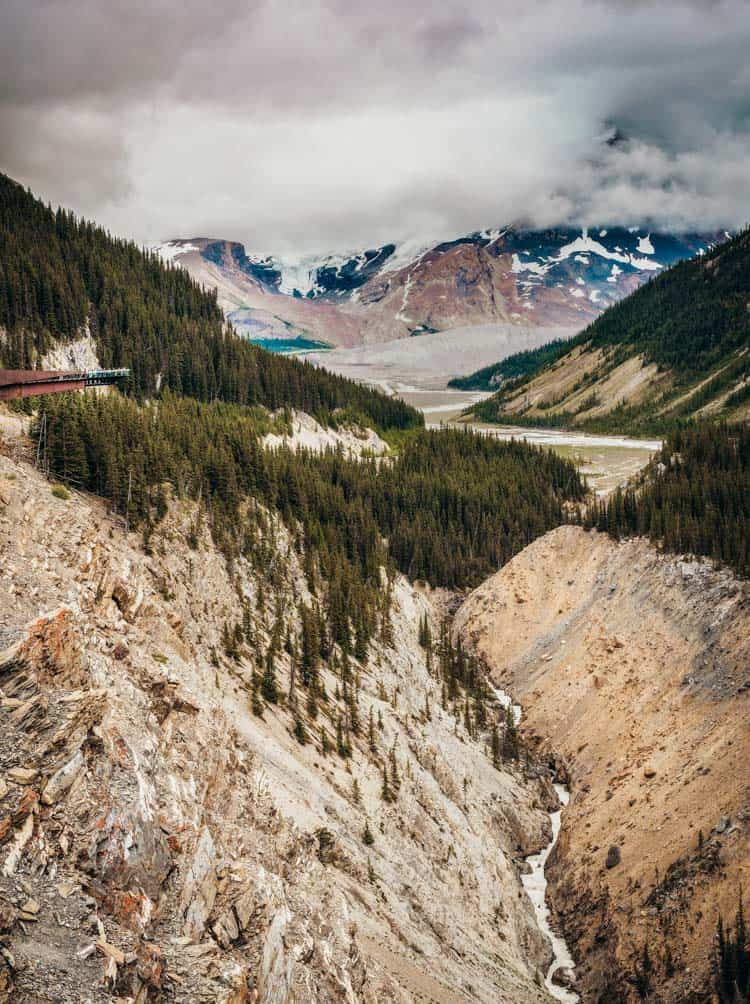 Calling it a glacier skywalk seems a little bit insincere because even though you can see some of the glaciers in the area, they are far off, and there are areas with MUCH better views of them.
When I first heard of the Jasper Skywalk I thought it was a bridge jutting out over a glacier, not just a valley.
Even though this isn't the best spot to view glaciers, the glacier walk Jasper offers is still a great spot to enjoy the gorgeous mountain views of the Sunwapta Valley.
There are a lot of great views in Jasper and Banff that you don't have to pay for, but the glass bridge and audio tour really are neat.
The Glacier Skywalk Jasper offers is part of one of the most gorgeous locations on earth. Even though it is a little bit pricey, I still think the experience is enjoyable. What do you think?
Where to Stay in Jasper National Park
Budget Choice: Maligne Lodge (BEST location) – Everything in jasper is painfully expensive, but if you want to stay in Jasper National Park without paying a fortune the Maligne lodge seems to be the best you can do on a budget.
Why I recommend this hotel: Besides from the ideal location, by staying in Jasper itself you can beat the crowds to some of the best natural spots, which I was able to do and love. Jasper and Banff have similar feels downtown, I loved the restaurants, coffee shops, etc.
There was a hot tub which was a major bonus for me! It wasn't anything special, basically like the kind people have in their backyard, but I loved it regardless after a day of hiking around in the cool Canadian rockies. I would absolutely stay here again. The rooms were nice enough – high end for a motel style hotel. Check availability here. (It books up fast in high season!)
More Alberta Canada Blog Posts
My husband is from Alberta, Canada and I have visited a few times! These are my most popular blog post and guides from Canada to help you plan your trip!
Best places to visit: 10 Amazing Places to Visit in Alberta, Canada
Guide to the top things to see in Jasper National Park: Top 10 Things to do in Jasper National Park
Which is better? Banff or Jasper: Should You Go From Banff to Jasper in Alberta Canada?
Guide to visiting Johnston Canyon: Johnston Canyon Hike: The Best Hike In Banff, Alberta Canada
Check out the most Most Underrated of All Jasper Attractions: Mount Edith Cavell (My favorite place in Jasper)
Guide to visiting the Miette Hot Springs in Jasper: Relax in the Jasper Hot Springs