Tips on Traveling to Japan – Can you plan a trip to Japan on a budget?
Are you planning a Trip to Japan? You're not alone! In fact, as someone who's been lucky enough to visit on a few occasions, I would say Japan is a must-see for international travel…and it would seem the rest of the world agrees.
Droves of people flock to experience Japan each year, for business or for pleasure Tokyo is the biggest metropolitan city in the world at about 37 million people. 37 million! Walking the streets feels a bit like a Disneyland park that goes on forever.
The city is extremely crowded, and as we got tired of walking around, we discovered there wasn't a single unoccupied bench in the whole city. This includes in the metro! There are even signs on the stairs that read, "Don't sit down".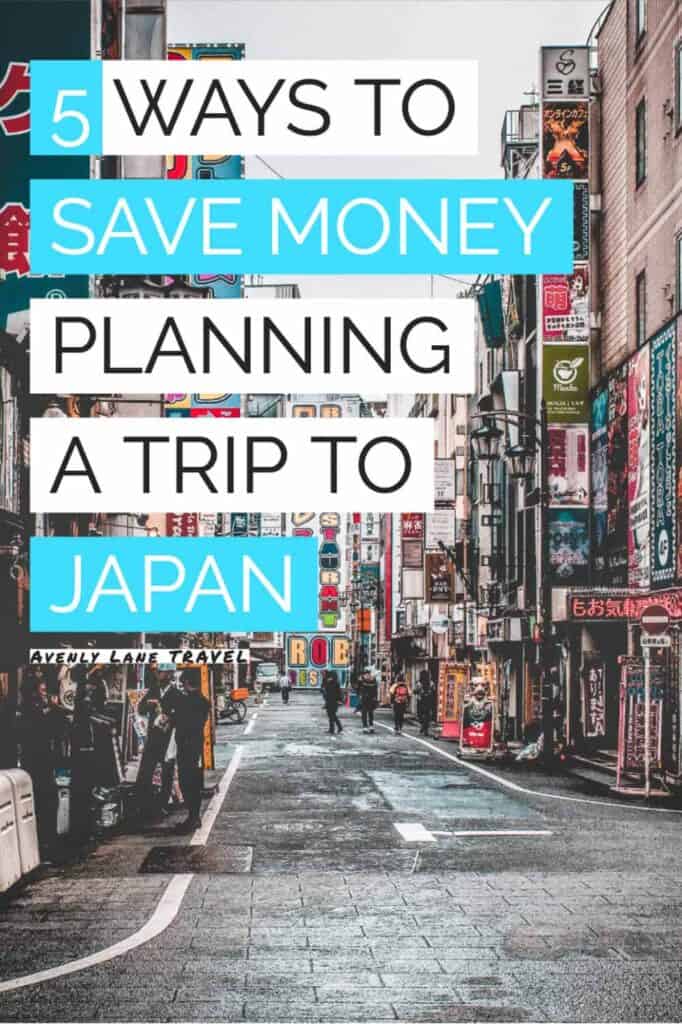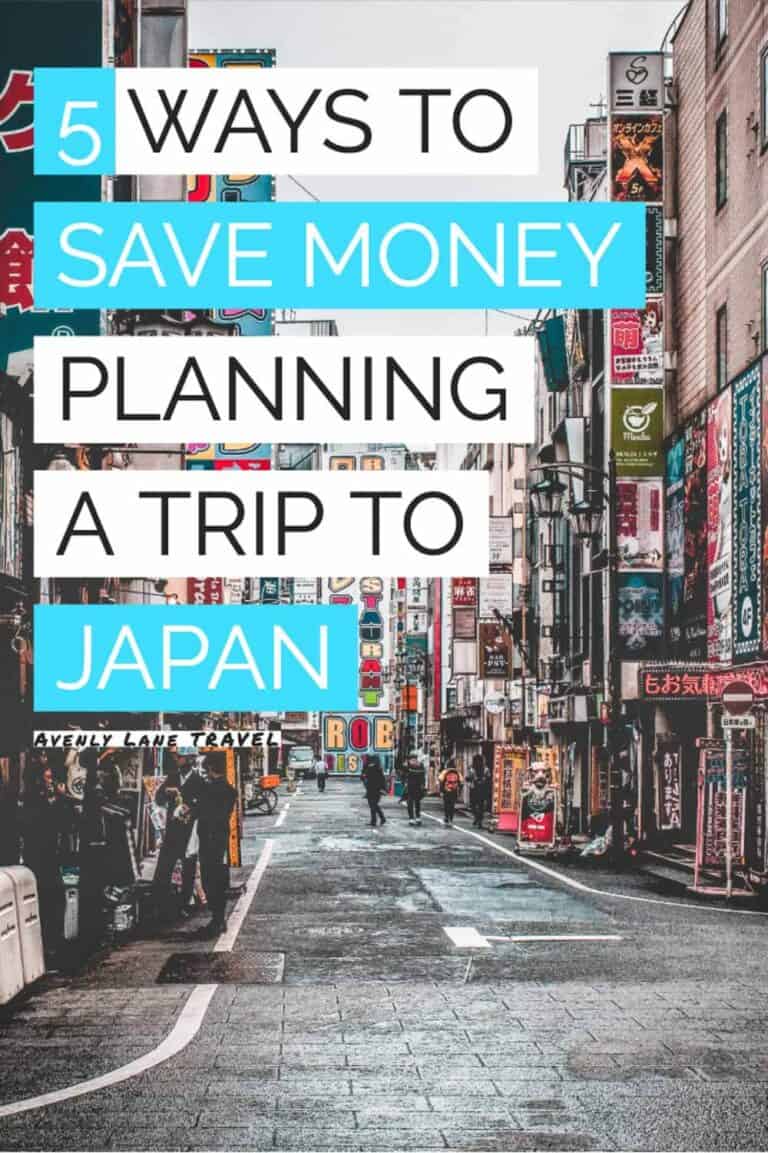 Trip to Japan Cost? Expensive
Japan's popularity, for both residents and travelers, speaks to how truly great the country is, but it also explains the expense of visiting. In order to meet the high demand, hotels are expensive, cabs are expensive, food is expensive, etc. Specifically curious about a trip to Tokyo cost? It is even more true. Thankfully, we've found great ways to lessen the cost with each of our Japan trips.
Here are 5 awesome ways to save money in Japan.
Best time to travel to Japan? Offseason.
Seasons that are in high demand will always be more expensive. That's going to be Spring, with the Cherry Blossom Festival or warmer months. While the Cherry Blossom Festival is definitely beautiful, hitting Japan in an offseason or shoulder season is much less expensive and crowded.
One our trips to Tokyo was in the winter, and it was just as gorgeous. If you're worried about freezing, don't be. While it can get cold, I didn't think it was too cold. We were still able to walk around and enjoy the city.
All the streets were significantly less crowded, and we didn't have to fight other tourists for popular sites. Fares everywhere seemed to drop too, including flights. There are two great airports to fly into – Haneda or Narita (both servicing Tokyo). Also, if you're going to get the Japan Rail Pass Unlimited, you can easily fly into another city and start there, like Osaka, Kyoto, Kobe, etc.
Best way to travel Japan? Unlimited Rail Pass.
If you're like us, you'll want to capitalize on your time in Japan by visiting more than Tokyo. Trains between the cities can be expensive. One ride often costs about $130 (that was the Tokyo to Kyoto bullet train cost last time we planned). Bullet trains are worth it, though, as they get you between cities fast.
A discounted way to travel the trains is to purchase a JR Pass (I mentioned it above!). The JR Pass is about $250, covering unlimited rides for a week. The pass also includes a ton of buses. If you want to canvas multiple parts of the country, you really can't beat this deal. Check out more details on the JR Pass here.
Best way to Travel Tokyo? Unlimited International Tourist Metro pass.
We've figured out traveling the wider spread of Japan, but what about a Tokyo travel budget? In Tokyo, riding the metro is the way to go. In the US, subways/metros don't seem to have nearly enough coverage. After multiple trips to Tokyo, I can safely say that we didn't find a single place that wasn't covered by the metro.
Metro/Subway rides can add up quickly if they're bought individually, so planning ahead can save you a great deal. Upon arriving at the airport, you can purchase an Unlimited International Tourist Metro pass. You can buy a pass for 24, 48, or 72 hours of unlimited rides. A 72 hour pass is about $13.61, where as one individual ride is about $8. After two trips on the metro, that pass is paid off, and we were taking 7 or 8 rides a day. That's saving a ton!
Learn more about the Tokyo Metro pass here.
Best place to stay in Japan – Capsule hotel
It's hard to know where to stay in Japan when you're on a budget. Hotels are super expensive and tiny. We collect Marriott credit card hotel points to cash in on trips, and on our last trip, the cost of a normal Marriott was the same as a 5 star resort in the states. For most travelers, that cost is just not doable.
A great alternative to staying in a typical hotel is to stay in a capsule hotel. Capsule hotels are definitely not fancy, and they're definitely not as cozy or completely private. They're a fun experience in themselves though, and they save a lot of money.
When you stay at a capsule hotel, you are given a capsule or pod with a bed in it. It's along the same corridor as many other pods, and it functions like a college dormitory (or sleeper train) where bathrooms and showers are shared. Trust me, though, these capsule hotels are super clean and super safe!
Best place to eat in Japan? Vending machines.
There are so many delicious restaurants to eat at in Japan, but food cost can add up quickly. It may sound weird, but a great, inexpensive alternative for meals is vending machines! There are supposedly over 5 million vending machines in Japan. Yes, 5 million! They're everywhere in Tokyo, so it's an especially great way to do Tokyo on a budget.
Vending machines in most countries are generally full of chips, sodas, and candy bars. They can be super tempting (like the Ben & Jerry's machine in Heathrow), but they're usually just full of unhealthy snacks. If you're thinking the plan of creating a meal from vending machine items is kind of gross, you haven't been to Japan! Japanese vending machines aren't like most places.
These machines have the typical chips, soda, and candy bars, but you can also buy clothes, toys, electronics, and what seems like legitimate restaurant food. The food is surprisingly good, and so much cheaper. I loved getting ramen from a vending machine!
Japanese people have their own style and culture. It's much richer and defined than anything in the states, more flashy and all-encompassing than most of Europe, as well. It's so much fun to experience. And let's not forget about the great food! Japan may be pricey, but whatever the expense, it's worth it!
If you enjoyed this post don't forget to share it with your friends! Thank you so much for reading. What tips do you guys have when planning a trip to Japan?
PIN IT FOR LATER!