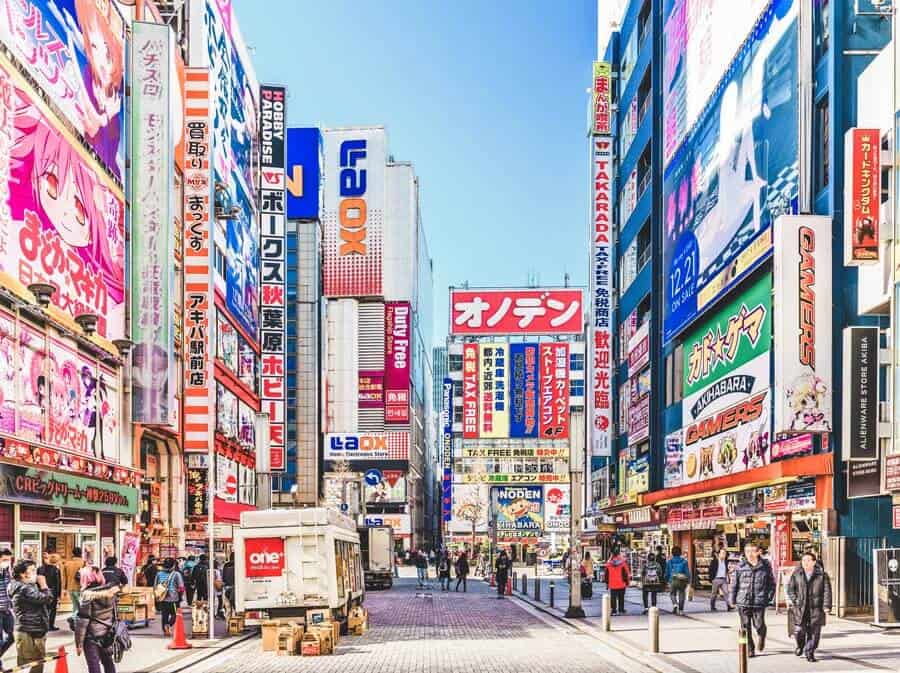 Wondering what to do in Akihabara? Keep reading to discover the best things to do in Akihabara Tokyo.
Akihabara is one of the many "wards" (districts) or neighborhoods in Tokyo. While some neighborhoods are known for fashion (like Harajuku), and some are known for nightlife (like Shinjuku), Akihabara has more of a…niche appeal. In fact, it's nicknamed "the electric town", not for the typical neon lights of Tokyo but for its focus on electronics retailers. (Although we highly recommend seeing Akihabara at night.)
Best Things to do in Akihabara
Akihabara is the otaku central. If you're thinking, "What's otaku??", don't worry; we didn't really know either. Akihabara, though, makes otakus a quick study. Otaku is best translated as "geek" or "diehard fan", and these diehards' passions are with video games, anime, and manga.
Think Japanese Anime at it's best! That's Akihabara.
Anime is Japanese hand-drawn animation, think Pokemon and Dragon Ball Z. Manga is Japanese comics or graphic novels, again think Dragon Ball or Naruto in paper form. Video games…well those are a little more universal!
Popular Japanese video games are Super Mario Bros, PacMan, Pokemon, The Legends of Zelda, Kirby, and so much more. If you're a fan of classic video games, this is your place.
Even if you don't share these passions, Akihabara shopping is a must-see for your trip to Japan. Those things aren't my favorite, but I still loved visiting and seeing their epicenter.
How to get to Akihabara
To get to Akihabara, hop on the subway. (The best way to get around Tokyo is with an Unlimited Subway Pass; check out our Tokyo money saving tips here.)
The Akihabara station is a busy one right in the middle of Tokyo. When you step out of the subway, you'll find a lot of tourists, but trust that there are plenty of otaku locals, too!
Akihabara Attractions
Check out the top Akihabara attractions below. Let me know in the comments what you would add to the list.
Visit the famous Akihabara Maid Cafe (One of our favorite cafes)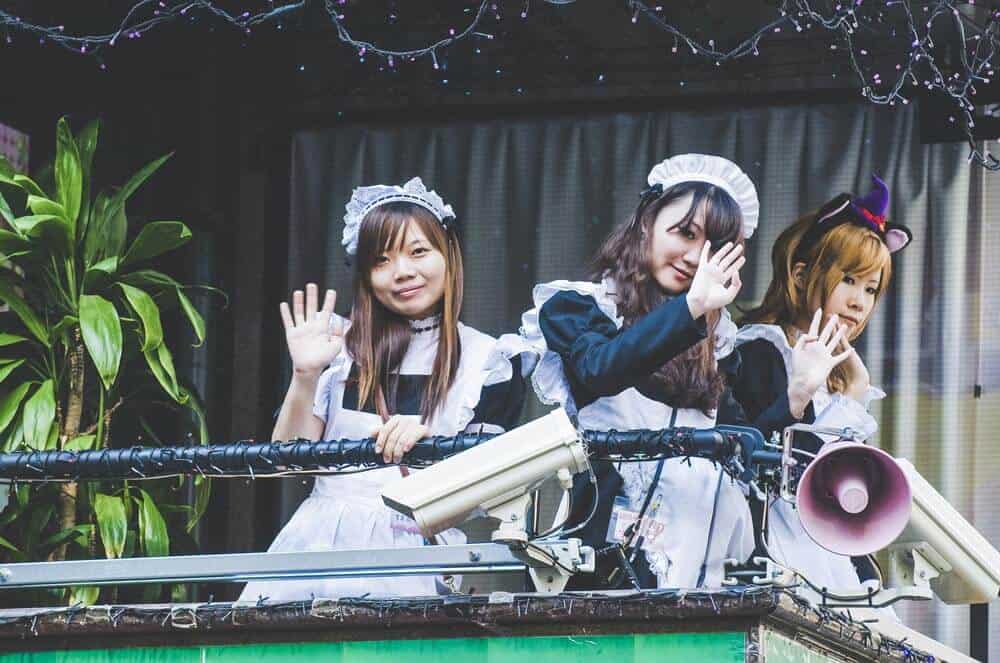 Wondering where to eat in Akihabara?
People call the area the Akihabara Electric Town due to it having tons of electronics stores as well. If you are looking for the newest gadget, or just wanting to explore the new tech, this is the neighborhood for you.
Only slightly off the theme of video games and animation are the famous maid cafes in Akihabara.
You won't need to Google or ask around to find one; they will find you as soon as you go into the district.
You'll know you've found a maid cafe when you see tons of girls dressed up in the stereotypical french maid costumes.
While french maid costumes can have a reputation for being sexual, these cafes really aren't sexual at all. Their outfits aren't overly risque, and you can rest assured that you're just in a restaurant getting served by girls in fun costumes.
Interestingly enough, this theme is to cater to the fantasy realm of otaku. Girls and boys alike are drawn into the cafes. If you want to see what it's all about, just find a maid on the street handing out coupons. You'll get quick directions to their cafe, and you can't miss them.
The Tokyo cafe scene is not only about maids; there are other unique Akihabara cafe themes as well. There are cat cafes, owl cafes, robot restaurants (like this one here in Shinjuku) and Gundam cafes (popular series of robot warriors toys in Japan).
Explore the Akihabara Shops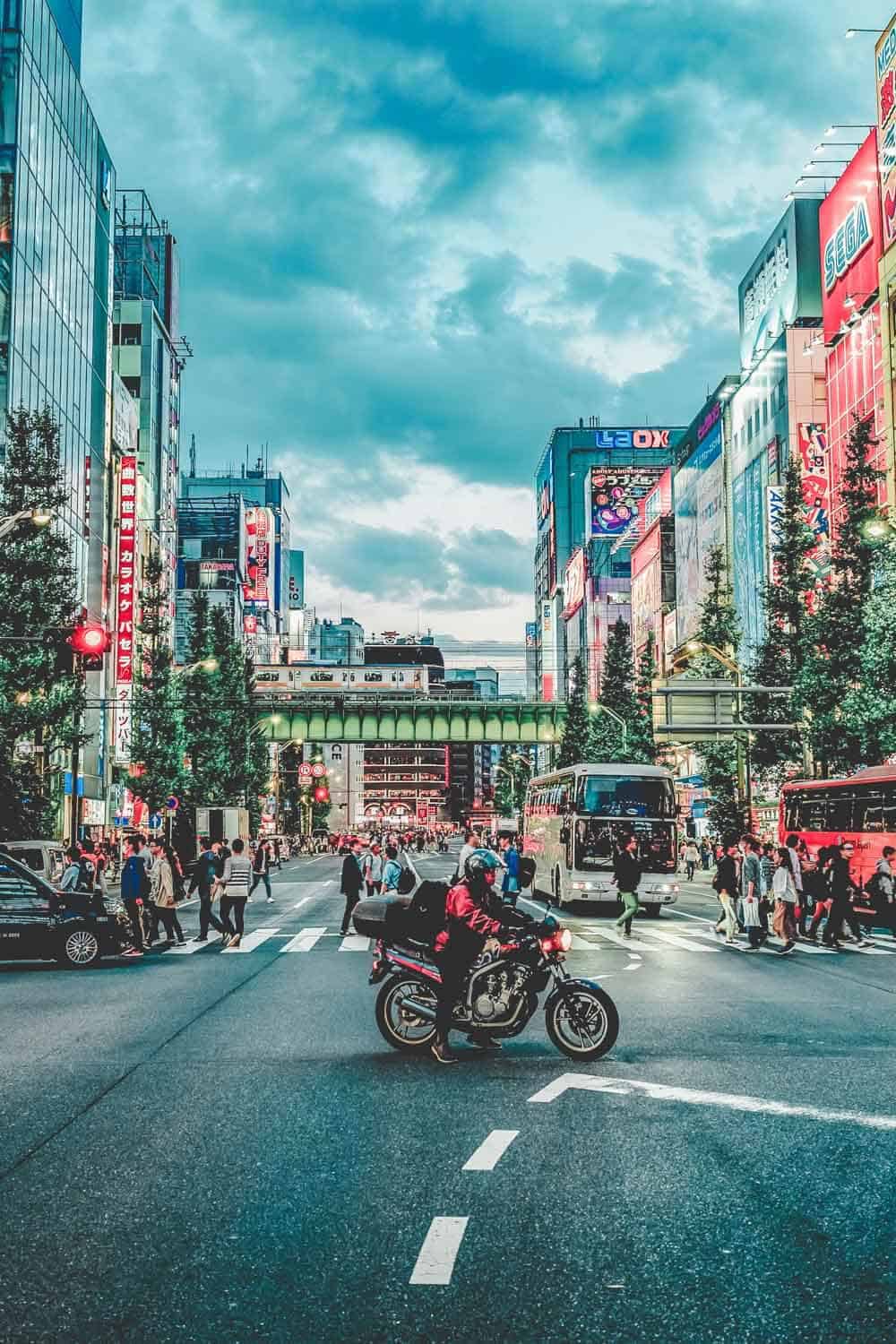 Shopping is the focal point of the area. There are tons of Akihabara shops and storefronts featuring popular otaku titles, characters, figurines, toys, electronics, and new high tech gadgets. They even have spectacular window displays.
All of the stores are crammed into this district, so the attractions aren't hard to find. In fact, original Nintendo music can be heard playing throughout the streets.
You can find a number of these things at Takeshita Street, in the Harajuku district, as well.
Takeshita Street is listed as a must-see, but it's not my favorite. It was absolutely packed when we were there with the majority of people being tourists. It was still cool to see, but we wanted to see the otaku center! The Akihabara shops there and thee atmosphere are way more worth it. Although, don't think it won't be crowded in Akihabara; it will be, just not quite as bad.
Mario Go Kart
If you're not stoked about shopping but still want to take part in the fandom, you can check out the Mario Go Kart tour. Even casual gamers have enjoyed Mario Kart! Mario Go Kart is the chance to bring Mario Kart to life. We didn't get a chance to do this, but it looked like so much fun.
There are multiple tours to choose from in the neighborhood. Schedule a 1-3 hour tour with a Mario Go Kart company, and ride street legal go karts all around town.
A tour guide leads the front of the pack to ensure everyone stays on course, but you ride on the road with all of the cars and get to make pit stops at iconic locations. The only thing you need is an international driving permit (a fast an easy process), so plan ahead.
When you show up for the tour, you'll have the option to dress up as your favorite characters. Want to be Mario, Luigi, Yoshi, or Peach? You can be! The go karts are painted Mario-themed, and some of the tour stops are reminiscent of the video game courses, like Rainbow Bridge. This is a super unique way to check out Tokyo.
Check out Mario Go Kart tour options here. Not into Mario? Try a more "normal" go karting experience here.
Akihabara is a sight to see, otaku or not. It was fun to see everyone geeking out…and doing a little bit of it ourselves. It's worth it to check out the electric town!
Where to Stay in Akihabara
Budget Choice in Tokyo – Hotel Villa Fontaine Tokyo-Hatchobori (Where we stayed) – If you are looking for a budget choice I recommend staying at the Hotel Villa Fontaine Tokyo-Hatchobori.
It's clean and cheap with easy access to all the public transportation. It included a great buffet breakfast and good service. Nothing super fancy, and not a huge hotel, but given how expensive Tokyo can be it was an amazing find. And of course in typical Tokyo style, the rooms are small, but not painfully small like some of the others i've stayed in.
Use the map below to search for the best hotels in Akihabara, Tokyo from Booking.com.