New Orleans is an incredibly unique city. I can honestly say that it feels the most foreign when compared to the rest of the United States (edging you out Miami). New Orleans has a bizarre range of influences. French, Spanish, West African, and Southern are the most prominent in this amalgamation of culture.
Many think of New Orleans as an adult oriented city (it really can be) but there are plenty of things to do in New Orleans with kids. NOLA's unique flair can be appreciated in a family friendly environment as well.
Quick History Review
Before the United States, the French ruled New Orleans and a large swath of accompanying land. Partially due to existing hostilities between the French and British, America was able to win the Revolutionary War (with the help of the French navy).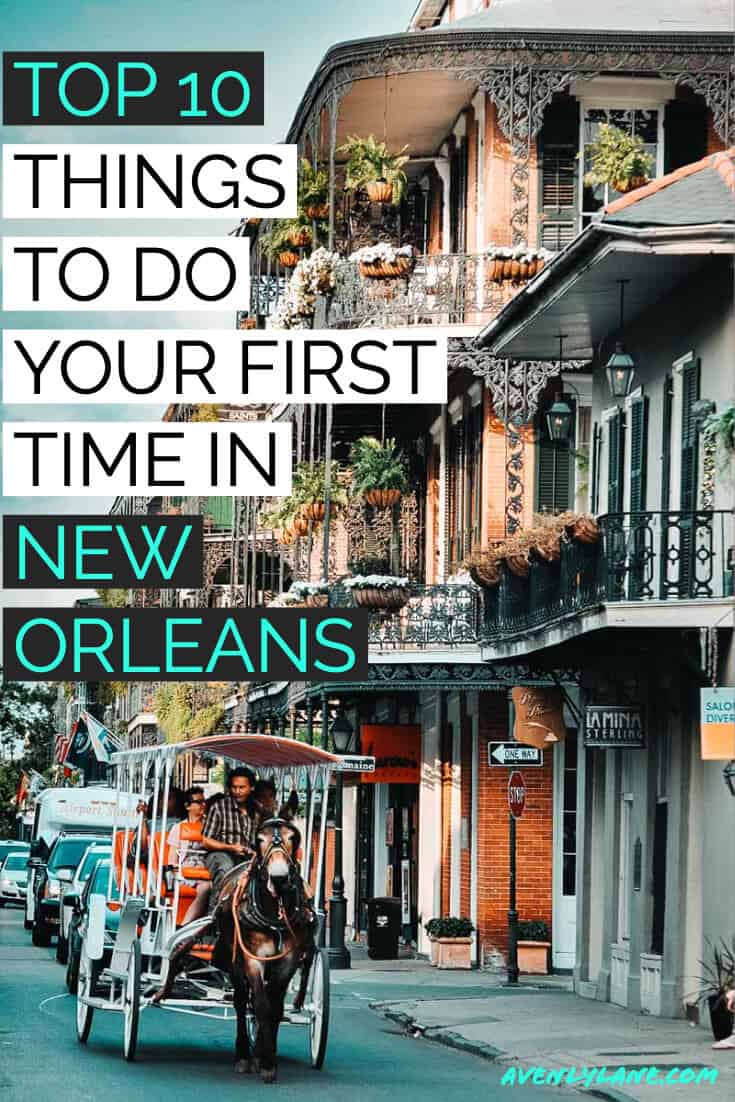 After America became truly independent, French and British hostilities continued, ultimately leading to the Napoleonic Wars. To help finance these wars, the French sold the US their territory in North America (featuring New Orleans and commonly known as the Louisiana Purchase) for a fraction of its worth. The US acquired pieces of what now constitute 15 states for 3 cents an acre (42 cents an acre when taking into account inflation). High Five for the sweetheart deal France!
Today New Orleans is best known for Mardi Gras, which historically was one last party before beginning lent. Today Mardi Gras is known for drinking, dancing, costumes, parades, and general debauchery. While that can contribute to the allure of the city, there is so much more to see outside of this event. Below is a list of 10 things you can't miss on a trip to New Orleans.
Where to stay in New Orleans:
While in New Orleans we stayed at the Hyatt Regency New Orleans. This hotel is a little bit pricier than we normally go for, but I 100% think it was worth the extra expense (be sure to check though as certain times of year are a lot cheaper). The location is perfect! Airport access to this hotel is easy. Also, it's located close to Bourbon Street and other prime tourist attractions, but it is still far enough away that you won't hear people partying all night.
The hotel was completely redone post Hurricane Katrina so it feels brand new. Another part I loved were the views of downtown and the Superdome from the upstairs lounge and gym.
To book or check prices, click here.
Note – I highly recommend staying in the French Quarter where almost all the attractions on this list will be within walking distance! You can search for the best hotels in New Orleans below from booking.com
The Top 10 Things to do in New Orleans (besides drunken debauchery on Bourbon Street)
1. St Louis Cathedral New Orleans (Jackson Square)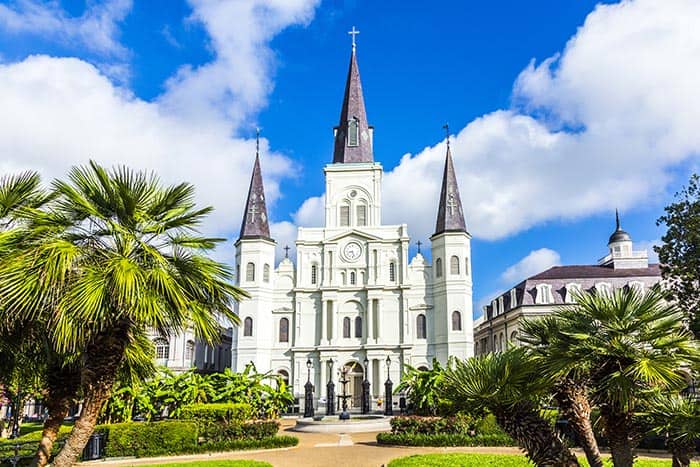 This is the center of historic New Orleans. It is one of the best places to see historic architecture and meticulous landscaping.
Looking to try something different while in New Orleans? Take a haunted bus tour and experience the ultimate ghost ride. Book your tour here.
2. Airboat Tours New Orleans (Alligator Swamps)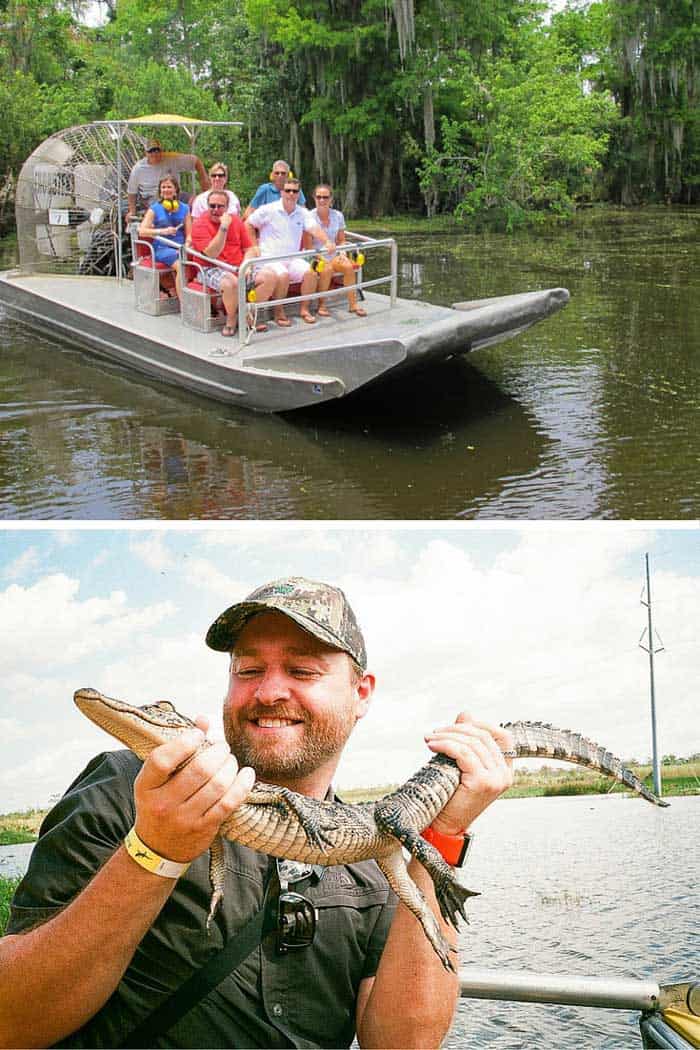 New Orleans airboat tours are available not too far out of the city and are absolutely incredible! Going on a swamp boat tour is not like going whale watching where you wait all day hoping to catch a peak of a single far away whale.
On the air boat tour I went on, we saw hundreds of alligators, and our tour operator literally was encouraging them to jump into our boat. I feared for my life, though I was repeatedly assured this was totally normal.
3. Explore Bourbon Street & The French Quarter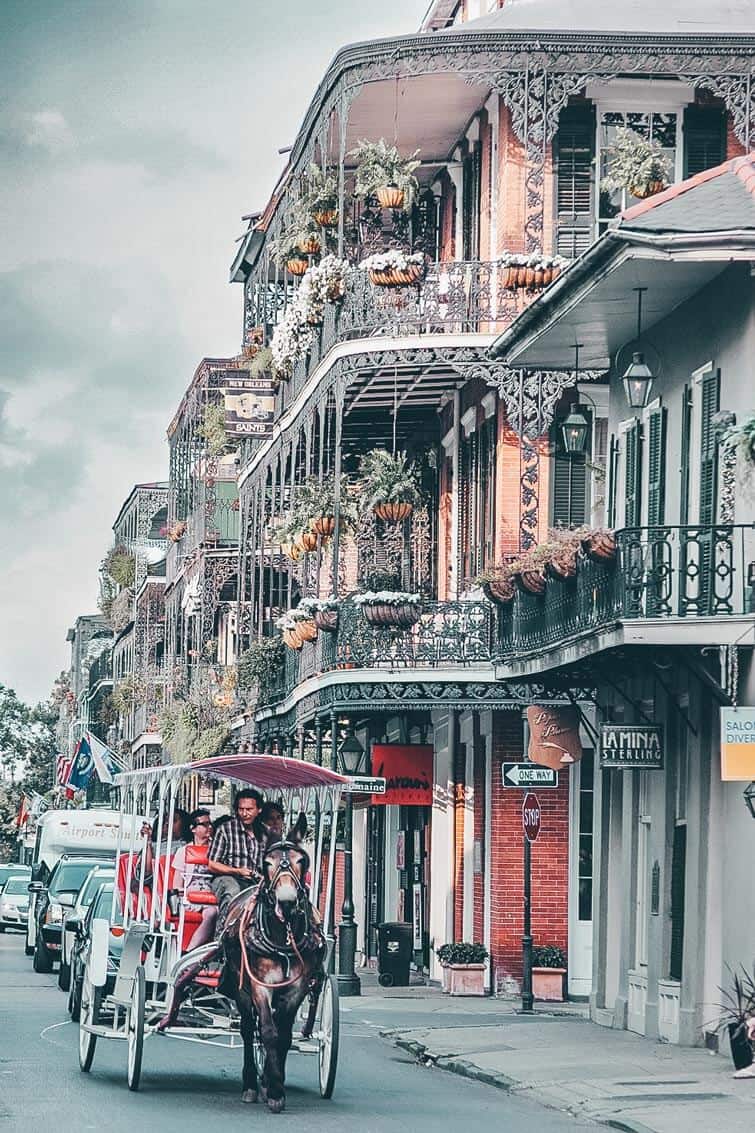 This street is in the heart of the French Quarter, and is basically New Orleans oldest neighborhood. It is best known for its bars and strip clubs, but is also an amazing place circled by street cars where you feel like you can go back in time hundreds of years.
4. Take a Riverboat Cruise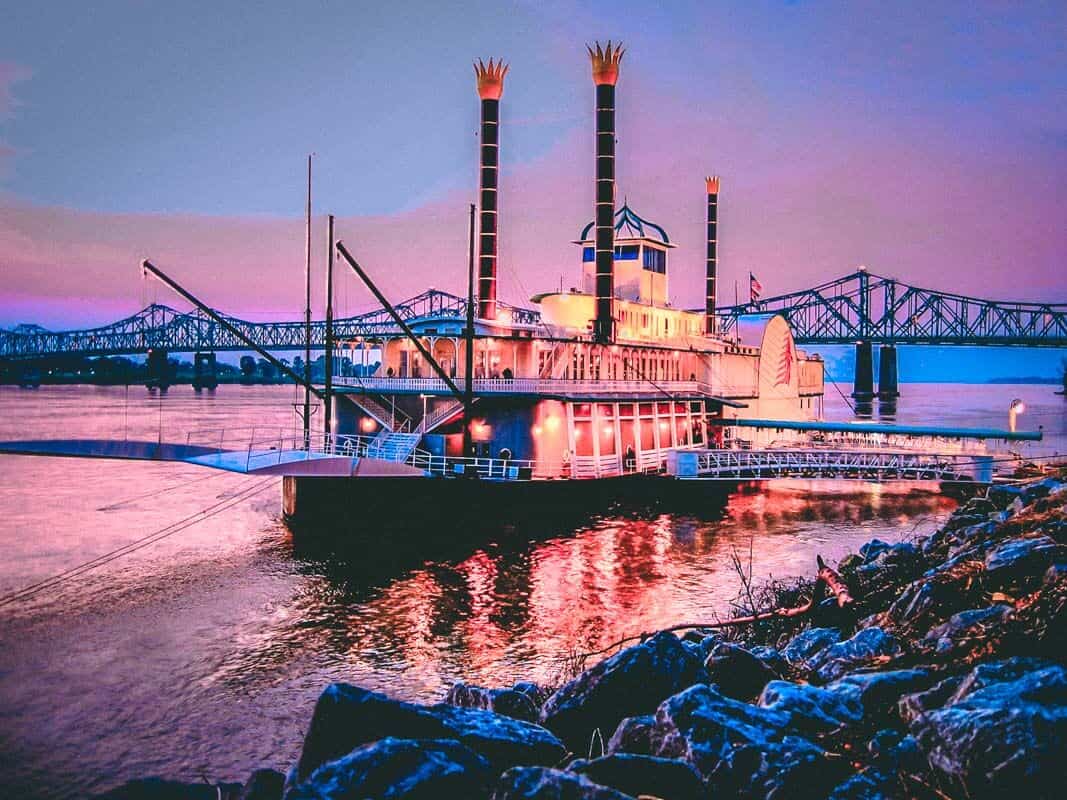 A riverboat cruise is a beautiful way to experience see the Mississippi River, the New Orleans skyline, while often enjoying buffets and live Jazz music. In colonial times riverboats helped develop the port of New Orleans.
5. Plantation Tours
Southern charm is definitely on display if you take the time to get out of the city and view the old country.
A lot of the plantation tours in New Orleans combine the plantation tour with an airboat tour. The best of both worlds! Oak Valley Plantation tours are some of the most popular and highest rated tours in New Orleans.
6. Take a Historic Cemetery Tour
Due to the lack of elevation, cemeteries are above ground in New Orleans. This makes graves in these cemeteries more visible, which inspired ornate decorations. There are a number of cemeteries in town that are hundreds of years old. They are especially spooky at night, and can be explored alone, or as part of a haunted tour.
One of the most popular tours in New Orleans right now is the 2-Hour New Orleans Ghosts & Vampires Walking Tour. Highly recommend checking it out.
Book your tour: New Orleans #1 Haunted Ghost, Voodoo, & Vampire Tour
Book your tour: 2-Hour Haunted Cemetery and City Tour at Night in New Orleans
7. Walk Across the Levees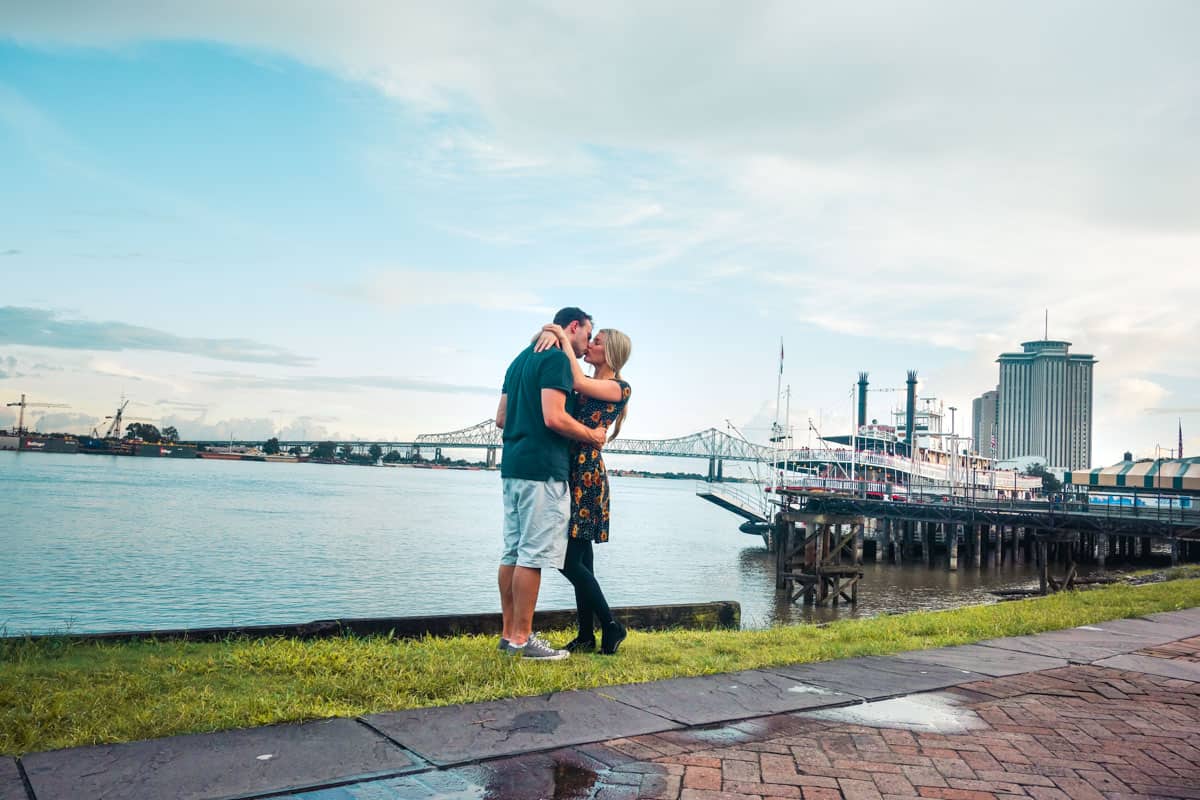 New Orleans is literally located below sea-level. To keep the city from turning into a swamp, planners built levees to keep the water out. Walking across the top of these levees is a must do. Unfortunately during hurricane Katrina the levees broke and the city quickly filled with water. Damage from the flooding can still be seen.
8. Eat Incredible Food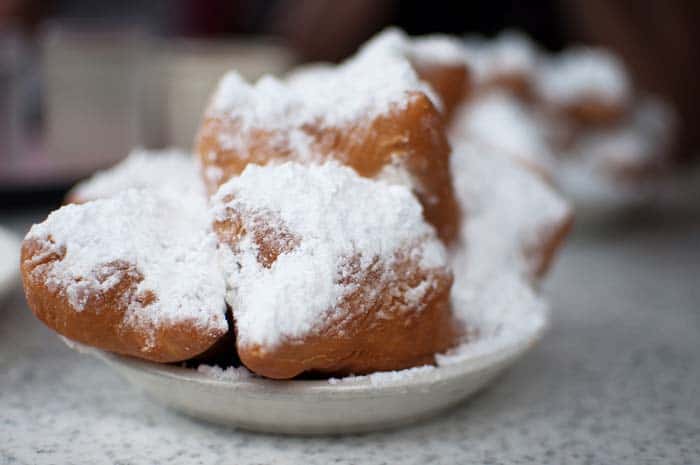 Of all the cities in the United States I think New Orleans has the most unique food. No it is not you Chicago! Deep dish Pizza may be enjoyable, but is not that different than the pizza we eat in the rest of the country, especially considering the US ripped Pizza off from somewhere else anyway. Things to do in New Orleans
Warning – if you are a health nut, prepare to be disappointed!
Some of the can't miss items are: Things to do in New Orleans
Beignets – deep fried donuts covered in powdered sugar. This sounds simple, but world famous Café du Monde makes them like no other. (pictured above)
Oysters – often gulped down raw
Gumbo – traditional thickened soup, often full of seafood and served with rice.
Alligator – I felt like I was chewing on a bouncy ball
Po'boys – the New Orleans sandwich, typically with roast beef, gravy, fried shrimp, oysters, and mayonnaise (yes I'm serious).
Crawfish – boiled and served spicy. Often you are expected to crack open the shells, and suck the head out (I passed on this).
For an even more in depth guide of food you have to try when visiting New Orleans click here.
9. Festivals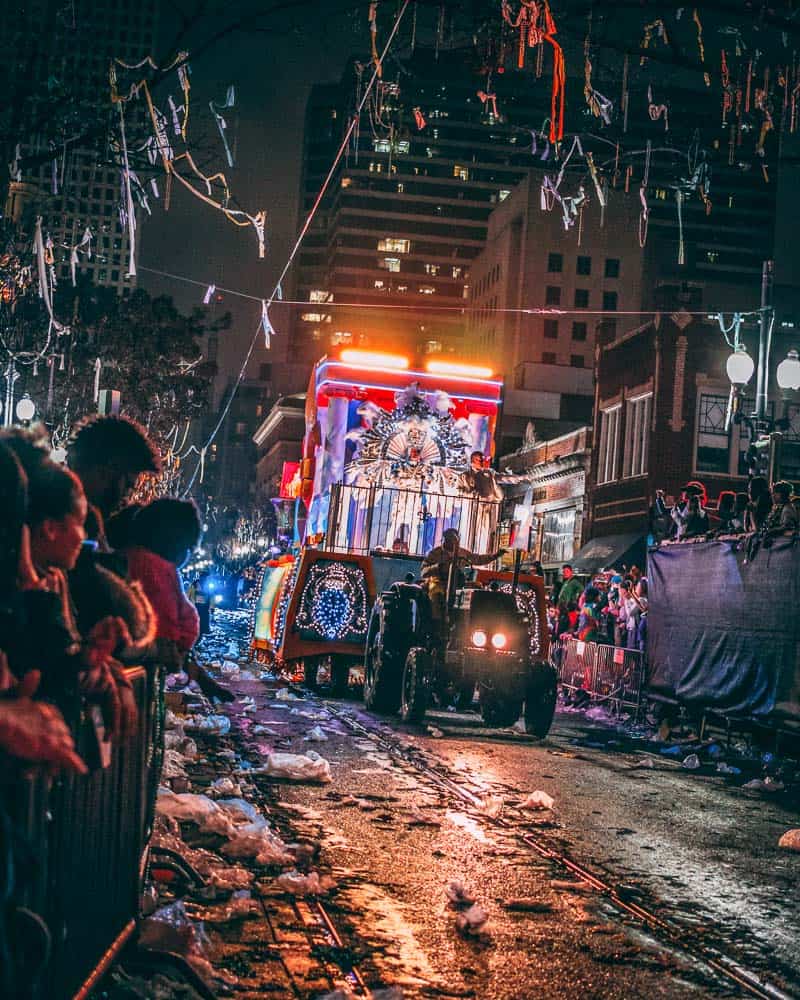 Obviously Mardi Gras is the biggest festival, but the locals seem to be looking for any excuse to party. Some of the biggest parties that happen each year are Jazz Fest, Southern Decadence (LGBT), and the Creole Tomate Festival.
My favorite is the San Fermin Festival. This event was designed to replicate the "running of the bulls" in Spain, but roller-derby girls with wiffle ball bats serving as the bulls chasing runners. Yes, this is a real thing that brings in thousands of people each year!
10. New Orleans Saints Football Game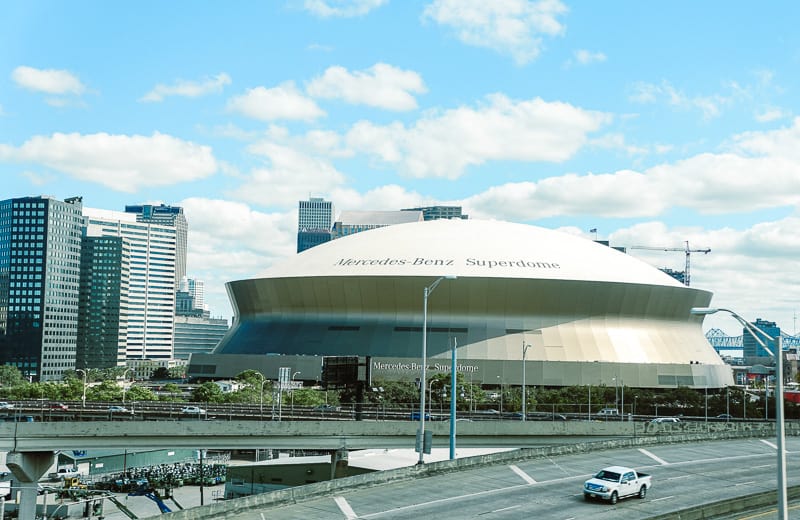 This NFL team is basically a religion in New Orleans, which might be why they named the team the Saints. Even if football isn't your thing, the costumes and fervor of the fans are worth watching; just make sure you aren't rooting for the visiting team.
Psst: If you're interested in planning the cheapest trip possible to New Orleans, then I created a free cheatsheet for you, which details the top 6 tools we used to plan our trip. Click the HERE to download it!

Pin it for later!