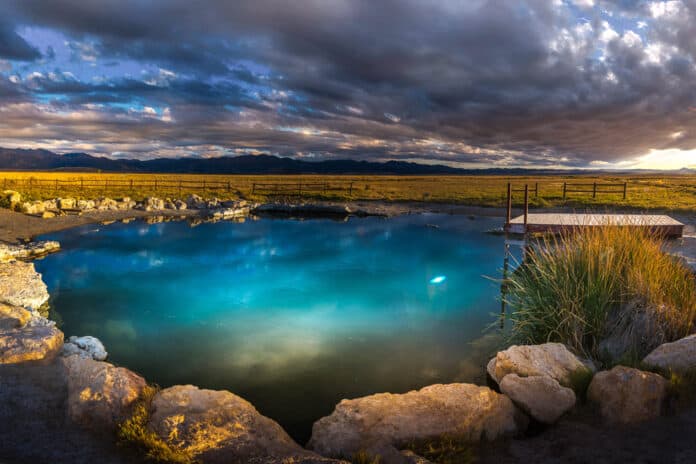 I'm one of those people that's always cold so getting me to swim in a river, natural pool, or lake is usually a challenge. That's just one reason why I absolutely love visiting natural hot springs, and especially the ones in Utah never disappoint. Not only can you enjoy the incredible scenic backdrops of these natural springs, which are often located near national parks, but you'll also get to go for a refreshing swim without being absolutely freezing afterward. It's a win-win.
Did you know the natural hot springs in Utah are the continental US's only warm place to go scuba diving? If you've always wanted to give scuba diving a try, these springs should be high on your bucket list.
Whether you enjoy longer hikes and are looking for a challenge or prefer to park close by and spend the afternoon relaxing, Utah most likely has a hot spring that's perfect for you. Some are quiet and off the beaten track, like the Meadow Hot Springs or Gandy Warm Springs in southern and central Utah. Others like the Homestead Crater or the Crystal Springs are far more commercialized.
This handy list will tell you all you need to know, including opening hours, entrance fees, and the best way to get to some of the most beautiful natural hot springs in Utah.
10 Utah Hot Springs You Can't Miss
1. Fifth Water or Diamond Fork Hot Springs
The Fifth Water Hot Springs (sometimes referred to as Diamond Fork Springs) are some of the most beautiful in central Utah. The pools are a stunning emerald green and blue color and are fantastic for swimming, taking photos, or simply exploring.
They're located around an hour south of Salt Lake City, and you need to park at the Fifth Water Trailhead before beginning your hike. The trail is 4.4 miles long and classed as moderate.
You don't need to be an experienced hiker to see the springs, although taking plenty of water and wearing appropriate footwear is highly recommended. This is not the sort of trail you can do in flip-flops.
Depending on how fast you walk, it takes somewhere between 45 minutes to an hour to reach the springs. The pools can get quite crowded during the warmer months so coming early in the morning is definitely a good idea if you want to enjoy this beautiful spot without too many other people around.
2. Meadow Hot Springs – Meadow, Utah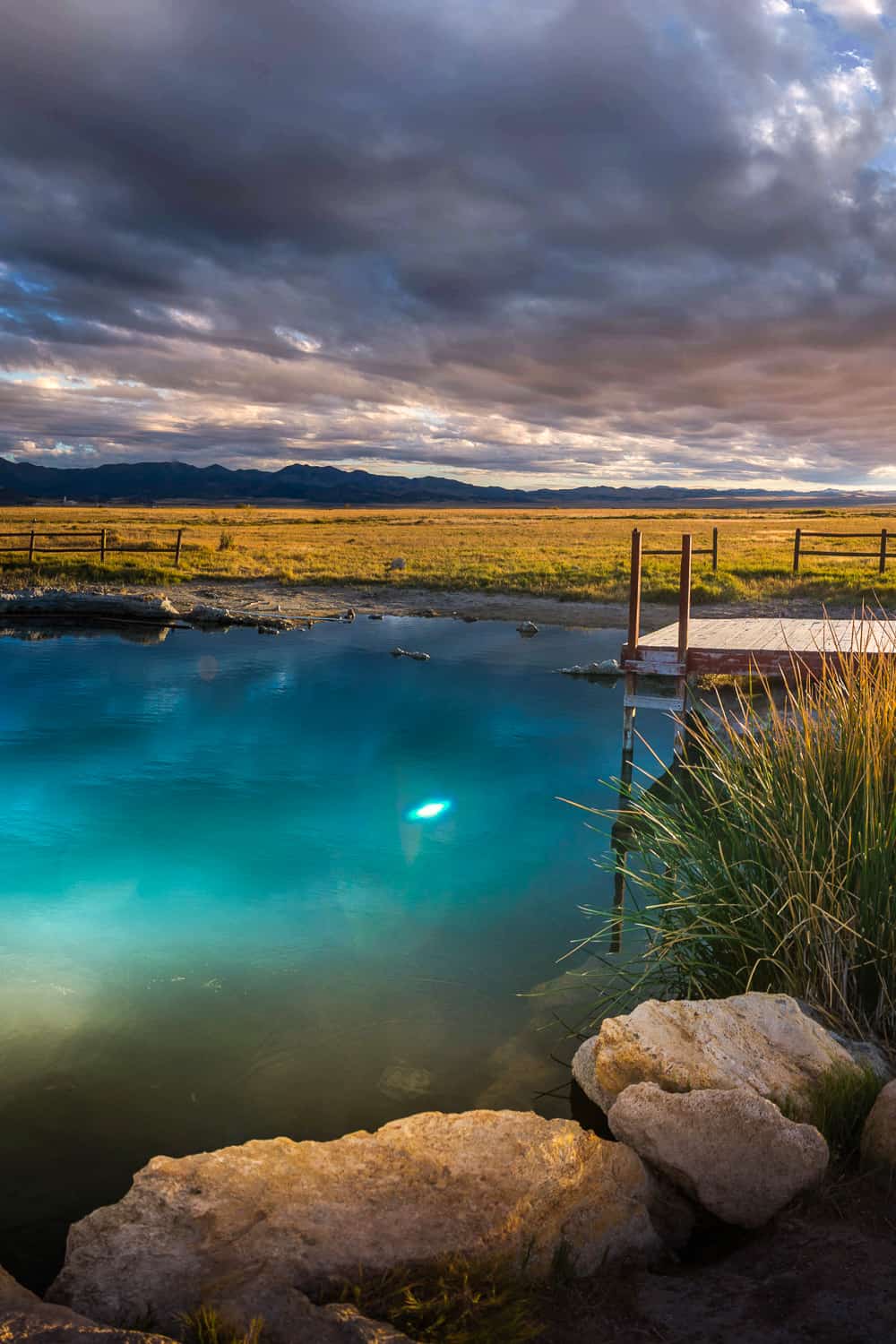 The Meadow Hot Springs are somewhat of a hidden gem and definitely one of the more unusual places in Utah. These natural pools are located in the middle of a farmer's field in rural Utah, with not much around except a few pastures and perhaps some cows.
Name one other places where you can float in a relaxing natural pool while a cow investigates the picnic basket you left close by. Luckily the furry visitors are usually friendly, and kids will absolutely love them.
The Meadow Springs are located just a quick walk (approximately 0.5 miles) from a decently sized parking area, and you'll get to enjoy them by yourself if you're lucky.
Please consider that the soaking pools sit on private property, so you should be extra careful not to leave any trash behind or disturb this beautiful spot in any way. There are three different pools, all with hot water that stays at around 100 degrees year-round.
The Meadow Hot Springs are definitely a hidden gem that can't be missed if you're looking for the best natural springs in southern or central Utah.
3. Mystic Hot Springs
Located in the southern area of Utah, it takes just 2.5 hours to reach the Mystic Hot Springs from Salt Lake City. They are commonly referred to as the Monroe Springs but have recently been renamed. If you've ever wanted to sit in an outdoor bathtub filled with hot water, then this is the place to make all your dreams come true.
The Mystic Hot Springs have a fascinating history as they were only discovered recently by the artist, director, and producer Mike Ginsburg. He was passing by in 1995 and stumbled upon the pools by accident. Can you believe we almost didn't know about this place? Imagine how many other cool natural springs must be out there.
This is definitely one of the more commercialized places on the list, and you need to book a so-called soaking pass in order to visit the springs. They charge 25$ per adult and 12.50$ for children for a 2-hour session, which is relatively pricey but worth it if you're after a quiet and relaxing experience.
Make sure to book at least a few days or, if possible, a week in advance as soak passes tend to sell out. There are campsites and cabins available nearby for overnight stays.
4. Crystal Hot Springs
You'll find the Crystal Hot Springs in northern Utah not too far from the border to Idaho. The springs have been expanded, and an entrance fee of 18$ per person is charged. These are definitely some of the best natural pools in Utah to visit if you're coming with a larger group since there is lots of room to relax. Think girls' trip or family vacation.
The Crystal Springs almost feel like an open-air swimming pool and don't require a hike through nature to reach them. While you won't get a secluded experience, this also has benefits. There are changing rooms, bathrooms, and sun umbrellas available, as well as an onsite restaurant.
No need to get changed behind a tree or hike back to the car because you forgot the snacks. You'll have everything you need right there.
Keep in mind that you're not allowed to bring outside food. They're pretty strict about this policy, so don't try to sneak anything in.
You can visit the pools year-round, but the hours vary according to the season. Always double-check the official website before you plan your visit. Put these incredible hot springs at the top of your bucket list if you're exploring northern Utah.
5. Inlet, Saratoga or Lehi Hot Springs
The Inlet Hot Springs (or also Saratoga or Lehi Springs) are known for their incredible scenic views and surprisingly close location to Salt Lake City. This is one of the best places in the area if you're looking for a day trip from the city or a quick escape to nature.
Located right by Utah Lake close to Inlet Park, these springs are easily accessible and stunningly beautiful. You can park nearby and reach the springs via a short path. While long hikes are fun and all, I always appreciate it when you don't need to walk very far, so you can take picnic blankets, coolers, and everything that's bulky and difficult to carry.
However, their convenient location also means that the Inlet Springs are gaining popularity quickly. Make sure to avoid visiting on weekends and coming early in the morning if possible to avoid the crowds.
6. Baker Hot Springs
The Baker natural hot springs are located in rural Utah and can be a bit tricky to find if you don't know where to go. Here are some detailed directions that will help you find the way.
The springs are free to visit and consist of three large tubs that each fit several people. You'll encounter few other tourists here as mostly Utah locals visit these pools. You can park nearby, and there is even a free campsite available if you want to stay overnight.
What makes these soaking pools some of the best in Utah is the fact that you can actually adjust the water temperature. Through hot and cold water pipes, you can make your pool perfect for you.

If you can never agree on a water temperature with your partner, you could even sit in separate pools. That way, everybody's happy, and you can skip the part where one of you is always too hot or too cold.
Just be careful. The water from the pipes can be extremely hot and may need some time to cool before it's safe to touch.
7. Homestead Crater
Just a 50-minute drive from Salt Lake City lies Homestead Crater, one of Utah's most impressive natural wonders. Located near Midway, this fascinating place is easy to reach and stunningly beautiful.
As the name suggests, these springs are situated in a crater which creates a dome-like roof over the crystal-clear waters. Even during the colder months, Homestead Crater is sheltered from the snow and provides the ultimate relaxing experience.

You can even snorkel or scuba dive at the crater, which is up to 65 feet deep in some places. If deep waters scare you, maybe skip this one.
The attached Homestead Resort offers self-guided tours if you're interested in this incredible place's history and geological significance.
You need reservations to visit the crater. Booking is possible by contacting the resort, and prices start as low as 13$ per person for 40 minutes of swim time. You can rent snorkeling and scuba diving gear as well as paddleboards to explore the crater.
8. Gandy Warm Springs
The Gandy Warm Springs are located close to the border to Nevada and are perfect if you're looking for a secluded and private experience.
You'll notice that the springs are usually referred to as warm and not hot, which is a relatively accurate description of the experience. The water tends to be around 80° which is comfortable but not nearly as hot as some of the other natural springs in Utah. As someone who enjoys scathing temperatures when it comes to natural pools, this is definitely a bit chilly, in my opinion.
The Gandy Warm Springs aren't a mainstream attraction, so finding them can be a bit tricky if you don't know where to go. These instructions should help you find the way.
You can park and even camp close to the springs, so there is no need for a long hike. The only access is via a dirt road, though, so make sure your car is equipped for the drive.
The Gandy Warm Springs are known for their crystal clear water, so they're the perfect spot for a quick swim. There is a little waterfall nearby, as well as an underwater cave. Since the water is only lukewarm, visiting during the warmer months is recommended.
9. Ogden Canyon Hot Springs – northern Utah, closed
The Ogden Canyon Hot Springs are located in northern Utah, close to the Ogden Canyon. While the pools are currently closed due to construction works, they are definitely an impressive sight to be seen and deserve a place on this list.
There are two medium-sized pools that have a direct source of hot water. The temperature can be more than 100 degrees, so adding cold water from the river is recommended.
There are no signs pointing to the springs, so finding them can be tricky. You'll have to cross the river to reach them although the hike is short. The pools are located on private property, so be mindful of your surroundings and take any trash with you when you leave.
10. Pah Tempe Hot Springs – closed
The Pah Tempe Hot Springs are located in northern Utah, not too far from Zion National Park. The springs sit on private property and are currently closed to the public. The pools are built close to a large rock face and filled with crystal clear blue waters making them incredibly beautiful and a sight worth seeing.
These springs have a religious significance to local Native American tribes, so make sure you are respectful if you do get a chance to visit.
Currently, there are ongoing studies concerning environmental and geological issues related to the springs, but they are excepted to reopen sometime in the future. If you're visiting Zion National Park, definitely make sure to stop by these beautiful hot springs.
I'm already counting down the days until these springs are finally open to the public again. I'll be waiting with my swimsuit and towel in hand, ready to go for a relaxing hot soak.
Hot Springs Utah Map
Here is a map of the top 10 best natural hot springs in Utah.