I absolutely love going to Mexico! There are so many unique things to enjoy. I love the pristine beaches, mouth watering food, friendly locals, and naturally occurring cenotes.
All too often what gets forgotten is that Mexico was home to some of the most enthralling ancient civilizations – think Mayans and Aztecs. These massive civilizations had complex societies that we can see the remnants of today.
Thankfully these ruins are often located near the big Mexican cities or vacation hot spots, which makes them easy to include on a trip, IF you know to look for them.
Here the the best Mayan ruins in Mexico!
9 Best Mayan Ruins in Mexico
1. Uxmal Mayan Ruins in Yucatán, México
Imagine a white pyramid towering over lush green rainforest. Uxmal almost seems like it belongs in a movie, and you'll have a hard time taking your eyes off of it when you go. You can reach the pyramid in around an hour from Mérida, and tickets cost 8$ per person.
Visitors often combine this archeological site with a trip to the nearby ruins of Kabah, which lie about 20 minutes away. You can book guided tours to learn more about the fascinating history of Uxmal.
Don't forget to pack your camera! (We use this Sony mirrorless camera here for all our travel photos. Highly recommend.) Seeing Uxmal is truly a once-in-a-lifetime experience.


2. Tulum Ruins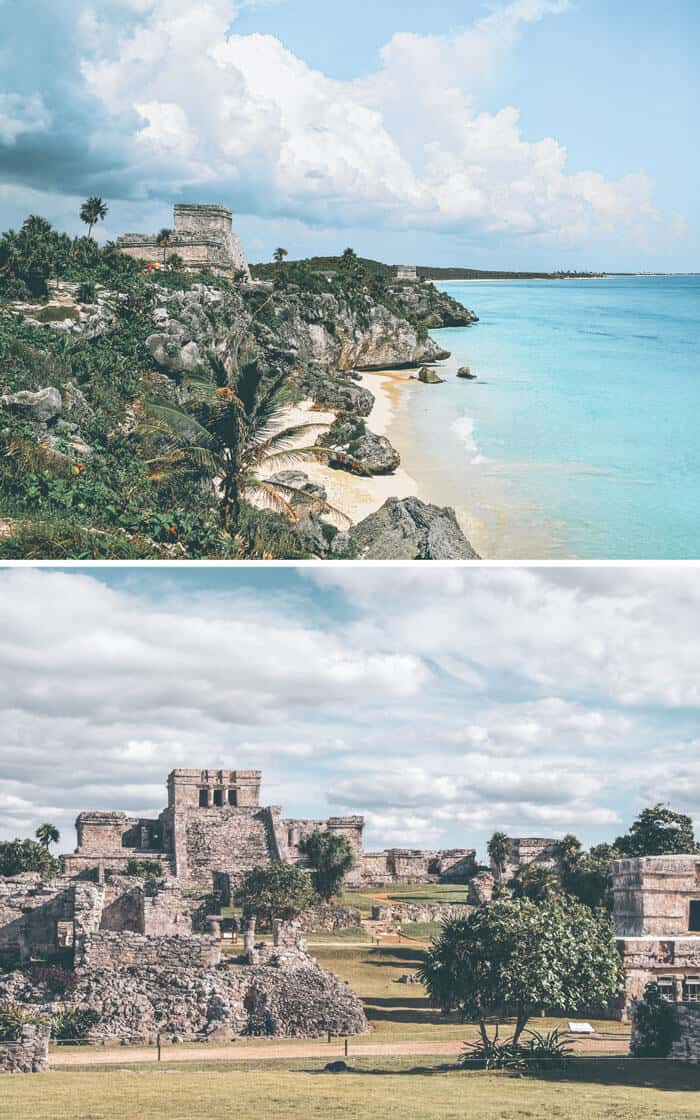 The Mayan ruins in Tulum are some of the most recognizable on the Yucatán peninsula in Mexico. They're located less than two hours from Cancun and are right by the ocean. The combination is absolutely breathtaking.
If you want to take vacation photos that will make your friends at home jealous, this is the place to go.

The archaeological site in Tulum is only around 800 years old. This is still reasonably recent compared to some of the older Mayan ruins in Mexico. At only 4$ entrance fee per person, this is a very affordable place to visit. Because the Tulum ruins are so accessible the site can get very crowded during the day.
Going on a private tour can give you a more secluded experience and will be far more interesting than seeing the ruins by yourself.
3. Ek Balam, Mexican ruins in Yucatán
Ek Balam is a beautiful historic Mayan site located 30 minutes from Valladolid (2 hours from Cancun). The main pyramid is actually one of the largest Mayan structures in Yucatán and is commonly known as "El Torre."
Construction for Ek Balam began in 100 BC, and the city was a thriving metropolis for more than 1000 years. It spans over an area of almost 5 square miles, and only a small part of it has been uncovered.
It costs 22$ per person to visit the site, making it one of the more pricey options on this list. However, Ek Balam is also a lot quieter than its neighbors Chichen Itza and Tulum, so the price is worth it.
A lot of tours combine several of these ruins, so consider visiting them in one day to save time.
4. Chichen Itza Mayan Ruins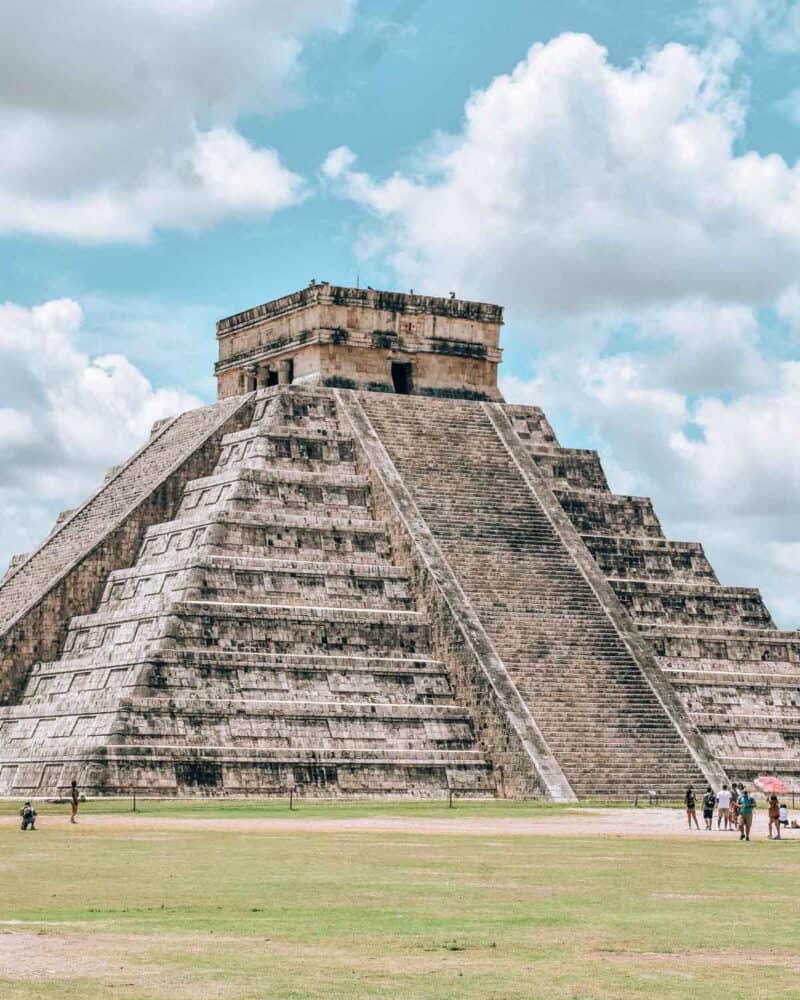 Chichen Itza is arguably Mexico's most famous Mayan ruin and is one of the New Seven Wonders of the World. This is a popular day-trip destination from Cancún or Tulum if you don't mind the 2.5 hours drive each way. Staying in the nearby town of Valladolid is also a good option.
Tickets cost 13$ per person and give access to the grounds close to the pyramids. However, visitors cannot climb them for conservation reasons.
Historians estimate that Chichen Itza was built sometime in the early 400s, and it is said to have been an influential city in the area. If you're visiting Chichen Itza try to come early in the morning to avoid the tourist crowds that arrive in tour buses during mid-day
You can also go on a private tour if you want the ultimate Chichen Itza experience.
5. Teotihuacan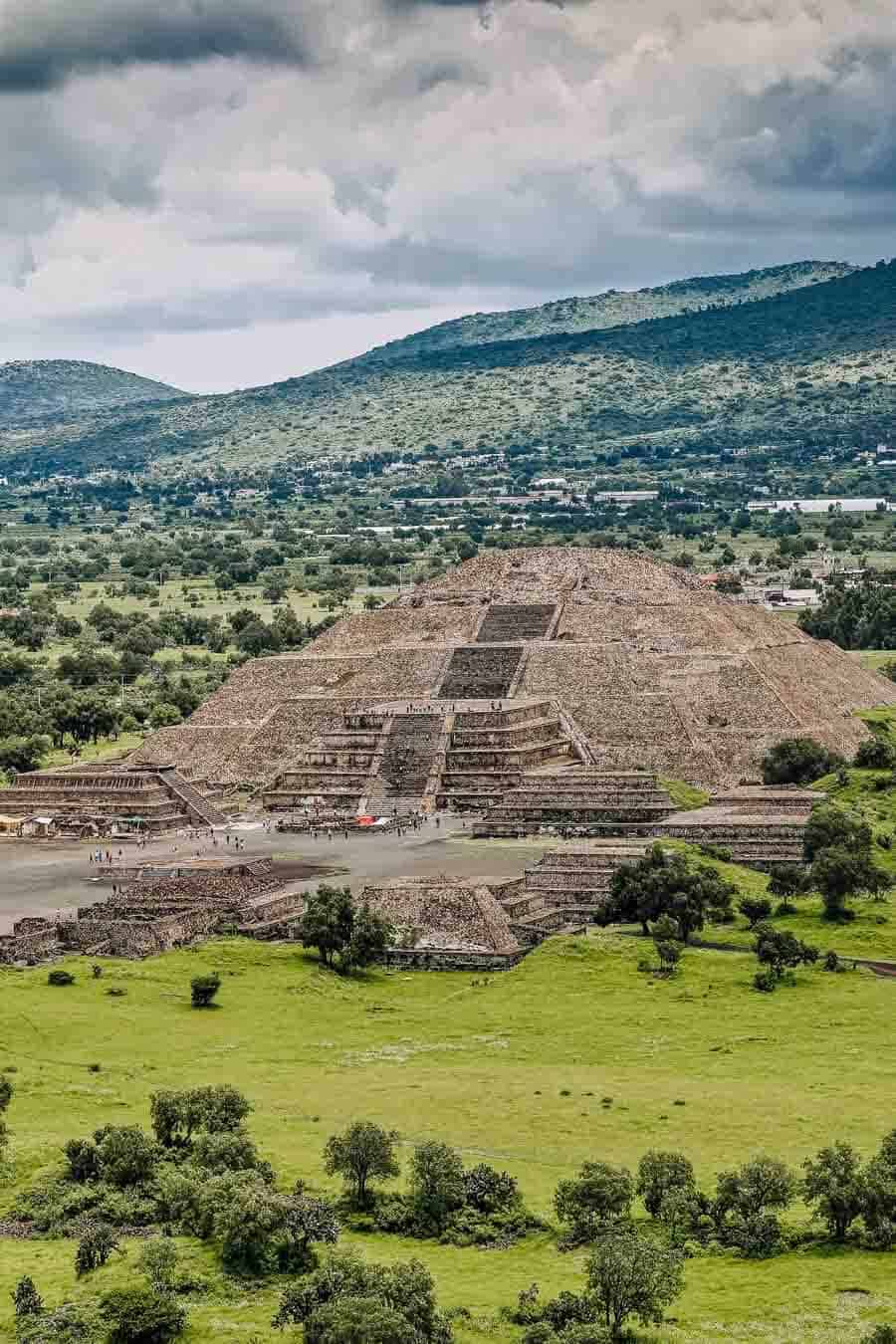 Teotihuacan is one of the older Mayan ruins in Mexico. It originates from approximately 600 BC, and it's unclear who actually built this incredible place.
Teotihuacan was once one of the largest cities in the world but was abandoned for unknown reasons. The pyramids you can see today only represent a tiny part of what this city once was.
You can easily reach the Mayan ruins of Teotihuacan in just under an hour from Mexico City. Hiring a guide to show you around or joining a tour is highly recommended to make sure you're not just looking at old rocks but appreciating their fascinating and mysterious history. The entrance fee is around 5$ per person. If you are needing transportation you can buy your tickets in advance here. (ticket includes transportation).
Book your tour: Teotihuacan, Shrine of Guadalupe & Tlatelolco Day Tour
---
Here are the top rated tours for exploring Teotihuacan Pyramids:
---
Read our FREE travel guide for visiting Teotihuacan here.
6. Mayan Ruins of Coba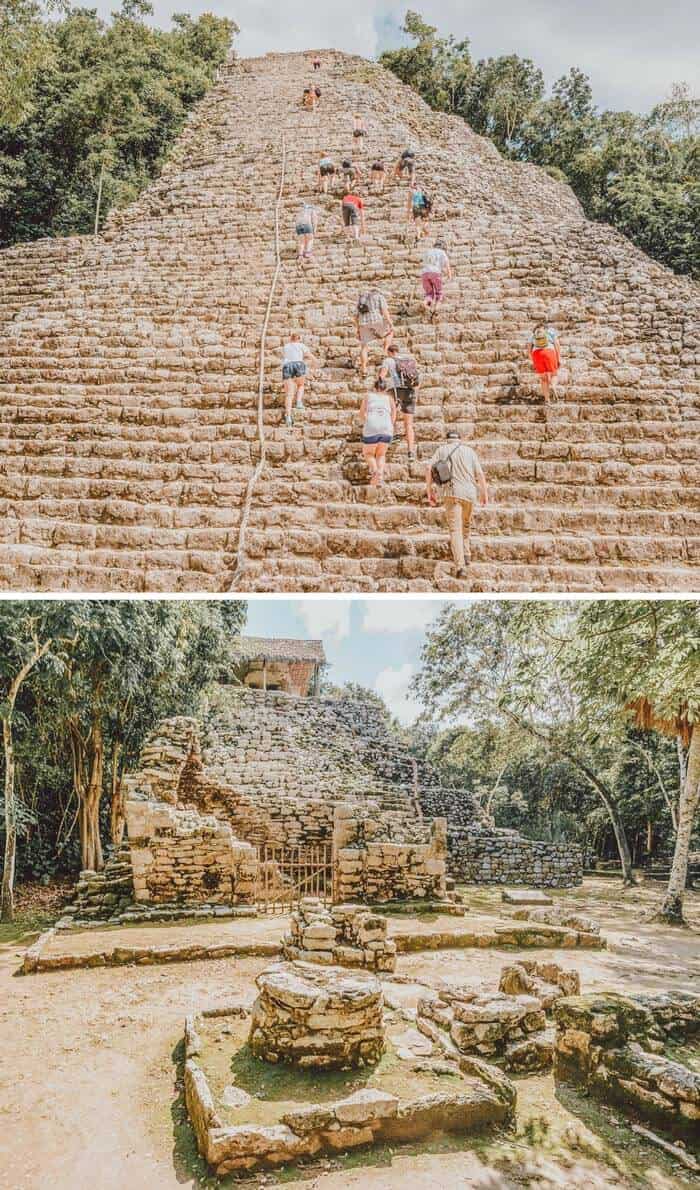 Coba is an ancient Mayan city located on the Yucatán peninsula about an hour from Tulum or Cancun. If Chichen Itza sounds too crowded for your taste, you should give Coba a try instead.
It tends to be a bit quieter and its unique location makes it an impressive sight to see.
The Coba ruins admission price is about 4$ per person, so this is an affordable and fun day trip to do from Tulum or Cancún. Book a full-day tour with a local guide for the best experience.
Book your tour: Top rated – Coba, Tulum and Cenote Swim Tour
7. Monte Alban, Oaxaca, Mexico
Monte Alban is located just a few kilometers from the city center of Oaxaca. This makes it one of the easiest ruins to reach in Mexico and probably the best choice for those looking for a quick day trip without having to spend hours in the car.
No one wants to be stuck in a hot tour bus on their vacation for longer than they absolutely have to, so why not avoid it if you can?
Unfortunately, Monte Alban was severely damaged in a series of earthquakes in 2017, and parts of it had to be reconstructed. Today, the site is open to tourists, and wandering around the beautiful grounds is encouraged.
A local guide will be able to explain the historical background and significance of Monte Alban to you and your group.
The Monte Alban hours are 8 am to 4:30 pm.
Check out the top rated Monte Alban tours and activities here.
8. Calakmul Ruins in Campeche, Mexico
The Mayan ruins of Calakmul are located close to the border to Guatemala. They've been named a World Heritage Site and are some of the best and most beautiful Mayan ruins in Yucatán and all of Mexico.
The Great Pyramid at Calakmul is one of the last remaining Mayan ruins in Mexico that you can still climb, and tickets which include the entry fee to the National Park, cost around 10$ per person.
Combining a trip to Calakmul with a tour to other attractions in the area is a great idea so you can make the most of your time in Mexico.
9. Palenque Ruins
The archaeological site of Palenque is located deep in the jungle of southern Mexico. The ruins are a UNESCO World Heritage Site and date back to 200 BC.
Palenque's remote location means that it has largely been spared by the hordes of tourists that tend to visit other famous sites like Chichen Itza or Teotihuacan. However, this also means that it's a bit tricky to reach, and you'll most likely have to spend a few days just on the journey to get there and back again.
Most travelers arrive by bus, which takes around 13 hours from Cancún. You could also book a full-day tour from nearby San Crystóbal. Luckily, the entrance fee is only about 5$ per person, so while the journey will be long, it will at least be affordable.
Try to visit Palenque sometime between November and March to avoid the worst of the humidity and heat.
Mayan Ruins Mexico Map
Read next: Why you Should Not be Afraid of Renting a Car in Mexico