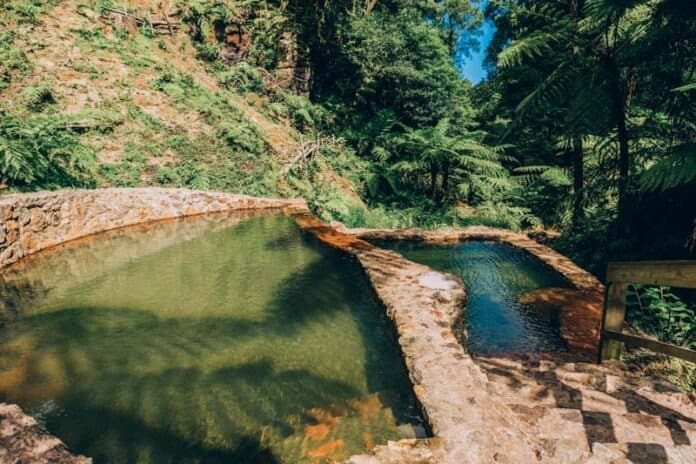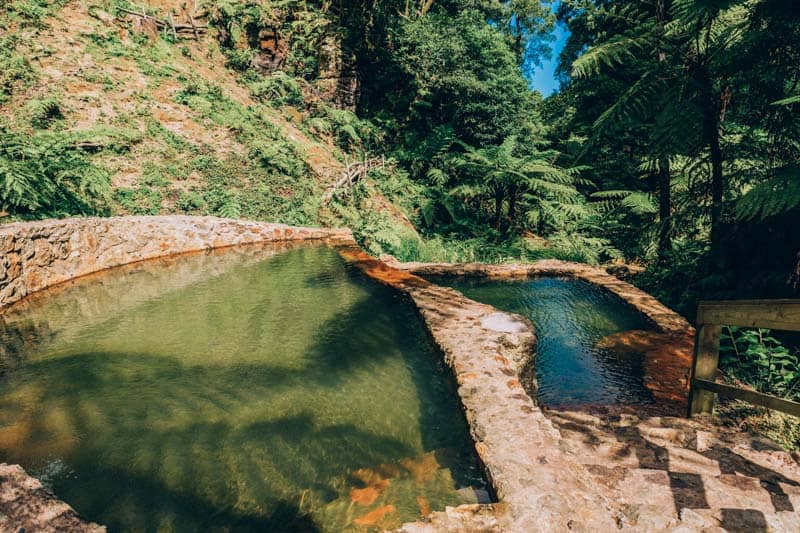 Not only does Caldeira Velha offer natural earth warmed water from a volcano, but it gives this to you in the middle of a lush island paradise!
Think waterfalls, a swimming hole, and tons of surrounding greenery while soaking in a hot tub!
Lots of places have natural hot springs, but what Caldeira Velha offers is like this, but even better!
Tip – When searching in google you may notice that it is officially called the Caldeira Velha Environmental Interpretation Centre.
Where is Caldeira Velha located?
If you've already discovered Portugal's hidden gem, The Azores Islands, then you must add Caldeira Velha to your itinerary. This lush paradise is accessible yet somehow not completely overrun with tourists.
Each of the 9 islands of the Azores is unique in its own way and has its very own highlights.
São Miguel, the largest island there, would easily be your first stop if you're going island hopping as it has a lot to offer.
One of the main attractions on São Miguel, dubbed as 'Ilha Verde' or Green Island, is the Caldeira Velha Hot Springs.
Caldeira Velha is located almost exactly in the middle of the Sao Miguel island in Ribeira Grande.
About the Caldeira Velha Hot Springs
What is also known as the Caldeira Velha Environmental Interpretation Center is a natural monument in São Miguel.
The Caldeira Velha Hot Springs offer 3 man-made thermals pools and a natural waterfall pool that are heated by the nearby Fogo Volcano.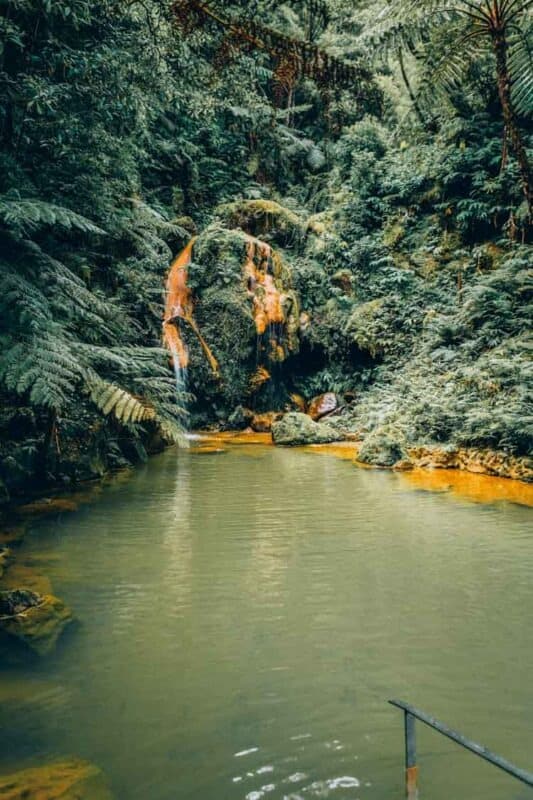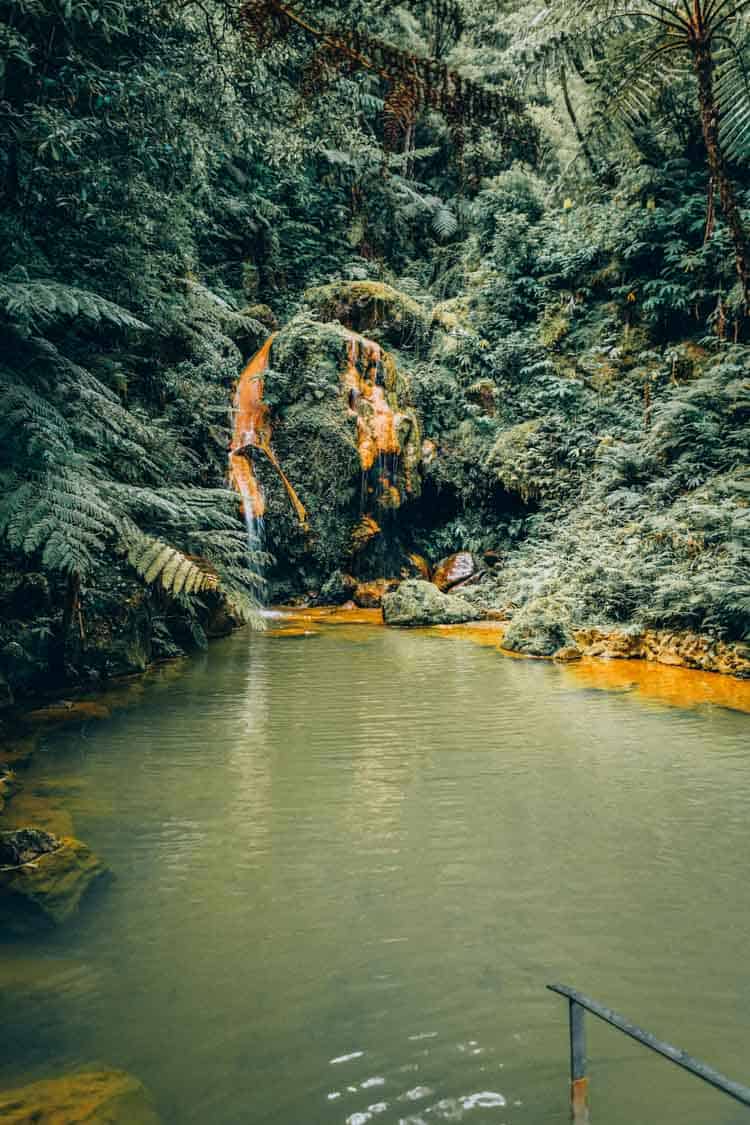 Waterfall and hot springs in Caldeira Velha, Ribeira Grande.
Swimming in the Caldeira Velha Hot Springs (There are 3)
As you take the trail towards the famed São Miguel thermal pools, you'll spot hot springs that are barricaded – those are extremely hot and unsafe for swimming.
You're only allowed to take a dip in the three man-made thermal pools as their temperatures range between 75.2°F (24ºC) and 100.4ºF (38ºC).
The fourth and furthest pool is a natural one where you can marvel at a waterfall feeding it. This one is a bit cooler though with a temperature ranging between 75.2°F (24ºC) and 35.6ºF (28ºC).
PRO TIPS:
The iron-rich water can stain your swimsuit. To avoid the trouble, wear a darker swimsuit to avoid changing its color.
If you are especially concern wear an old swimsuit instead of your fanciest/favorite one. Warning, a faint iron smell will probably stick regardless. But don't worry, there are restrooms and lockers where you can take a shower and change into fresh clothing afterwards.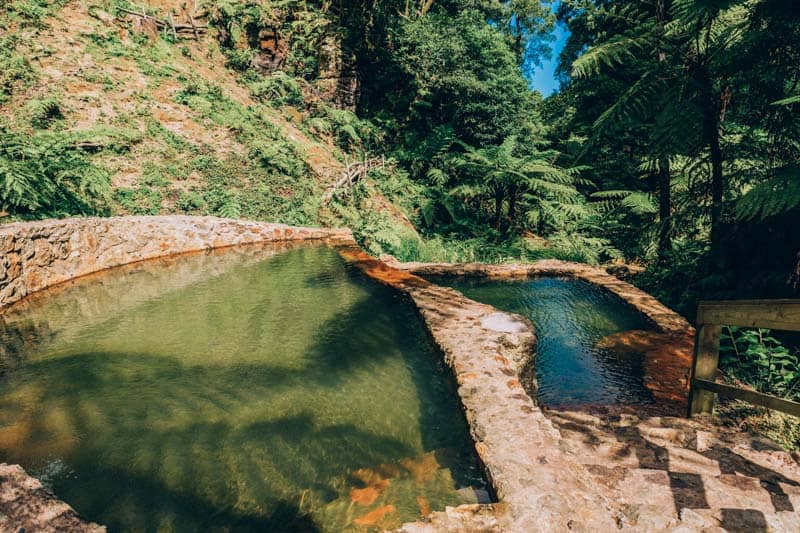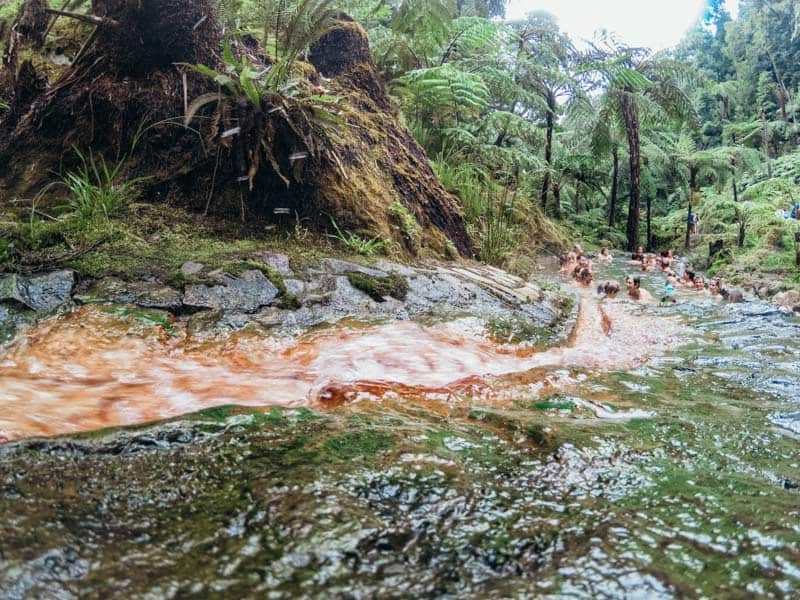 Caldeira Velha Environmental Interpretation Center
The center aims to educate about the volcanic origin of the Azores Islands, and in particular shedding light on the formation of Fogo Volcano. There's a focus on the Caldeira Velha Hot Springs and the area's biodiversity and geodiversity.
Those are not the only amenities at the site though. There's also a small gift shop at the center where you could buy souvenirs before leaving, and there's a cafeteria where you could find light snacks and drinks.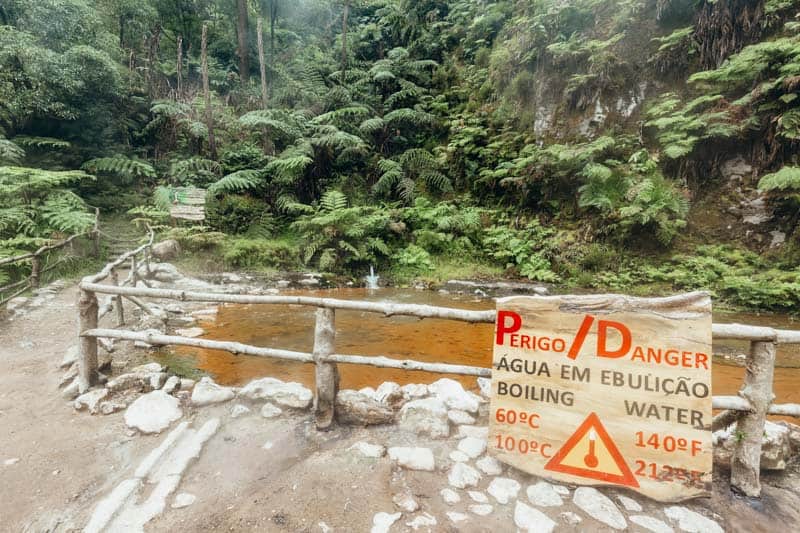 Caldeira Velha Price
The entry fee is €3 for adults – this allows you access to the site for 2 hours. To use the pools, you'd pay an additional €5 and you'll get a wristband that you have to wear at all times.
Discounted Tickets
Those aged between 7 and 14 years and those who are 65 or older get to pay half the entry fee, while children younger than 7 get to enter free of charge.
Caldeira Velha Opening Hours
Opening hours vary according to the season – in the summer, the Caldeira Velha Hot Springs are open from 9:00 to 21:00 and in the winter from 9:30 to 17:30.
The opening hours during the months of April and October are from 9:00 to 20:00.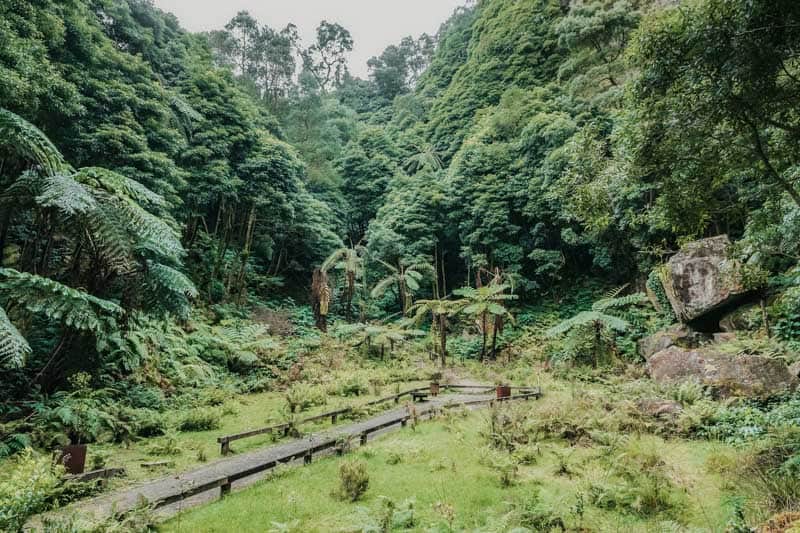 The Best Time to Go to Caldeira Velha Hot Springs
The best time to go is very early in the morning to avoid crowds and have the thermal pools all to yourself.
It's also emptier than peak hours in the evening, but I personally recommend going in the morning to enjoy the tropical views.
On a different note, the Azores is privileged with relatively good weather all year round, but it's also known for frequent rainfall.
This would instantly intimidate you but who said the rain would be a party pooper in this case? I mean, enjoying a natural thermal bath on a rainy day? This actually sounds cool!
The problem is that the climate of the Azores is unpredictable and constantly changing, which may ruin the rest of your travel plans. You don't want to end up hiking a slippery trail on a gloomy day, right? After all, you're there for the phenomenal views.
Try and avoid the rainy season
Your best call would be to try to avoid the rainy season as much as possible, which is usually from November to February – it often rains in April and October as well.
The ultimate time to visit (weather-wise) is definitely from June to September. Of course, you need to bear in mind that since this is also the high season (obviously), it's going to be more expensive.
So, ask yourself: is it worth the extra cost? Or should you take the risk?
What to bring with you to the hot springs
Towels and swimsuits are recommended for the hot springs.
Boots – If you are going in the winter make sure to wear boots.
Hiking sandals – If you are going in the summer.
How to Get to Caldeira Velha Hot Springs
Ideally, you'd want to rent a car to explore São Miguel. The easiest way to reach your destination is via the EN5-2A road.
If you're coming from Ponta Delgada, which is a 30-minute ride away from the Caldeira Velha hot springs, first, take road EN1-1A. Then, take the exit to ER3-1 and turn onto EN5-2A.
On the other hand, if you're coming from Ribeira Grande, you can take the EN5-2A road right away – it'll only take you 10 minutes to get there.
Can You Take an Organized Tour?
If you don't end up renting a car, you can still go on an organized tour. You'll find lots of local tour operators and companies that offer trips to Caldeira Velha.
You can also book a tour online via Get Your Guide. (All the tours linked below make a stop to the Caldeira Velha Hot Springs)
These tours also cover the entrance fee.
Where to Stay in São Miguel Island?
Yes, the Azores is a lesser-known destination, but now that it's becoming under more travelers' radars, more hotels are opening up.
So, if you're hoping to have an epic island adventure, you don't have to worry about accommodations as there are plenty of options.
I've compiled a list of some of the best accommodations in São Miguel for all kinds of travelers.
Luxury Hotels in São Miguel, Azores
Looking for upscale properties to live your best life on this tropical island?
Here are some of the top-rated luxury hotels on São Miguel:
Terra Nostra Garden Hotel – You don't have to miss the Caldeira Velha Hot Springs because you'd have access to São Miguel thermal pools at this lavish boutique hotel. Imagine spending the day hiking and exploring the island and going back to your hotel only to relax at a natural spa!
White Exclusive Suites & Villas – The Azores is privileged with lots of beautiful beaches and São Miguel is hands down home to many of them. So, how about enjoying your stay at an ocean view luxury suite or villa?
Santa Barbara Eco-Beach Resort – Another great beach view option is this eco-resort. Not only because the nearby Praia de Santa Barbara is one of the best beaches in the islands but also because of its close proximity to the Caldeira Velha Hot Springs – it's less than 15 minutes away.
---
Budget Accommodation Options in São Miguel
Are you an adventurous backpacker traveling on a budget? Don't fret – there are also some great options for you:
Out of the Blue – If you're on a budget, this hostel offers great value for money. Modern interiors and a cozy environment? Check! Ideal location? It's a lovely getaway in Ponta Delgada, so obviously, check!
Garoupas Inn – Also located in Ponta Delgada, this inn will make you feel at home, except for that you probably don't have impeccable ocean views or a hot tub back home!
Other Activities to Do in São Miguel
You're probably hooked on São Miguel by now, and you should!
Besides the Caldeira Velha Hot Springs, the island has so much more to offer from exploring the picturesque village of Furnas to enjoying all sorts of adrenaline-fueled activities like hiking or whale watching.