Waihee Point Lookout
Full disclosure, the Waihee Point lookout is pretty lame. That being said, don't let that stop you from visiting the area. It's not that this stop is lame in itself, there are just much better things to do and see in the area.
So many people never take the opportunity to visit the northwest side of Maui even though this is basically where the airport is. Most tourists fly into the airport and then head to one of the more popular resort areas on the southern side of the island.
If you do leave the airport and head to the northwest along the Kahekili Highway, you will encounter what gets called the "mini Road to Hana." This area isn't actually leading you to Hana (exact opposite direction). While it isn't leading you to Hana, it gets called that because it offers a lot of the same features and attractions that the Road to Hana provides, but without the gaggles of people.
One of the stops you may see highlighted on this drive is the Waihee Point Lookout. Spoiler alert, the drive is worth it but this stop isn't.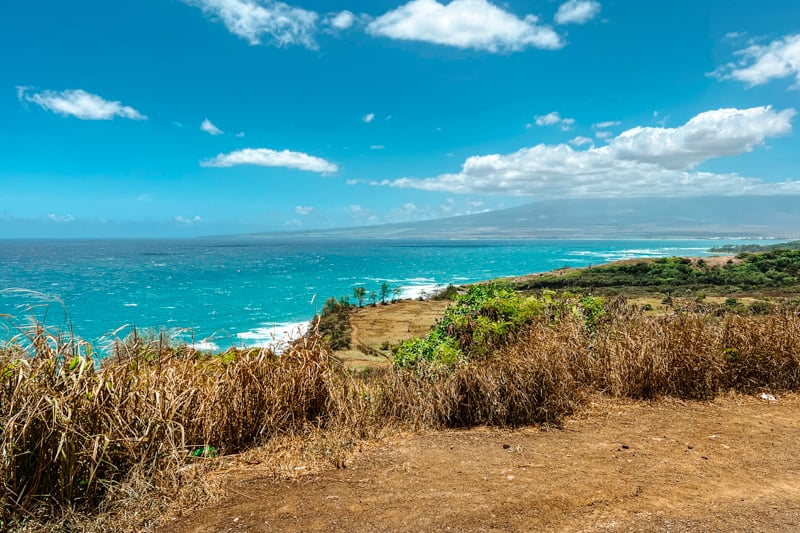 What To Expect at the Waihee Point Lookout
Don't let what you see here be what you make a decision off of in regards to a Hana drive (or mini drive). This lookout point is really just an expanded shoulder off the highway where you can pull off and take a photo looking down a cliff and into the ocean.
The reason it's not especially noteworthy is that if you keep driving a little bit further, there are so many more viewpoints with much more dramatic and photo worthy lookouts.
This lookout point is not as high as others, doesn't give you sweeping views of the rock cliffs, and is even partially obscured by tall grasses.
Keep Driving – The Stops Get So Much Better
Once again, don't let this viewpoint cloud your judgment of whether you head to this part of the island or not. If you go just a little bit further you will arrive at my favorite hiking trail on the entire island, the Waihee Ridge Trail!
Other Top Attractions In the Area
If you journey beyond the Waihee Ridge Viewpoint you will soon come to a number of other named and unnamed viewpoints with dramatically better views. Aside from viewpoints, you are close to some other amazing spots.
Waihee Ridge Trail
This is my favorite hike on the island. It's a moderately difficult trail, but even if you don't complete the entire thing it quickly lets you traipse across the ridgeline of a mountain while enjoying exquisite views the entire time.
Olivine Pools
Waves crashing against lava rocks create these gorgeous tide pools. Be careful though as people have died here due to underestimating the potential for a gigantic wave to crash in.
Nakalele Blowhole
This site is another way to see the power of the ocean waves. The waves are almost always powerful enough to shoot ocean spray high into the air through the Nakalele Blowhole.
Conclusion
The Waihee Point Lookout should only be used as a landmark on your journey up the "mini Road to Hana." There are other attractions that are far more alluring, so don't be deterred by this one being "meh."
OUR MOST POPULAR POSTS ON MAUI HAWAII
My husband and I have been to Hawaii many times and have written up more blog posts to help you plan your trip. These are my most popular Maui blog posts and Hawaii travel guides to help you plan your trip.
Best Things to do in Maui: 10 Cool Things to do in Maui Hawaii
The Best and Most Easily Accessible Maui Waterfalls: 6 Easily Accessible Maui Waterfalls
The Best Beach in Maui!: Guide to Visiting the Red Sand Beach, Maui
What to Pack for Hawaii: The Ultimate Hawaii Packing List
The Ultimate Guide to Visiting the Hawaiian Islands – and what to expect on each island: What To Expect On Each Of The Hawaiian Islands