Teotihuacan – most commonly pronounced "tay-oh-tee-wak-on" – are the famous Mexico City pyramids. And they're unlike anything you'll see in the US.
Want to See the Teotihuacan Pyramids in Mexico?
Teotihuacan is not just an architectural site. It's not just HUGE pyramids. It's not just a religious site. Back in its prime, Teotihuacan was actually a whole city complex! This city consisted of about 125,000 people. That's more than Cambridge, England, more than Burbank, CA. Today, it's now the most visited architectural site in Mexico, even more popular than Chichen Itza (Check out things things to do in Cancun like Chichen Itza here).
What to Pack?: Before you head off to Cancun, make sure you read my Cancun Packing List guide so you know what essentials you need to enjoy your tropical paradise.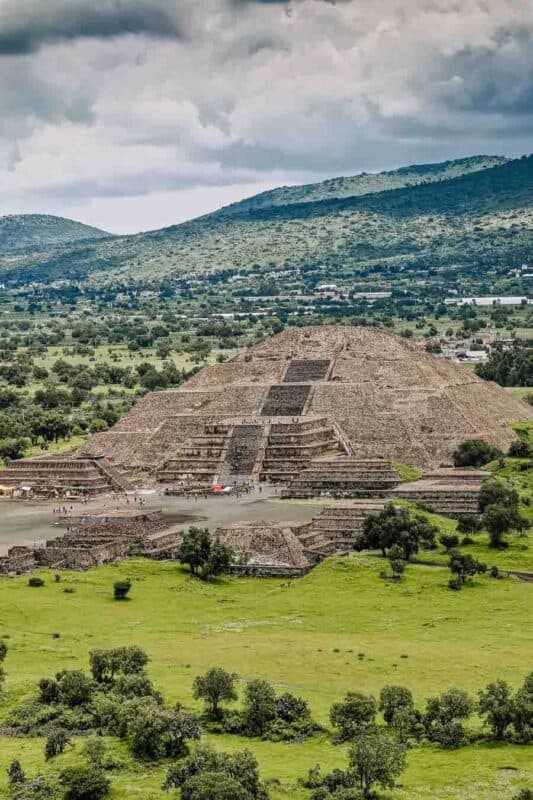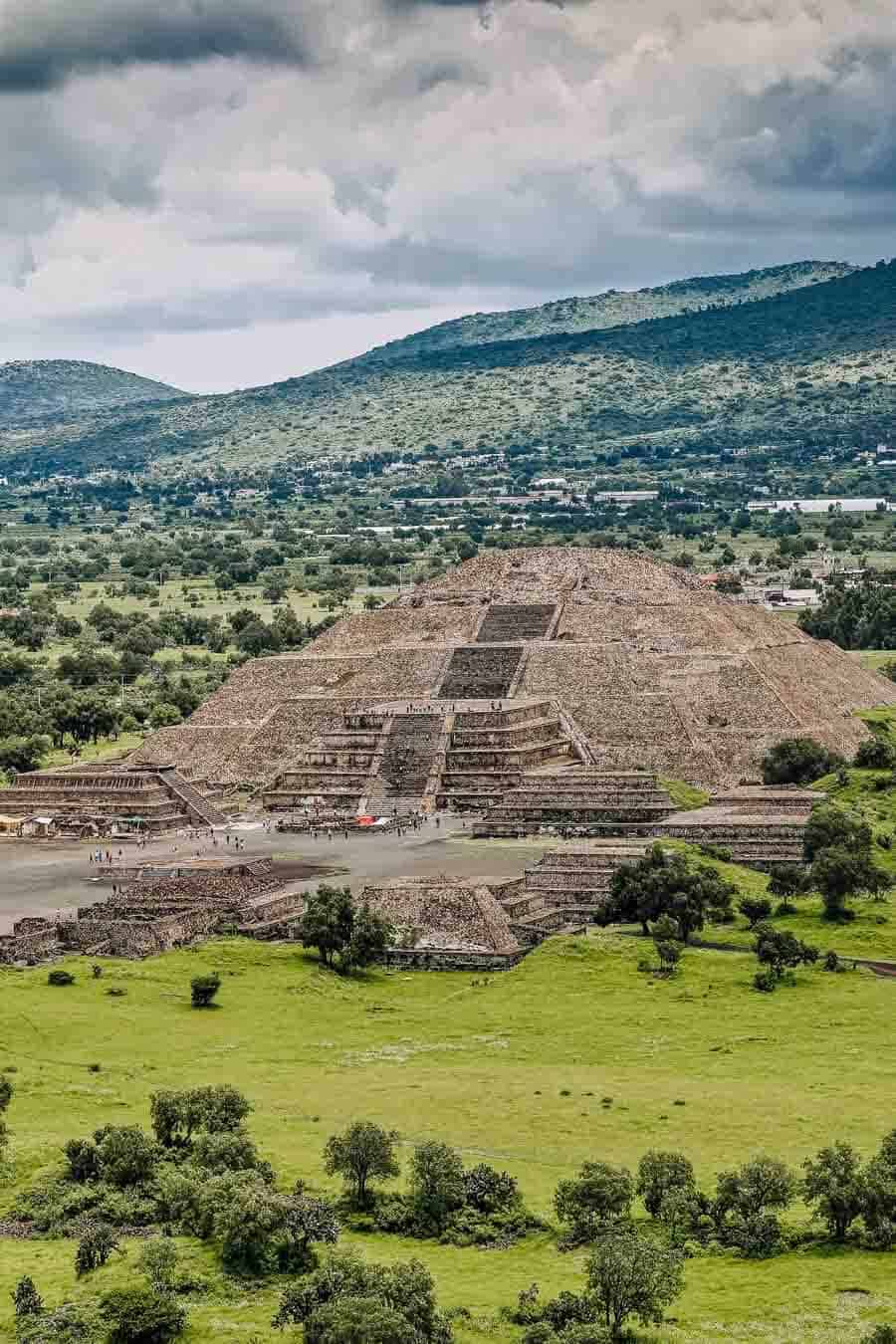 History of the Mexico Ruins
The entirety of Teotihuacan is shrouded in mystery. We still don't know who really built it! It's so old, the historical path of ownership is unclear and a bit complicated. The whole complex started being built about 100 BC. Yes, 100 BC! Aztecs get claim for it, but their civilization came long after. Regardless, if the Aztecs didn't build it, the Aztecs named it. Tuatihuacan – meaning "birthplace of the gods" with a walkway throughout the complex called "avenue of the dead".
Teotihuacan Tours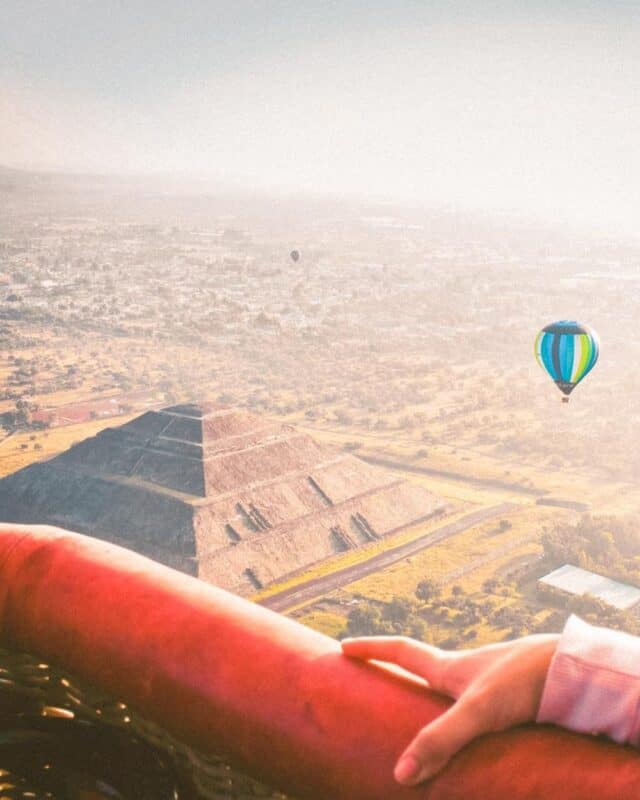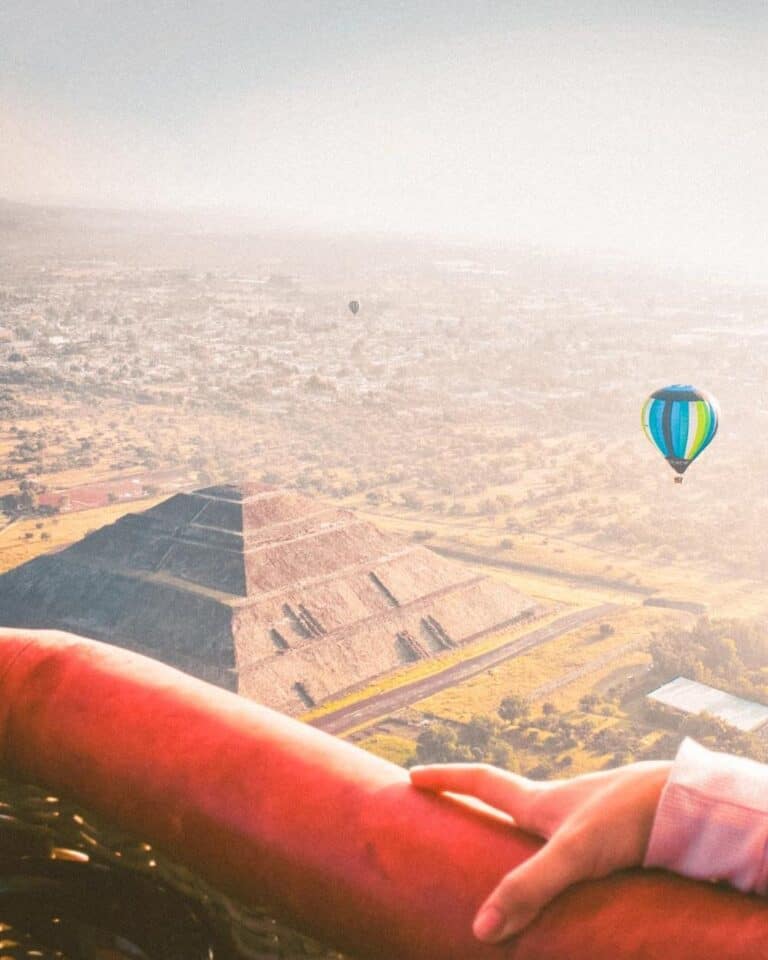 The pyramids near Mexico City are really something you have to witness in person to appreciate, but I'll do my best to give you a written/virtual Teotihuacan Tour.
Mexico City Pyramids Tour
Keeping "whole city complex" in mind, pyramids and structures line the avenue that is 4km, or about 2.5 miles, long. As you walk along, there are plenty of sites to take in. My favorite parts quickly became the biggest pyramids – The Pyramid of the Sun, then The Pyramid of the Moon. Part of what makes the pyramids so great is that you can still climb up them. If you decide to do this (and you should) be prepared for quite the ancient workout! The Pyramid of the Sun is about 250 steps. The steps are steep, and the sun can be scorching. Also, if you forgot, your trek up these steps will remind you just how high the altitude of Mexico City really is.
The best views of the Avenue of the Dead and The Pyramid of the Sun are from the Pyramid of the Moon itself. You can't climb all the way up this one, only about 2/3 of the way, but doing so is well worth the lookout. Lines can form to climb the pyramids, but we lucked out with no lines on a Friday in August.
Avenue of the Dead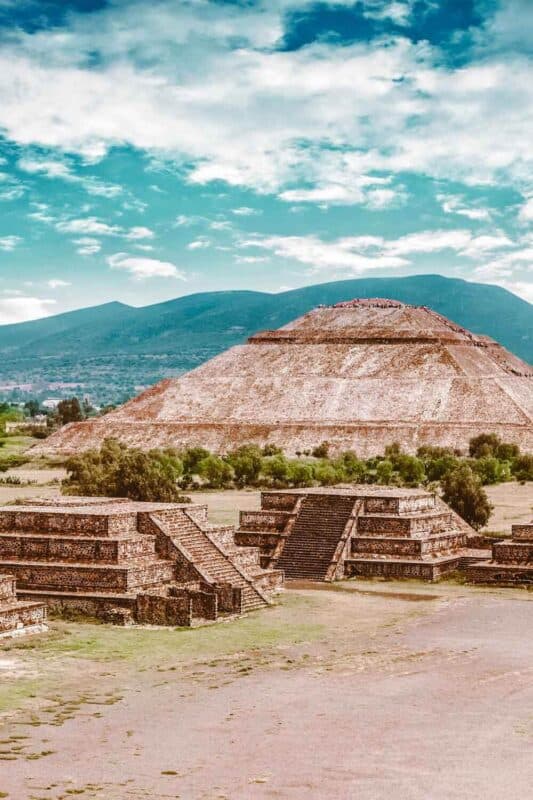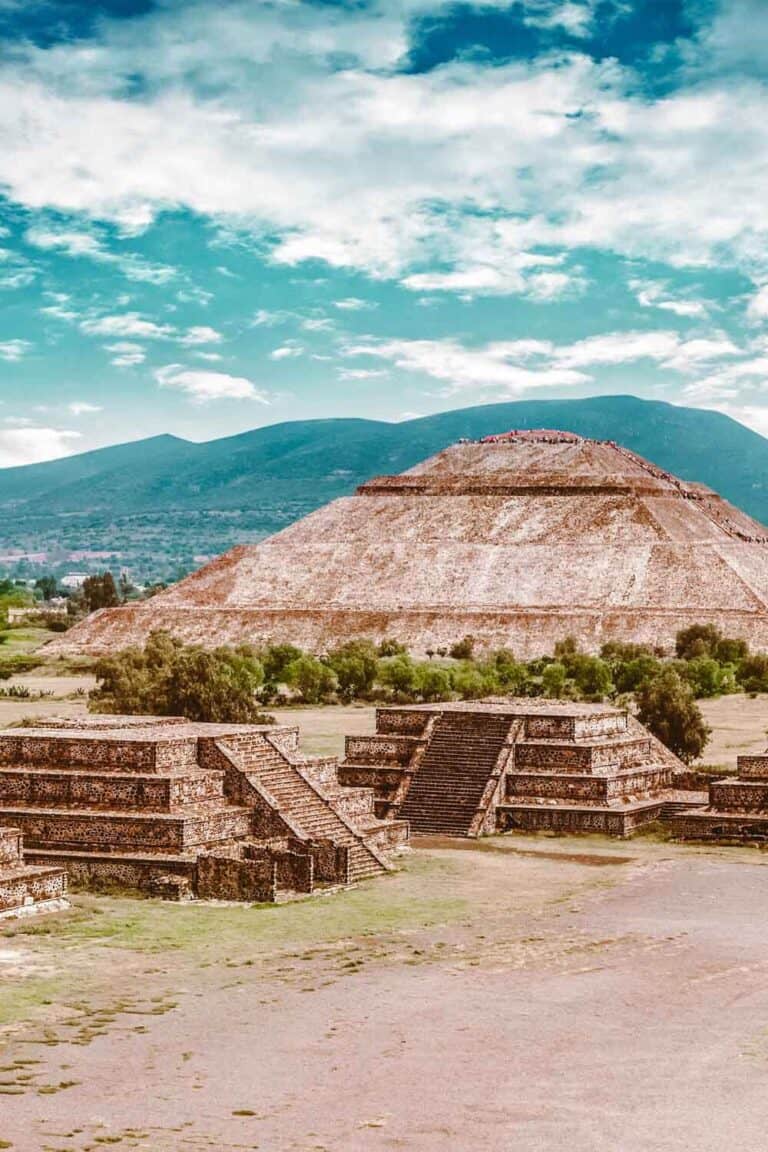 All along the Avenue of the Dead you'll find vendors, sales people selling tourist trinkets. If you want something, expect to negotiate with the vendor. They all seem to have a lot of the same stuff, so it's fine to get the best price. The Palace of Quetzlpapalotl is known for restored ornate carving designs that were common there.
It's amazing how more primitive societies created gorgeous displays without modern tooling. Palace of Quetzlpapalotl is the most preserved building at Teotihuacan. (Sidenote: The Palace is nice, but it's not as amazing as the pyramids. There is far less detail to the carvings than I expected.)
More Teotihuacan History
Teotihuacan is stunning today, but at some point, the site was even more spectacular. It was supposedly painted maroon, decorated with gold and ornate stones. I wish I could see it that way now, but it's still an amazing experience to see today.
And actually, now that I think about it…I'm okay not seeing it in full action. Full action, fully decorated means the site was being used for human sacrifices. I'd rather not see that, and recently they have been finding more and more human remains.
The original construction of this amazing site is a mystery, and continual discoveries only deepen the unknown. New tunnels have been found and explored in the last couple of years. There are a few that still aren't fully explored. Here, they are finding more artifacts and new connections to build the history of Mexico City ruins. We still aren't sure what caused the city to fall, some think invaders and others think an internal coup due to famine.
Mexico City to Teotihuacan
If you're headed to Mexico City on your next vacation, take a real tour and enjoy a Teotihuacan day trip. Teotihuacan tours from Mexico City are an easy reality. If you want a tour guide, I recommend finding your own way from Mexico City to Teotihuacan, and then hiring one of the tour guides at the gates.
Take public transportation for a cost effective route. You can take the metro to Del Norte bus station and buy a ticket. The metro to the train station is about 5 pesos per ride, or about .28 cents. Super cheap! It's then 52 pesos for the bus, about $2.60 each way.
Uber in Mexico City is also cheap, comparative to the US. Uber is about $25 from the city. There's a toll road (77 MXN) that's about $4, and you have to take the toll road to get there. If you decide to use Uber, make sure you type in "Teotihuacan Pyramid of the Sun" to get to the right spot. Remember, it's a big complex!
Teotihuacan Hours
Getting into the pyramids will cost 75 MXN – about $4, and the Teotihuacan hours are 9am-5pm. Enter at gate 2 or 3 to avoid extra walking.
Some additional tips? When visiting Teotihuacan know that it can get crowded, so you'll want to be careful of lines. To avoid the crowds, go early in the morning, or later in the day. Avoid Sundays too, since locals get in for free on Sundays. Don't forget to bring water and wear sunscreen!
Enjoy the coolest pyramids and ruins outside of Egypt at a fraction of the price and distance. We definitely did!