Most people do not realize how amazing a cruise can be. Not only does the cost of a cruise immediately cover all lodging, food, and transportation costs while providing on the ship entertainment, but it allows you to see some of the most beautiful places in the world in a short amount of time.
Below are some of the tops reasons you might not have considered that will convince you to book a cruise immediately!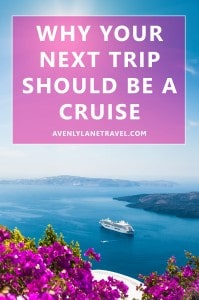 Save Tons of Money
Most people don't really know how expensive vacations can be, or everything that is automatically included when you book a cruise. Last year my family met in Venice, Italy and took off on a 6 day cruise. This cruise had stops in Italy, Croatia, Malta and Greece. They were able to book this cruise at a cost of about $600 per person. This means for about $100 a day, my family was able to have the expense of their hotel covered, transportation between all the destinations covered, and all meals covered. If you have been on a European vacation before, then you know $100 a day is nearly impossible to beat. Also, flights to certain spots are rare and exceptionally expensive. If you want to see Santorini, Greece, the flight options are extremely limited and expensive, while cruise options often cover the Mediterranean dream destination.
See Countries You Might Normally Feel Unsafe In
Have you ever want to see some of the countries across northern Africa, but were too afraid to actually do it? Some of the most beautiful sights in the world are spread across the northern end of this continent, but at times some of the countries can be downright scary for foreigners (especially young blonde ones). Generally, a cruise can be an excellent way to help bridge this gap. Cruise lines provide pre-arranged transportation to tourist hot spots in port cities. These tours offer an excellent way to see and experience the culture, without having to be fully on your own in the foreign land. Some cruise lines literally have security guards that follow cruise passengers while in port.
Save a Ton of Travel Time (More Ground Covered)
Even if the expense of a European vacation is of no consequence to you, your time might be. If you only have so much time away from work to see beautiful destinations, a cruise is still an amazing way to travel. You do not have to lug baggage around between airports, into cabs, or even to the best tourist sights (if you've backpacked across Europe, you know exactly what I am talking about). Cruise lines seamlessly chug along to the next destination while you sleep. With the boat constantly moving you to the next destination, you save a ton of travel time, and can ultimately see a lot more in a shorter amount of time. While I enjoy taking trains across Europe, sleeping on a cruise ship is infinitely more comfortable than sleeping on a train.
Visa Requirements Waived
One of the best perks of a cruise is that cruise lines and certain countries have pre-negotiated exceptions to visa requirements. A number of countries out there have visa requirements that can be extremely cumbersome and expensive, especially if you are planning to see a destination quickly. Have you ever tried to visit Russia? Getting a visa to Russia not only takes a few weeks, but is also expensive (usually between $200 and $300). To get a visa, you have to apply with the consulate while already having a sponsorship letter from a pre-booked hotel, or from a Russian citizen agreeing to host you. Getting this letter is a huge pain that takes even more time and more money. Approved cruise lines with Russian stops are one of the few exceptions to Russian visa requirements. If you would like to see Russia without going through all of the hassle, a cruise is definitely one of the best ways.
Excursions and On Ship Entertainment
Most cruise ships are decked out with excellent amenities. There are swimming pools, gyms, singers, dancers, and plenty of bars and restaurants. The 24 hour ice cream bar is typically my favorite. When you arrive at a port you have the option to stay on the ship, or disembark and explore the city. If you want to explore on your own you are welcome to, but if you want to stick with other cruise passengers you can book pre-planned excursions. These excursions will take you to all the best sights, and will cover your transportation to and from, while often letting you skip the lines at them. They cost extra, but being able to see the hot spots is often worth it.
All You Can Eat
Another great perk with cruises that I am sure you have heard about is the food. Almost every ship has all you can eat buffets at every meal, and on most cruise lines the food choices and quality is incredible. When my husband was in college he went on a Caribbean cruise and all his buddies had a competition to see who could gain the most weight during the 5 day trip. I wasn't there to verify, but he swears the winner gained 14 pounds in the 5 days. I do NOT recommend this for the average traveler, but I do think it is a testament to the quality and availability of the food. Most ships have extra-fancy restaurants you can pay added fees to eat at, but the general offerings have always been good enough to satiate me. Also, if you are a drinker you should consider the all you can drink package, and also enjoy not having to worry about finding a designated driver.
Formal Dinners
Most cruise lines have at least one night with a formal dinner. These dinners typically require formal attire, and the preparation reminds me of prom. I love being able to get dressed up, and typically these dinners are followed up by music, dancing, and photographs.
If this isn't your thing, you can typically opt out (unless you are my husband because that is never an option for him).