Everyone loves the beach. The only person I know that doesn't love the beach is my husband, and I think he needs to have his head checked! Generally, the formula for a great beach is quite simple; it includes good amounts of sand, sun, and water mixed together to result in a great day. The world features lots of coasts that make great beaches and I've been lucky enough to be on beaches on a few continents. While the experience is almost always enjoyable, I have found that many beach experiences are similar.
The Most Unusual Beaches Around The World
The beaches in this post are NOT the average beach. While they may have items from the standard formula, each features unique elements that make them stand apart from the common beach. I've been lucky enough to have made it to a few of these, and cannot wait to attempt to track down the rest.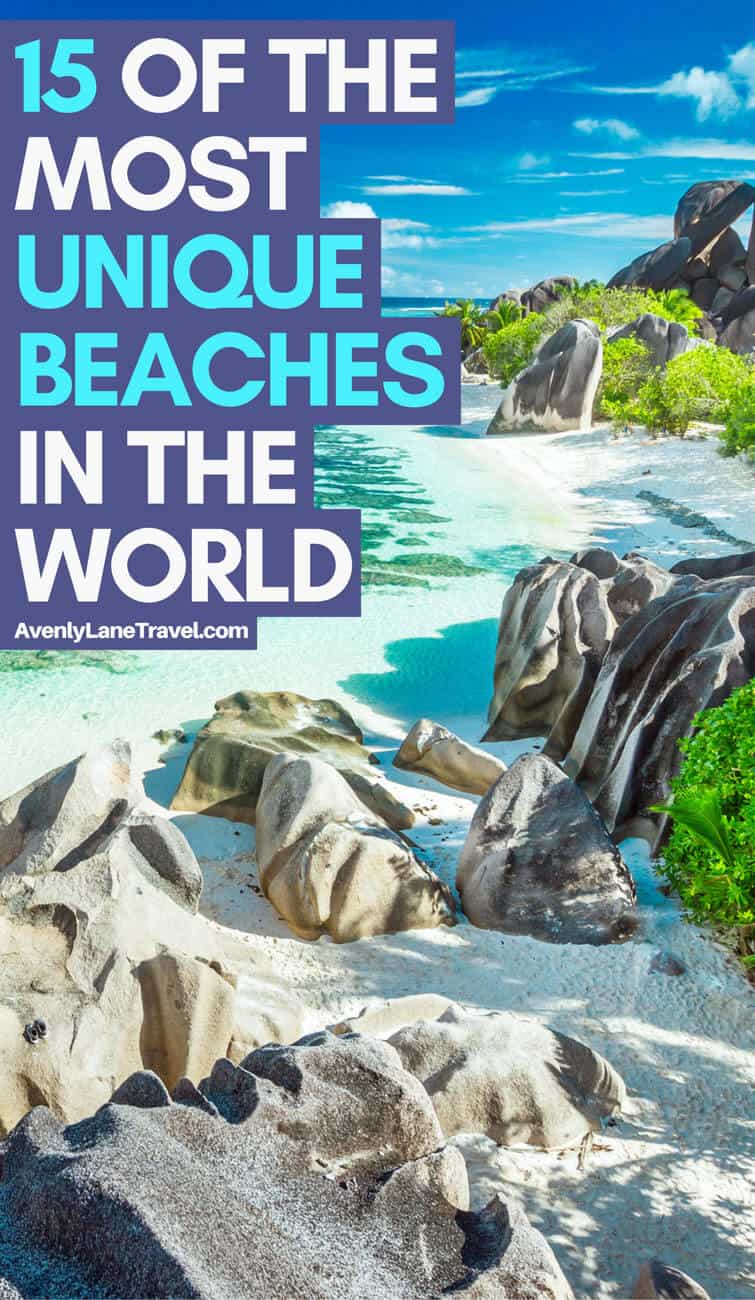 Kaihalulu Red Sand Beach – Hana, Hawaii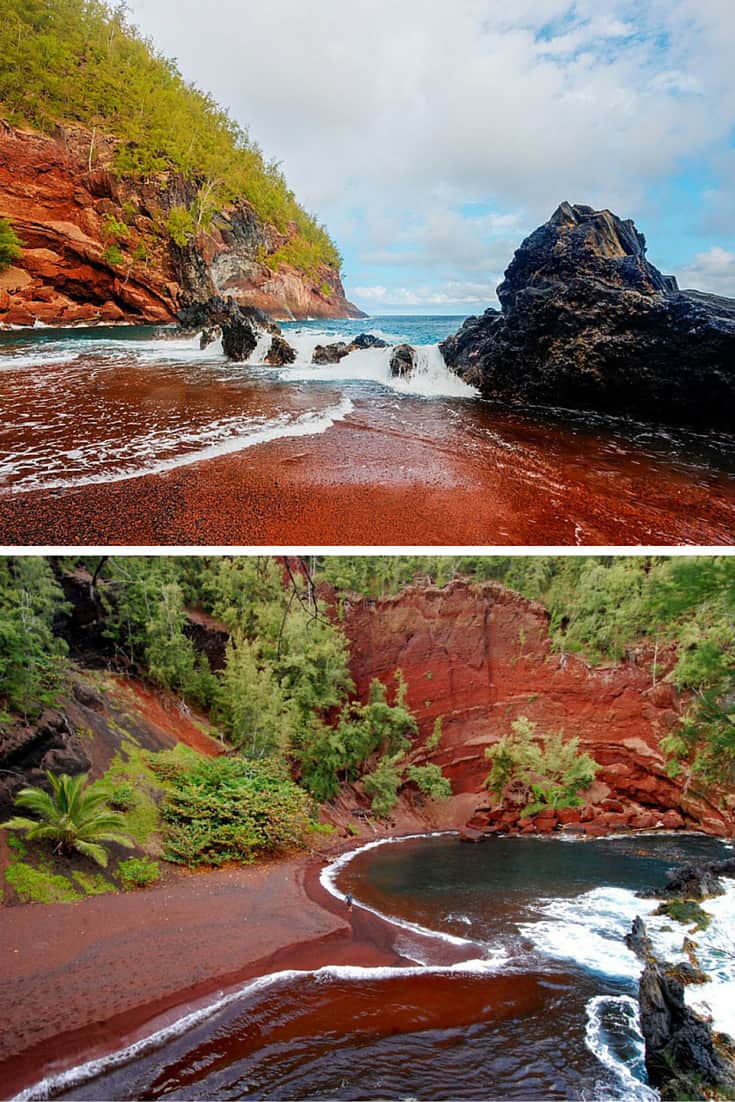 Photo: Courtney Nash / Flickr
I am sure that no one is surprised to see a Hawaiian beach featured on a list of top beaches in the world. The thing that may surprise people is that Hawaii features some exquisitely beautiful red sand beaches. The contrast of verdant green plants, cool blue water, and brilliant red sand creates a vibrant color pallet that is hard to find in nature. Kaihalulu Beach in Hana Hawaii is one place where you can observe this phenomenon, but be prepared for a decent hike to uncover this gem.
Don't Miss More of Our Most Popular Articles on Hawaii!
Benagil Sea Cave Beach – Algarve, Portugal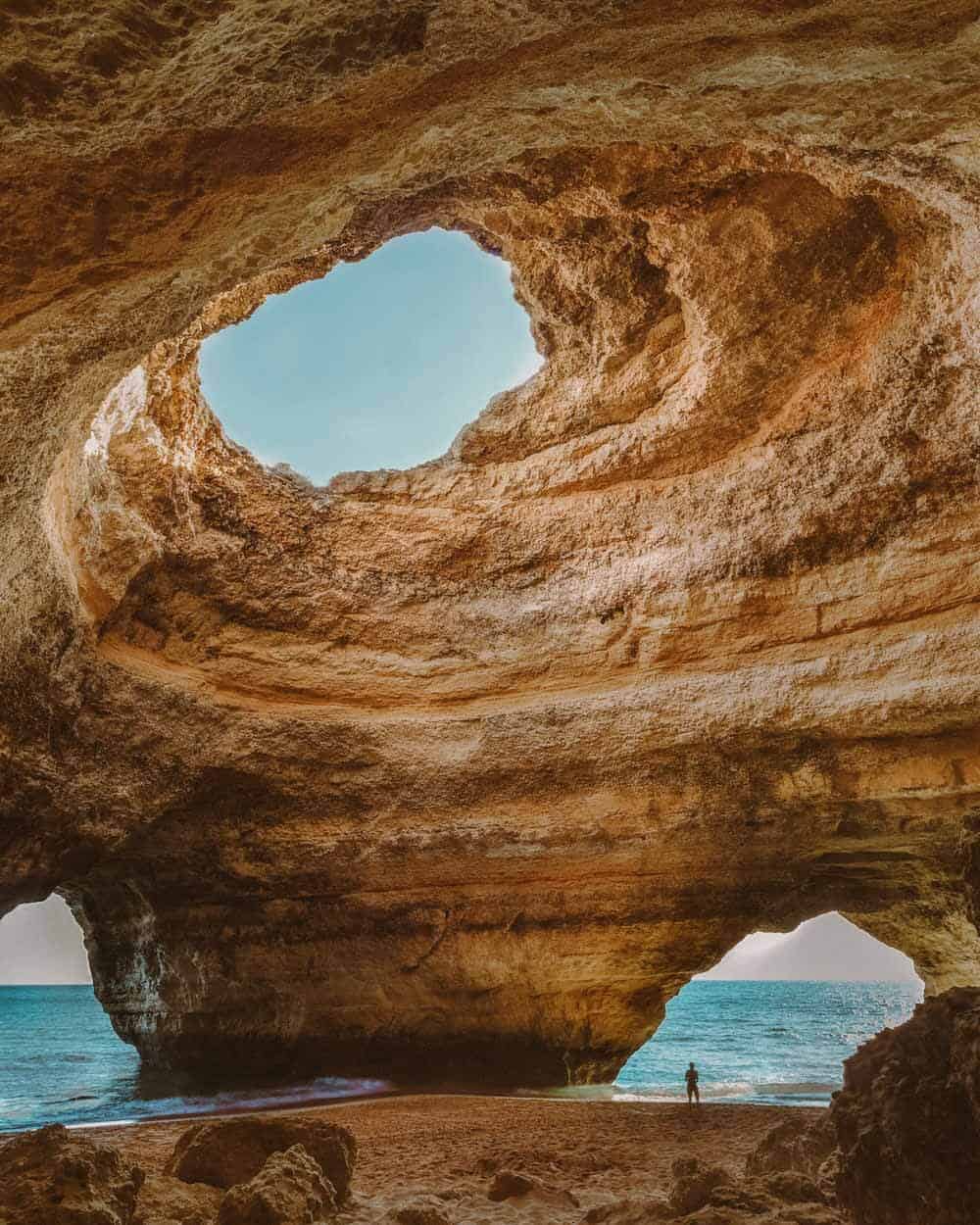 At first glance one can tell that the beaches near Benagil, Portugal are truly picturesque, yet naturally occurring sea caves transform the pristine beaches into something truly magical. The openings and closings of the caves allow you to lounge on the beach directly in the sun, or in the shade while exploring intricate rock formations. The combination creates a look I haven't seen anywhere else.
Jökulsárlón, Iceland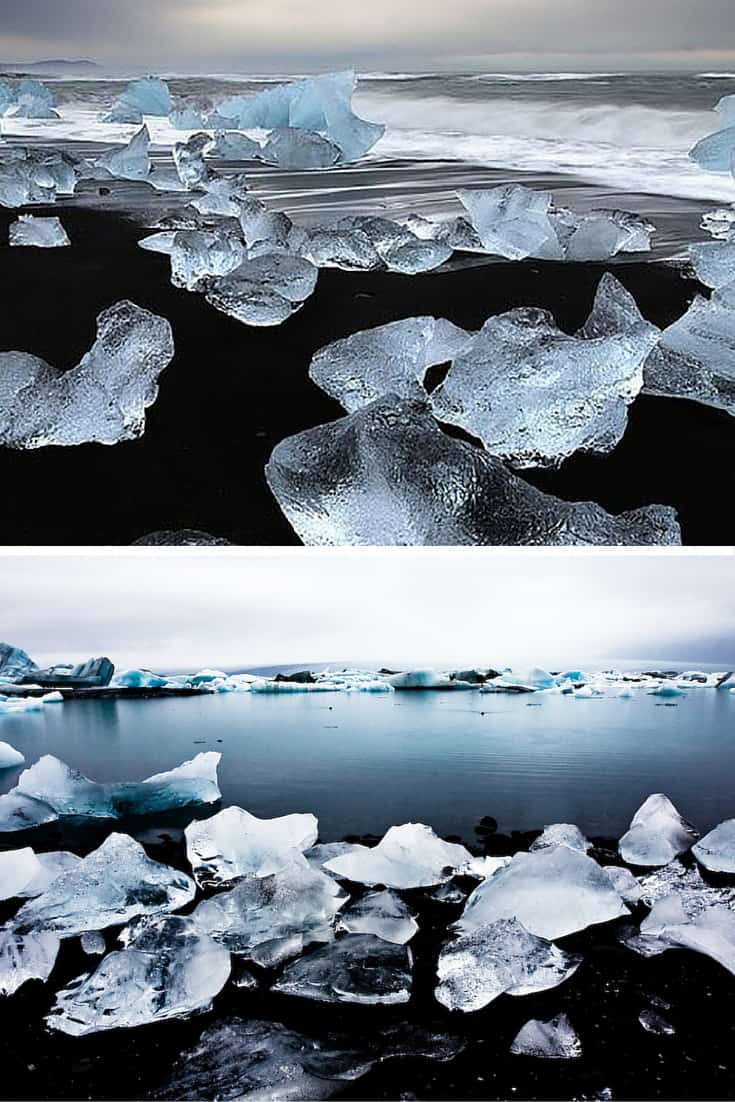 Photo: travis / Flickr
Jökulsárlón is not the beach you are going to want to lounge on in your bikini, but it is one you should visit. The name literally means "glacial river lagoon", and that's almost exactly what is happening here. A receding glacier formed this lake, and continually leaves large chunks of ice floating in and around the black sand beaches made up of volcanic rock.
Experiencing beaches in Iceland is not your stereotypical beach experience, but was one of the best parts my Icelandic vacation.
Read about our Icelandic vacation here >> Top 10 Things to do in Iceland in the Winter.
Koekohe Beach, New Zealand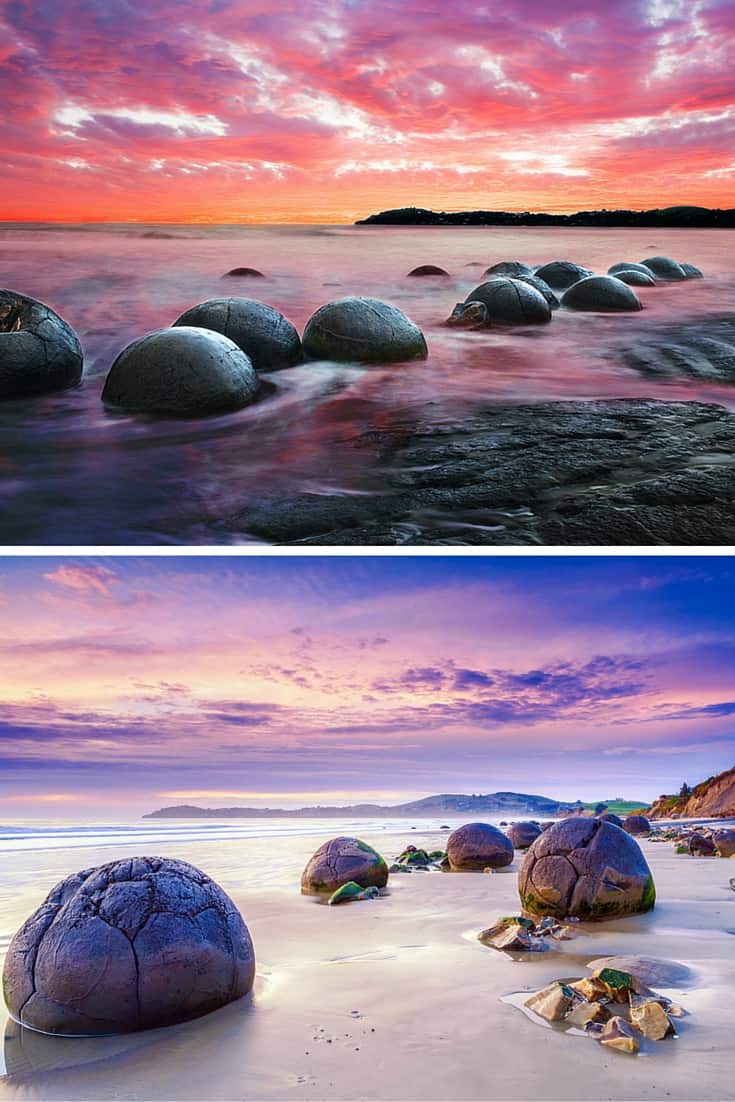 Photo: Vicki Mar / Flickr
Koekohe Beach is most famous for the Moeraki boulders. These boulders seem out of place on a beach, but were not carved or placed there by man. They are the product of millions of years, a unique calcification process, mudstone, and wave erosion.
Don't Miss These Articles on New Zealand!
Bioluminescent Bay – Fajardo, Puerto Rico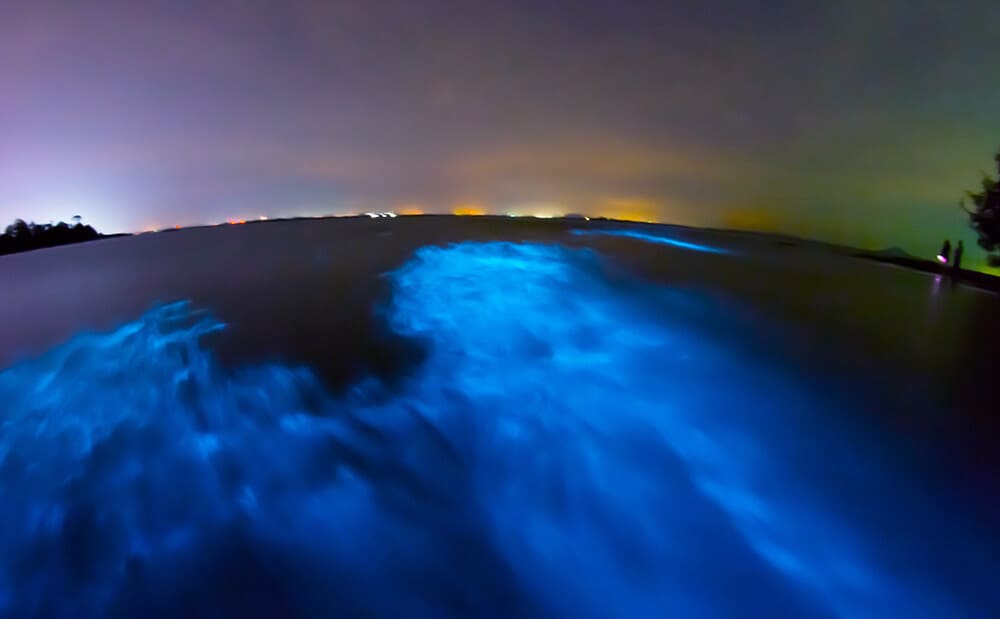 Yes, glow in the dark beaches do exist, and no, it is not because of leaking glow sticks after a wild rave. Evidently miniature organisms called Dinoflagellates naturally occur in parts of Puerto Rico, and possess the ability to give off the beautiful blue-green glow.
These beaches are best observed with no moonlight, so be sure to check the schedule before you go (for more about missing the best observation times, read about my trip to Puerto Rico).
Iriomote Beach, Japan
Photo: Wiki commmons, Mouser Williams / Flickr
At first glance, the beaches at Iriomote Japan look substantially similar to other beaches, but upon closer examination the beach features sand that is made up of millions of little stars. The little stars are actually the calcified shells of local sealife, but a unique combination of features cause the shells to gather on the shore. The sand has become quite a collectors item, so if you don't have the ability to go to Japan and want to check out the sand, you can buy some of the sand off of eBay.
Love Japan? Us too! Don't miss our most popular content on Japan here.
Anse Lazio, Praslin, Seychelles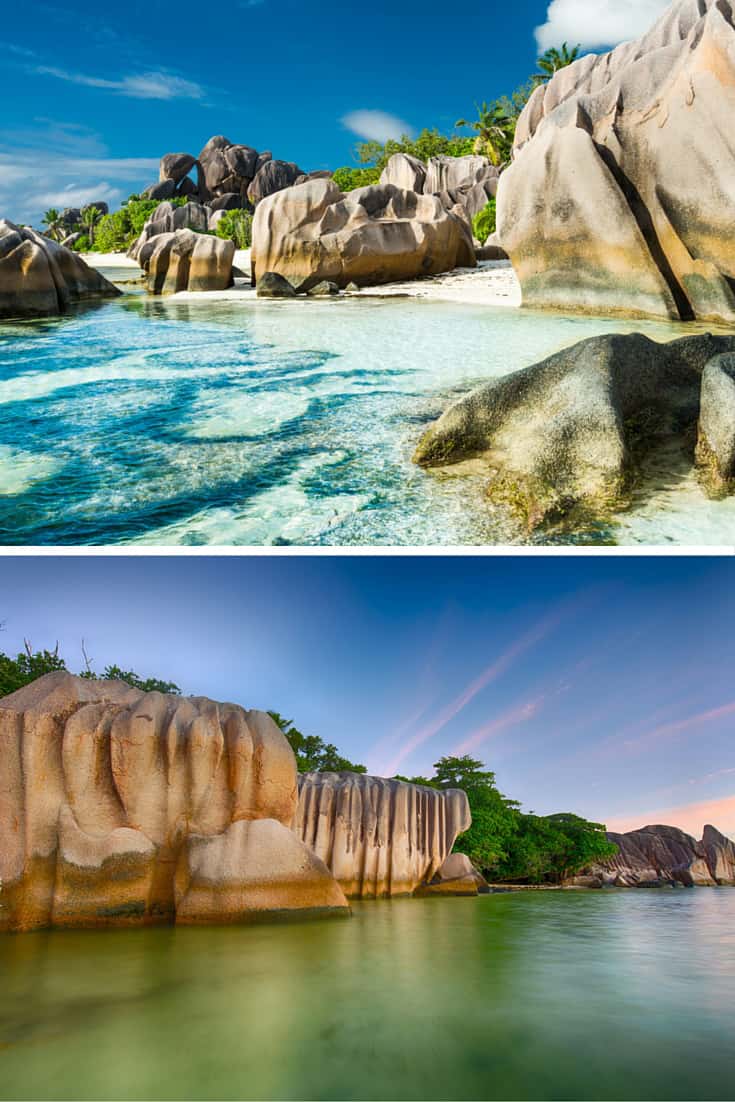 The Seychelles are a relatively unknown island nation in the middle of the Indian Ocean. The Seychelles are also home to one of the most beautiful beaches in the world, Anse Lazio.
The unique looks of Anse Lazio make it stand apart from the typical beach, and appeal to travelers from all over the world. Not only does the beach consistently feature clear blue green water, but the combination of plant life and smooth enormous granite boulders make it look like no other. This one is still on my list to definitely try and visit.
Lençóis Maranhenses National Park, Maranhão, Brazil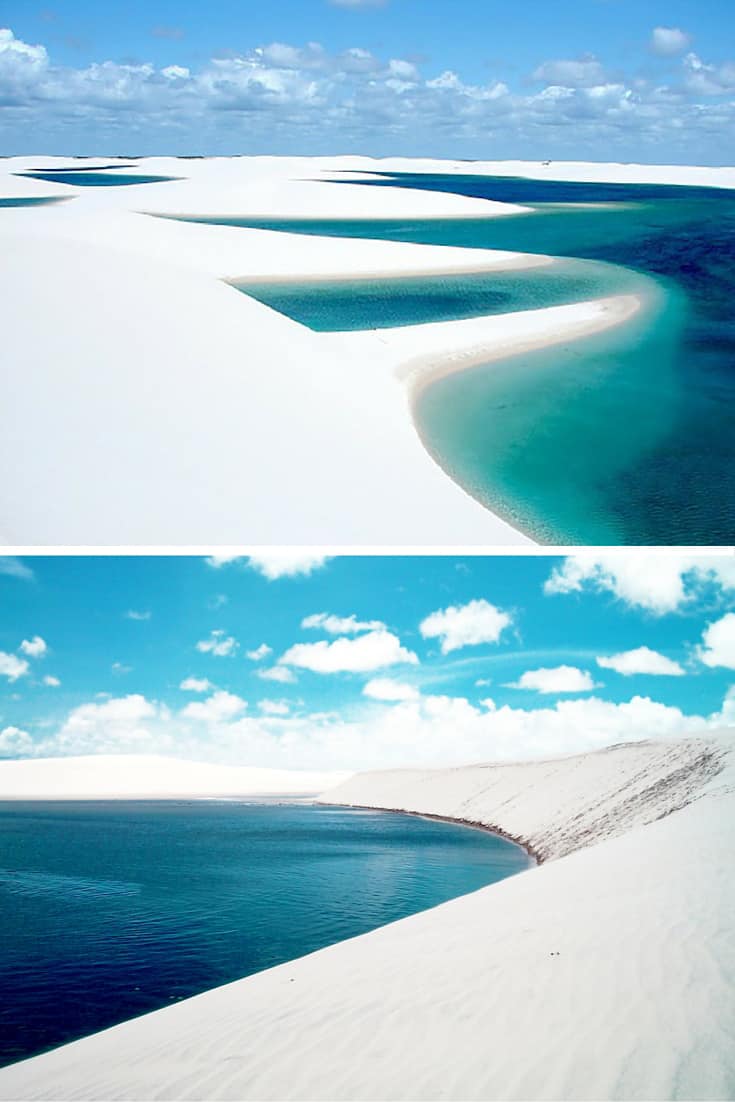 Photo: Wikicommons
This beach is no mirage, but is actually a temporary freshwater beach in the middle of sand dunes. Lençóis Maranhenses National Park's unique geography keeps vegetation from growing, (which preserves the dunes) yet the ample amount of rain received in the area runs between the dunes to form temporary beaches. Not only is the process unique, but the sand and water form beaches that are truly beautiful.
Glass Beach, Fort Bragg California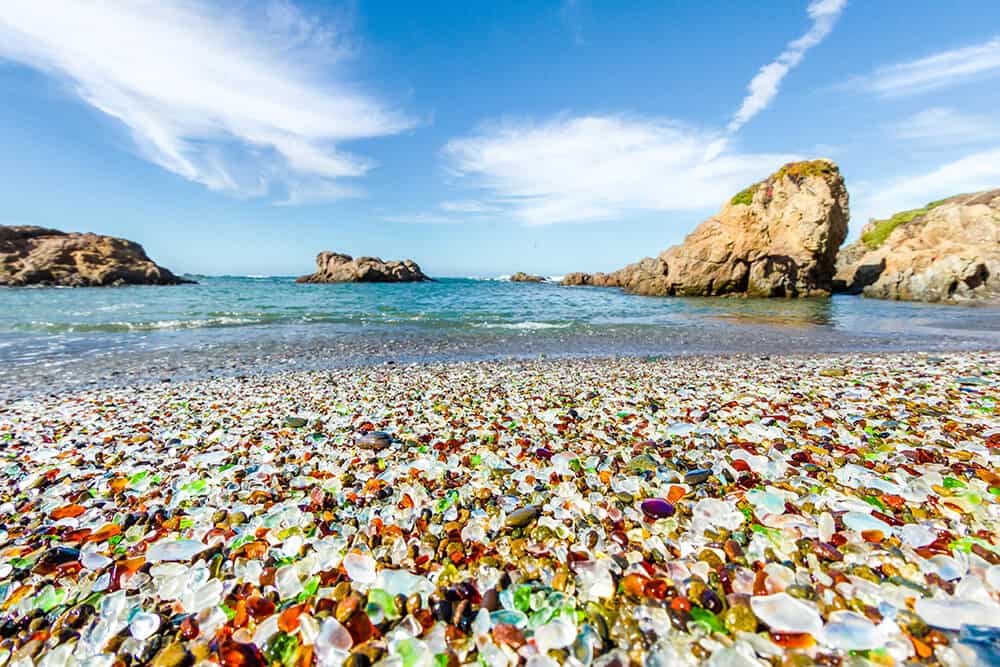 Glass Beach is located near Fort Bragg, California, and gets its name from the tons of sea glass laying on top of the sand. The beach really is covered with massive amounts of frosted glass. Surprisingly, the glass comes from years of garbage being dumped near the ocean. Don't get any ideas about littering being a great way to create beautiful beaches though, as the state of California has worked very hard to clean up the damage their previous dumping caused.
Maho Beach (Airplane Beach), Saint Martin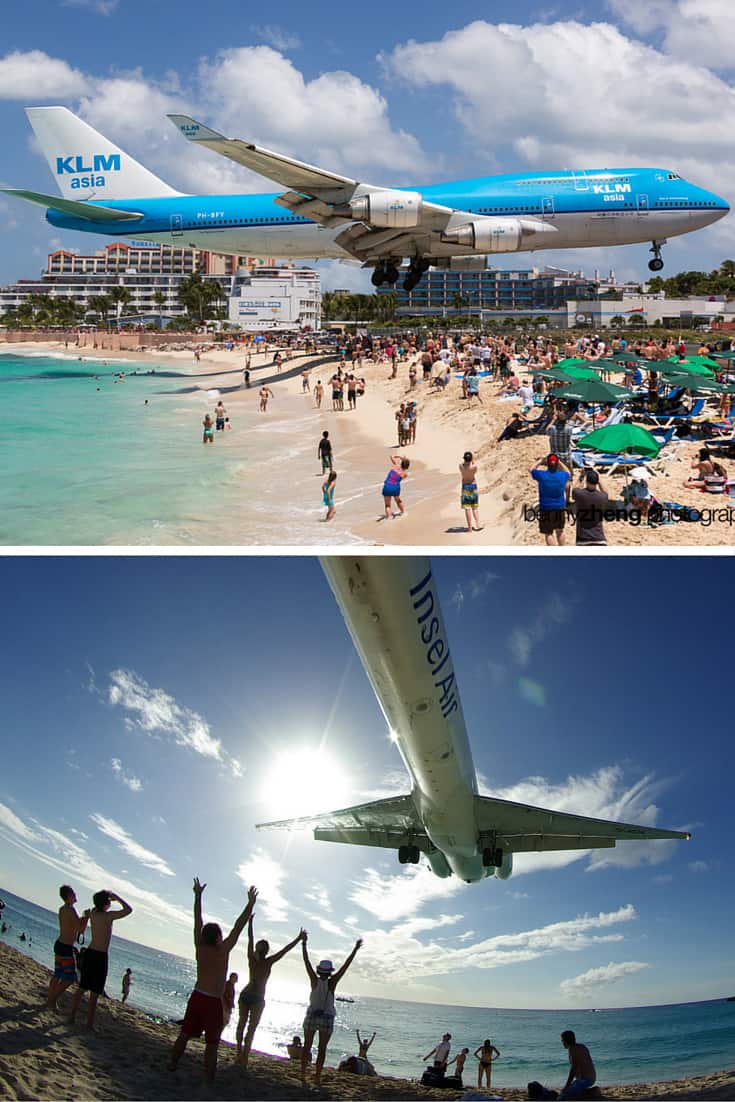 Photo: Takashi Ota / Benny Zheng / Flickr
Maho Beach, or Airplane Beach, is on the Dutch side of the Caribbean island of Saint Martin. Even though it is a beautiful beach, it is best known for its proximity to the Saint Martin International Airport. The runway is located abnormally close to the beach, which creates an exciting event every time a plane comes in to land. Visitors love to get close and see the massive planes approach, but be careful because jet blast has been known to knock people over.
Scala dei Turchi, Sicily, Italy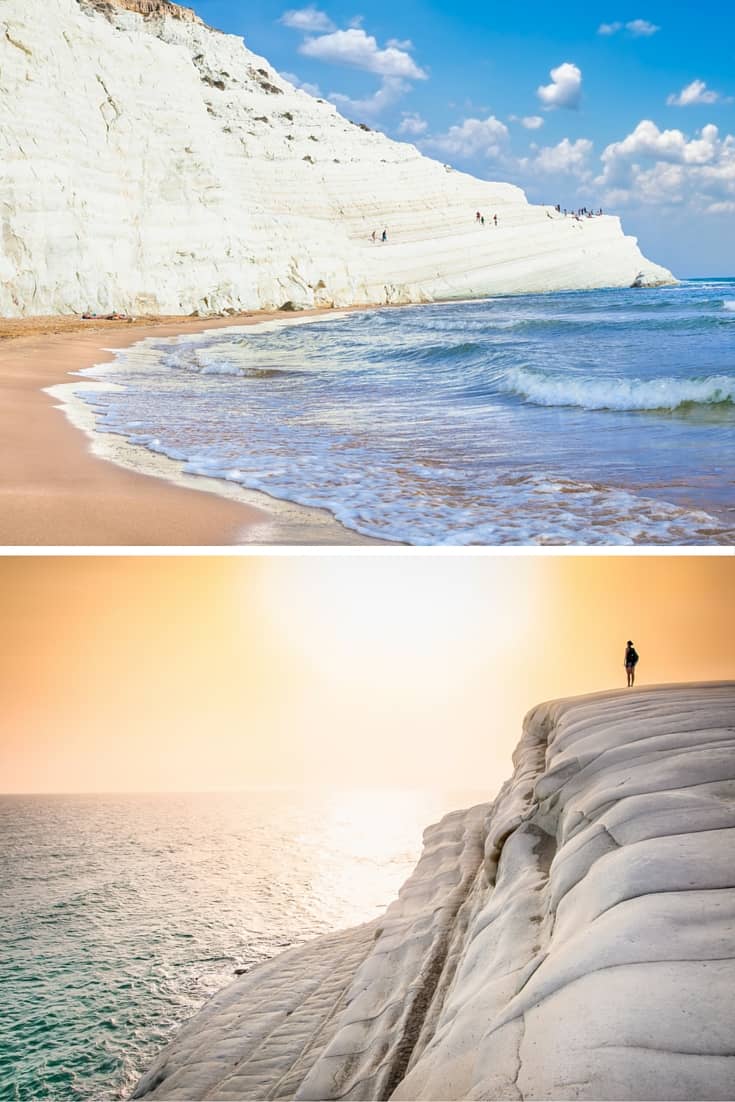 The Scala dei Turchi is a beach in southern Sicily that translates to the Stair of the Turks. The name makes sense as the cliffs are naturally formed into brilliant white stairs, though I am not entirely sure why the Turks get ownership credit (supposedly because the Turks crawled up these steps during an invasion). This unique beach is a can't miss.
Papakolea Beach – Kaʻū, Hawaii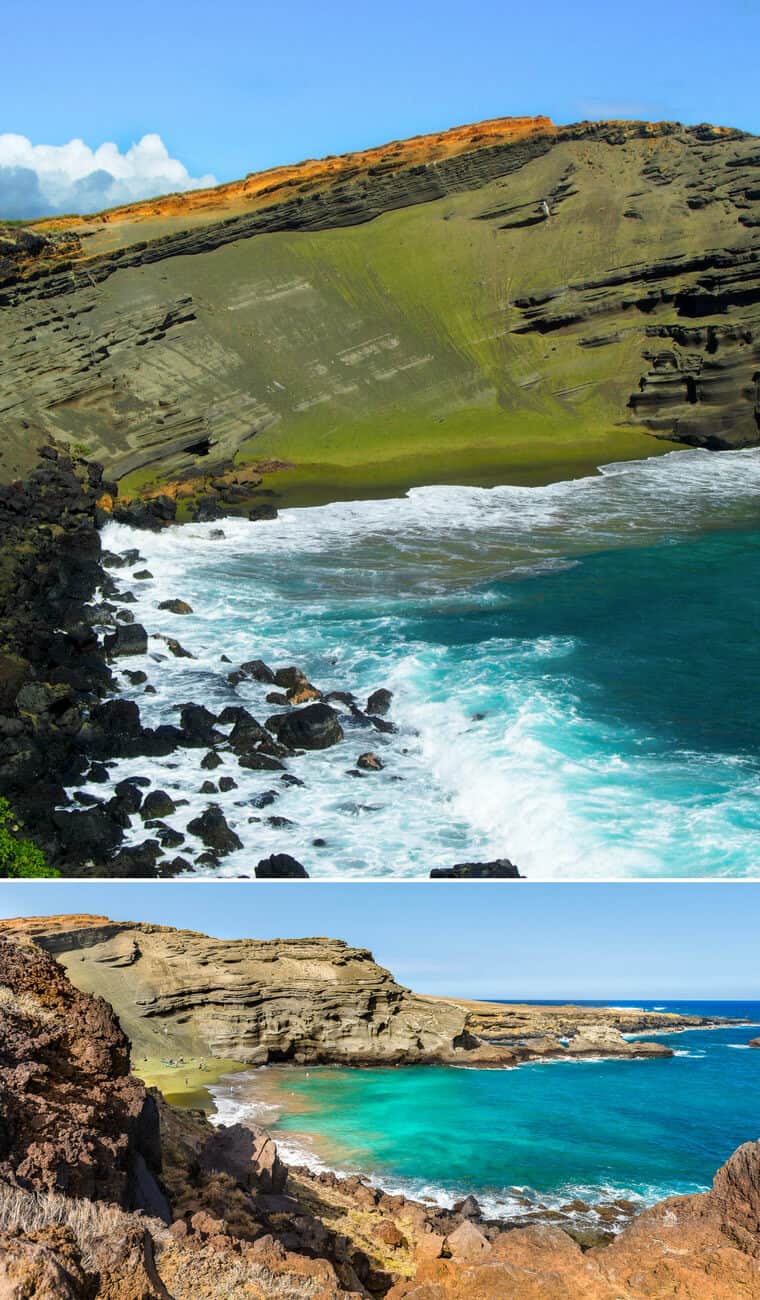 Not only does Hawaii feature the typical brownish white sand beaches, red sand beaches, and black sand beaches, but Papakolea Beach features a uniquely olive colored sand.
This secluded beach gets its green sand from a silicate mineral named olivine, which comes from Hawaiian lavas. I've seen green beaches and thought they were gross (they were gross because they were overgrown with alge and filled with rotting seaweed), but the green on Papakolea beach is entirely different and awesome.
Whitehaven Beach – Whitsunday Island, Australia
Whitehaven Beach is a beach that Australia should brag about more. Many beaches claim to have "white sand", but Whitehaven is a beach that actually has pure white sand! The sand is made up of 90% silica, which gives it its pure white color, and keeps it from retaining heat. I hate burning my feet walking across sand, but at Whitehaven Beach, this is not a concern as visitors can romp around barefoot.
Exuma (Pig Beach), Bahamas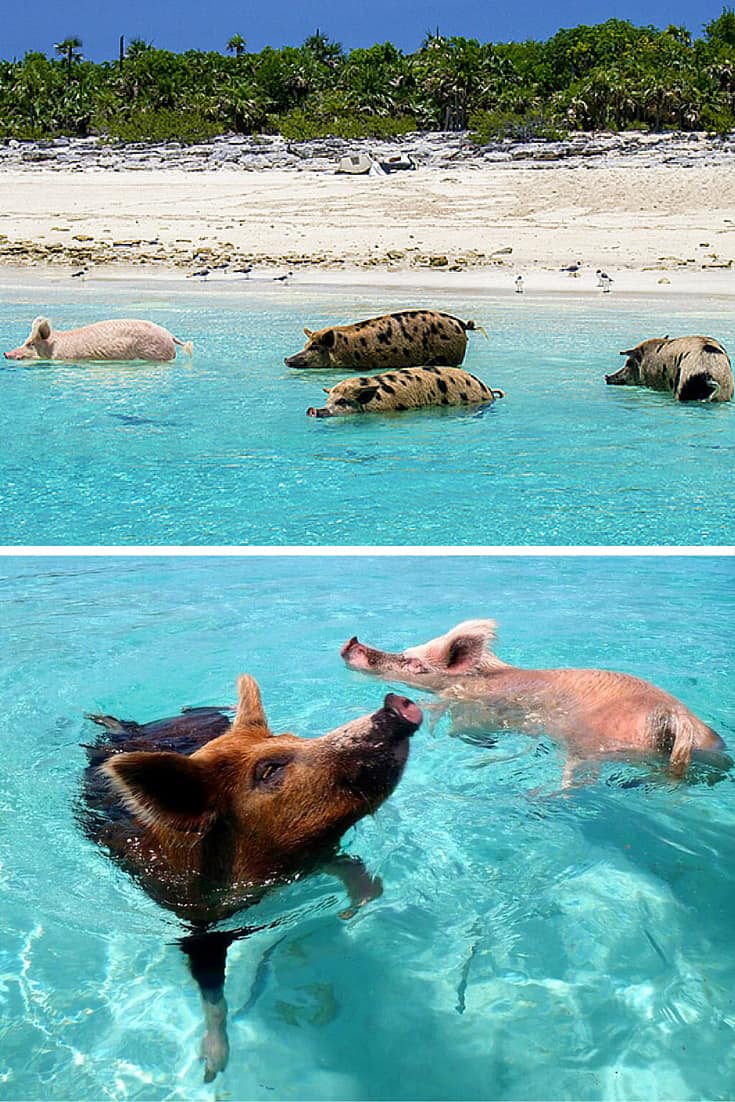 Photo: Norm Lanier / Flickr, Wikipedia
When most people dream of the ideal beach vacation they dream of clear blue water, miles of soft sand, and pigs to swim with…wait, you don't dream of being able to swim with cute little pigs? In Exuma in the Bahamas, this is exactly what happens. No one knows where exactly the pigs came from, but these lovable locals make this beach one like no other as they frolic around the beach and routinely dive into the ocean for a swim.
Hidden Beach – Marieta Islands, Mexico
It's not very often that a random hole in the ground opens up into a beautiful beach. Why couldn't I find a beach like this when I used to dig holes in my back yard?
Puerto Vallarta, Mexico is already a great choice for a relaxing vacation, and this hidden wonder hole on one of the nearby Marieta Islands makes it even better. Be careful though, as it is hard to get in and out of, but Scuba diving in from the Ocean is an option!
Which unusual beach do you most want to visit?!