There are A LOT of things to like about Puerto Rico; I honestly do not know why we don't hear about it more. Most people don't realize how amazing the destination is and how easy it is to plan a trip there.
Flights there aren't that expensive, and with it being an American territory there are a number of things that make it even more enjoyable if you are coming from the mainland.
Best Things to do in Puerto Rico
First off, if you are coming from the United States you do not need a passport to enter; it is a domestic flight. Also, most American cell phones still work there without extra charges.
On trips it can be nice to be disconnected from my technology, but let's be real, on trips it is super nice to still be able to be connected. Also, the official currency is the US dollar so if you are American you don't have to worry about exchanging currency.
Puerto Ricans speak Spanish but they are accustomed to English speaking tourists from the mainland. In most areas the locals have at least a rudimentary understanding of English.
The main island isn't too big so it isn't hard explore things on both sides. The Puerto Ricans I met were a perfect blend of laid back island style and playful hispanic.
Best places to stay in Puerto Rico:
Although I have only been to Puerto Rico once, my husband has been there multiple times and stayed in multiple hotels. When we went we stayed in the Hyatt Place San Juan City Center and loved it.
Our hotel was located in the Condado area of San Juan where almost all the attractions on this list will be close to you. I highly recommend staying in the Condado area of San Juan. It is super safe, right on the beach, and within walking distance to great restaurants, bars, clubs, etc. Definitely one of the best places to stay in Puerto Rico. Check current prices here.
You can search for the best hotels in San Juan below from booking.com
Top 10 Things to do in Puerto Rico
Here are my picks for the top things to see in Puerto Rico. What would you add to the list?
1. Fort San Felipe del Morro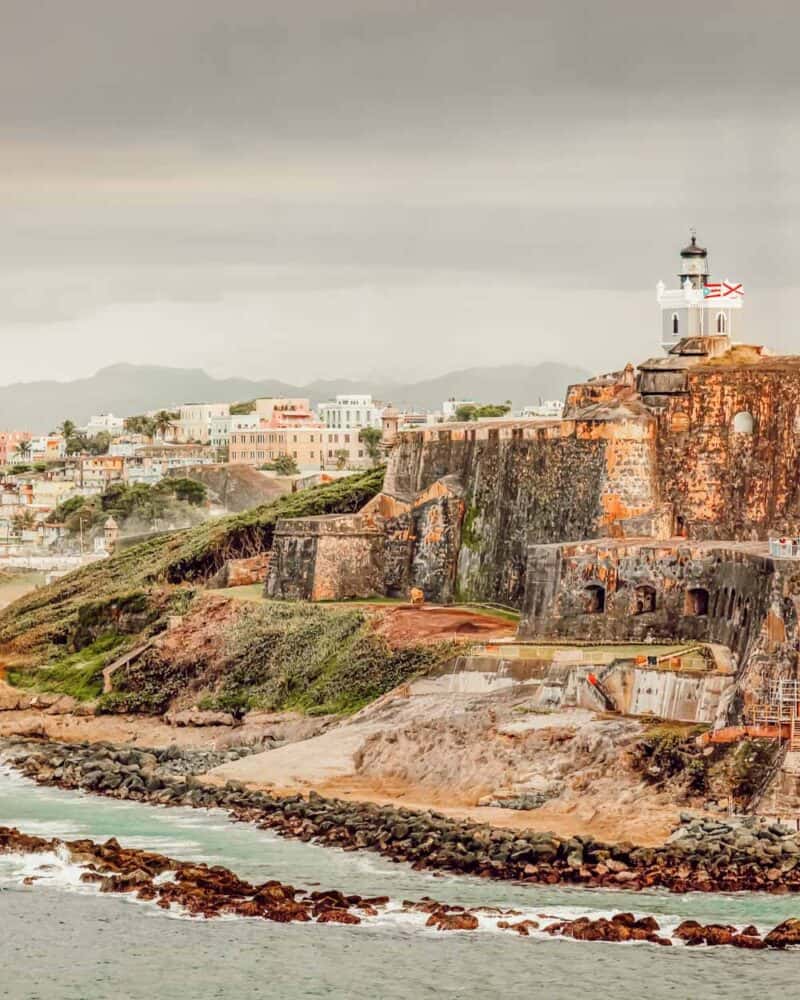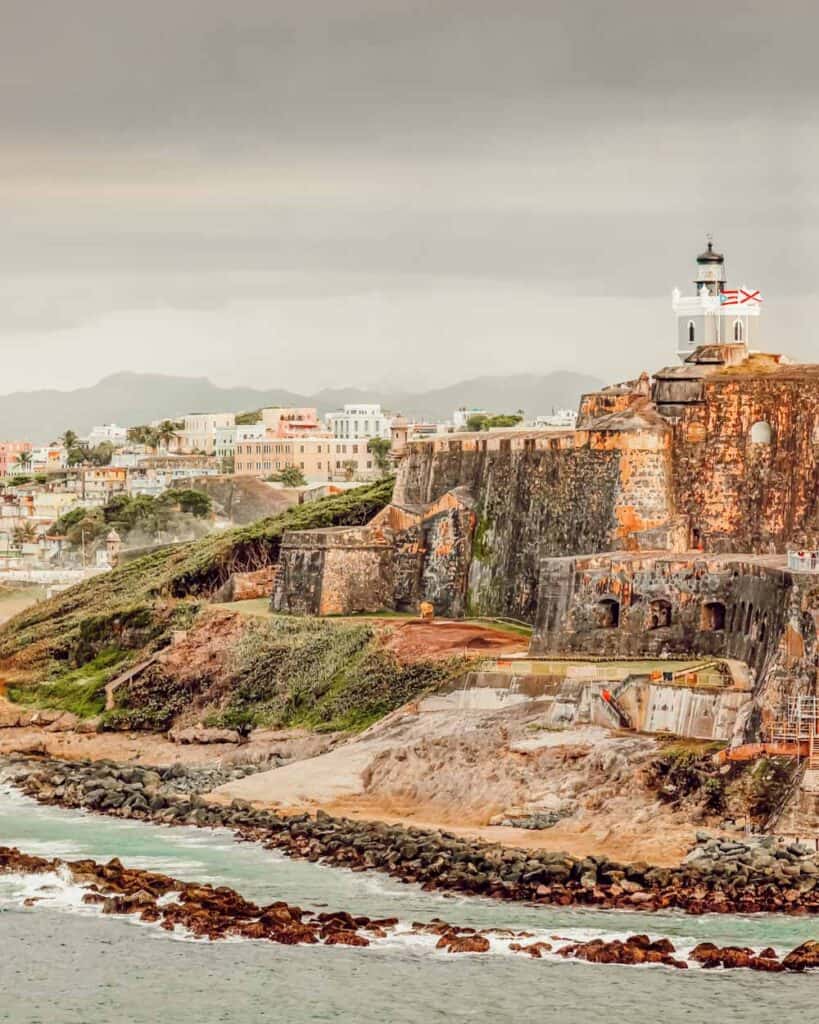 This huge citadel was built in the 1500's by the Spanish to protect the Puerto Rican harbor. Even today it is a huge and imposing edifice on the edge of the promontory. It is easy to imagine historic warships coming in and out when touring the Fort.
2. Things to do in Old San Juan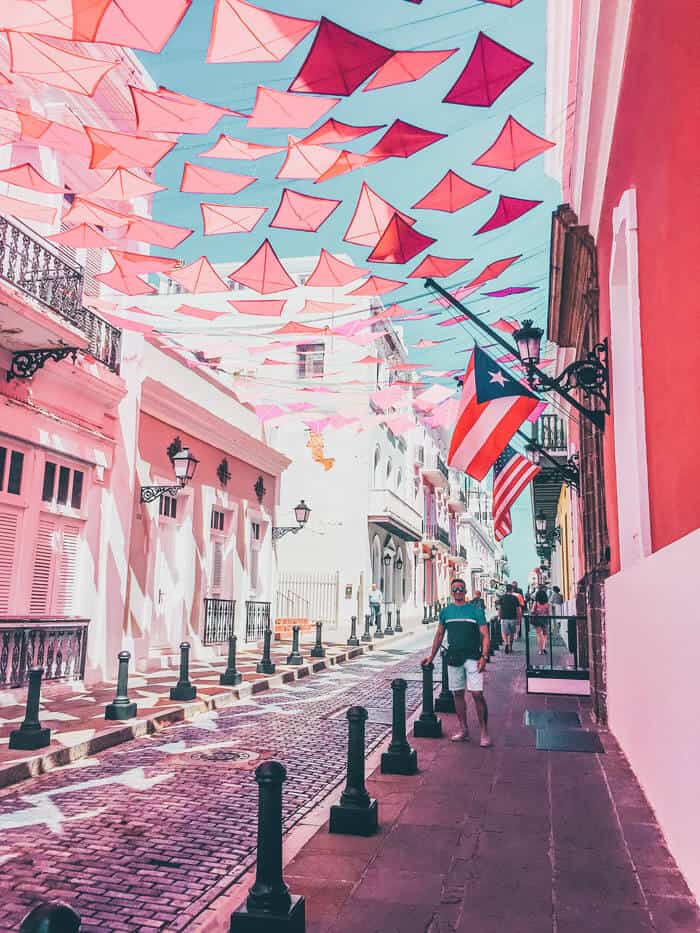 It is not hard to find things to do in Old San Juan. This is the oldest settlement in Puerto Rico and it overflows with colonial charm. The thin cobblestone streets and colorful Spanish architecture make this quaint town perfect.
3. Bioluminescent Bays

Puerto Rico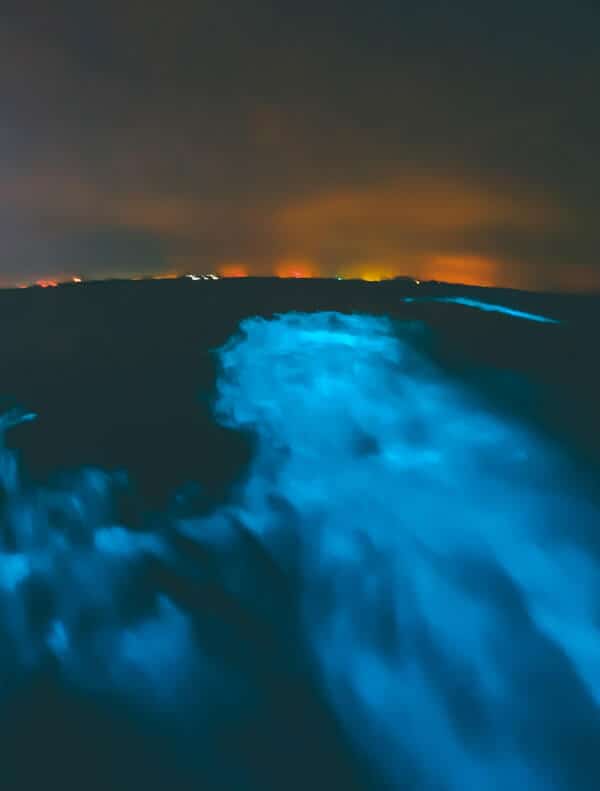 The water just off the coast of certain parts of Puerto Rico literally glows at night! The microscopic organisms responsible for the blue-green glow light up when there is movement in the water to create this incredible glowing water in Puerto Rico. I.e. when swimming in the water (perfectly safe) your arms and legs will cause swirls of blue-green glow.
The best bioluminescent bays in Puerto Rico are near Fajardo, Lajas, and Vieques.
I HIGHLY recommend taking this boat tour to see the bio bays, but make sure to check the lunar cycle as they can't be seen very well during a full moon!
The Parguera Bioluminescence Bay Boat Tour will pick you up in San Juan and drive you to the bay and back (about 2 hours each way). They will also take you out into the heart of the bay and give the adventurous an opportunity to swim in the glow. The experience is truly unique!
When is the best time to go?
While you can see them year round, the best time of the year to visit the bio bays is from December to mid-April, this is during the dry season. Too much rain can cause the waters to get cloudy making it much harder to see the glowing water.
Here are a few of the top rated and most popular tours Bioluminescent Bay :
4. El Yunque National Forest
El Yunque is an explorers paradise. There are tons of the best hikes in Puerto Rico here through the rain forest. The foliage gets so dense that you can easily feel completely isolated, even if there are other hikers nearby.
Make sure you make it to a few waterfalls including Juan Diego Falls and La Mina. If you don't want to navigate everything on your own I recommend this half-day tour to see the waterfalls and rainforest.
Here are the top rated El Yunque National Forest Tours:
5. Cueva Ventana (Window Cave)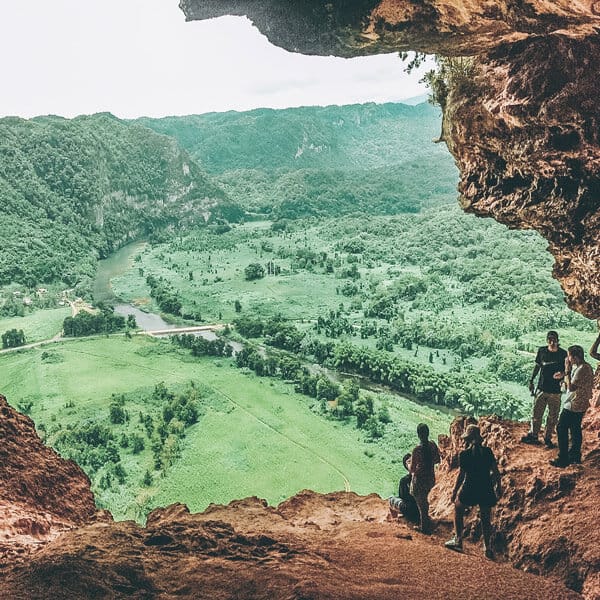 Exploring caves with exquisite views, yes please! Accessing these caves is an easy hike off the main road and they are located about half way between San Juan and Aguadilla. I bet you can guess why they call it the window cave.
6.

Snorkeling in San Juan (& Scuba Diving)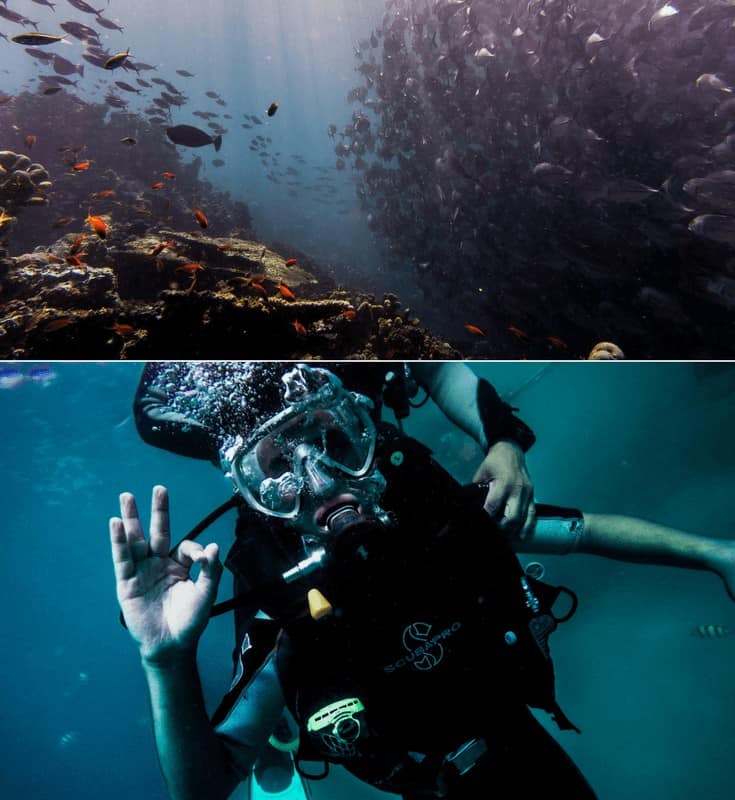 Puerto Rico features numerous dive sites (there are also snorkeling sites, but these often aren't at the same locations). There are coral reefs, underwater caves, and an array of sea life for divers of all levels. The snorkeling tours in Puerto Rico are amazing.
You can find a list of snorkeling tours (including price and reviews) here on GetYourGuide. I use GetYourGuide when I want to uncover new things to do in my favorite destinations. They're easy to use and book with, and I've explored the best of my destination with their tours.
Best snorkeling tours in Puerto Rico:
7. Rain Forest Zip Lines
The rainforests in Puerto Rico are steamy and lush! One of the best ways to get a tour of them is the fly over the top and through on one of the numerous zip lines. There are many to choose from and certain tours like this one will even pick you up from your hotel.
El Yunque rainforest zipline is the best!
There are a variety of highly rated zip lining tours available, see our top picks below based on customer reviews:
8. Relax on the Best Beach in Puerto Rico – Vieques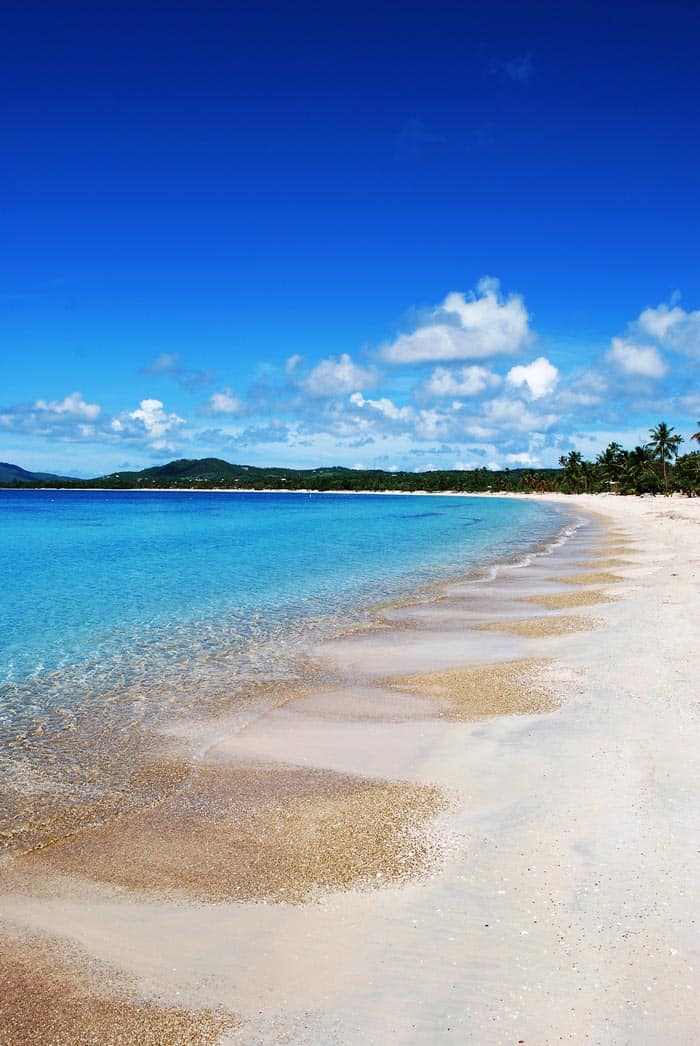 If you are looking for an undeveloped tropical island escape you should check out Vieques (but go quick because people are discovering it features some of the best beaches in Puerto Rico).
Vieques features endless beaches, but with the charm of homes that don't feature addresses (just names) and horses, chickens and roosters running wild in the streets.
To be clear, Vieques is a separate smaller island than the "main" Puerto Rican island that skews higher end with its visitors.
Book your tour: Snorkeling Tour to Vieques Island – Half day tour that covers some of the best snorkeling spots on the island. *Includes snacks and beverages.
If you enjoy vacationing on the beach, you may enjoy our post on some of the craziest and most unique beaches in the world.
9. Condado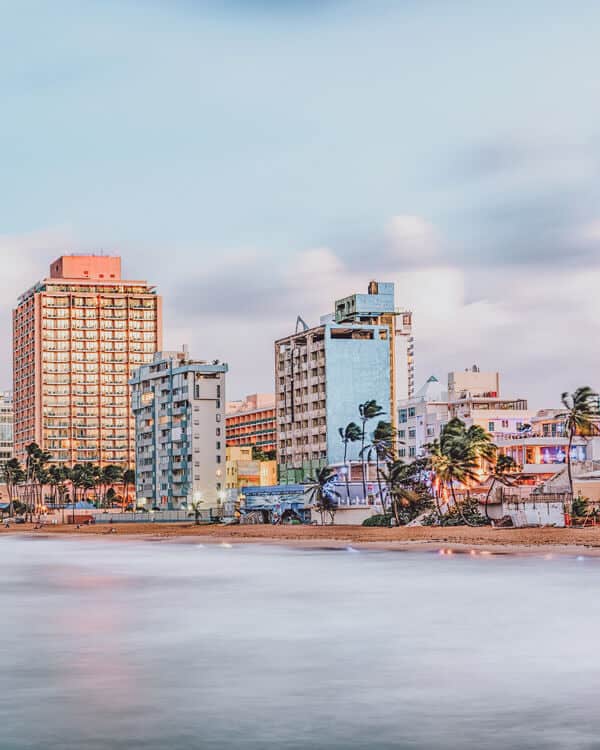 In my experience this is the busiest tourist district of San Juan. There are beautiful beaches, good restaurants to eat at, and most importantly one of the best places to shop in Puerto Rico. Also, this is where you can find the nightlife featuring bars, night clubs, and casinos.
10. Enjoy the Best Places to Eat in Puerto Rico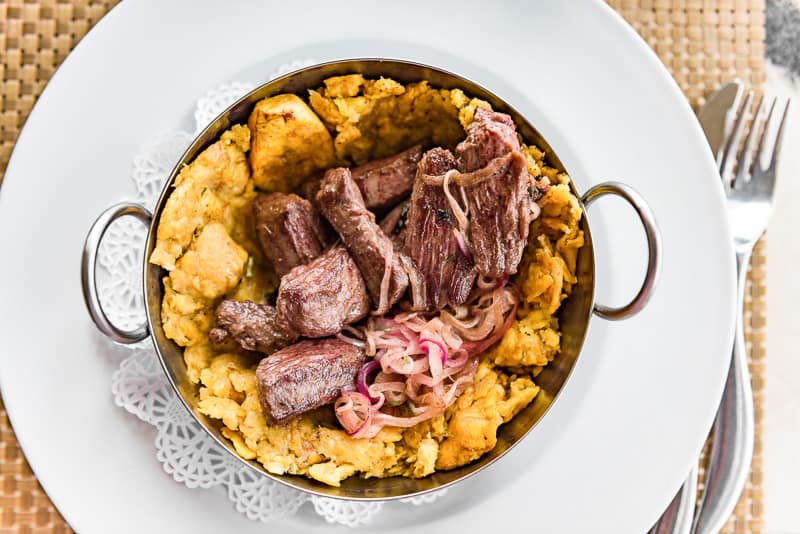 Puerto Rican food is not like Mexican food! I'll admit it, I was the idiot that expected similarities. It is not spicy and is typically not wrapped in tortillas.
The biggest commonality I observed was rice and beans, but most of the best Puerto Rican dishes I sampled featured pork and plantains. Delicious! Discover the best food tours in San Juan here.
Book your foodie tour: Flavors of Old San Juan Food Tour
Puerto Rican Food & the Best Restaurants in Puerto Rico
Santaella
Estela Restaurant
La Alcapurria Quemá
La Casita Blanca
Que PezCa'o
La Cambija
El Verde BBQ
What to Bring to the Beach
Travel towel – So much easier to pack these quick dry microfiber travel towels than go without or be forced to buy one once there. We always travel with at least two of them.
Dry Bag – There are some lessons you just don't want to learn the hard way. Ruining your phone, camera, or other valuables at the beach is a very expensive lesson to learn. This dry bag is amazing and works for any and all water activities.
Reef-safe sunscreen – The sun here can be very strong. Make sure to wear a reef safe sunscreen or a rashguard.
Rash guard or long sleeve swim top – I wear the one from Skims and I love not having to worry about getting burned when I am out in the sun ALL DAY. Free people also has some amazing rash guards you can shop here.
Backpack or waterbottle sling – I am obsessed with my Beis travel backpack. I never travel without it. It is seriously the perfect size. Not too big, not too small. If you don't want to bring a full backpack this waterbottle sling is my absolute favorite. It fits a waterbottle, iPhone 14 pro max, plus some extra space for bars or snacks or your wallet.
Packable snacks – I always travel with these That's it bars from Amazon. OMG, they are sooo good and only have a few minimal ingredients.
I hope this guide to the best things to do in Puerto Rico helps you plan your visit!
Have you been to Puerto Rico? What were your favorite things to do?
Please let me know if you have any questions or need help planning your visit in the comments below.
Hover over the image below to share this post to Pinterest for later!
Looking for more tropical vacation inspiration? Check out some of our most popular posts below.