Things to do in Cancun
Curious why people get crazy excited about wanting to visit Cancun but don't know why? Confused because there are a lot of beach destinations, but Cancun seems to have an allure uniquely its own? Wondering if there are any fun things to do in Cancun besides lounging on the beach?
What makes Cancun so popular isn't just that it is known to feature stunning beaches (it does). It isn't that it provides access to some of the most amazing Mayan ruins either (it does). It's the beaches and ruins plus loads of other amazing attractions, i.e. underwater museums (yes you read that correctly), naturally occurring cenotes, jungle excursions, adventure sports, coral reefs, etc.
Cancun History
The name Cancun can be translated to "nest of snakes" in Mayan. Normally a name like this would be enough for me to cross the destination off the map immediately. They do a good job of keeping the snakes away and everything else about the destination is too perfect to avoid.
In the 1970s the Mexican government wanted to develop the area for tourism. Shockingly they couldn't find corporate backers, and had to finance the 9 original hotels in the area. The Mexican government knew what a gem they had. The investment obviously paid dividends many times over by attracting millions of tourists. Some tourist destinations are popular simply out of habit, but Cancun is one that I believe lives up to the hype.
What to Pack?: Before you head off to Cancun, make sure you read my Cancun Packing List guide so you know what essentials you need to enjoy your tropical paradise.
Where to Stay in Cancun
Wondering where to stay in Cancun? The first thing you need to decide when planning a vacation in Cancun is where you want to stay.
The best resort in Cancun depends on what you are looking for. There are options for every budget, and the best area to stay in Cancun depends if you are looking to party (if this is you I would recommend staying in Punta Cancun as there are a ton of more affordable hotels attracting tons of young college aged partiers) or if you are looking for a slower more luxurious offering (the best resorts in Cancun can often be found on some of the surrounding islands or beaches outside of town).
The best places to stay in Cancun should be matched to the rest of your itinerary, whether you intend to sit on the beach and do nothing, or cover a lot of ground visiting ruins and natural park.
Cancun Hotel Zone
We stayed in the Cancun hotel zone because it was where all the best beaches were while avoiding the spring breakers. (Nothing against spring breakers, we just weren't in the mood.) It was also right in the middle of all the action – restaurants, shopping etc.
The reason you stay in this hotel is because of the location (right on the beach) and the pools. Pools, beaches, swim up bars etc. we absolutely loved it. We would absolutely recommend this hotel if you want the amenities you can see pictures of them here, hot tubs, yoga classes etc.
If you want to be in the spring break 24/7 jello shot part of Cancun this isn't it. We were probably the youngest couple to stay here (in our 20's), which wasn't a bad thing, we got to enjoy the entire beach to ourselves it felt like.
It is about a 10 minute drive to the spring break action, so close enough to it. Another benefit is you are a lot closer to the airport, and easy access to other inland attractions we wanted to explore – Chichen Itza, Cenotes, etc.
The rooms at this hotel are fine – not great. They are clean, and have the basics that you need. Check availability for this hotel here.
All-inclusive, the Royal Sands Cancun beach resort is one of the most popular family-friendly vacation spots in the zone, with beach front views, tennis courts, fitness centers, and numerous outdoor pools.
Adults only, all-inclusive, private beach area 6 restaurants and 5 bars and very expensive. Hyatt Zilara is located in the Cancun hotel zone. If you have the budget, this is the hotel I would go with. Check current availability and prices here.
Places to Visit in Cancun
So why should you travel to Cancun? Read on below to find the best places to visit in Cancun!
Cancun Beaches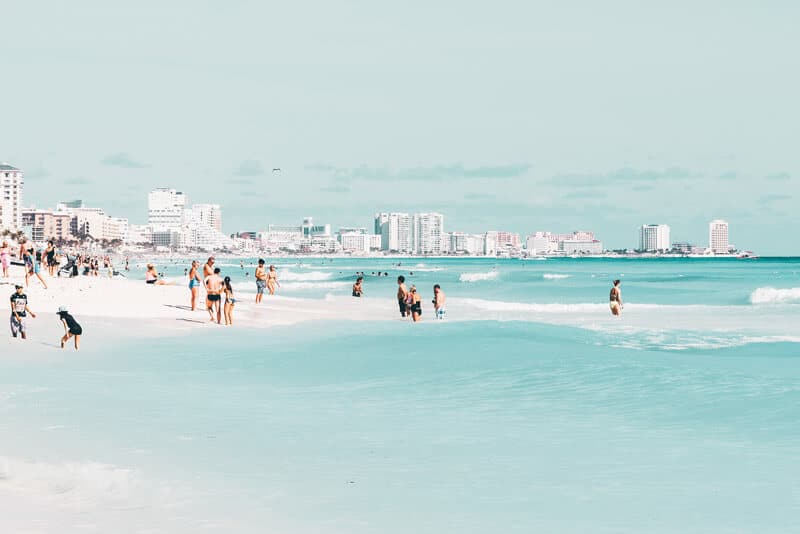 Soft white sand and clear turquoise water should be enough to say on the subject, but there is even more to understand about the beaches in Cancun.
There are miles and miles of beaches to choose from (about 14 in the main Cancun area that are shaped like a gigantic number "7". One of the best features of the Cancun beaches is that most of them are open for public access and don't require you to book a stay at a $3,000 a night resort.
Some of the Cancun beaches get decently powerful waves, so if you want to avoid them book a hotel that is behind Isla Mujeres.
Lounging on the beaches is one of the best things to do in Cancun with kids.
Worth noting is that when on the beaches expect to encounter vendors trying to sell you all sorts of trinkets and knick knacks. Generally they are pretty friendly and leave you alone if you aren't interested, but if you are, make sure to bargain on prices.
Click here to see some of the world's most unique beaches.
Visit the Cenotes in Cancun
A cenote is naturally occurring sinkhole that often fills with water and forms underground rivers and caves (more here). Mexico's unique geography allowed approximately 7,000 of these awesome features to form.
The fresh water makes them great for swimming, viewing marine life, cave exploring, and even helps lush vegetation grow.
Though there are many, Cenote Ik-Kil is probably the most popular in Cancun. Its location near Chichen Itza allows you to visit both in the same day, but there are plenty others if you prefer to find one with less people.
My favorite is Cenote Suytun.
If you don't want to drive around Mexico yourself to get to the cenotes, there is an option for a fully guided cenote tour, including a professional guide, and lunch! Most of the tours offer pickup from your hotel lobby. I have linked the top-rated tours below.
Book your tour: Cancún/Riviera Maya: Chichén Itzá, Valladolid & Cenote Tour
Book your tour: Cancun: Chichen Itza, Ik Kil Cenote, & Valladolid with Lunch
Scuba/Snorkel in an Underwater Museum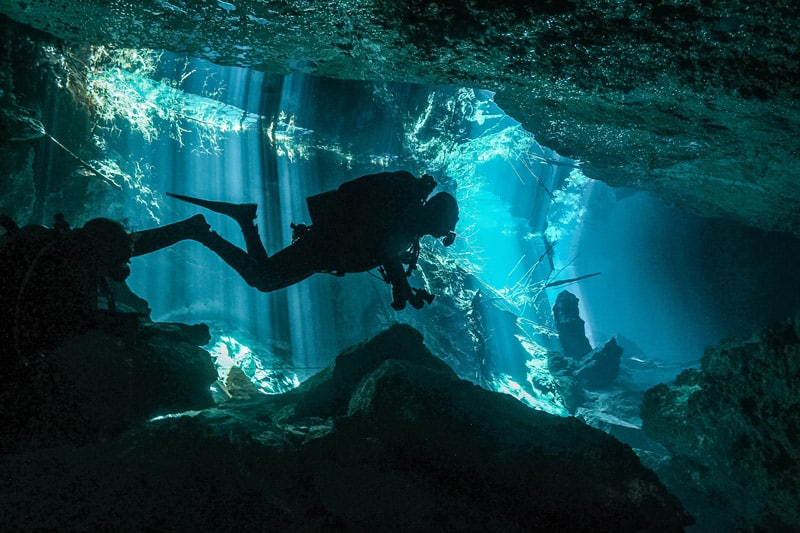 There are all kinds of places in Cancun where you can get certified to scuba dive and then see the sights, but one thing that is incredibly appealing is that there are all kinds of ways to see the underwater sights if you are not exactly comfortable underwater (definitely me).
Many of the sights are in shallow enough water that you can see them with a snorkel, or there are others that offer tours via glass bottom boat.
The most unique to me is the Cancun Underwater Museum (Museo Subacuatico de Arte – MUSA). This underwater museum and conservation site features approximately 500 life-size coral covered statues. Completely accessible by scuba divers or snorkelers.
The warm clear water and artistic environment merged with the natural wildlife creates an awesome experience.
Things to do in Cancun at Night

Enjoy the Amazing Cancun Nightlife
Where to find the best nightlife in Cancun!
The nightlife in Cancun is world famous, and is sometimes so famous that it can even deter some family travelers. The epic spring break party attraction reputation that the "Hotel Zone" in Cancun gets is well deserved though. Cheap flights, cheap hotels, and a drinking age of only 18 attract seemingly endless amounts of college spring breakers.
Best Area to Stay in Cancun for Nightlife
Wondering what the best area to stay in Cancun for nightlife is? Remember that the main beaches in Cancun are shaped in a gigantic "7". Right at the point of the 7 where the top turns down is an area known as the "Hotel Zone". This zone is where you want to go if you are looking to party. There are a huge selection of bars and night clubs, and tons of people to meet.
Best Nightclub in Cancun
The most famous and best nightclub in Cancun is probably Coco Bongos, which should more accurately be described as a nightclub/live show. The truly wild experience features acrobats, bubbles, live music, projected videos, impersonators, and unlimited drinks!
The cover charge can get expensive, which could explain why so people drink themselves sick (they are trying to get their money's worth of free drinks from their cover charge).
Best Excursions in Cancun
Nature & Outdoor Excursions
The available nature/outdoor excursions around Cancun would take forever to fully explain, but suffice it to say that the options in Cancun's nature excursion department are vast. Some of the most appealing are…
Isla Mujeres
Taking the ferry out to Isla Mujeres is another great day excursion. This small island is only a 20 minute boat ride from the mainland, but it is packed with attractions. I think the biggest draw is Garrafon Natural Park. This park lets people kayak, swim with dolphins, take in cliff ocean views, adventure on a zipline, or (my favorite) snorkel around the surrounding coral reefs. Isla Mujeres is also well known for its Turtle Sanctuary where visitors can get up close and personal with the marine wildlife.
Ancient Ruins Near Cancun
Mayan culture is amazing and so are the Mayan ruins in Cancun. Their surviving architecture and artwork is incredibly unique, and even a non-history buff will find the basic of their civilization fascinating.
There are definitely gruesome elements (i.e. human sacrifices) that make me queasy and uncomfortable, but I definitely am glad for the learning experience.
There are number of different ruins in Mexico that you can choose to visit.
Chichen Itza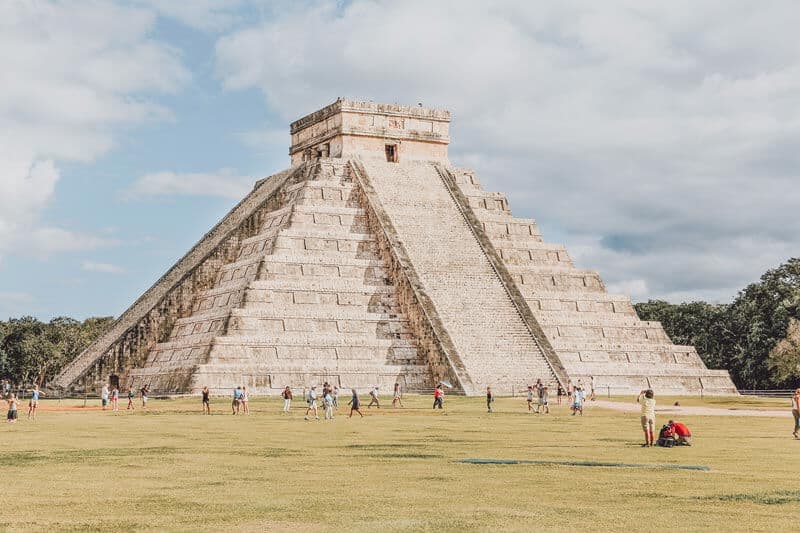 This site features the gigantic Mayan pyramid Kukulkan and is about 2.5 hours away from Cancun, but is entirely worth it. It is intricate and huge, which explains why UNESCO designated it one of the "New Seven Wonders of the World".
Book your tour: From Cancun or Riviera Maya: Chichén Itzá Tour
Related: The Chichen Itza Cenote in Mexico
Tulum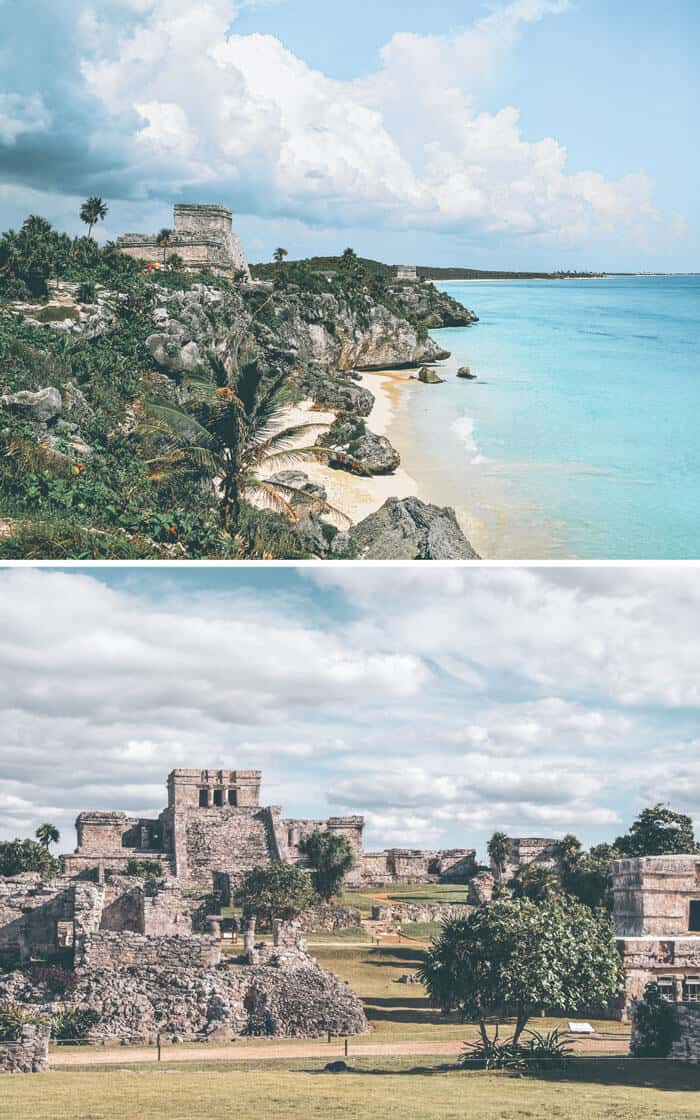 This site is about 1.5 hours south of Cancun, and even though it doesn't feature ruins that are as big as Chichen Itza does, its location on the ocean makes it even more beautiful. There are a number of different structures that were supposedly sites of ancient Mayan rituals.
Coba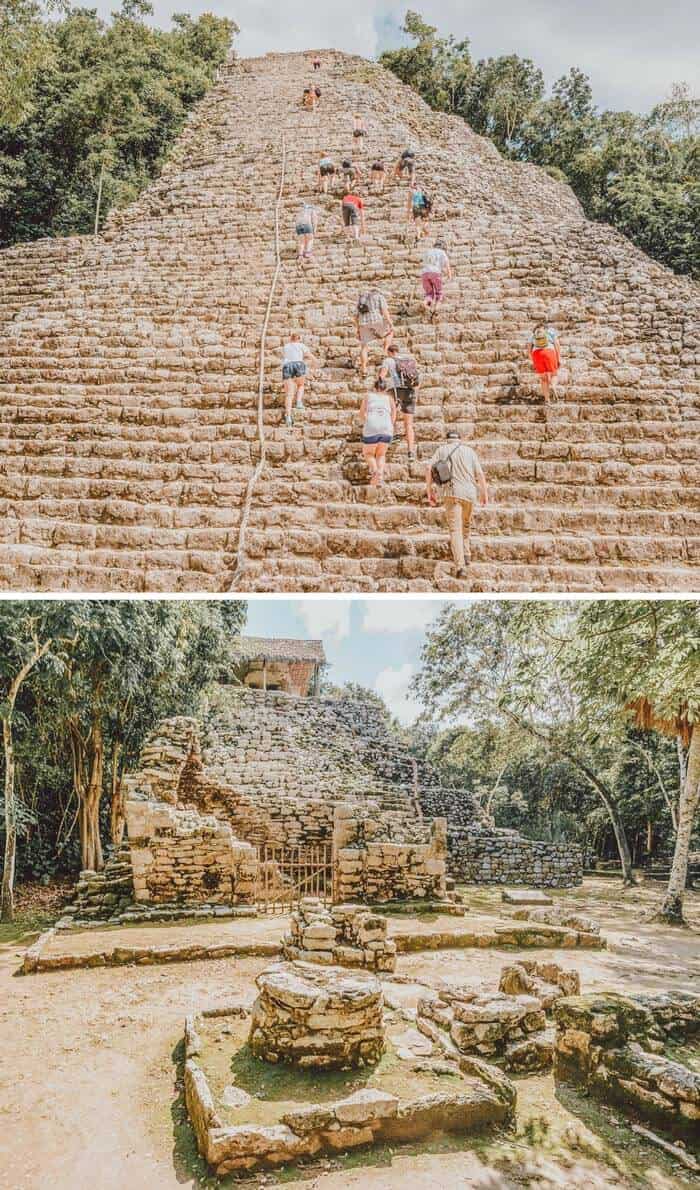 While these ruins are not huge, they are famous for their surrounding roads and the ability for people to rent bikes to ride around and tour.
Golfing in Cancun
Golf is definitely not my style, but beautiful courses attract golfers from around the world. If relaxing on the course is an ideal day for you, you will not be disappointed with your course selection in Cancun.
Xcaret Park
One of the top things to do in Cancun for families is visit Xcaret Park. Though there are many similar nature park preserves, Xcaret Park is one of the most famous.
This park features coral reefs, underground caves, swimming, snorkeling, and even a turtle nesting site. Not only does this park highlight the natural occurring geography in Mexico, but it is also a great cultural expose of Mexican and Mayan culture. You can see a replica of a Mayan Village including artisans working as they did, or performers doing a traditional Mexican dance.
Planning Your Trip to Cancun – Logistics of Your Trip
Cancun Airport
The Cancun airport is the second busiest airport in Mexico, even though Cancun's population is only about 750,000 people. The business of the airport is obviously driven by the millions of tourists flocking in. With so many different airlines flying in you can usually find a pretty decent fare. Also, with the shape of the Yucatan Peninsula Cancun is actually located a lot closer to the United States than most people think, which means shorter flights.
At the exists you will probably run into people offering you free excursion tickets for listening to a presentation on time shares. While most of them are legitimate and will actually give you free excursion tickets, the presentations can be long and some of the sales tactics aggressive.
Safety
There are scary stories about the drug cartels that circulate in Cancun, but authorities typically do a pretty good job of shielding tourists from these negatives. Make sure to know where you are going, take only officially registered taxis, and do not try and buy drugs while there and you should be fine.
Also, don't drink the water! Unless you have a stomach made of iron it will make you sick. This isn't too hard to follow as bottled water is plentiful and cheap.
Getting Around – Driving in Cancun
There are plenty of transportation options available: busses, rental cars, water ferries, and taxis to name a few.
If you don't want to drive you can book shuttle busses to pick you up at the airport to take you to your hotel, and then book excursions from there to any of the tourist hot spots. If you do this you likely will end up spending a little bit more, but the benefit is you have a guaranteed drive and don't have to worry about navigating yourself.
Even though driving in a foreign country can be a little bit daunting, you can cover more ground and save a few bucks by renting your own car. If you happen to get pulled over, don't be surprised if the officer would be willing to accept some cash immediately in lieu of a ticket.
Read more on why renting a car in Cancun is a safe and money saving decision here.
Best Time to Visit Cancun
Surprise, surprise it is hot year round! The best weather in Cancun is in their peak months of December through April, but the area is actually beautiful year round.
It will be especially hot and muggy in June and July, but if you pack your sunscreen and spend enough time in the water, it is still ideal.
Hurricane Season in Cancun
One thing to be aware of is that hurricane season in Cancun runs from late summer through the fall. You will have plenty of warning if one is coming, but one of those storms would sure put the brakes on an otherwise ideal trip.
Convinced yet by all these fun things to do in Cancun? Understand why people keep going back time and time again?