Millions of people want to visit Egypt. Thankfully, there is plenty of infrastructure built to help welcome everyone. The locals are incredibly accommodating and Cairo itself offers tons to see and do.
Due to the demand, there are a ton of great hotels in Cairo. Even though there are a lot of really nice hotels, one that you should consider booking is the Marriott Mena House. This is the exact hotel we stayed in and I am 100% convinced that this is the best hotel in Cairo. The Marriott Mena House is within walking distance from the Pyramids, and that's just one of the many reasons I recommend this hotel. If you are interested in booking the same hotel we stayed in you can check prices here.
Cairo can be a very overwhelming if you don't know where to stay.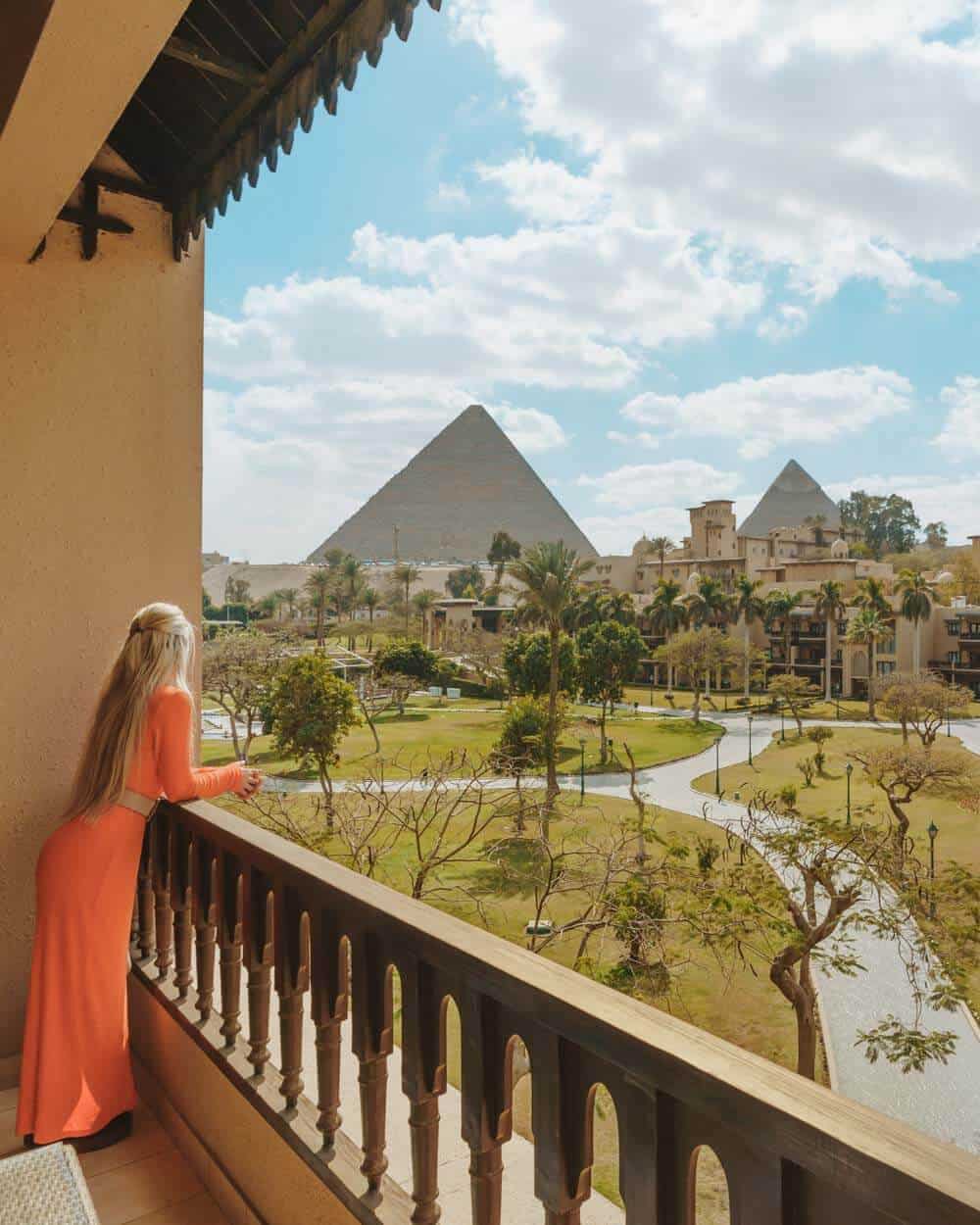 Where to Stay in Cairo: Marriott Mena House
With every trip to Cairo needing to include a stop at the Pyramids, you can't find a better place to stay. This location is also great because there are a lot of markets, restaurants, and action in the area.
Cairo is huge! Some people say that there are unsafe areas for tourists. To help guarantee a safe trip, we wanted to stay in an area that we knew authorities were looking out for tourists. Read more about how to be safe in Egypt here.
The location is within walking distance to The Pyramids of Giza
This hotel itself is located only steps away from the Great Pyramids. After arriving late at night we walked to the Pyramids Visitor Center the next morning in 2 minutes.
Incredible Views
Not only are you right next to the Pyramid entrance, but the entire complex has unreal views of the pyramids. Designers made the property to perfectly frame the pyramids. If you want to know more about visiting the pyramids, then START HERE. They are even better in person.
We booked a room with a Pyramid view from our balcony. It was WORTH the cost, but even if you don't book a room with a view the entire property grounds have amazing views you can enjoy.
Even with all of my Pyramid research, I had no idea that they did a neon light show on certain nights of the week. If we hadn't been staying in a hotel immediately next to them, we would have missed out on this special opportunity.
Spacious Rooms
Since we are Marriott card members the staff upgraded us to a fancier room with a better view of the pyramids for the first night of our stay. The photos above are from the downgraded room. I was in shock to see that the downgraded room was also incredible.
Save Transportation Costs and Time
By staying right next to the Pyramids we were able to save tons of time by being able to walk there in the morning. Not only did this help us sleep in more, but it helped us save on transportation costs by not having to get additional taxis or Ubers.
Cairo is a much bigger city than most people realize (about 20 million people). With so many people around, traffic often gets nasty. I loved being able to avoid it.
Egypt Prices are Cheap
The exchange rate is very favorable when coming from most western countries. An example of the Egypt prices can be seen in the price of our Uber from the Cairo Airport to our hotel. The ride took 1 hour and 15 minutes, and in the United States would probably cost about $100. In Cairo, it only cost us $14.
Hotels get the same benefit in that you can stay in a very nice hotel for relatively cheap. Given the amazing exchange rate, you have to take full advantage when visiting.
While the Marriott Mena House was slightly more expensive than some of the other hotels, the exchange rate still made it super affordable.
Clean Rooms and Bathrooms
There is nothing worse than getting to your hotel and realizing it is not clean (especially the bathroom). The bathrooms at the Marriott Mena House were extremely clean.
Amenities
There are multiple restaurants, a decked out gym, and a spa. We took advantage of all of them. Given that I have extreme food allergies, it is often difficult for me to eat in foreign countries without getting sick. I heard tons of horror stories about restaurants making westerners sick, but by eating predominately on the property, I avoided any issues.
They offer a free breakfast buffet! It was one of the best buffet breakfasts ever.
Safety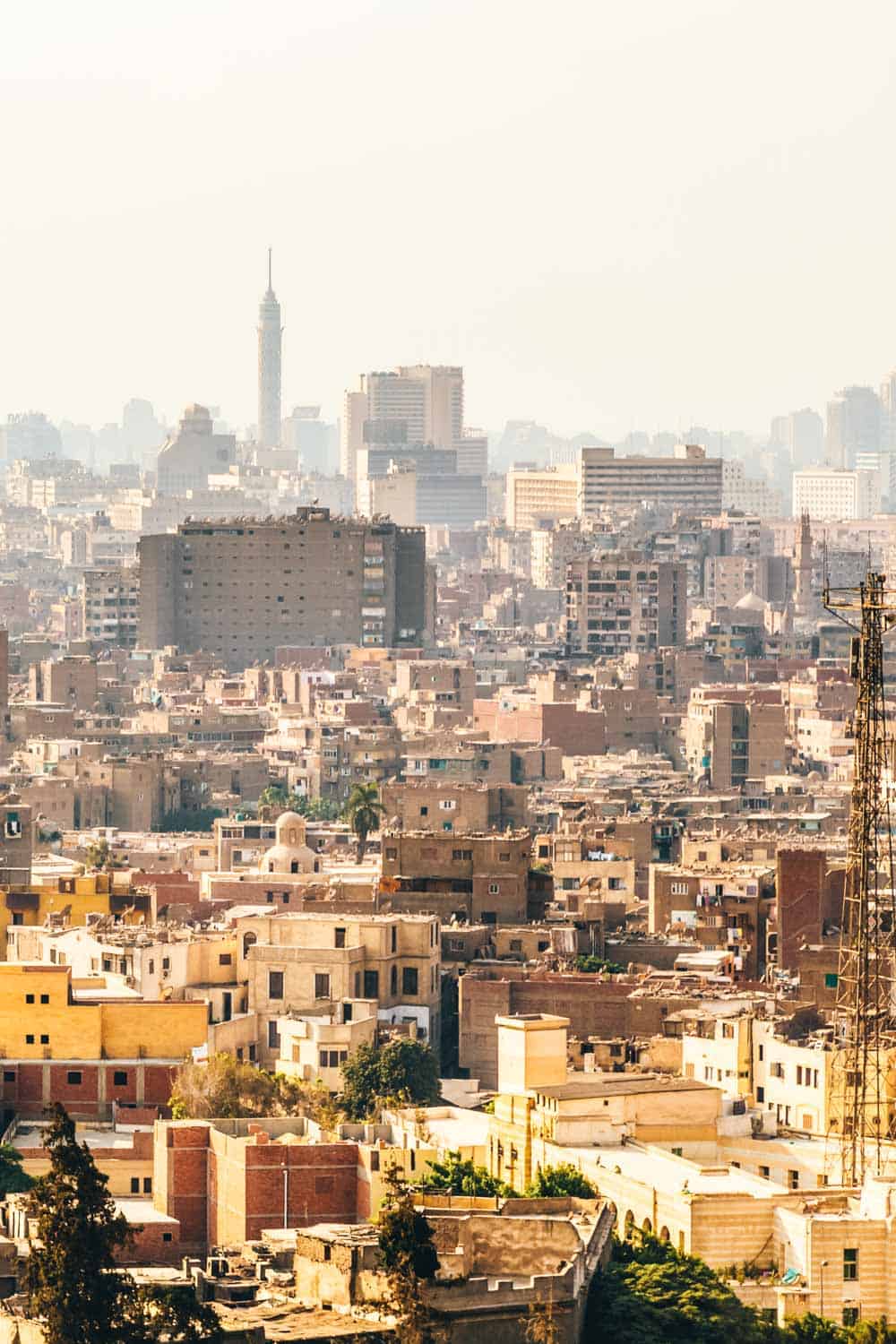 Some people say that the area around the Pyramids is overwhelming due to the bustle of tourists and vendors. If you share this concern you don't need to worry about safety as the grounds are gated with incredibly friendly security guards.
Conclusion Best Hotels in Cairo
I've read many reports of the best hotels in Cairo, talked to a number of friends that also went, but I'm convinced that the experience at the Marriott Mena House can't be beat.