17 Things to do in Doha
Doha is the capital of Qatar, which itself is a pretty small country. Doha is one of the brand new ultra modern middle-eastern cities dying for you to visit! It has a friendly rivalry with Dubai and Abu Dhabi to see who can attract the most tourists. What this means for you is that the city is going out of its way to try to bring in cool attractions and make the city welcoming.
You may have seen that they just finished hosting the soccer/football World Cup! This won't be the last global event as they are supposedly bidding on hosting olympics soon as well.
Yes, it still is in the Middle East and there are some unique aspects of Muslim culture that you will want to prepare for, but the end result is that it is safe and fun to visit. I guarantee there are more unique and cool things to do than you are expecting.
Where is Doha, Qatar located?
Things to know before visiting Doha
Doha is the biggest and only large city in the country of Qatar. While there I asked numerous people whether it was pronounced "cuh-tar" or "cutter" and heard answers saying both. At the end of the day unless you are an Arabic speaker I don't think you will ever be able to get it right.
Doha Is A Rich City
Doha is a rich city that sprung out of the desert in the last 20 years! While there is oil in Qatar, the real source of their wealth is the liquified natural gas. Even though it is a dinky country it is one of the top exporters in all of the world. This will only grow as the world aims to get less and less from Russia.
$1 USD = 3.64 Qatari Rial. Generally I found that the things seemed to cost about the same as things in the United States, whether that was clothes in a mall, hotel prices, or the food in restaurants.
Depending on where you live in the US you may feel that this is high or low.
There are Very Few Locals
There are very few locals in Doha. The entire country has about 3 million people, but of those only about 300,000 are actual Qataris. The rest are foreign workers. The foreign worker program has received a lot of negative press for poor working conditions, but supposedly the country has made and continues to make improvements.
I hope this is true because the foreign workers we spoke to in Qatar were some of the most friendly and humble people ever. Most seemed to be from south Asian countries like Bangladesh, India, and the Philippines.
Is Doha A Safe Country
The short answer is yes, Doha is a safe country. There is almost no crime, and the government is known for not being corrupt.
Is Doha Safe For Tourists
Just because the country is safe for locals doesn't mean it is safe for visitors. If you are wondering if Doha is safe for tourists the answer is yes to that also.
There are rules that you will want to be aware of and follow, but if you follow you are very likely much safer there than at home. Also, if you are caught breaking their rules then you are likely to be kicked out of the country rather than some other type of punishment.
Generally, the rules you should follow are not being drunk in public, refrain from public displays of affection, dress modestly by wearing pants and covered shoulders, and avoid any homosexual activity. While some of these rules are antiquated the country has made a lot of progress and I believe it will continue to as more and more westerners visit.
Is Doha Safe For Women
As a female traveler I wondered ahead of my visit, "is Doha safe for women?" I found that while most women travel the country with men, I had no problems going out by myself. Of course, you do need to make sure to follow their rules in dressing modestly, but typically you should have no issues as a woman and not receive any more catcalls or gropings than you would in the states.
Read a bit more on the safety of Qatar in my other post here.
Dress code – Read about the "dress code" before visiting.
Is Doha Worth Visiting
Okay, so now that you know you can safely visit, you may wonder if Doha is worth visiting. I would say yes, but read on to see some of the top things to see and do to help you decide.
Holidays In Qatar/And Weekends
Holidays in the middle east can be a big deal. The biggest one to be aware of is Ramadan. It moves each year, but the biggest thing to know is that Muslims don't eat or drink when the sun is up for this entire time (about a month). Since they don't eat or drink, you will not be allowed to eat or drink in public while the sun is up.
It is also worth noting that the weekends in Qatar are observed on Friday and Saturday, with Sunday being a normal work day.
Some of the Best Things to do in Doha
Dune safari / dune bashing
It is a desert after all! Why not make the most of the giant sand dunes by cruising up and down them. They call this dune bashing and the experience is truly exhilarating.
Book your tour: Desert Safari with Camel Ride, Sand Boarding & Inland Sea Tour in Doha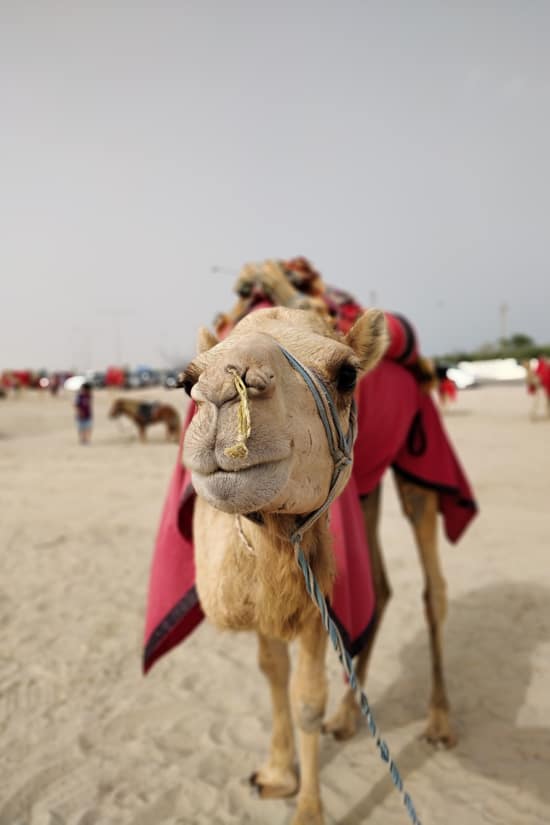 The National Museum of Qatar
The National Museum of Qatar is an architectural masterpiece. It's free to get in to learn about the history of Qatar, but even if you don't go in it's amazing to simply walk around the grounds to take in the edifice.
It was completed in 2019, so it is still fairly new. Also, it's free to get into so why not right? They say the architecture was inspired by the desert dunes..
The Corniche is basically a meticulously maintained harbor walk. You will see amazing views of the Doha skyline out into the water. The balance is really striking.
What makes the experience even better is that you can take a traditional boat ride out into the harbor to get even better views. I recommend it at night when neon lights brighten the skyline.
Want to see a traditional middle eastern market? Souq Waqif is exactly that. There are traditional rugs, spices, crafts and foods available. This is an especially popular area for locals as well as tourists.
I loved being able to see the traditional ways still moving forward.
The Pearl is a man-made island. Remember, those are the types of things you can do with billions of extra dollars lying around. This island is ultra luxurious! From high end real-estate to high end shopping your eyes will pop out of your head.
Don't expect to be able to afford anything here, but regardless it is cool to see.
Want to see a shopping mall with a middle-eastern spin? At the Villaggio Mall you will see a ton of traditional western stores, but you will also see a few changes. A lot of the clothes are more modest, but my favorite thing was that they didn't call the holiday sales Black Friday, but the White Friday specials.
Want to visit Venice without going to Italay? In another display of wealth they built a neighborhood with all the charm of Venice in Doha. I will say that this one is even cleaner than Venice.
It's a unique and wild view.
Katara Cultural Village, Doha, Qatar
You can see more illustrations of what life in Qatar was like pre oil and natural gas in the Kataara Cultural Village.
Museum of Islamic art
Looking to learn even more about Islamic culture. The museum of Islamic art is fascinating, whether you are Muslim or not. Book with a tour guide to get the best experience.
Qatar national library
Want to view even more cutting edge architecture? Even if you don't go inside you will want to take a look at the Qatar National Library.
State grand mosque
In the heart of the city you will find the State Grand Mosque. If you are a Muslim worshiper you will want to visit, but even those of a different faith can stop by to reverence and appreciate the site.
Aspire park
Looking to escape the gigantic skyscrapers of steel and glass? You can do that in Aspire Park, the biggest park in all of Doha.
Mia park
I couldn't help but want to take pictures of the fabulous Doha skyline from tons of different angles. Mia Park offers some of the best views as well a park for you to relax in.
Hotel park
One more park in the city center that will give you green space to escape in!
Things to Do In Doha Conclusion
Doha is such a unique city. The experience there is different than a lot of other vacations, but this mega rich city popping up out of the desert is super unique. There are traditional Muslim elements that make it a little different from other destinations, but the uniqueness of it makes you have to consider visiting!
Interesting Facts about Qatar
Qatar is the second flattest country in the world. (Maldives are the flattest)
Qatar is the second safest country in the world.
Men outnumber women here three to one. It is kind of insane being there, you definitely notice there are more men.
Just 15 percent of the country is Qatari
Khor Al Adaid is one of the only places in the world where the sea meets desert.
Qatar is a peninsula, which means it is surrounded by water on most of its sides, giving it a long coastline with a length of 563 km.
It is HUMID. Before going I was expecting dry air because it is a desert. But it is really humid.
Population of Doha – 2.382 million (2018)
Population of Qatar – 2.931 million (2021)
How many Americans live in Qatar? – About 15,000
Here are the most popular Dune Safari tours: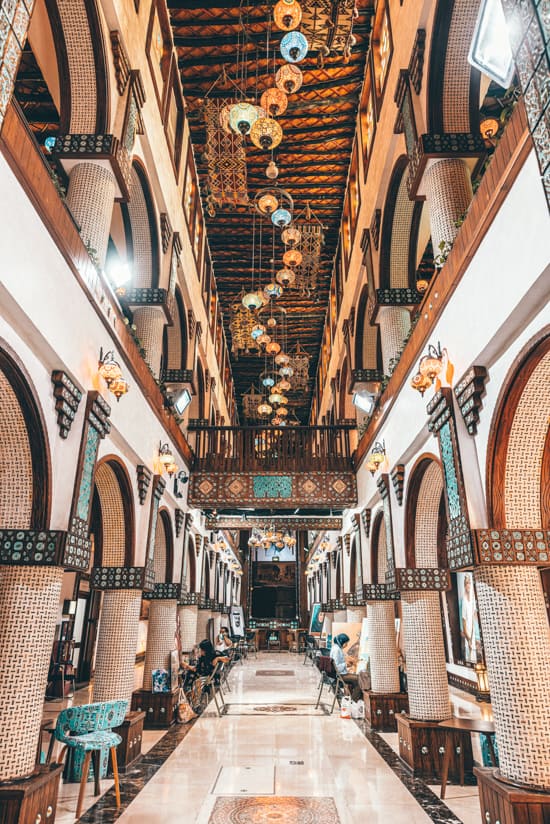 Souq Waqif in Doha Qatar.
Villaggio Mall, Al Waab Street
Villaggio Mall is a shopping mall located in the Aspire Zone in the west end of Doha, the capital city of Qatar. It is located on Al Waab street between the Hyatt Plaza and Sports City and has over 200 stores, including many famous brands in the U.S., U.K., Italian and German markets.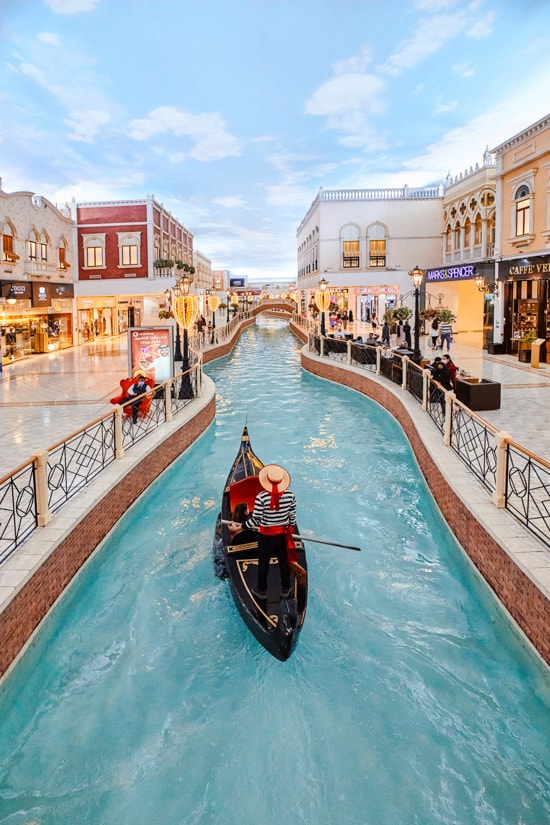 Visit Khor Al Adaid
The Khor Al-Adaid area, also known as the 'Inland Sea', is located in the south-east of the State of Qatar.
This is the tour I recommend booking.
Book your tour: Desert Safari with Camel Ride, Sand Boarding & Inland Sea Tour in Doha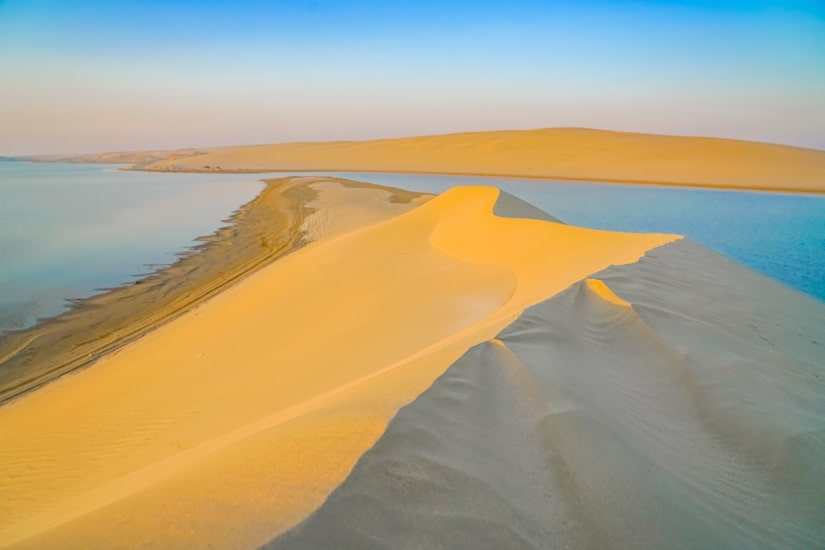 Visit The National Museum of Qatar
The National Museum of Qatar opened to the public 2019, the architecture of this museum was been inspired by the desert rose found in Qatar.
Do not skip this place. It was awesome just to walk around and take photos. The building is so tall in person and its free!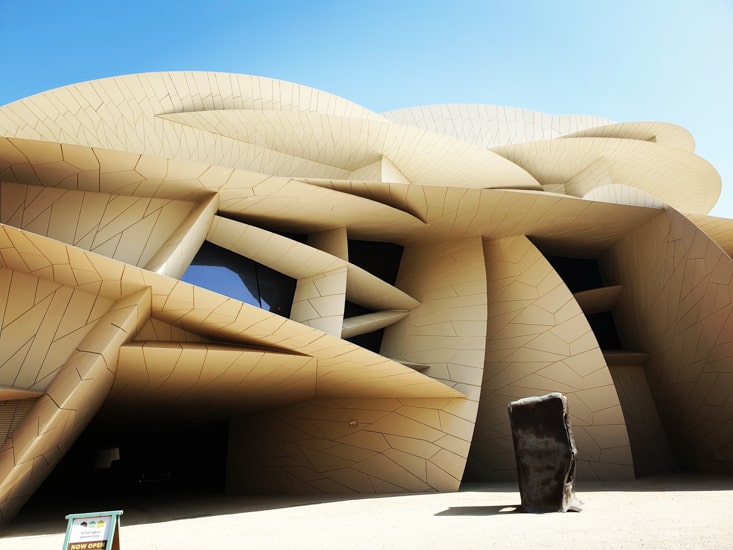 Go Cycling on the longest continuous cycle path in the world
The Olympic Cycling Track in Doha holds a Guinness World Record for being the longest continuous cycle path in the world, which is 33 kilometres long.
Created by Ashghal, the public works authority in Qatar, the track was completed in 2020. It runs through 18 underpasses to ensure uninterrupted movement.
The track also holds the record for the longest piece of asphalt concrete laid continuously, with a length of 25.3 kilometres.
Road to Fifa Attraction tour
Qatar is the smallest country in the world to ever hold the World Cup. They spent as estimated $229 billion to host the World Cup. To put that in perspective Brazil spent $6 billion on hosting the World Cup. Russia spend around $16 million.
So why did Qatar spend so much more than the others?
Basically, there was no existing infrastructure. They built brand new stadiums, airports, hotels, and offices. For each of those they also had to build access roads, power lines, dig water pipes, and even build city wide subway lines. There was basically no local workforce to do this so they recruited in labor from far away countries under questionable circumstances.
Book your tour: Road to Fifa Attraction Tour
The Pearl-Qatar
This Man made Island in the state of Qatar is built as a luxurious symbol. Offering luxurious brands and showrooms of RollsRoyce and Ferrari, this place surely will amaze you with the view.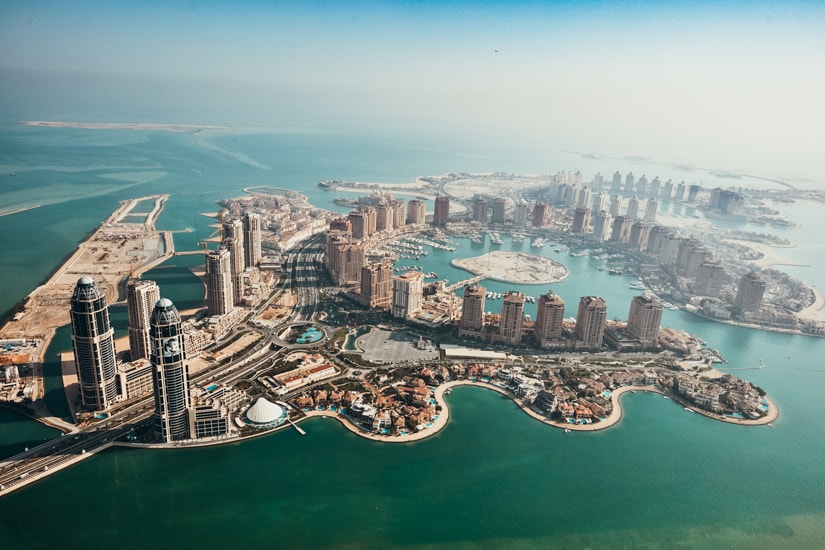 Qanat Quartier
Qanat Quartier precinct is a private and picturesque community where Venetian charm meets Arabian chic. With pastel-colored low-rise buildings, intricate canals, pedestrian-friendly piazzas, Qanat Quartier precinct is the State of Qatar's very own little Venice.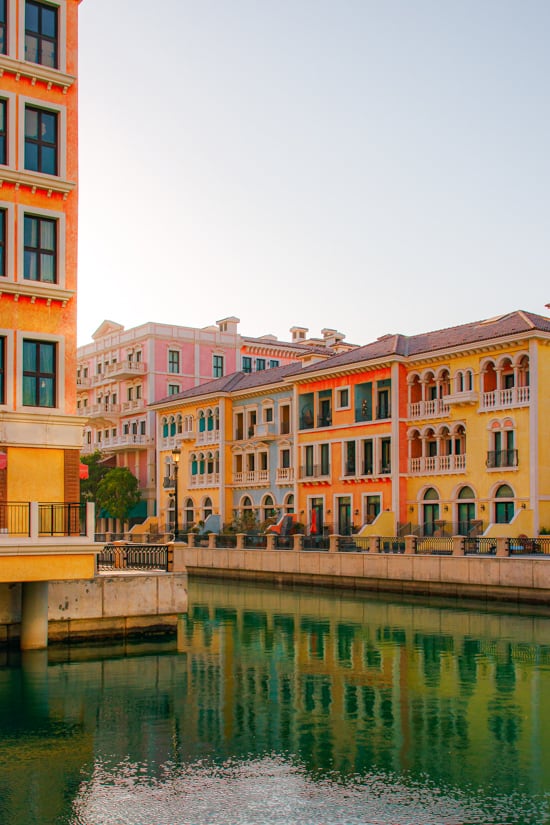 Katara Cultural Village
The Katara Cultural Village is another must see in Doha. Skip the line and by your tickets in advance here.
Corniche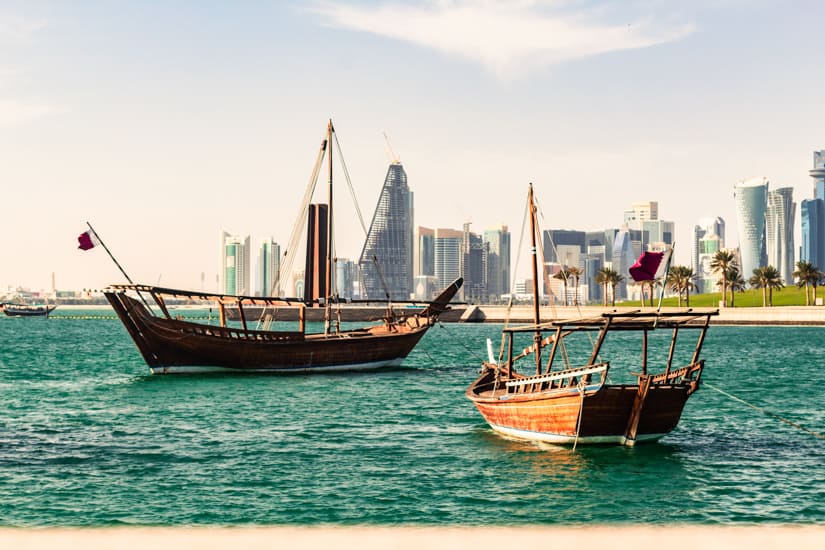 Museum of Islamic art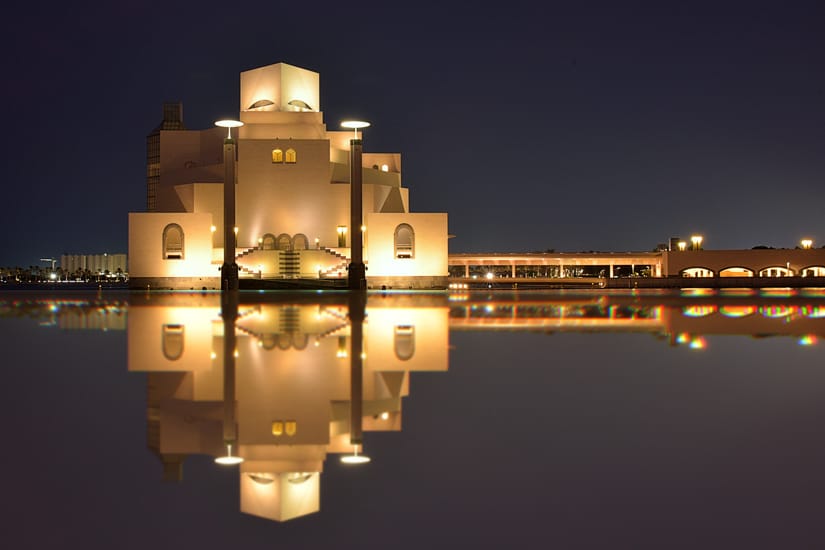 The Doha Tower or Burj Doha Skyscraper
The Burj Doha is one of the most iconic buildings in the West Bay. It even won the honor of being named the best tall building in the world in 2012.
Designed by French architect Jean Nouvel, the 46-storey tower has a number of unique features you might not have noticed. First off, the building has no central core, and became the first skyscraper to use internal reinforced concrete diagrid columns, which blend in with the building's façade.
The façade itself, alongside being beautiful and a reference to the ancient Islamic design Mashrabiya, protects the building from the sun, and varies in density around the building depending on where the sun hits it. That's all pretty amazing, but we're mainly fans of the building at night, when it lights up.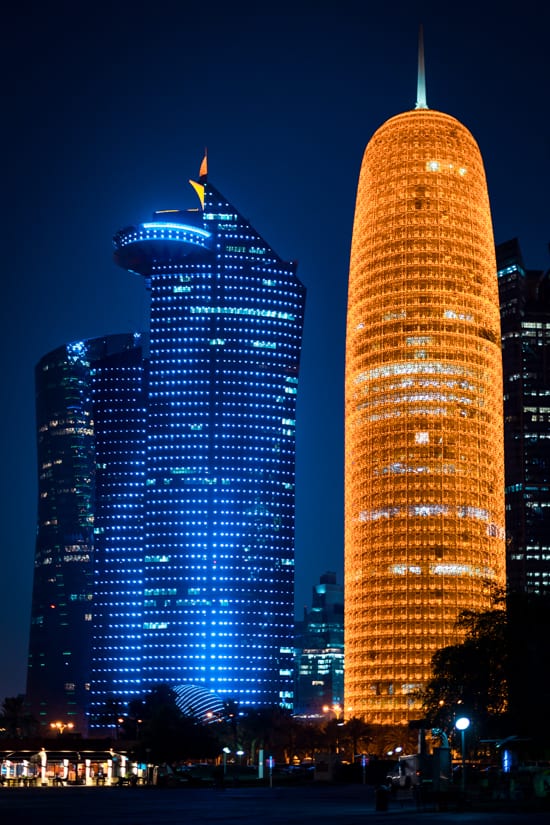 Mia park
MIA park offers spectacular view of Doha and is spacious enough for social distancing. Since Qatar is a hot country walk in a park is the best early in the morning.
Getting up early in the morning rewards you after walking to the tip with spectacular sunrise! Descending planes towards the airport over the sun rising add to the experience.
Plenty of parking helps and there is always a little breeze from the gulfs to cool things down.
Hotel park
Open 12am to 11:59pm 24 hrs.
Holidays in Qatar
It is a good idea to be aware when traveling to Qatar of any holidays you might hit while you are there. For example if you are there during Ramadan you won't be able to eat outside for the entire time you are there.
Ramadan is when Muslums fast from dawn until sunset. During this time Muslims refrain from consuming food, drinking liquids, smoking, and engaging in sexual relations; in some interpretations, they also refrain from swearing.
Ramadan 2023 in Qatar will begin in the evening of Wednesday, March 22 and ends in the evening of Thursday, April 20.