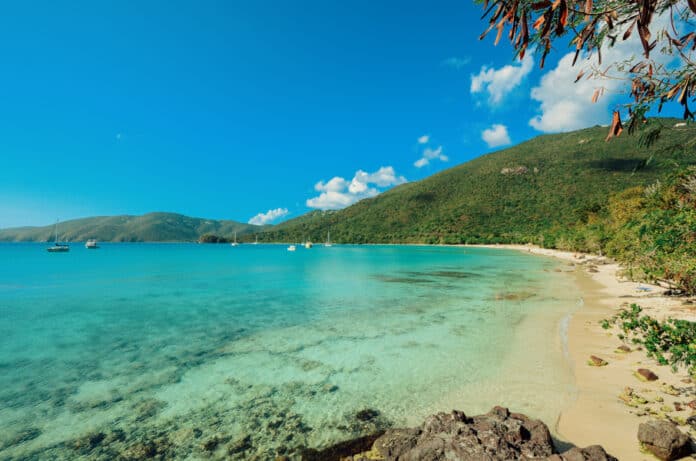 Did you just land at St. Thomas and looking to hit the water as soon as possible? Or maybe you are considering attending the University of the Virgin Islands and wanting to see what is in the area. Brewers Beach St Thomas is located right next to the airport and the University of the Virgin Islands Campus.
Brewers Bay Beach is one of the calmest beaches on St. Thomas! There are other beaches on the island that definitely turn into party beaches (i.e. Coki Point Beach and sometimes Sapphire Beach). This beach is way more relaxed and typically has visitors looking to lounge or go on a walk.
The water is often the gorgeous clear waters you can expect, however while this is a really good beach, there are a couple things about it that make it not my top choice. On the approach to the water there is a wide strip of grass and thinner stretch of sand that almost make it feel like a park instead of a beach.
That being said, the location, lack of crowds, an amazing snorkeling still make it an awesome spot to visit.
Brewers Bay Quick Facts:
Other Names: Brewers Bay, Brewers Beach
Facilities: Bathrooms, outdoor shower
Restaurants: There are roadside food trucks, usually a couple of them on any given day.
Other Names: Brewers Beach, Brewers Bay
Known for: Proximity to University of the Virgin Islands, snorkeling, and sea turtle sightings
Swimming conditions: Great for all types of swimmers. Very calm water.
Water Color: clear Caribbean turquoise
Cost: Free
Not so good for: lounging on the sand
Facilities: showers and restrooms: some vendors (often food trucks)
Lifeguards: No
Parking: plenty along sides of streets
Other: lots of college locals in the area, seems perfect for a picnic but no picnic tables at beach
Brewers Bay Beach Location
Brewers Beach is located on the southwest end of St. Thomas. It is directly next to the airport as well as the University of the Virgin Islands. There is not a lot of tourism infrastructure on this end of the island, and most of the more famous beaches are on the northeast part of the island.
This helps keep it way less crowded so you can enjoy the area and amazing snorkeling with less company.
You probably wouldn't want to walk there from the airport, but you definitely could. Read more on the best ways to get there below.
What Brewers Beach is Like
The shore is quite wide, BUT most of it is a stretch of grass rather than sand. It gives the beach more of a park feel where you would want to play a game of flag football against an amazing backdrop.
If you walk through the grass through you will see a thin strip of sand. While you could lay out on this sand, it doesn't feel quite as perfect as some of the other beaches for suntanning.
Brewers Bay Snorkeling Conditions
The beach waters are almost always perfect for snorkeling though. Generally there aren't waves which allows the sea creatures to stay out and on full display. This beach is also known for being a great spot for sea turtles to hang out on.
This is likely due to there being less traffic there overall.
How to get there – Transportation
Option 1 – Rent a car and drive. This is what we did since we were on the island for a few days. Renting a car in St. Thomas is always the best way to explore if you can.
Tip – When in the US Virgin Islands I recommend renting a car to get the most out of your experience. It would be difficult to see all the beautiful places in the islands without a car. Reserve a car here.
Option 2 – Take a taxi. If you decide to take a taxi make sure you set up a return ride as there isn's a staging area where taxis wait for customers like a lot of the other beaches.
Option 3 – If you are willing to figure out the bus schedule this is definitely a super cheap option. The bus stop you want to get off at is the University Campus stop. It is a very short walk from the bus stop.
Brewers Bay Beach Parking
There is plenty of parking on the side of the road that runs along the beach. Each time I was there I found plenty of open spots. Another perk is that the parking is free. Also worth noting is that the beach is free.
Facilities
There aren't a ton of amenities on the beach, but they do have the basics (bathrooms and showers). There are palm trees on the beach, but they don't provide a lot of shade so prepare accordingly.
Also, there aren't beach chair or snorkel rentals available. Frequently there are food trucks that stop by though if you get hungry.
Food at Brewers Bay Beach
On most days you can find food trucks at the beach where you can get drinks and other snacks. The dishes vary from the standard hamburgers to local specialities.
Best hotel close to Brewers Bay
Things to do near Brewers Bay
Lindbergh Bay Beach – 5 minute drive (1.8 miles)
The airport – 5 minute drive (1.7 miles)
University of the Virgin Islands
Conclusion
Is this the best beach on the island? No, it's not. However, if you are in the area or looking to relax before flying out then you can definitely enjoy it!