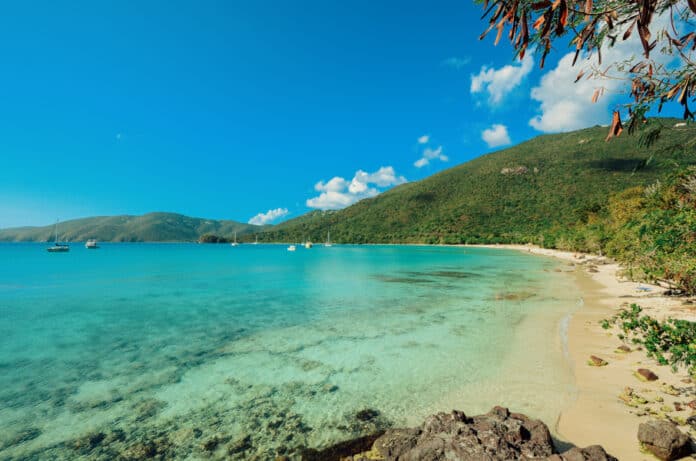 Brewers Bay Beach is one of the calmest beaches on St. Thomas! The water is crystal clear and perfect for snorkeling.
Located on the west end of St. Thomas, the beach stays relatively uncrowded and has some of the best snorkeling on the island. Brewers Bay Beach is a great location if you want to snorkel with sea turtles.
Brewers Bay Quick Facts:
Best for: Swimming with sea turtles
Swimming conditions: Great for all types of swimmers. Very calm water.
Cost: Free
Facilities: Bathrooms, outdoor shower
Restaurants: There are roadside food trucks, usually a couple of them on any given day.
Brewers Bay has one of the widest shores on St. Thomas. The distance between the tree line and water line offers ample space for a game of frisbee or throwing around a football. The tree line includes palm trees and sea grape trees.
Brewers Bay Beach Location
The beach is located right next to the airport on the west end of St. Thomas, US Virgin Islands.
How to get there – Transportation
Option 1 – Rent a car and drive. This is what we did since we were on the island for a few days. Renting a car in St. Thomas is always the best way to explore if you can.
Tip – When in the US Virgin Islands I highly recommend renting a car to get the most out of your experience. It would be difficult to see all the beautiful places in the islands without a car. Reserve a car here.
Option 2 – Take a taxi. If you decide to take a taxi make sure you arrange for the taxi to pick you up at a set time as there aren't usually taxis at Brewers Bay.
Option 3 – Take a bus. The last bus stop on the University campus is a short walk away (around .3 miles) up and over a little hill, you can get off at that campus bus stop and walk to the beach. Make sure to ask the bus driver for the return bus schedule and location.
Brewers Bay Beach Parking
There is roadside parking is available for free. Admission to the beach is also free.
Brewers Bay Snorkeling
Thankfully, you don't have to swim out too far to encounter seagrass where a lot of sea turtles hang out.
There isn't a ton of coral reef here, so you most likely won't see as many tropical fish, but the sea turtles make it well worth the trip.
What you will see:
Turtles – Green sea turtles & hawksbill turtles. They come up for air every once in a while so you know where to look for them.
Sting ray
Fish
Facilities
There aren't a ton of amenities on the beach, but they do have the basics. Including a bathroom and shower. There is not a lot of shade on the beach so make sure to bring an umbrella.
They do not have rentals here so you will need to bring your own snorkeling gear, beach chairs, umbrellas, towels and any other items you would like to use while at the beach.
Food at Brewers Bay Beach
The food vans also have drinks such as water, sodas and sometimes local fruit drinks, plus snacks. There are roadside food vans, usually two of them on any given day. They sell local dishes like pates in various flavors, johnny cakes, fried chicken, rice and beans among other options.
Best hotel close to Brewers Bay
Things to do near Brewers Bay
Lindbergh Bay Beach – 5 minute drive (1.8 miles)
The airport – 5 minute drive (1.7 miles)
University of the Virgin Islands