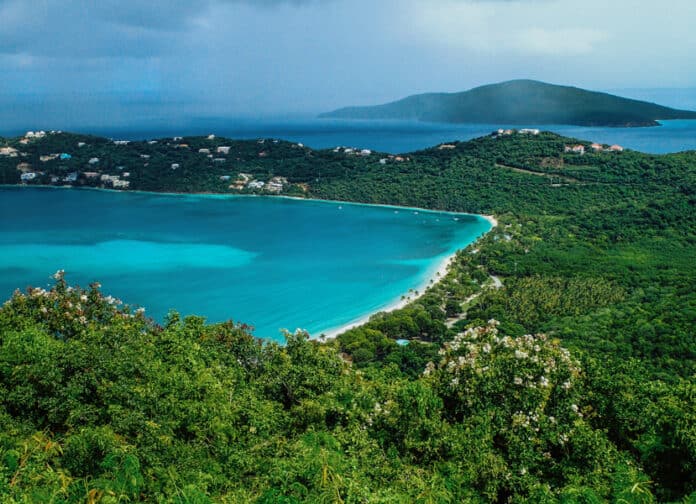 Magens Bay (spelled with no apostrophe) is the most popular beach on St. Thomas. This 1.5 mile long white sand beach is one of the most beautiful in the world. You can expect calm waters, fine sand, and lots of shade from the surrounding palm trees.
The only downside is that nearly all the cruise ship visitors seem to make their way here, too. However, we learned some tips to get away from the crowds and enjoy this tropical paradise.
Magens Bay Beach Quick Facts
Sand: White fine sand
Cost: Admission $5.00 per person, $2.00 to park per car
Facilities: There are public showers and restrooms at several points along the beach as well as several concession stands.
Hours: 7am to 5:30pm daily.
Excursions: Lots! Check here for the most updated list.
Magens Bay Map & Location
Located on the north end of St. Thomas in the U.S. Virgin Islands.
How to get to Magens Bay
We rented a car to get to Magens bay because we love to travel on our own time schedule and have the independence to do and see what we want, when we want. If you'd rather book your own tour, this half-day option will get you there (it is typically a cheaper than the cruise ship excursions).
Tip – When in the US Virgin Islands I highly recommend renting a car to get the most out of your experience. It would be difficult to see all the beautiful places in the islands without a car. Reserve a car here.
Magens Bay is an 18 minute drive (5.5 miles) from the Cruise Port.
Getting from the Cruise Port to Magens Bay Beach
You might be wondering – Is it easy to get a taxi from Magens Bay back to the cruise port? Do you need to start out with one from the ship to ensure you will be able to return?
There are usually a few taxis located near the entrance as it gets closer to sail away time. There's almost always room on the people movers that double as taxis.
How much is a taxi from cruise port to Magens Bay?
You can expect to pay around $10-15 per person. Taxis in St. Thomas are not your typical taxis. They are more like open-air buses. (See photo below)
Skyline Drive
Taking skyline drive you will have so many beautiful overlooks and views on the way. This tour will take you down Skyline Drive and to your choice of beaches, including Magens Bay.
Drake's Seat (Overlooking Magens Bay)
Probably the most beautiful overlook on the island. Just another perk of renting a car, you get to stop and take photos wherever you want! Parking is available here.
Magens Bay Parking
There is a large lot with plenty of parking to the left of the admission gate. Parking costs $2.
Magens Bay Hours
Open daily 7am to 5:30pm.
What to Expect at the actual beach
Magens Bay is largely protected by the peninsula, so there's very little seaweed here.
Magens Bay Snorkeling
Surprisingly, Magens Bay Beach is not known for their snorkeling. However, if you do snorkel there the best spots are along the rocky coast.
What you will see:
Coral
School of fish
tarpon
sting rays
and sea turtles in the grassy areas
Facilities
There are public showers and restrooms at several points along the beach.
Equipment Rentals & Pricing
Equipment is available to rent, but it can definitely get pricey. I listed all the current prices below. Its also worth noting that for each rental you also have to make a deposit.
There is a water sports booth that will rent out paddle boats and kayaks.
Lounge chairs – $7
Beach chair – $5
Floating Mat – $10
Towel – $4.50
Mask & snorkel – $9
Fins – $6
Locker – $4.50
Magens Bay Excursions
Magens Bay Beach Activites
There is literally an endless list of things to do on Magens beach. Below are a few of my favorites.
swimming
snorkeling
kayaking
paddle boarding
hiking
boat tours
Magens Bay Beach Bar & Restaurants
Magens Point Bar & Grill – Located right on the beach. Serves wings, burgers & sandwiches. Pricing is between $7 and $17. Check out the menu here.
Magens Bay Concessions – Beach Bar/Cafe located right on the beach. Snack bar includes pizza, hamburgers and hotdogs, or you can get pre-packaged sandwiches or salads. They also serve frozen drinks, beer, soda, candy and chips. Get the menu here. Open daily – 9:30am – 5:00pm
Hiking Trails at Magens Bay
There are hiking trails located at Magens Bay if you are interested.
Magens Bay Road/Canaan trailhead
Things to do near Magens Bay
Little Magens Beach – 6 minute drive or you can swim there from Magens Bay Beach.
Magens Bay Hike
Mountain Top – This is the #1 tourist attraction in the Virgin Islands. Incredible views of the islands. Here is a tour that includes Mountain Top if you prefer.
Is Magens Bay worth visiting?
Definitely. There is a reason this is the most popular beach on St. Thomas. The only downside is the crowds, which can get intense when the cruise ships arrive. But the beach is 1.5 miles long so if you just walk down further you can still find your own little spot of paradise.