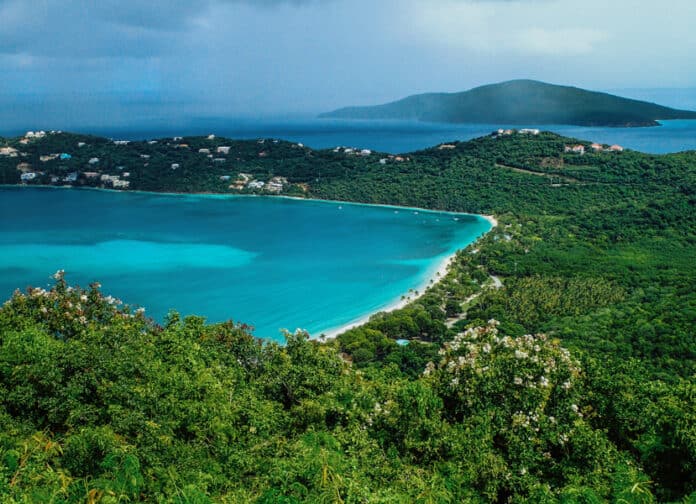 When going to the US Virgin Islands most people will land in St. Thomas and then take a ferry over to St. John. This makes sense because St. John is home to some of the most beautiful beaches in the world, like the famous Trunk Bay.
If you come in as a cruise passenger or don't have time to go over to St John you don't need to worry. There are awesome beaches on St. Thomas as well. Magens Bay (spelled with no apostrophe) is the most popular beach on the island of St. Thomas.
This mile and a half long white sand beach itself is one of the most beautiful in the world. While there you can expect calm waters, fine white sand, and lots of shade from the surrounding palm trees.
The only real negative of this beach worth mentioning is that its popularity can sometimes lend itself to getting crowded.
Magens Bay Beach Quick Facts
Names: Magen's Bay (sp), Little Magens Beach is a different beach (but next door)
Sand: White fine sand
Cost: Admission $5.00 per person, $2.00 per car to park
Facilities: showers, multiple restrooms, foot baths, picnic tables, several concession stands, water gear rentals, and a full-service bar
Parking: large lot $2 to park
Lifeguards: towers, but unmanned when we were last there
Hours: 7am to 5:30pm
Excursions: Lots! Check here for the most updated list.
Magens Bay Map & Location
Magens Bay Beac is located on the north central side of the island of St. Thomas. If you are coming from the cruise terminal or the main airport it is about a 20 minute drive.
Even though it is less than 5 miles it still takes about 20 minutes to complete the drive since you are going directly up and over a mountain via winding roads.
The beach sits in a gorgeous bay. Magens Bay Beach is protected by a long thin peninsula that creates a wide "nook" for the beach.
How to get to Magens Bay
There are a couple common options to get you to Magens Bay Beach. You can rent a car or take a taxi.
We rented a car to get to Magens bay because we love to travel on our own time schedule. We always want the independence to do and see what we want, when we want. If you'd rather book your own tour, this half-day option will get you there (it is typically a cheaper than the cruise ship excursions).
Tip – When in the US Virgin Islands I recommend renting a car to get the most out of your experience. It would be difficult to see all the beautiful places in the islands without a car. Reserve a car here.
Getting from the Cruise Port to Magens Bay Beach via Taxi
It's possible to take a taxi to get between the two rather than booking a set excursion. The quick answer is that you shouldn't have any problem getting a taxi in either direction.
Is it easy to get a taxi from Magens Bay back to the cruise port?
Both times we were there we saw taxis lined up and waiting to pick up passengers on both ends. All you need is one taxi available once you see the types of taxis available in St. Thomas.
How much is a taxi from cruise port to Magens Bay?
You can expect to pay around $10-15 per person. Taxis in St. Thomas are not your typical taxis. They are usually trucks with benches affixed into the bed. They can accommodate large groups at once, which is why the generally charge per passenger.
A single group usually doesn't take their own taxi since most people are going to and from the most popular destinations.
Magens Bay Parking
There is a large lot with plenty of parking to the left of the admission gate. Parking costs $2. Thankfully the accept credit card at the booth. This is nice because a lot of places on the island (restaurants especially) only take cash.
The parking lot stretches almost the entire length of the beach. If you don't want to walk far down just drive down when you arrive. Remember though, the bar is right by the entrance!
Magens Bay Hours
Open daily 7am to 5:30pm. It kind of stinks that the beach closes early. Unfortunately this is quite common in the Virgin Islands.
What to Expect at the actual beach
In general, you can expect the beach to look as beautiful in person as it does in the pictures. The images are not a produce of fancy filters and photoshop!
One other huge perk is that this beach gets very little seaweed. This is because of the long thin peninsula that protects the beach. This also helps keep the waters calm which make it an excellent spot for swimming and lounging in the water.
Lots of beaches don't have adequate spots in the shade where you can escape the sun. Thankfully this beach has lots of trees that can get under to escape the heat.
Magens Bay Snorkeling
Surprisingly, Magens Bay Beach is not known for their snorkeling. The waters are calm and will allow it, there just isn't as much acquatic life as other places on the island.
If you do want to snorkel here the best spots are along the rocky outcroppings.
Facilities
There are public showers and restrooms at several points along the beach. There are also picnic tables if you want to bring your own lunch.
Magens Bay Beach Activities: Equipment Rentals & General Pricing
Magens Bay Beach has equipment is available to rent. Available items include – lounge chairs, floating mats, towels, masks, snorkels, fins, as well as storage lockers. Each of these should cost you between $5 and $10.
Also, if you want you can rent a stand up paddle board or kayak, but obviously expect to pay a little bit more.
Magens Bay Excursions
Magens Bay Beach Bar & Restaurants
Magens Point Bar & Grill and Concessions– Located right on the beach. Serves the typical chicken wings, hamburgers, and other sandwiches. You can expect to pay about $12-$17 per. Check out the menus here and here.
Generally they are open from 9:30 am to 5:00 pm.
Things to do near Magens Bay
There is another beach named Little Magens Beach. It is a 6 minute drive or you can swim there from Magens Bay Beach. If you do want to get there make sure you read the specifics on how to access here.
Viewpoints
Coming up and over the island gives you a number of stunning viewpoints! Skyline Drive is the name of the road, and it features access to a few different viewpoints. Being able to see the viewpoints on your own timeline is another perk of renting a car.
Book the Skyline Drive and Beach Tour: ff you are interested in a tour that takes you to all of the best of them you can book this tour to see the top viewpoints and be taken to an epic beach!
Charlotte Amalie Lookout
While this one isn't the most famous I think it should be. It offers incredibly views of the island as well as the harbor. Read more about it here.
Drake's Seat
This viewpoint directly overlooks Magens Bay. As you come down the mountain you will soon see the beach you can enjoy!
Mountain Top
Mountain Top – This is the #1 tourist attraction in the Virgin Islands. Incredible views of the islands. Here is a tour that includes Mountain Top if you prefer.
Other beaches – there are other amazing St. Thomas beaches within a few minutes. My favorite to avoid the crowds is Lindquist Beach.
Is Magens Bay worth visiting?
Definitely! There is a reason this is the most popular beach on St. Thomas. The only downside is the crowds when multiple cruise ships arrive. Thankfully the beach is 1.5 miles long so if you just walk down further you can still find your own little spot of paradise.