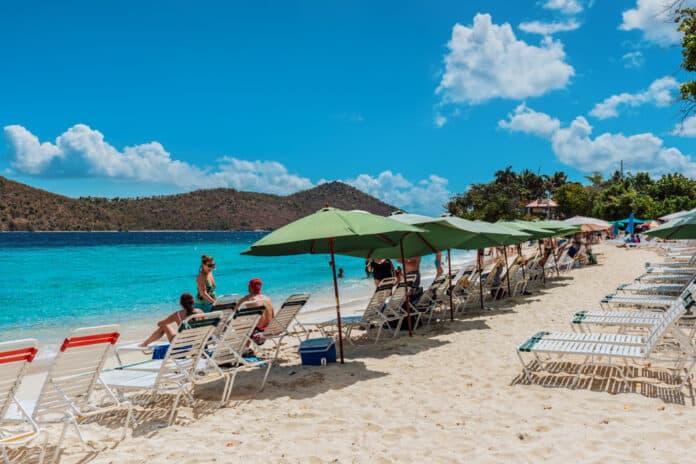 Coki Beach, also known as Coki Point Beach is one of the most popular beaches on St. Thomas. They have calm water, white sand, and amazing snorkeling and amenities.
Coki Beach Quick Tips:
Water color: Clear, Turquoise
Sand quality: White sand beach, some small pebbles
Best for: Easy, kid-friendly snorkeling with lots of amenities
Not so good for: Alone time
Other names: The beach is called Coki Point, Coki Point Beach, Coki Beach and sometimes just Coki.
Facilities:
Lifeguard: Yes
Cost: Entrance in free
Parking: $5
Available tours: Tons, more on that below
Where is Coki Beach located?
Coki Beach is at the northeastern end of St. Thomas in the U.S. Virgin Islands.
The beach is a 20-minute drive northeast of Charlotte Amalie.
How to get to Coki Beach
Car rental – We always rent a car in order to have the most freedom and be able to see the most sights.
Tip – When in the US Virgin Islands I highly recommend renting a car to get the most out of your experience. It would be difficult to see all the beautiful places in the islands without a car. Reserve a car here.
Taxi – If you are taking a taxi to Coki Beach from a cruise port you can check pricing here.
Keep in mind that the beach closes around 5 pm so if you take a taxi you will have to get one by then. From town to the beach they charged us $10 per person. From the cruise ship or airport is $14 per person.
Parking
On crowded days the parking situation can be a hectic. Taxis will take you there, and there is a taxi stand when you are ready to leave. The nearest bus stop is a little over half a mile away along the main public road.
What you can Expect at Coki Point Beach
Coki Point Beach is not your traditional beach for relaxing this is a busy and party beach. Expect loud music, drinks, food and more! This is the only beach in St. Thomas where you can get served right under your umbrella! They bring the drinks to you.
The Vibe – The feeling at Coki Point is very touristic, especially once the tours and cruise ships begin to arrive. It can get pretty crowded when there are multiple cruise ships in port.
Crowds
Tip: Want to know how crowded Coki Point will be on the day you plan to go? Check the Cruise Ship Schedule to see how many ships are in port that day. The more ships there are the more crowded the beach will become. Also, on Sundays and holidays Coki Point Beach is a favorite with islanders for family picnics and parties.
Coki Beach Snorkeling
The snorkeling at Coki Beach is amazing.
What you will see snorkeling at Coki Beach:
Colorful, tropical fish
Sea turtles
Sting rays
Coral Reef – reminder not to step on the coral.
Crabs
Tip – Make sure if you snorkel you have a waterproof phone case (I have this waterproof housing from amazon that works ridiculously well) and a good dry bag for your electronics. This is my favorite dry bag. I never travel without it. Go pro also works wonders!
If you want to be able to take over/under water pics you will need an additional dome housing. I have this one from amazon that connects perfectly to my axis go waterproof phone case and is expensive, but works amazing.
Swimming Conditions
Swimming conditions at Coki beach are ideal for all levels of swimmers. The water is generally calm and clear with a soft sandy bottom.
There is easy sand beach entry. the water is in a protected cove so it is calm with no waves. Great beach for families.
How deep is Coki Beach?
Depth to 40-50′.
Coki Beach Activities & Tours
There is so much to do at this beach.
Scuba Diving
Hair Braiding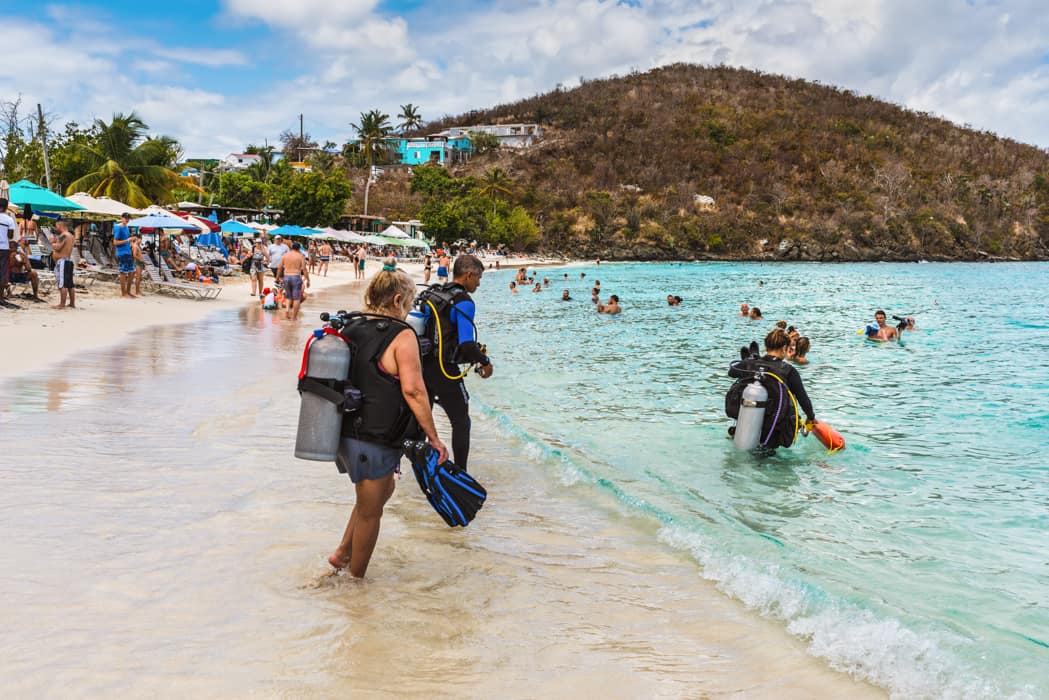 How much does it cost to go to Cook Beach?
Entrance to the beach is free, but there is a small paid ($5) parking area in a dirt lot, and roadside parking. The amenities are nice to have, but they all cost money.
Costs broken down:
Parking – $5
Floating loungers – When we were there the floating loungers and mats $25.00 to use.
Beach chairs – around $5
Umbrella – starting at $10
Coki Beach Rentals
The big draw to Coki Beach are the amenities, including the rentals. There are lounge chairs, umbrellas, snorkling eqipment, paddleboards etc to rent.
Food service, rentals and watersports are generally open daily, or when there are cruise ships in port, and stay open until about 5PM. Some of the bars stay open later.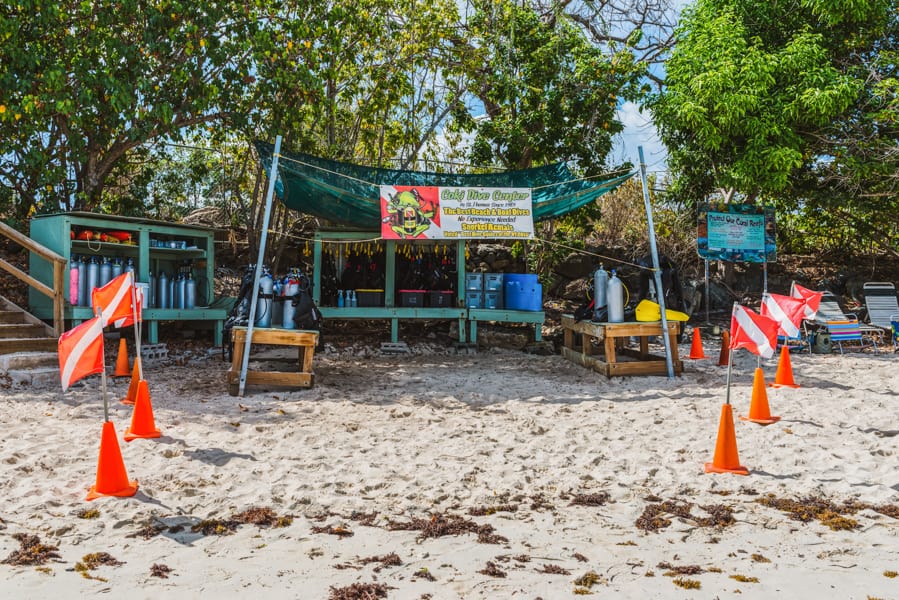 Facilities
Coki Point literally has everything you could want. From bathrooms and showers, to bars and restaurants, and even gear rentals. Lounge chairs run $5 and umbrellas $10. Lockers are also available.
A few vendors rent snorkel gear, floats and noodles. Cash or id deposit is required for some of the rental gear.
You can even braid your hair or get a small souvenir made from palm tree leaves.
Coki Beach Restaurants
There are a couple of restaurants and bars on the beach, Coki Point Beach Bar and Grill is one of the most popular. They open at 10 am and the menu includes hamburgers, fries, wings, ribs etc.
Dushi's by the Sea
Catch of the Day – Seafood restaurant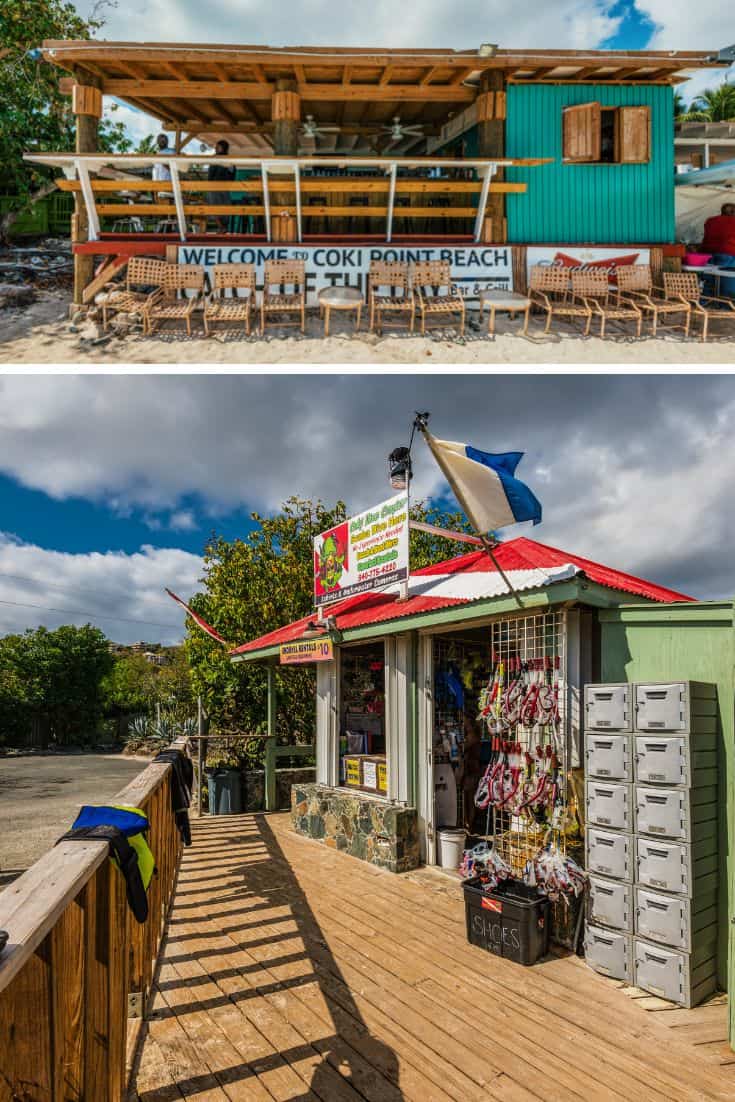 Available tours in the area
Conclusion: Is Coki Beach worth visiting?
Yes!
Things to do near Coki Point Beach
Lindquist beach – 5 minute drive from this beach
Sapphire Beach – 8 minute drive (2.5 miles
Bay Beach – 6 minutes away (1.7 mi)
Muller Bay Beach – 13 minutes away