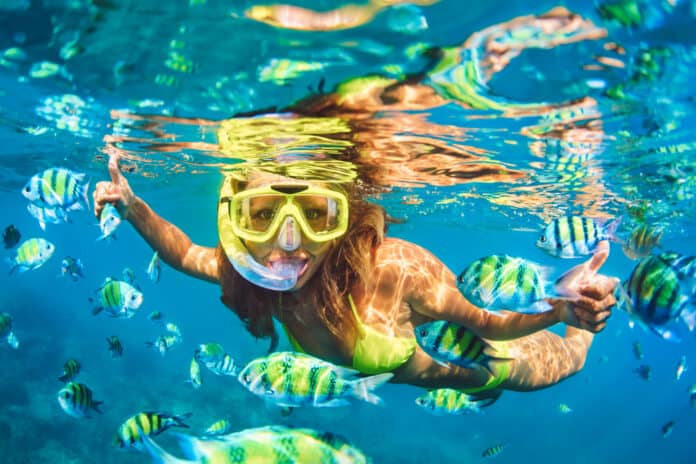 Coki Beach, also known as Coki Point Beach or Smith Bay, is one of the most popular beaches on St. Thomas. They have calm water, white sand, and amazing snorkeling and amenities.
Even though they have calm water this is NOT a calm beach. This is a local party spot!
Coki Point Beach attracts a lot of locals (and tourists) looking to party. The bar will likely be playing loud music, it is likely to be quite crowded, and we even saw beach vendors openly selling weed to enthusiastic customers.
It isn't as big as some of the other beaches, but it is free to access and the sand, water, and snorkeling conditions are likely to be amazing!
Coki Beach Quick Tips:
Water color: Clear, Turquoise
Sand quality: White sand beach – quite soft
Best for: Local hangout spot, perfect for beginner snorkeling, lots of amenities
Not so good for: Alone time, a quiet experience
Facilities: restrooms, bar, concession stand, stage for live music, water sport rentals
Lifeguard: Yes
Cost: Free
Parking: $5 or free on the side of the street
Available tours: Coki Beach Paddle boarding and Snorkeling!
Other names: The beach is called Coki Point, Coki Point Beach, Coki Beach and sometimes just Coki.
Where is Coki Beach located?
Coki Beach is at the northeastern end of St Thomas in the U.S. Virgin Islands. It is located in one of the small city centers/local neighborhoods.
The beach is a 20-minute drive northeast of Charlotte Amalie, and about 25 minutes if you are coming from the airport. The island isn't that big, but the roads wind up and down which makes all travel times a little bit longer.
It is directly next to what I think is the best St Thomas beach, Lindquist Beach.
How far is Coki Beach from cruise port?
Coki Beach is located about a 25 minute drive (8 miles) from the Cruise Port. If you are coming from the cruise port I highly recommend booking your transportation in advance with this Coki Beach transportation. That way you will not have to waste time fighting the crowds for a taxi. Included in the price is also admission to Coral World which is right next to Coki Beach!
Book your transportation here >> Coki Point Beach with Round-Trip Transportation
How to get to Coki Beach
Since you are likely to come to St Thomas from the airport or the cruise port you are going to have to find a way to get here that isn't walking.
Rent a car
We always rent a car in order to have the most freedom and be able to see the most sights.
This option is great for you if you are staying for a few days. If you are coming from the cruise ports I honestly wouldn't bother. It's really easy to catch a taxi to and from the beach since it's so popular.
Take a Taxi
If you are taking a taxi to Coki Beach from a cruise port you can check pricing here. Prices aren't that expensive. If you come from the cruise port or town you are likely to pay about $10-$15 per person.
There should be taxis in the area when you go to leave, but make sure get the taxi company number in case you need to call one back.
If you are nervous about waisting time finding a taxi and negotiating pricing you can always book round trip transportation in advance here.
Coki Beach Parking
On weekends the parking at Coki Beach can be a bit crazy. There is one paid dirt lot that you can pay $5 to park in. When we were there this lot filled up, but we got lucky and just waited for one car to leave.
Many of the locals park along the side of the street for free. We were going to do this, but didn't feel like walking and got lucky with a paid spot opening up.
What you can Expect at Coki Point Beach
Coki Point Beach is not your traditional beach for relaxing on. This is generally a busy party beach. Expect loud music, drinks, food and more! This is one of the few where you can get served drinks while under an umbrella while lounging on the sand.
The Vibe – The feeling at Coki Point is a combination of locals and tourists. It can get pretty crowded when there are multiple cruise ships in port combined with the locals.
How much does it cost to go to Coki Beach?
It is free to access the beach! If you can't find street parking then there is a small dirt lot that costs $5.
Crowds
The beach can get busy, so it is best to get to the beach early and beat the crowd.
This beach is quite small and quite popular. This almost always makes it feel crowded. Sometimes the crowds make things more fun, but don't expect to be able to calmly unwind on this beach.
Tip: Want to know how crowded Coki Point will be on the day you plan to go? Check the Cruise Ship Schedule to see how many ships are in port that day. The more ships there are the more crowded the beach will become.
Swimming Conditions
Swimming conditions at Coki beach are ideal for all levels of swimmers. The water is generally calm and clear with a soft sandy bottom.
The beach is in a protected cove so it is typically calm with no waves.
How deep is Coki Beach?
The water stays pretty shallow out to the safety buoys. It is only about 4 to 6 feet deep.
Coki Beach Snorkeling is amazing!
Snorkeling at Coki Beach is considered the best on St Thomas! It is the one beach on St. Thomas that has a chance to compete with the snorkeling on St. John. (Which is saying a lot!)
You could literally just stand there in chest-deep water and feed a variety of reef fish. The water is crystal clear!
The calm waters create a perfect habitat for all kinds of sealife.
Snorkeling is Beginner friendly
You do not have to be an experienced snorkeler or even that strong of a swimmer to be able to get out to the action. It starts just a few feet off shore. The bottom is sandy so you don't have to worry about stepping on rocks.
Make sure to use a reef safe sunscreen when snorkeling to preserve the coral reef.
Where to snorkel at Coki Beach?
What you will see snorkeling at Coki Beach:
Colorful, tropical fish
Sea turtles
Sting rays
Coral Reef – reminder not to step on the coral.
Crabs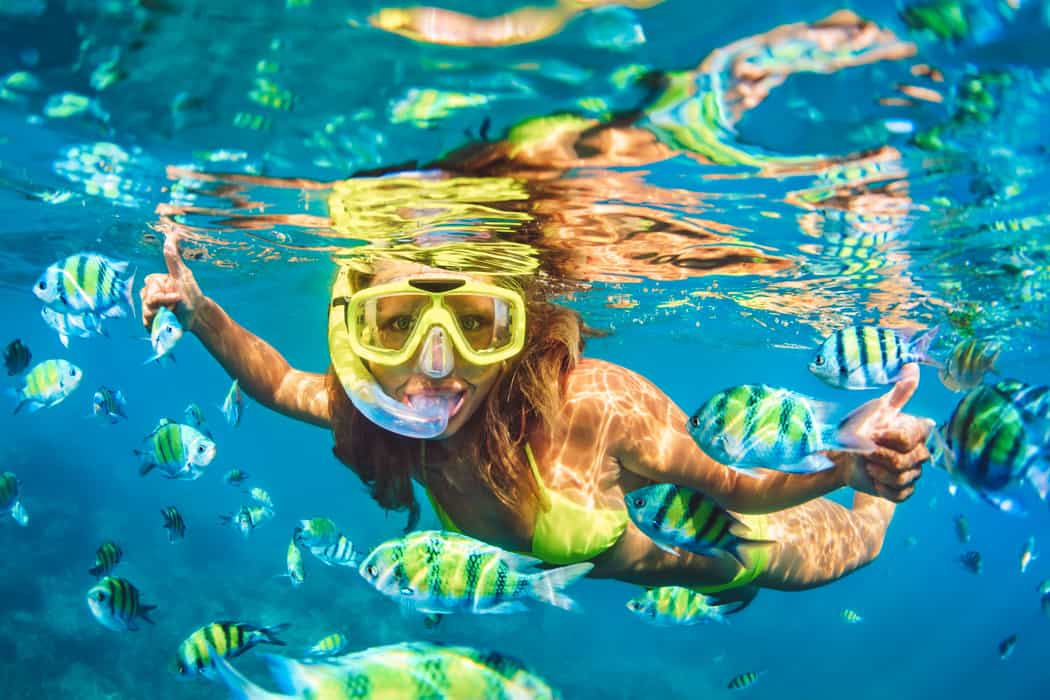 Coki Beach Rentals
Even though this little beach gets crowded, there are advantages. One of the big advantages is that you can rent just about any type of beach toy you would want on this beach. This includes lounge chairs, umbrellas, snorkeling equipment, and paddleboards.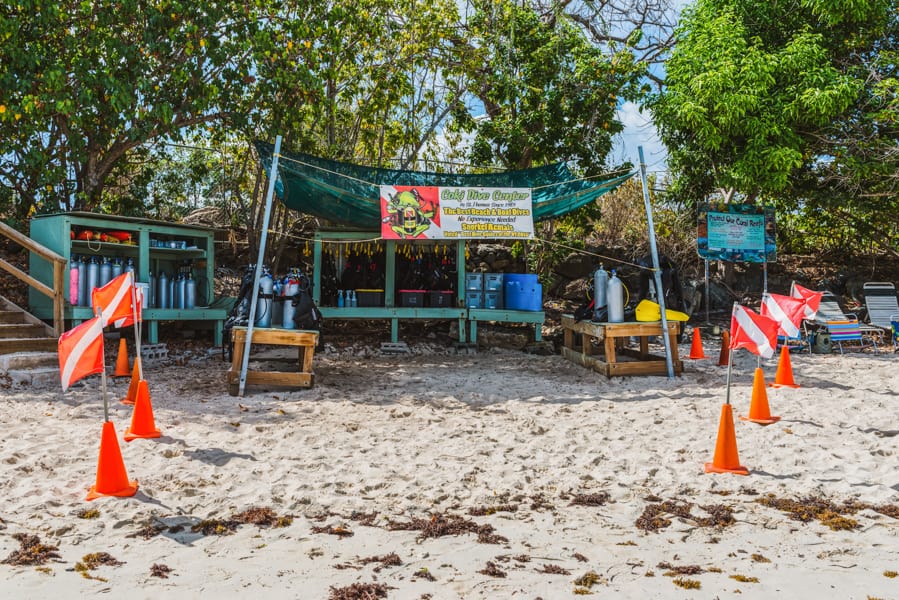 Facilities
Coki Point literally has everything you could want. From bathrooms and showers, to bars and restaurants, and even gear rentals. Lounge chairs typically cost $5 and umbrellas $10. There are also lockers available.
With snorkeling conditions being so perfect it is nice that there are also a few vendors you can rent gear from.
Costs broken down:
Parking – $5
Floating loungers – When we were there the floating loungers and mats $25.00 to use.
Beach chairs – around $5
Umbrella – starting at $10
Best Things to do at Coki Beach
Go Scuba Diving with a Certified instructor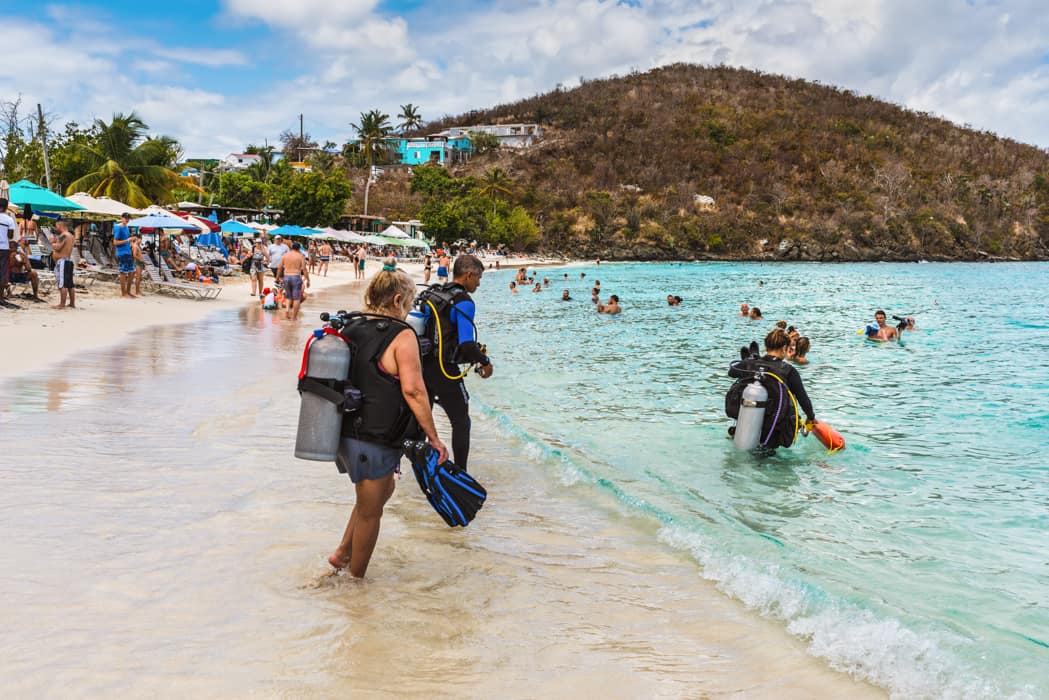 There are few places in the world that have as good of scuba diving as you can find in the USVI. Take advantage of it while you are there!
Visit Coral World Ocean Park
Coral World Ocean Park is located right next to Coki Point Beach. It is walkable. I highly recommend visiting.
There are 5 acres with exotic aquariums where you can see all kinds of marine life. They also have outdoor pools, trails and more. You can view marine life exhibits with general admission tickets.
Coki Beach Excursions
There is so much to do at this beach.
Scuba Diving
Hair Braiding
There is even a stage where live music is performed with a small dance floor in front of it!
Coki Beach Restaurants
There are a couple of restaurants and bars on the beach, Coki Point Beach Bar and Grill is one of the most popular. They open at 10 am and the menu includes hamburgers, fries, wings, ribs etc.
Dushi's by the Sea
Catch of the Day – Seafood restaurant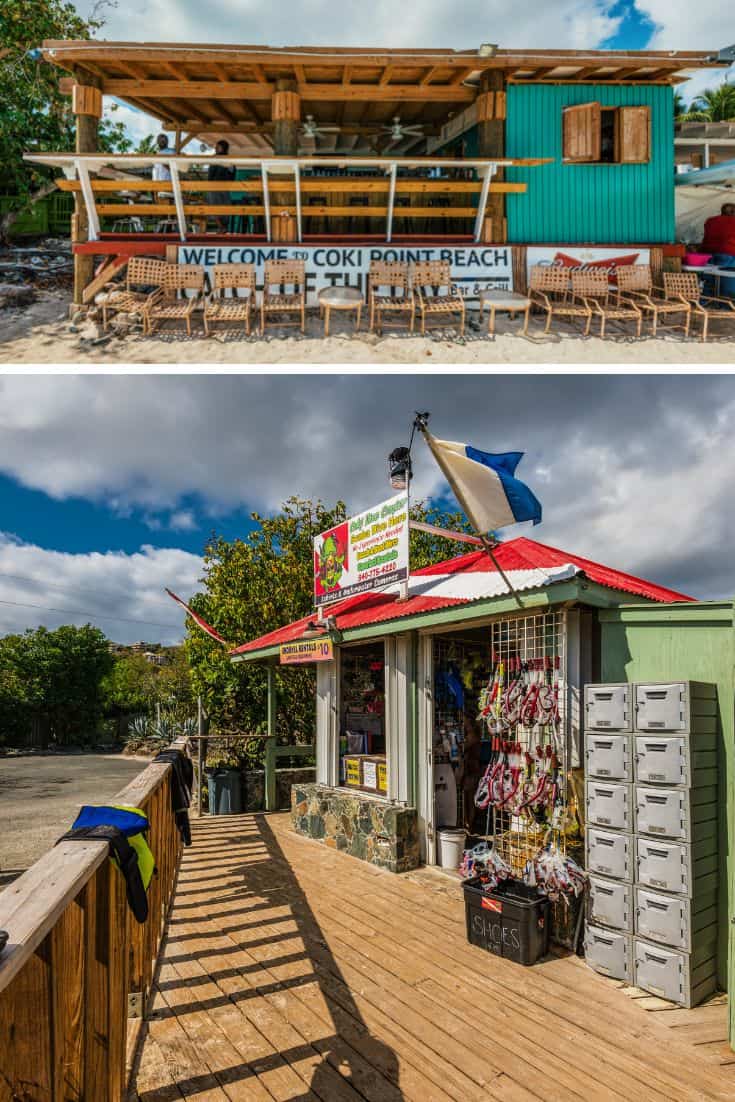 Where to Stay Near Coki Beach
There are only a few accommodations near the beach. The closest you'll get to the beach is the Margaritaville Vacation Club, it is just a short walk away.
There are no hotels directly on Coki beach.
Available tours in the area
FAQ:
How far is Coki Beach from cruise port?
Coki Beach is located about a 25 minute drive (8 miles) from the Cruise Port.
Coki Beach entrance fee
None. Free to visit!
Check out a 20 second video pan of Coki Beach below
Things to do near Coki Point Beach
Lindquist beach – 5 minute drive from this beach
Sapphire Beach – 8 minute drive (2.5 miles
Bay Beach – 6 minutes away (1.7 mi)
Muller Bay Beach – 13 minutes away
Conclusion: Is Coki Beach worth visiting?
Yes, if you are looking for a party beach then come here! If you are looking for a slower paced beach that you can have more space to yourself then go to the nearby Lindquist Beach or Sapphire Beach.