Sapphire Bay Beach in St. Thomas is legitimately one of the best beaches in St. Thomas. Seriously, the experience is an all around amazing beach. Calm turquoise waters and fine white sand are only the beginning.
Sapphire Bay Beach offers amazing snorkeling, restaurants and bars directly on the beach, as well as the ability to rent all the fun water toys and equipment you would want.
It really is a perfect environment for the entire family. The trickiest part is realizing that you don't have to be a guest at the Sapphire Bay Resort to access.
Sapphire Beach in St. Thomas (US Virgin Islands)
The Beach is NOT just for Sapphire Bay Resort Guests
When you drive up to the beach you will see a guard gate at the bottom of a steep hill. This made us think that we were not allowed to access the beach unless we were hotel guests. All the beaches in the Virgin Islands are public, so they have to let you access.
We went up to the guard gate and said that we wanted to access the beach and they waved us through immediately. Not only did they wave us through, but there was a huge gravel parking lot. We went on a busy weekend day and the parking lot was only half full.
Another perk is that parking is free; you don't have to pay to access the beach or to park.
Where is Sapphire Bay Beach located?
This beach is located all the way on the north east end of St. Thomas in the US Virgin Islands. If you are coming from the main cruise port in Charlotte Amalie, it is about a 30 minute drive. If you are looking to go to the Red Hook Car Ferry terminal to cross to St John it is only about a 5 minute drive.
A taxi ride from the cruise terminal to Sapphire Beach should probably cost you about $30 each way.
How to get to Sapphire Beach
You can visit Sapphire Beach on your own, as part of a tour, or on a private boat charter.
Taxi – If you are coming from the cruise port and get a taxi it will cost you $30 each way for 2. (2023 pricing). If you need to head back to the cruise terminal and you are nervous about being able to get a taxi, you can take comfort in the fact that each time we were there we saw a lineup of taxis waiting for customers to take back.
Taxi Truck (tram) – If you are traveling with a bigger group I recommend trying to find a taxi truck. On the island of St. Thomas there are trucks with rows of seats welded into the beds. It makes an easy way for a whole group of people to hop in at once. It will cost about $10 per person one way to Sapphire Beach.
Rent a car – this is what we did since we were staying for a few days; I highly recommend it so you can explore the entire island. If you are planning on renting a car in the U.S. Virgin Islands I always get the best prices here.
Ummm, and warning if you do decide to rent a car, they drive on the LEFT side of the road, but with vehicles meant for driving on the RIGHT side of the road.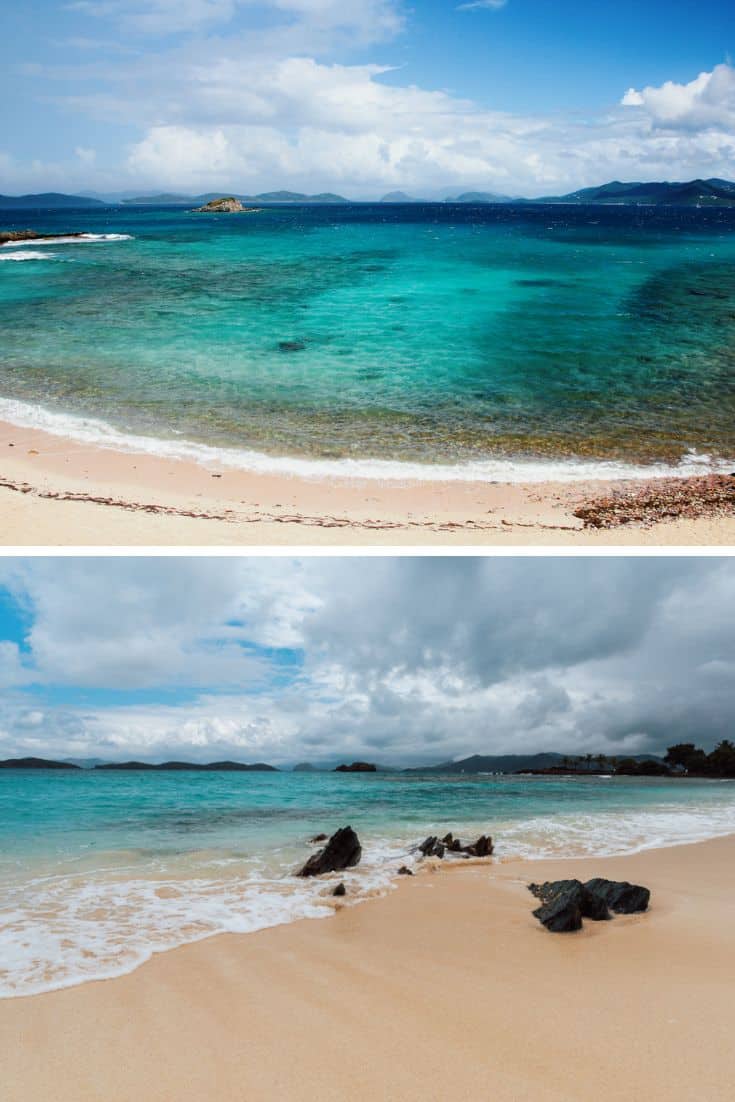 Sapphire Beach Snorkeling
When the conditions are calm, which is thankfully most of the time, you can rent gear to go snorkeling on Sapphire beach. You can expect to see coral reefs, lots of colorful fish, even squid & eels (though I didn't see a squid or an eel).
As with most beaches, the best snorkeling will be near the rocks. With the water generally being so calm it is the perfect place for a beginner to learn to snorkel.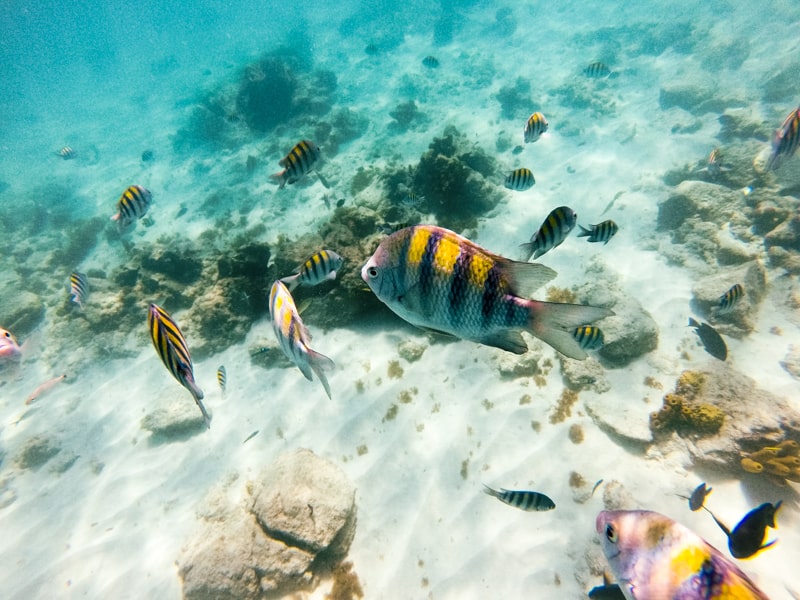 Sapphire Beach Crowds
This beach can get crowded on a busy cruise ship day. Thankfully, the beach is bigger than others like Coki Point so it can absorb the crowds pretty well.
If you are looking to avoid the crowds I recommend the nearby Lindquist Beach. You will lose some of the crowds but also the bar and restaurant amenities.
If Crowded, Walk Next Door to Pelican Beach
When facing the beach and then looking to the left you will see a group of rocks and then the beach take a turn. If you walk all the way down and then across the rocks you will come to a small beach named Pelican Beach.
When we walked down to Pelican Beach there was literally no one else on the beach, just a 3 foot iguana that scampered away as we got close.
The walk itself will take you about 5 minutes, but you will want some sort of footwear to protect your feet from the rocks, and know that some of them are slippery.
Facilities
There are bathrooms, showers, snorkel and water gear rental, and lounge chair rentals. There are certain chairs that are only for the Sapphire Bay Resort guests though. One of the best perks of this beach is the beachside bar that anyone can access.
Sapphire Beach Bar – check out there menu here.
Restaurants in Sapphire Bay
There are two restaurants in Sapphire bay that you don't have to be a resort guest to access.
Best time of day to visit
It can get busy during a multiple cruise ship day, but if you want to avoid the crowds go in the morning before they arrive. If you are a cruise passenger looking to avoid the worst of the crowds pack your own drinks and head to the next door Lindquist Beach.
Where to Stay Near Sapphire Beach in St. Thomas
Things to do nearby
Pelican Beach
Bay Beach
Lindquist Beach – 3 minute drive or a 16 minute walk from Sapphire beach
Is visiting Sapphire beach worth it?
It depends! It is an awesome beach, but if you are a cruise passenger you might not want to pay for the taxi back and forth. Or you may be more interested in finding a beach with less people.