Sapphire Bay Beach in St. Thomas is one of the best beaches in St. Thomas that offers amazing snorkeling, restaurants and bars on the beach. Family friendly. Gear rentals and so much more.
Sapphire Beach in St. Thomas (US Virgin Islands)
Where is Sapphire Bay Beach located?
This beach is located all the way on the east end of St. Thomas in the US Virgin Islands. Sapphire Beach is about a 30 minute drive from the cruise port in Charlotte Amalie.
How to get to Sapphire Beach
You can visit Sapphire Beach on your own, as part of a tour, or on a private boat charter.
Taxi – If you are coming from the cruise port and get a taxi it will cost you $30 each way for 2. (2023 pricing)
Taxi Bus – If you are traveling with a larger group I recommend trying to find a taxi bus. It will cost about $10 per person one way to Sapphire Beach. Ride takes about 30 minutes.
Rent a car – this is what we did since we were staying for a few days. Highly recommend. If you are planning on renting a car in the U.S. Virgin Islands I always get the best prices here.
Ummm, and warning if you do decide to rent a car, they drive on the LEFT side of the road, but with vehicles meant for driving on the RIGHT side of the road.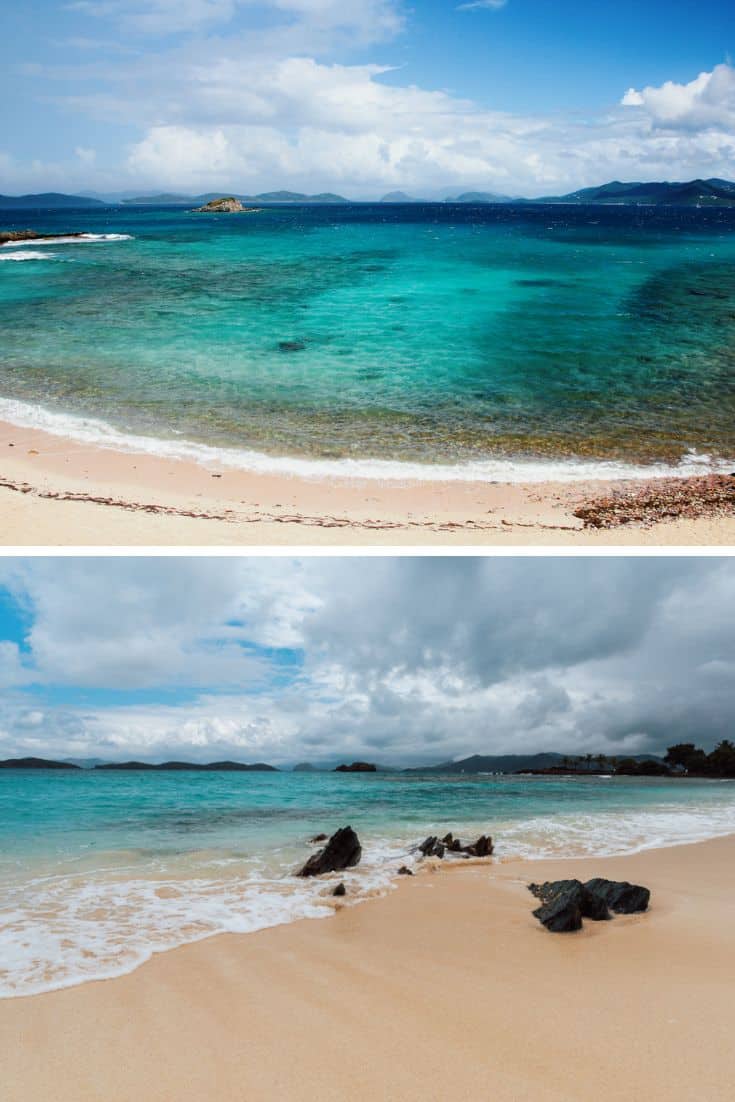 Sapphire Beach Snorkeling
When the conditions are calm, you can rent gear to go snorkeling on Sapphire beach. You can expect to see coral reefs, lots of colorful fish, even squid & eels.
The best snorkeling is near and along the rocky outcropping, where you will see plenty of small and medium sized colorful fish, and quite a bit of large coral.
Entry for snorkeling is on the beach. Beginner friendly!
sea turtles
tropical fish
eel
squid
sting rays
Tip – Make sure if you snorkel you have a waterproof phone case (I have this waterproof housing from amazon that works ridiculously well) and a good dry bag for your electronics. This is my favorite dry bag. I never travel without it. Go pro also works wonders!
If you want to be able to take over/under water pics you will need an additional dome housing. I have this one from amazon that connects perfectly to my axis go waterproof phone case and is expensive, but works amazing.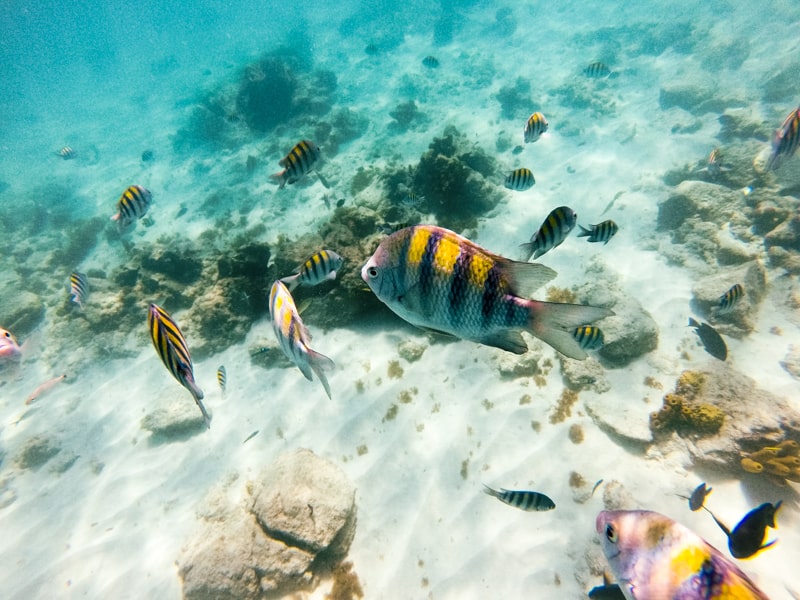 Crowds
This beach can be susceptible to crowding when cruise ships are in port. While the beach may get a bit packed on heavy cruise ship days, the good snorkeling is mostly left untouched.
If you are looking to avoid the crowds I recommend the nearby Lindquist Beach. You will lose the crowds but also the amenities.
Facilities
There are bathrooms, snorkeling rentals, lounge chair rentals, restaurants, shopping and beach bars. The surrounding area has been rebuilt with nice restaurants and shops so this is a great place to go if you want to spend the day. Also a marina nearby.
Restaurants in Sapphire Bay
There are two restaurants in Sapphire bay, Sapphire Beach Bar and Sudi's Restaurant. There is also a coffee shop – The Beach Buzz, within the Sapphire Bay.
Sapphire Beach Bar – check out there menu here.
The Beach Buzz is a little cafe right next to Sapphire Beach bar. They serve coffee, breakfast sandwiches, etc.
Sudi's Restaurant is a much more full scale restaurant than the other two. Get their menu here. Sudi's also has an on site pool where you can take a dip while you wait for your order! Huge bonus!
Best time of day to visit
It gets very busy if there are cruise ships docked for the day so you might want to get there early or plan your trip when the cruise ships aren't there.
Where to Stay Near Sapphire Beach in St. Thomas
Things to do nearby
Pelican Beach
Bay Beach
Lindquist Beach – 3 minute drive or a 16 minute walk from Sapphire beach
Is visiting Sapphire beach worth it?
It depends. If you are coming from the cruise port $60 roundtrip it's a lot to spend when there are beautiful beaches closer. If the crowds don't bother you then yes!