Bryce Canyon is an awesome national park that often doesn't get the attention it deserves. The park isn't as big as some others, but that doesn't mean that there aren't a ton of things to see and do, especially quality hikes.
The five most popular Bryce Canyon Hikes are the Navajo Loop Trail, Queens Garden Trail, Rim Trail, Fairyland Loop Trail, and the Mossy Cave Trail. Unless you really want to canvas the entire park, there are only two that I actually recommend, the Navajo Loop Trail and the Queens Garden Trail.
Obviously this is just my opinion, but these two are the best hikes in the park. After experiencing them you can leave Bryce Canyon with no regrets.
Note on the Rim Trail – The Rim Trail isn't actually a full hike. Even though it will take you to the most popular Bryce Canyon Viewpoints often follows the road and goes by a lot of parking lots. It is also 11 miles. You can see the best that Bryce Canyon Viewpoints by driving to them and then leaving on one of the trails leaving from there.
The Best Bryce Canyon Trails
Bryce Canyon Trails are typically a lot shorter than trails in other national parks. This means that they are great to do in a day. Each of these hikes can easily be completed in a few hours.
If your interested, check out this article on the best viewpoints at Bryce Canyon (in detail!)
Queens Garden Trail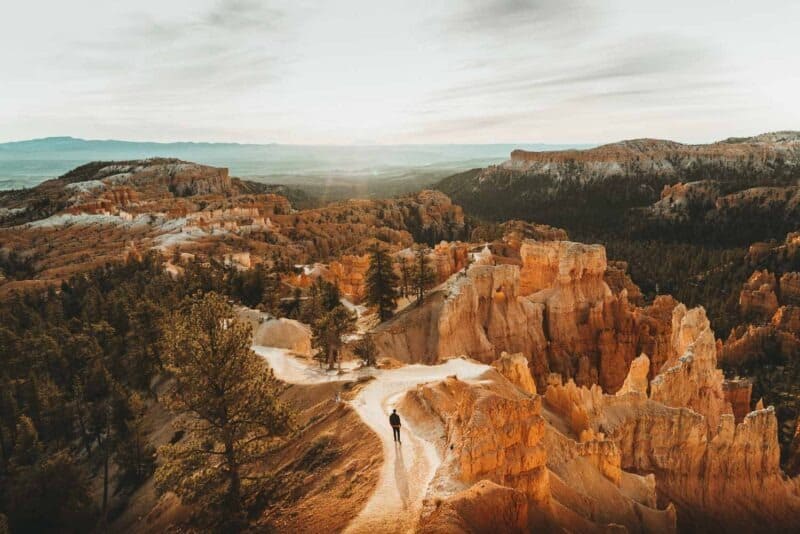 Parking: Parking for the Queens Garden hike can be found in the Sunrise Point viewpoint parking lot. It is also accessible from Sunset Point a little further south.
Difficulty: Easy
Length: 0.9 miles to Queens Garden, 1.6 miles to the Navajo Trail, 1.9 miles to the Peekaboo Trail
Elevation change: 500 feet
Trailhead: Sunrise Point; also accessible from Sunset Point
Best time to go: April-October
The Queens Garden Trail hike begins at Sunrise point. Almost immediately it leads you down into the canyon. You will see many amazing hoodoos along the way. Even though the trail is easy, there are some cliffs along both sides, so be careful if you go with little ones.
Navajo Loop Trail
Parking: Parking for the Navajo Loop Trail hike can be found in the Sunset Point parking lot.
Difficulty: Easy
Length: 1.3 miles
Elevation change: 500 feet
Trailhead: Sunset Point; also accessible from Sunrise Point
Best time to go: April-October
This is probably the most popular of the hikes Bryce Canyon offers. It is only 1.3 miles long, but the things you see along the way are amazing. The pictures speak for themselves, but it is famous for having rock formations named Thor's Hammer and Wall Street.
Side note – it is only a loop in the summer as snow blocks off parts of the trail in the winter. Even though people flock to this hike, I still recommend it.
EXTRA – Queens Navajo Combination Loop
I know I just said there are two amazing hikes, but if you want something longer it is easy to combine the two into one hike. The total hike is still only 2.9 miles, so most people can get them done at once.
I loved hiking at Bryce Canyon, and recommend you check out all of the trails, but if you only have time for two, I think that Navajo Loop Trail and Queens Garden Trail.
Related Bryce Canyon articles: