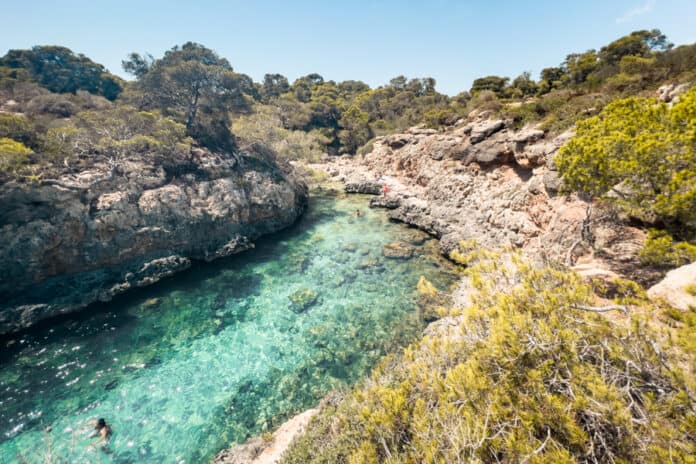 Cala Beltran – The Secret Reward From Cala Pi
So many people don't realize that Cala Beltran exists, which for you could actually be a huge benefit. In Mallorca's peak season it is almost impossible to get away from crowds of people. Does an incredible cala (cove) without crowds of people sound too good to be true? Cala Beltran just might make the impossible possible.
For those that do get to appreciate Cala Beltran, they almost always do it in conjunction with a visit to Cala Pi. This is because by far the easiest way to access it is a secret trail that leaves from Cala Pi.
This secret trail isn't marked and leaves from behind a fish house. The hike to this hidden cala is only 20 minutes or .6 of a mile, so it won't take you an entire day to access. The hike itself provides phenomenal views of Cala Pi, one of Mallorca's famous towers, as well as the Mediterranean Sea.
The one downfall of this beautiful cala is that there isn't a sandy beach, but a shore made up of smaller rocks.
Regardless of the lack of sand, it is still a beautiful place to escape the crowds of Cala Pi. I visited Cala Beltran on one of the busiest Sunday afternoons in peak season and only saw 4 other people on the trail or at Cala Beltran. Given the crowds that flock to Mallorca, this is almost unheard of!
Cala Beltran Quick Facts
Other Names: Cala Pi's Secret Cala
Known For: AWESOME cliff line hike taking you to a rocky cove with stunning water
Facilities: none
Lifeguards: none
Parking: plenty on the side of the streets in the urban area
Cost: free
Other: hard to find the trailhead, but .6 mile hike required
What to Expect Once There
The hardest part about this cala is finding the trail. Once you have found the actual trail it is easy to follow, but finding where it begins is tricky.
The Trail to Cala Beltran
The secret is knowing that it begins at Cala Pi, but the trail starts behind a fishing house that you may think is off limits. If you follow it around you will see a really steep trail/set of steps that immediately take you up to the top of the cliffline.
The first steps up to the cliff-line are the only difficult part of the hike. I was nervous since I didn't bring proper footwear, but after the first 50 yards it was easy to complete it in flip-flops.
Once you are on top of the cliff you follow it along to the cala. It is a truly stunning hike. You will have gorgeous views of Cala Pi, one of the famous Mallorca defense towers, and out into the Mediterranean Sea. Seriously, even if there weren't a cala at the end this hike would be so worth it. The waterway is long, narrow and winding. It looks like a snake of water in the landscapes.
See the pictures to know where to begin!
The Rocky Cove Beach of Cala Beltran
Once again, there is no sand on this rocky beach, but that doesn't mean it isn't beautiful. The colors are vibrant, from the verdant trees to the clear turquoise water, you won't be disappointed.
Location
Cala Pi and Cala Beltran are located in the southeastern part of the island of Mallorca. It is about a 1 hour drive from Palma, or the main airport.
Parking
Like Cala Pi, you will find plenty of parking in the city. There is free street parking on the side of most of the roads. Even at a busy time we found a close spot without a problem.
Crowds
Cala Pi is popular, but typically isn't as crowded as some of the other Cala's.
Remember that in season Mallorca is packed, so you should still expect a lot of visitors. Most of those visitors don't go beyond Cala Pi though, so you likely will be able to have more solitude if you do the hike.
What else to do in the area
Obviously Cala Pi is in the area and should be done! You will also be relatively close to the famous Es Trenc Beach, which is perfect if you want a more traditional beach with long and wide stretches of sand. Read more about it here.
Conclusion
There are lots of reasons to visit Cala Beltran. If you are willing to sacrifice the sand of a cala, or just want to do an awesome hike, then make the journey to Cala Beltran.