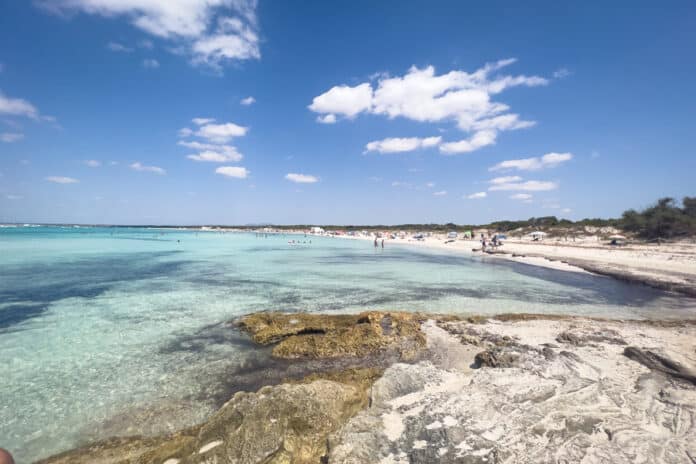 Trenc Badestrand Beach in Mallorca Spain!
Want the joys of Es Trenc beach without quite as many crowds? This beach is actually attached, it just involves a further walk down once you get onto the famous Es Trenc beach.
At Trenc Badestrand the sand isn't quite as wide, but you will likely find even more room to lay out, and the water is ideal to swim in.
Quick Facts
Other Names: Es Trenc, Parc Natural Es Trenc
Known For: being attached to Es Trenc, amazing family beach
Facilities: No showers, but concession stands and porta potties at Es Trenc
Lifeguards: Yes
Parking: big lot, that only fills up at the absolute busiest times
Cost: 7 euros to park
What to Expect at Trenc Badestrand
A gorgeous beach, unlike most others on the island of Mallorca. The experience is much more traditional, meaning that it provides a long stretch of sand. To get here, just go to Es Trenc and then walk down to the left.
Location
South east part of Mallorca. It is about an hour drive from Palma, but definitely worth it to make the effort. You will need to drive down some scary thin and windy roads.
Parking
There is a big lot that you pay 7 euros to park in. At the busiest times it fills up and they will close off the road saying the lot is full.
We went on a Saturday afternoon in July and they had the sign up, but there were still a few rows of open spots in the lot. We think they do this to save the spaces for locals.
What Else To Do In The Area
You can head to an awesome Cala, Cala Pi which isn't too far of a drive. You can obviously also enjoy Es Trenc Beach.
Conclusion
If you want the traditional beach experience on Mallorca, Trenc Badestrand is a great choice to avoid the worst of the crowds. The water is at a perfect temperature, so I could hang out in it all day.
Full guides on my favorite Mallorca beaches
I have visited over 30 Calas (or beaches) in Mallorca and have full guides about all of them. From which ones are best to the parking (it can be a nightmare) to how to get down to the actually beach as a lot of them require hikes.
CALO DES MORO – This is probably the most beautiful cove beach I have ever seen. It was crowded when we went (high season) but if you go during the spring or early fall it won't be nearly as crowded.
CALA S'ALMUNIA – Amazing cliff jumping spots here. Not too high, not too small. It was just perfect in my opinion. This beach is literally a 5 minute walk from Calo des Moro. Don't miss it! It's beautiful!
CALA DES BORGIT – Amazing, lesser known beach. This may have been my favorite Cala we visited. It is much lesser known and wasn't nearly as crowded as the others.
ES TRENC – Lesser known but amazing! Es Trenc is more of a traditional beach than the others on the list (no rocks or cliffs around) but more out of the way from most of the touristy things. It was another one of my favorite beaches. The water was so blue, and the sand so white! Trust me, you don't want to miss this hidden gem.
Other Mallorca beaches we loved:
Note: We have been to every single one of these beaches. It was A LOT of work but we love it! Mallorca is one of our favorite spots to vacation in the summer. I hope you find this information helpful. Thanks so much for reading!