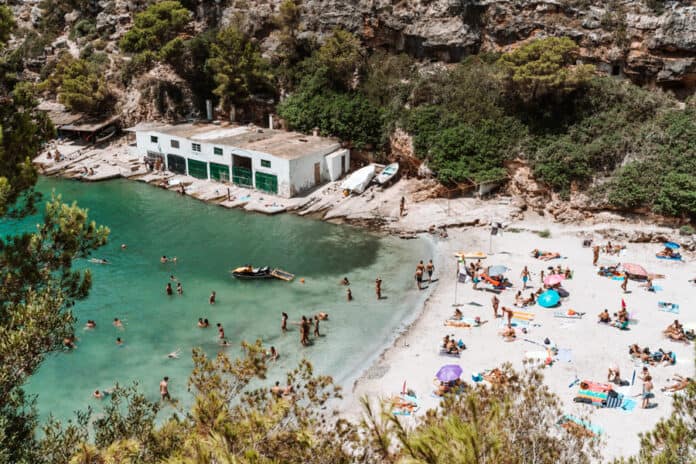 Guide to visiting Cala Pi in Mallorca, Spain
Plain and simply, Cala Pi Mallorca is awesome. Mallorca is full of rocky inlets that snake into the island ending in small beaches. These intimate beaches are somehow even better in person. One of my favorites is Cala Pi. Cala Pi offers all of the traditional amazing allures of a cala, with a few extra perks.
You can do an awesome hike and get to see another awesome cala (Cala Beltran). It is also much easier to access since it is located in the middle of a small urban area with tons of parking, and restaurants and shops in the area so you can make a whole day of it.
While this beach features a famous Instagram photo spot of a platform jutting out high above the beach. If you are interested in snapping the perfect shot, make sure you read on to see how to find it.
Quick Facts
Other Names: Cala Pi, Next to Cala Beltran
Known For: Instagram famous photo spot, more sand than many other Mallorca cove beaches
Facilities: None (but some nearby in the city)
Lifeguards: Yes
Parking: Lots around the city
Cost: Free
Other: Cala Pi is the starting point for a hike to Cala Beltran
What to Expect Once There
There are no facilities at the beach, so plan to utilize them up the stairs in the city.
To get down into the cala you will need to walk down some pretty steep stairs. Because the entire island is almost rocky cliffs, you almost always need to walk down into the calas, and this one is no different.
When you are going down the steps you will see it split two different ways. To the right are the actual stairs that will take you to the beach.
To the left you will see a path that just seems to take you to the backyards of some massive homes or hotel resorts. This path actually takes you to the famous photo spot.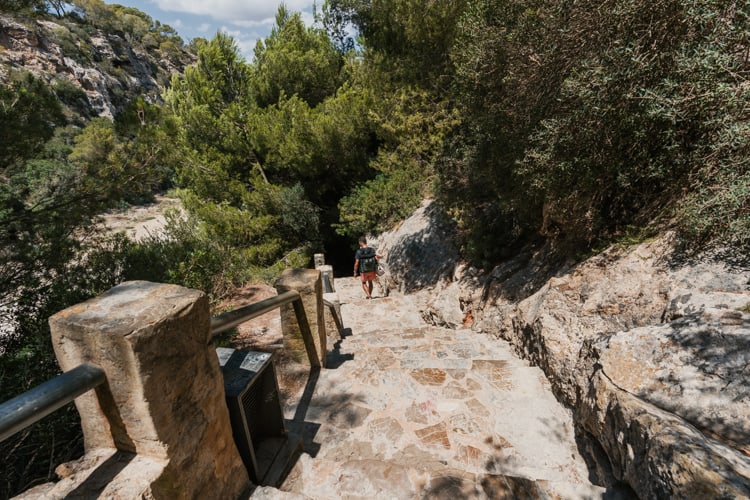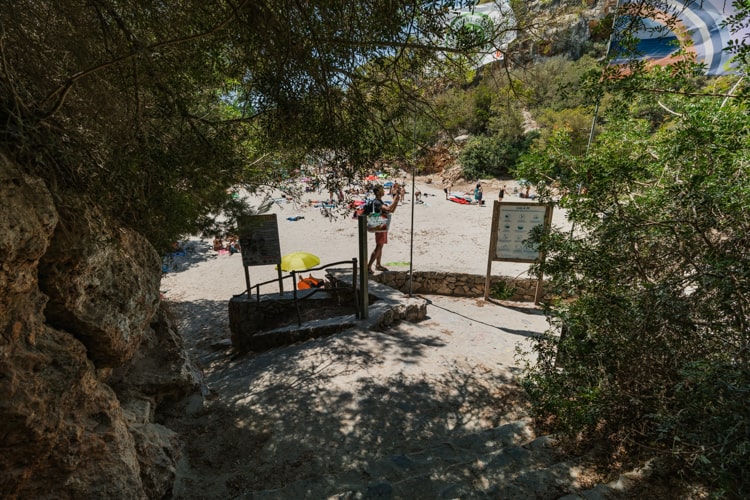 Instagram Photo Spot Cala Pi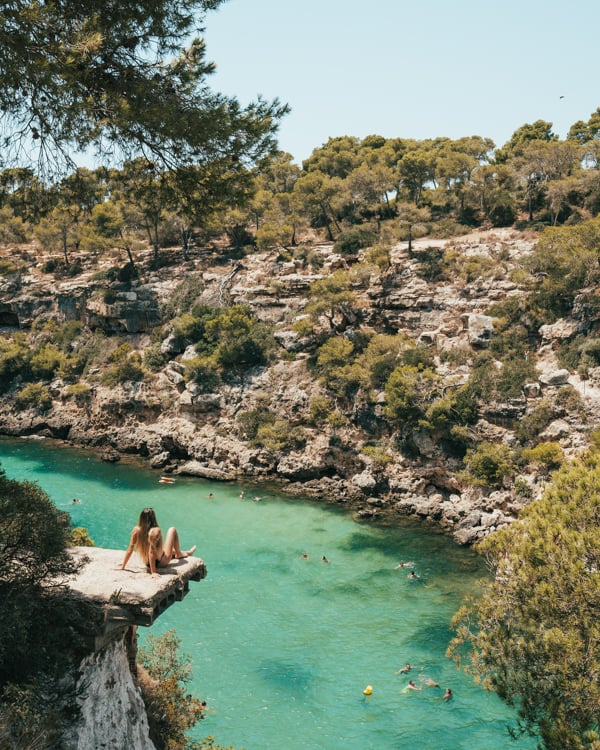 When you are on the stairs descending into the cala you come to a fork. If you take it to the left and walk a bit you will see an overhang that sticks out above the cliff. If you are comfortable enough walking out onto it and have a friend to take your picture from a ways away you will get an awesome picture.
When we were there a lineup of people were waiting to snap their pic.
This spot is also amazing to get photos of the entire beach!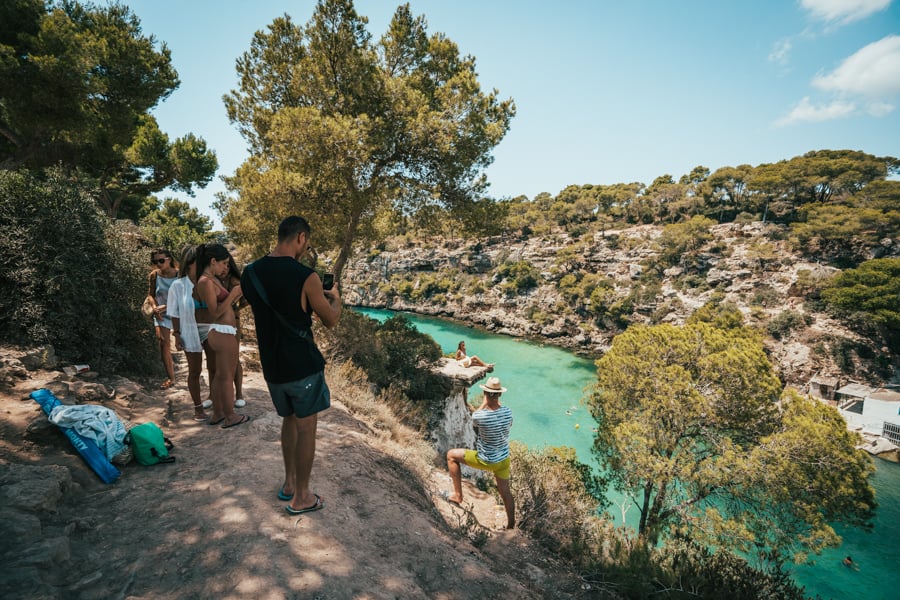 Location of Cala Pi
Cala Pi is on the southeastern coast of the island of Mallorca. It is relatively close to Palma, which makes it one of the closest quality calas if you are looking to escape the city to a famous cove beach.
I love that this cala is in an urban area. Not only does it make it easier to park, but it gives you other things you can do in the area (lunch, shopping, etc).
Cala Pi Parking Situation
There is a lot of free street parking due to it being in an urban area. You likely won't have to walk too far at all.
Lifeguards
There were lifeguards on the beach, which is always nice to have.
Other Facilities
While there are officially no bathrooms and showers on the beach, we found some just behind the restaurants at the mouth of the Cala. We ate at the little chicken restaurant and asked if there was a bathroom. The attendant told us to follow the path behind the restaurant and down a set of stairs.
Not only did the complex have restrooms, but it also had showers. It was really nice for us because this was our last stop before flying out, so we got to take a quick shower before hopping on a plane.
I'm pretty sure these bathrooms aren't open to the public, or even restaurant guests, but we were quite happy to have found them.
Crowds
There is more sand to spread out on at this cove beach than some of the others, and it not being super close to any of the main resort areas help it from being super crowded. That being said, it is still on a tropical island that doesn't have that many sandy beaches so there will be others there with you.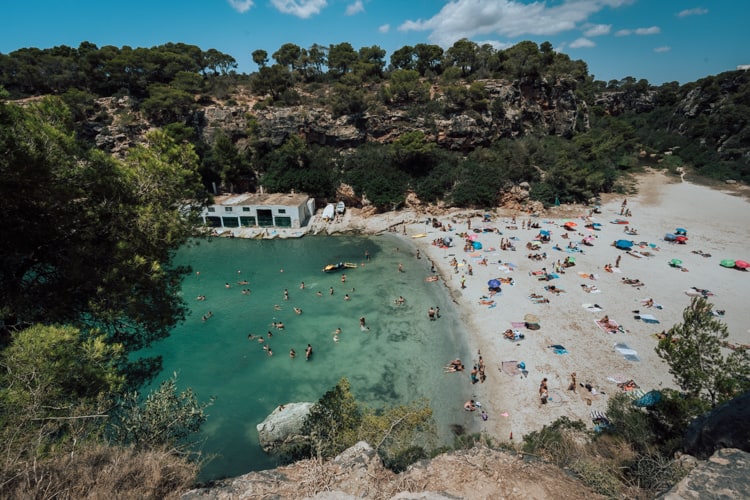 What Else To Do In the Area
Surprisingly the restaurants and shops in the area weren't expensive.
You also should do the hike to Cala Beltran, which leaves from Cala Pi. Only 20 minutes and will really get you away from the crowds.
Conclusion
If you are in Palma and want to get out, then visit Cala Pi! If you are in another part of the island with other calas and not wanting the Instagram spot might not need to make the trek as others are fabulous as well.
Full guides on my favorite Mallorca beaches
I have visited over 30 Calas (or beaches) in Mallorca and have full guides about all of them. From which ones are best to the parking (it can be a nightmare) to how to get down to the actually beach as a lot of them require hikes.
CALO DES MORO – This is probably the most beautiful cove beach I have ever seen. It was crowded when we went (high season) but if you go during the spring or early fall it won't be nearly as crowded.
CALA S'ALMUNIA – Amazing cliff jumping spots here. Not too high, not too small. It was just perfect in my opinion. This beach is literally a 5 minute walk from Calo des Moro. Don't miss it! It's beautiful!
CALA DES BORGIT – Amazing, lesser known beach. This may have been my favorite Cala we visited. It is much lesser known and wasn't nearly as crowded as the others.
ES TRENC – Lesser known but amazing! Es Trenc is more of a traditional beach than the others on the list (no rocks or cliffs around) but more out of the way from most of the touristy things. It was another one of my favorite beaches. The water was so blue, and the sand so white! Trust me, you don't want to miss this hidden gem.
Other Mallorca beaches we loved:
Note: We have been to every single one of these beaches. It was A LOT of work but we love it! Mallorca is one of our favorite spots to vacation in the summer. I hope you find this information helpful. Thanks so much for reading!