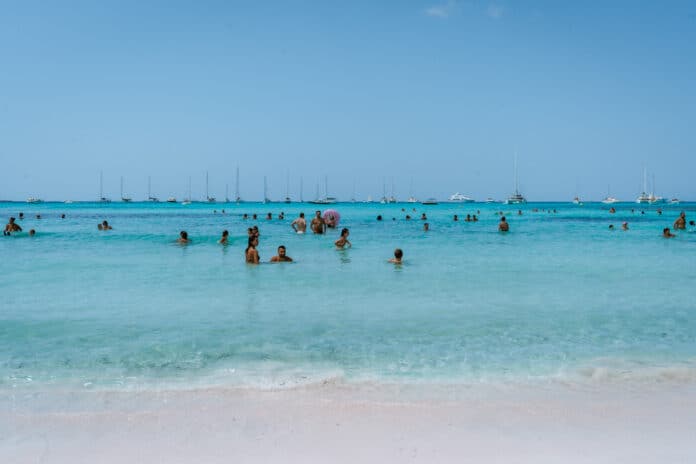 Playa Es Trenc is a famous beach in the South East of Mallorca. It felt like we were in the Caribbean…but better.
Mallorca is known for its absolutely picturesque cove beaches, or calas as they are called locally.
The cove beaches are phenomenal, but frankly there isn't a lot of sand. This means that finding your own space to lay down and soak up some rays can be difficult.
In season (July and August) the calas can get so crowded that people will literally lay out on the rocks on the side of the coves (ouch).
While Mallorca generally has rocky cliffs with a smattering of cove beaches, there are a couple places where you can find the traditional big beach experience.
At Playa Es Trenc you will encounter a wide stretch of sand to go with those perfect Mediterranean waters.
Playa means beach in Spanish.
I loved exploring the Mallorca calas, but on our last day on the island we wanted a beach we could spread out and lay out on. Es Trenc Mallorca let us do just that. Yes, there were still crowds, but even on a Saturday afternoon in the middle of July we were able to find enough space to really enjoy ourselves.
Quick Facts about Es Trenc
Other Names: Playa Es Trenc, Es Trenc Mallorca, Es Trenc beach, Parc Natural Es Trenc (next to Trenc Badestrand)
Known For: wide and long stretch of sand, clear turquoise water
Facilities: concession stands, gross porta potties, no showers
Lifeguards: Yes
Parking: large lot 3 minute walk away from the beach
Cost: 7 euros to park (takes card or cash)
Other: lots of people, but big enough to accommodate
Location of Es Trenc Beach
Es Trenc beach is a little bit out of the way for most visitors to Mallorca, Spain.
It is located on the southeast part of the island about an hour drive from Palma.
Getting to Es Trenc Mallorca without a car would be a little bit difficult.
To get there, you will have to drive along some pretty thin and windy roads. In certain spots the roads are so thin that when a car is coming from the other direction both cars will have to stop and one will have to pull off to the side of the road.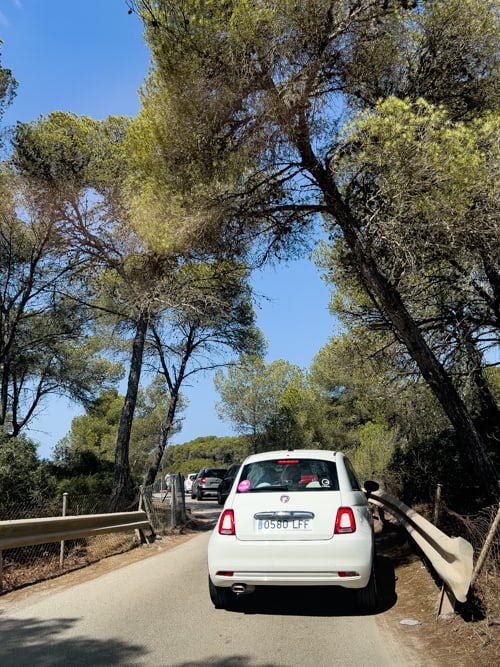 When pulling into the beach we got stuck in a 20 minute traffic jam since the road was too thin and congested to allow this process to happen quickly.
The result was that we were stuck for 20 minutes while cars slowly passed each other going the opposite directions.
If you decide to rent a car I HIGHLY recommend renting the smallest car possible.
The roads in Mallorca are incredibly narrow and it would be nearly impossible to drive a bug SUV down dirt roads to access these beaches. Parking would be a nightmare as well.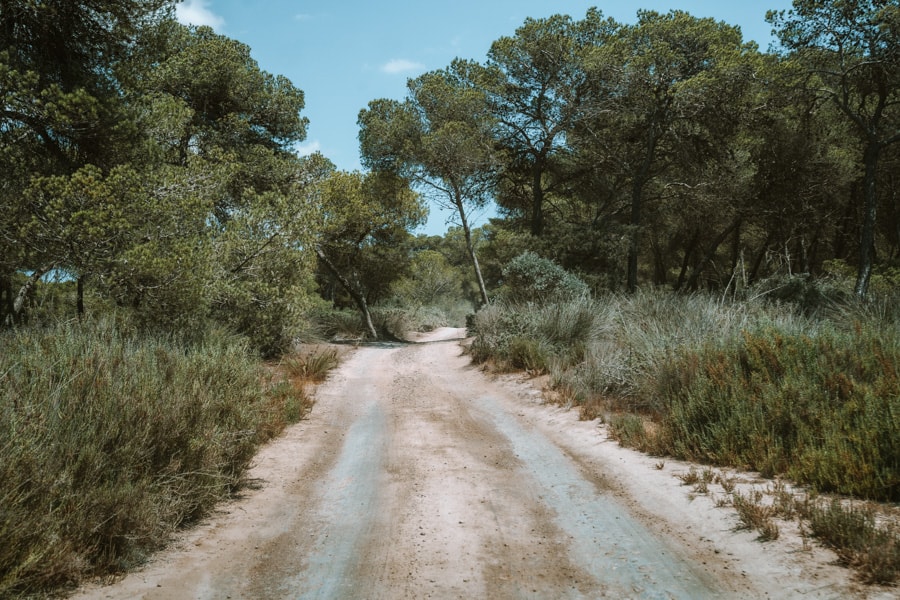 I found myself questioning my husband's directions while winding down this this dirt road, but it turns out, this was the way out.
---
Ways to Explore Ec Trenc Without a car:
These tours will take you to Es Trenc and some of the lesser known places in Mallorca. Great if you don't want to navigate driving on tiny European roads.
See The Beach By Boat!
Full disclosure, driving to some of the Mallorca beaches can suck. The roads are narrow and traffic can be miserable. The experience is made even worse when you arrive and have to compete for a parking spot.
How about you avoid the entire ordeal by getting to the beach via a catamaran instead? Boat tours are shockingly affordably and even provide a delicious meal while aboard. This is the tour I recommend when traveling to Es Trenc. It's seriously the best!
You will stop at multiple beaches on this tour in way less time than it would take to drive to each of them. Don't worry, the boats stop and give you plenty of time to swim and snorkel! Snorkel gear is provided, which will save you the hassle of having to pay for or rent your own.
Book your own snorkel tour here to alleviate the hassles!
Boat Tour Of The Mallorca Coast Line
If you prefer to see the rugged coast and learn about the history of Mallorca more than snorkeling you should book this tour.
Experience guides will walk you through the history of Mallorca while pointing out amazing spots that you would have missed without them. This 5 hour tour will show you the rugged coastline, a number of beaches, as well as the Cap Blanc Lighthouse and Cala Pi tower.
---
Es Trenc Parking
There is a large parking lot that costs 7 euros to park in. Thankfully they take cards or cash, as we temporarily panicked when we realized we didn't have enough cash while waiting in line to park.
There was a short line to pay to get into the parking lot, but after only a couple of minutes we were in and easily found a spot, even when arriving on a Sunday afternoon.
"Road Closed Lot Full" – Don't Trust
Later in the day when leaving the beach we saw that the road that led to the beach had a sign across it saying that the beach parking lot was full and that cars shouldn't drive to the beach since they couldn't get in. We had just come from the lot and saw that there were still rows and rows of empty parking spaces.
If the road is "closed" due to the lot being full, I recommend exploring the possibility of there being spots regardless. Even if the lot is full there are likely to be enough people leaving the beach so that spots will open up.
Best time to visit Es Trenc
Ideally the morning would be best to beat the crowds but we are not morning people.
We arrived on a Saturday at 1:00 pm in July (the busiest time of the year in Mallorca) and had no trouble finding parking or a spot on the beach.
What To Expect At Es Trenc Mallorca
5 minute walk to the beach
After parking there is maybe a 5 minute walk from the parking lot to the beach.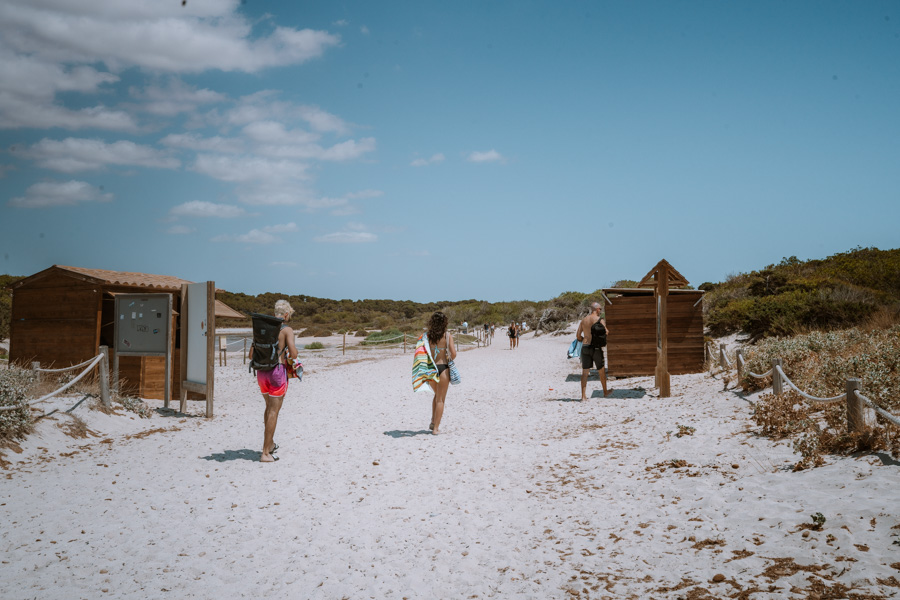 Es Trenc Beach (10 out of 10)
Once you make it to Es Trenc in Mallorca you can expect wide stretches of soft white sand. The sand is perfectly contrasted by the clear blue water.
When you wade out into the water you will see that it remains shallow for a good distance out into the water. This makes it perfect to relax for long periods of time since you won't have to tread water or dodge waves.
The water was so calm we were able to comfortably take a nice camera out into the water to snap additional pictures.
The sand felt more crowded than the water. There was just so much space to spread out in the water. It was so nice after fighting the crowds at Calo des Moro. (One of the most beautiful and popular cove beaches in Mallorca)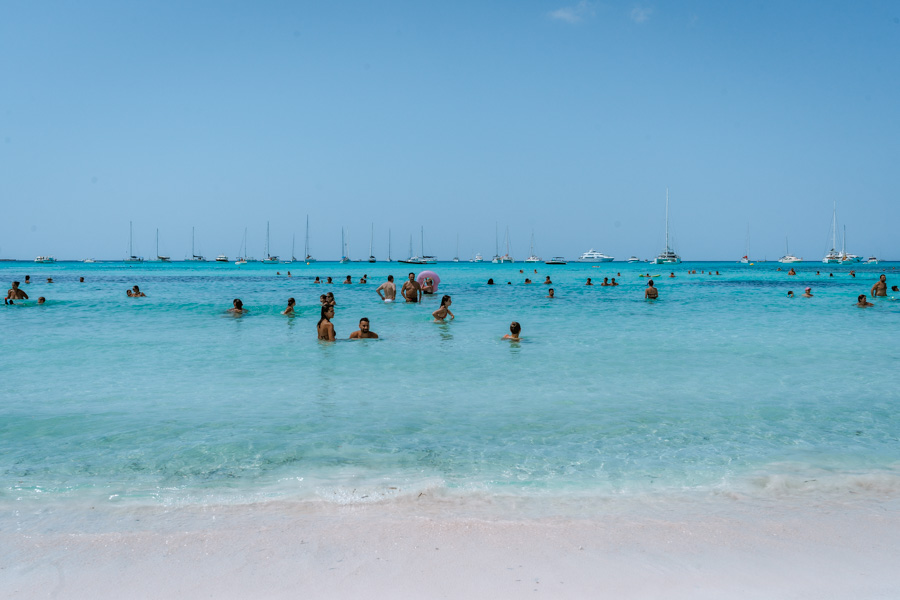 The Vibe
I personally loved the vibe here on this beach. While yes, the sand was crowded there was still plenty of room to find a spot.
Once in the water I noticed at the shore was mainly kids playing.
Further out it stays super shallow so it was quiet and mainly couples. (Adults) further out.
Overall Es Trenc had a great mix of young and old. Families, singles, and couples.
Oh, and I would say it was mainly locals on the beach. We didn't see too many other tourists here.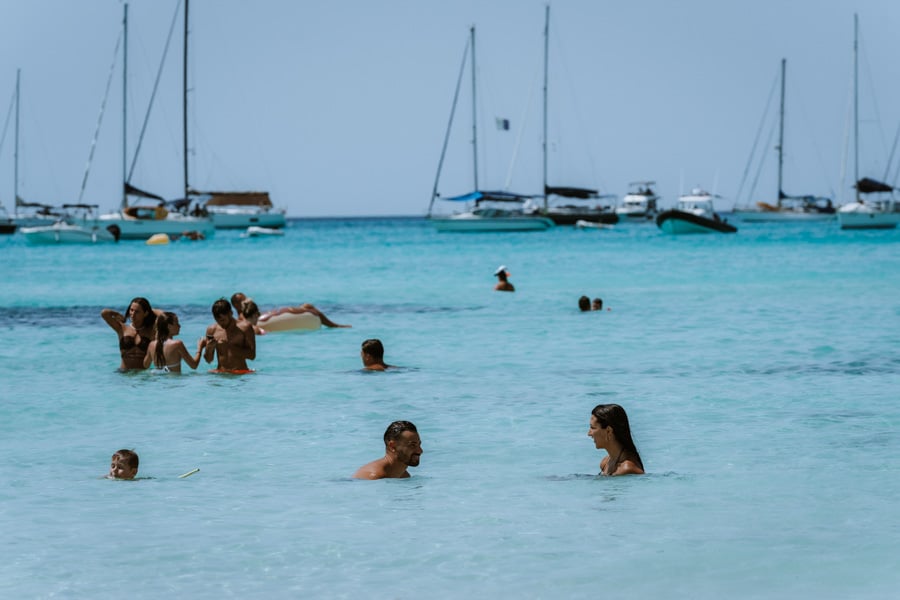 The Crowds
Not going to lie, it was crowded. BUT, we were there Saturday afternoon during peak season. Even though the beach was crowded there was plenty of room to find a spot in and out of the water.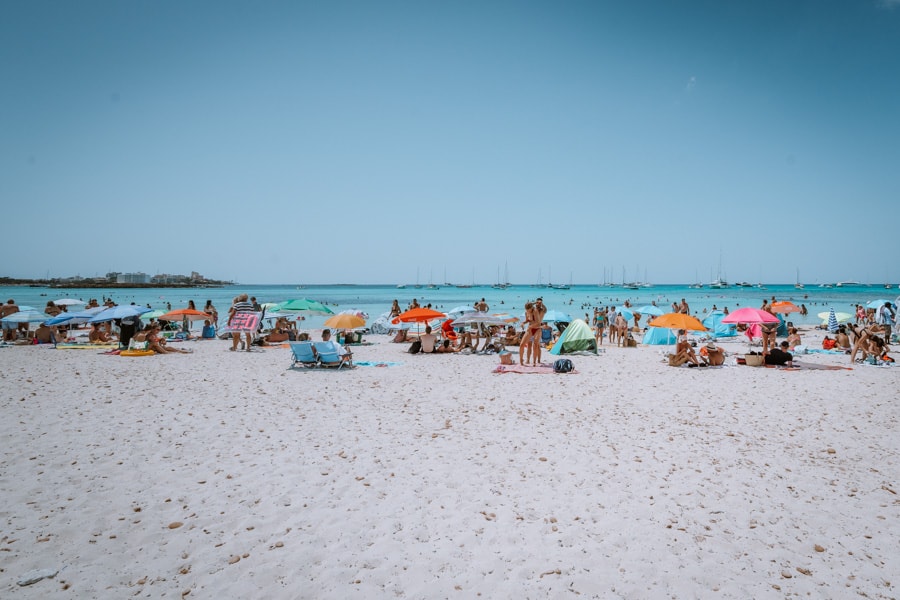 Facilities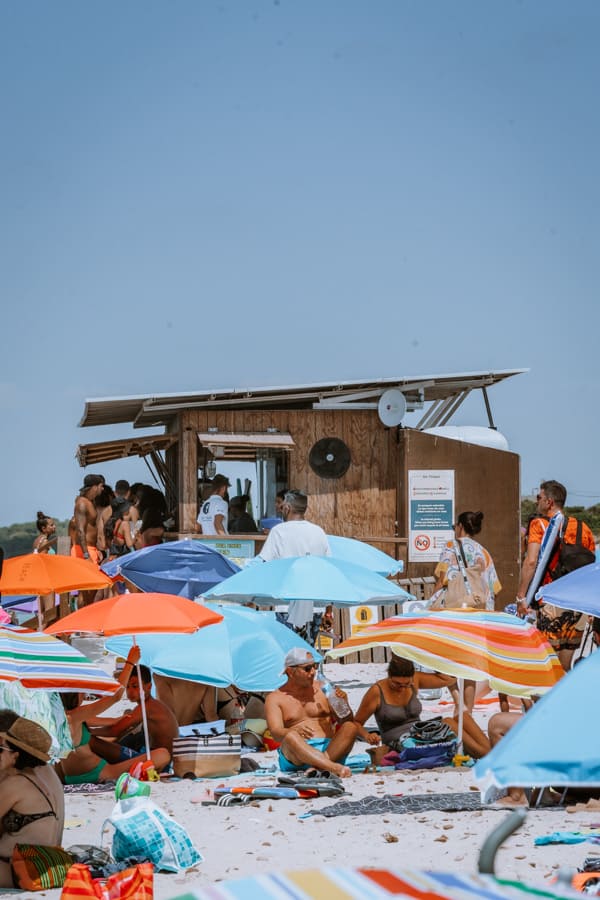 Porta Potties and No Showers
It's not all perfect as the bathrooms at the beach were quite gross and there weren't enough. There was only one bank of the porta potty style bathrooms and no showers.
The bathrooms were NOT being maintained. I would rate the porta potties a 1 out of 10 for how gross they were. (1 being the worst condition possible)
No shade at all but you can buy an Umbrella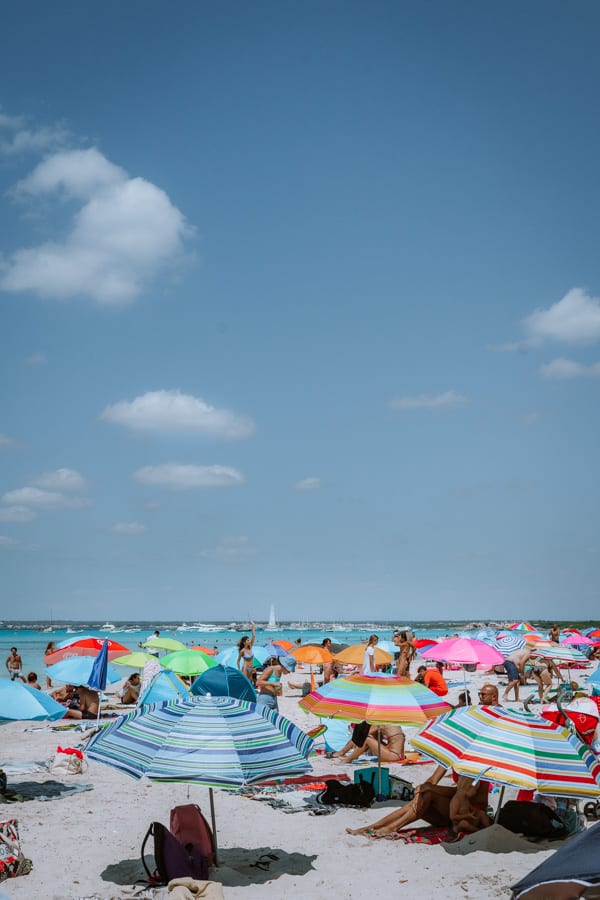 The majority of people on the beach had umbrellas since there is no shade at all anywhere near the beach.
Next Door to Trenc Badestrand
The beach is long enough that if you want to walk down to either end you can avoid the worst of the crowds. If you walk down to the left you will arrive at Trenc Badestrand (another beach).
Technically they are connected, but for some reason this part of the beach got a different name. Read more about Trenc Badestrand here.
Undeveloped Area
There is almost no development in the area. This means that your natural views stretch all the way down in both directions. Pretty much the only building is the concession stand that sits at the mouth of the beach.
This also means that there isn't a lot of shade if you are looking to escape the sun, so consider bringing your own beach umbrella.
Pros and Cons
Pros
The whitest sand you will ever see.
The bluest water
So much space
Cons
More expensive than other beaches. (Every other beach we visited in Mallorca was free.)
What to Bring to the Beach
Travel towel – So much easier to pack these quick dry microfiber travel towels than go without or be forced to buy one once there. We always travel with at least two of them.
Dry Bag – There are some lessons you just don't want to learn the hard way. Ruining your phone, camera, or other valuables at the beach is a very expensive lesson to learn. This dry bag is amazing and works for any and all water activities.
Reef-safe sunscreen – The sun here can be very strong. Make sure to wear a reef safe sunscreen or a rashguard.
Rash guard or long sleeve swim top – I wear the one from Skims and I love not having to worry about getting burned when I am out in the sun ALL DAY. Free people also has some amazing rash guards you can shop here.
Backpack or waterbottle sling – I am obsessed with my Beis travel backpack. I never travel without it. It is seriously the perfect size. Not too big, not too small. If you don't want to bring a full backpack this waterbottle sling is my absolute favorite. It fits a waterbottle, iPhone 14 pro max, plus some extra space for bars or snacks or your wallet.
Packable snacks – I always travel with these That's it bars from Amazon. OMG, they are sooo good and only have a few minimal ingredients.
Conclusion
If you are looking for a typical beach experience where you can lounge on a wide stretch of sand and then play in the water, you absolutely should visit Es Trenc Mallorca.
You can easily enjoy lounging on the wide soft sand for an entire day!
Full guides on my favorite Mallorca beaches
I have visited over 30 Calas (or beaches) in Mallorca and have full guides about all of them. From which ones are best to the parking (it can be a nightmare) to how to get down to the actually beach as a lot of them require hikes.
CALO DES MORO – This is probably the most beautiful cove beach I have ever seen. It was crowded when we went (high season) but if you go during the spring or early fall it won't be nearly as crowded.
CALA S'ALMUNIA – Amazing cliff jumping spots here. Not too high, not too small. It was just perfect in my opinion. This beach is literally a 5 minute walk from Calo des Moro. Don't miss it! It's beautiful!
CALA DES BORGIT – Amazing, lesser known beach. This may have been my favorite Cala we visited. It is much lesser known and wasn't nearly as crowded as the others.
ES TRENC – Lesser known but amazing! Es Trenc is more of a traditional beach than the others on the list (no rocks or cliffs around) but more out of the way from most of the touristy things. It was another one of my favorite beaches. The water was so blue, and the sand so white! Trust me, you don't want to miss this hidden gem.
Other Mallorca beaches we loved:
Note: We have been to every single one of these beaches. It was A LOT of work but we love it! Mallorca is one of our favorite spots to vacation in the summer. I hope you find this information helpful. Thanks so much for reading!