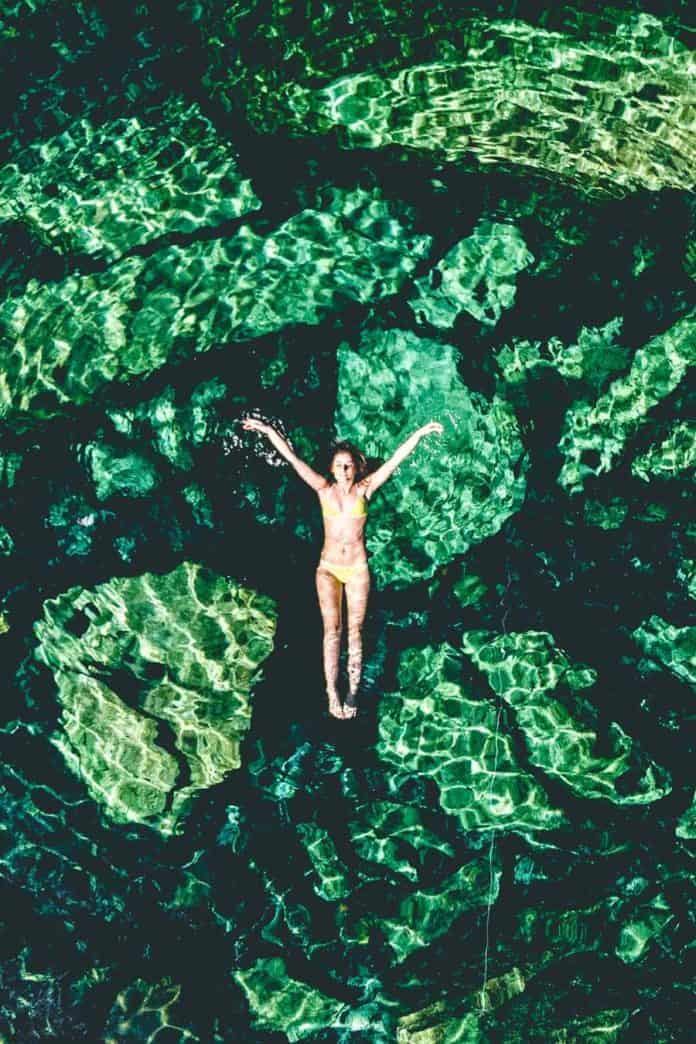 Cenotes Tulum?
Yes that is right, Tulum Mexico is not just a tropical beach vacation paradise. If you are planning on visiting the ruins of Tulum or Coba (100% recommended) what also needs to be on your list is visiting a cenote Tulum offers or a cenote Coba offers! Thankfully, there are plenty of cenotes near Tulum and they are easy to find.
Still scratching your head and wondering, what is a cenote is or why you should visit one? or even how to pronounce that word. READ HERE. Planning on visiting the ruins of Chichen Itza instead? Stay tuned for that post coming soon.
What to Pack?: Before you head off to Cancun, make sure you read my Cancun Packing List guide so you know what essentials you need to enjoy your tropical paradise.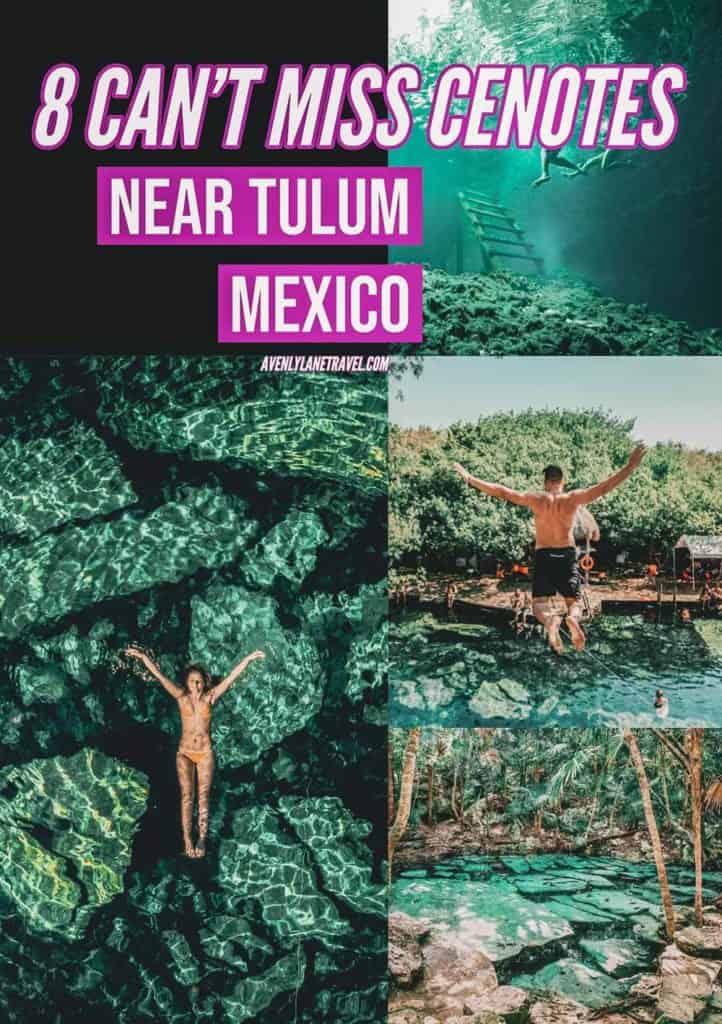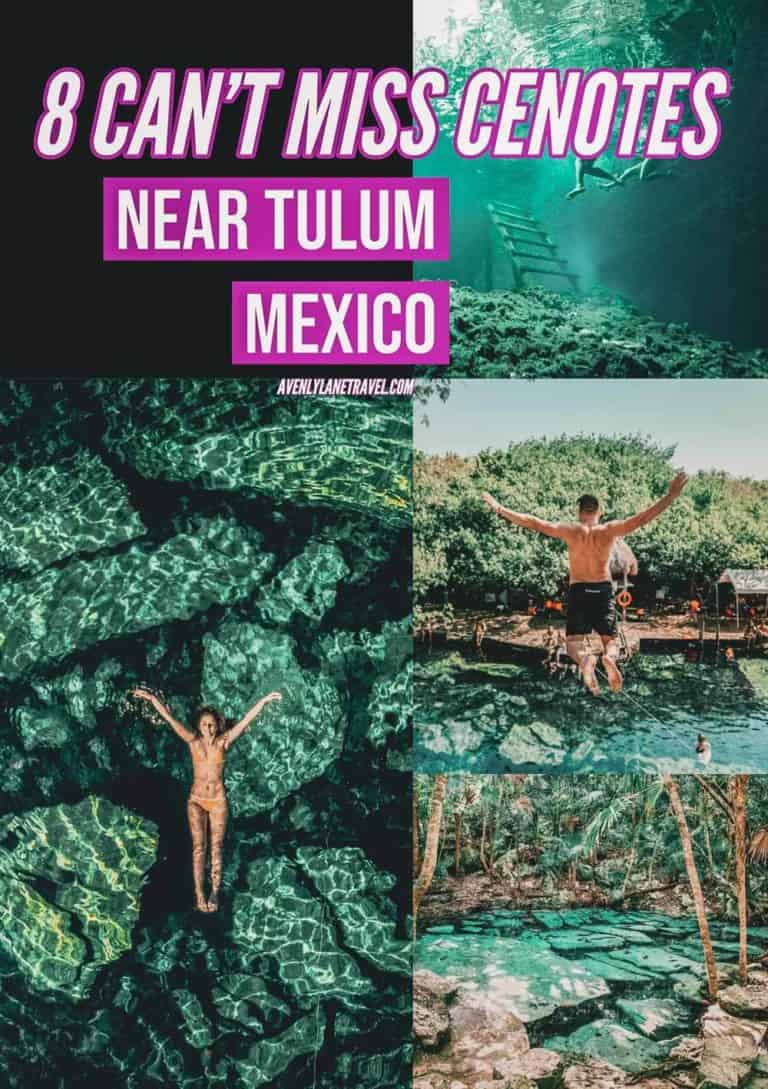 Accessing the best cenotes in Tulum
One of the best things about cenotes near Tulum is that many of them are accessible by the famous Mexican mini-busses/vans knows as the Colectivo. Though renting a car in the Yucatan is easy and affordable, it isn't an option for everyone.
The minibus (or Colectivo) is super cheap and relatively easy to figure out pricing and routing from Playa del Carmen to the best cenotes in Tulum (and surrounding areas).
Types of cenotes Riviera Maya (Tulum region) Offers
Though there are a lot of cenotes, there are really only 3 main kinds . Open air, cave, and combination (basically half open and half cave). Since many cenotes are similar, you do not need to visit all of them. Near Tulum, you can easily visit one of each.
Cost: Cenotes Cancun
A cenote tour typically entails you paying admission at the front, and then walking in yourself to the swimming hole. Tour guides are sometimes available, but I recommend skipping.
We paid for one and felt like the information was basically the same as reading the wikipedia page on each. One of the best things about all of the cenotes Cancun offers is that they only cost about 5 USD/100 MXN.
Some of the best Cenotes near Tulum worth knowing about are…
Gran Cenote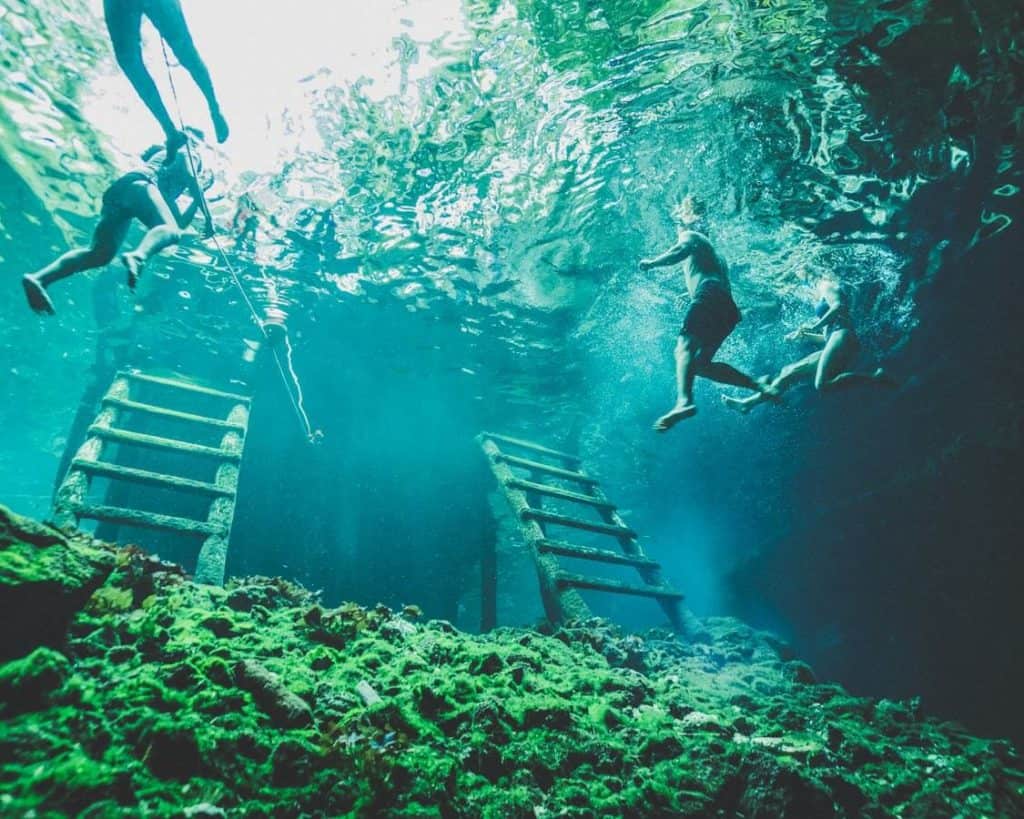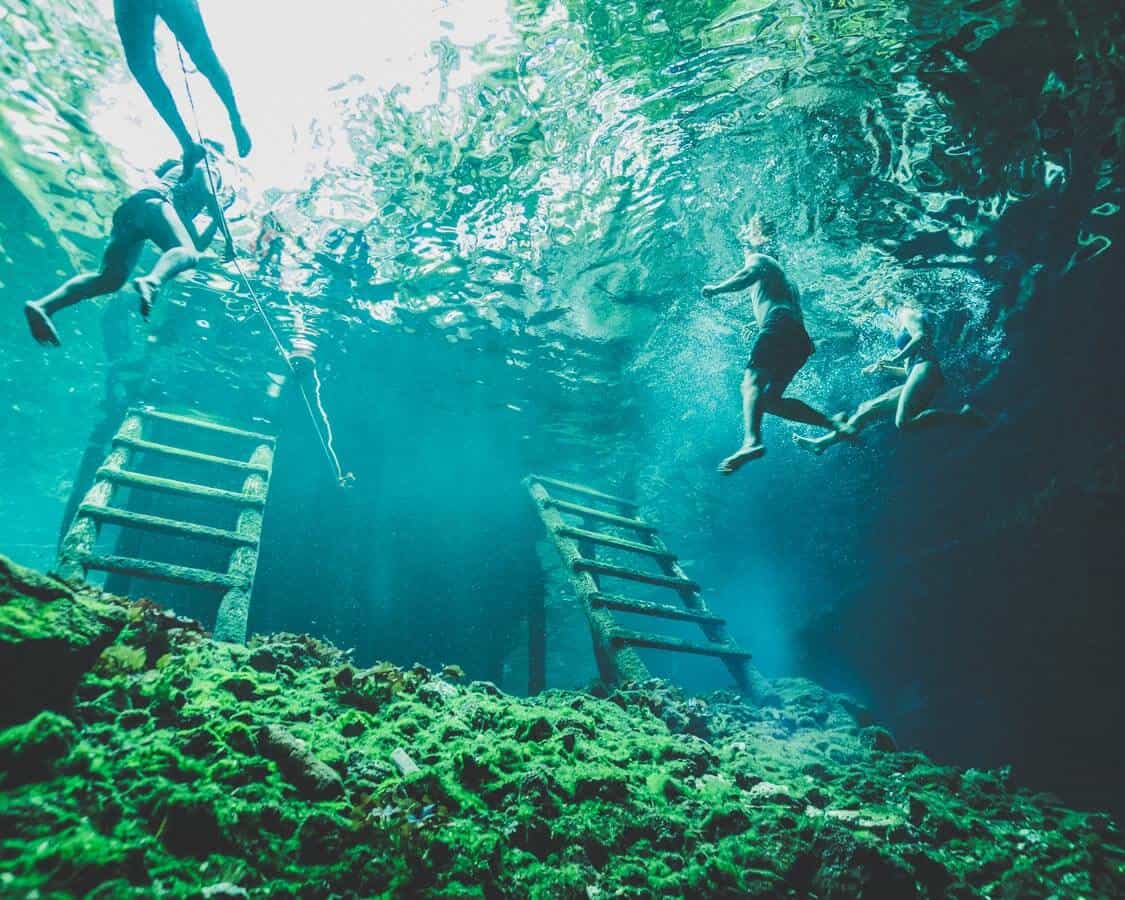 Gran Cenote – translation, the Great Cenote
Gran Cenote Tulum lives up to its name since it is one of the bigger cenotes, though it doesn't always seem huge because it meanders through the jungle. It varies from open to partial cave, and features the clear refreshing water you hope for.
With it being well known and easily accessible from Tulum, it can get crowded, though its size helps it feel not overrun. Its meandering layout makes it great for snorkeling or diving.
Three in one compact area – saving travel time
Cenote Azul, Cenote Jardin del Eden, and Cenote Cristalino are all right next to each other (though not the same entrance). If you only have a little bit of time to quickly explore, then I recommend going here, otherwise I think there are better cenotes to see.
For ease of access, these cenotes are all located immediately off the main highway, making them an easy stop for the Colectivo, and you won't have the risk of not being able to find a ride back.
Cenote Azul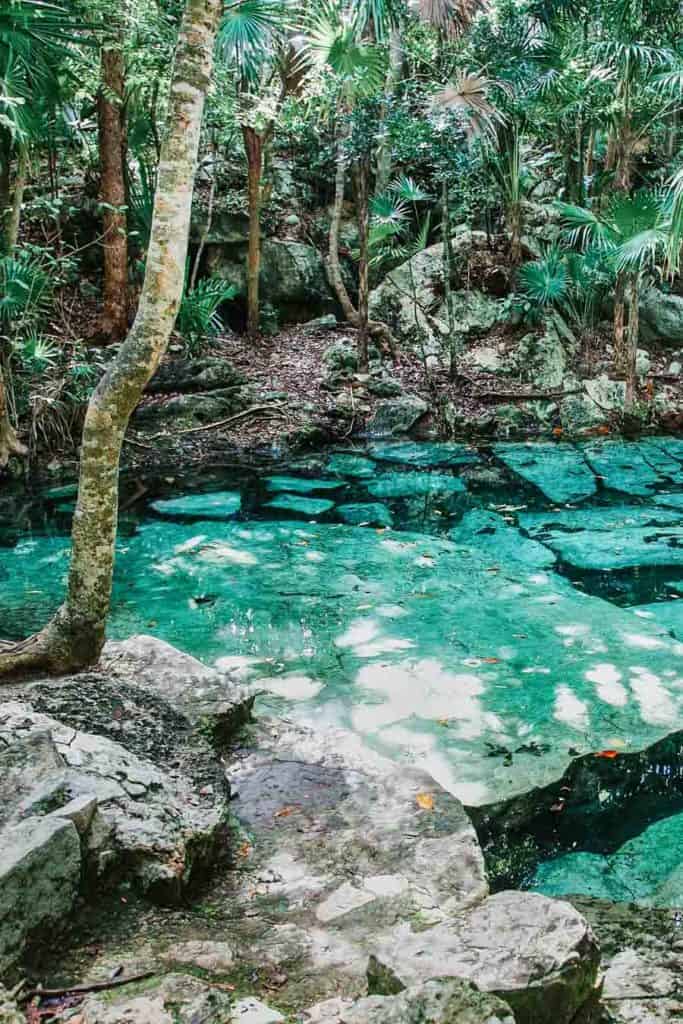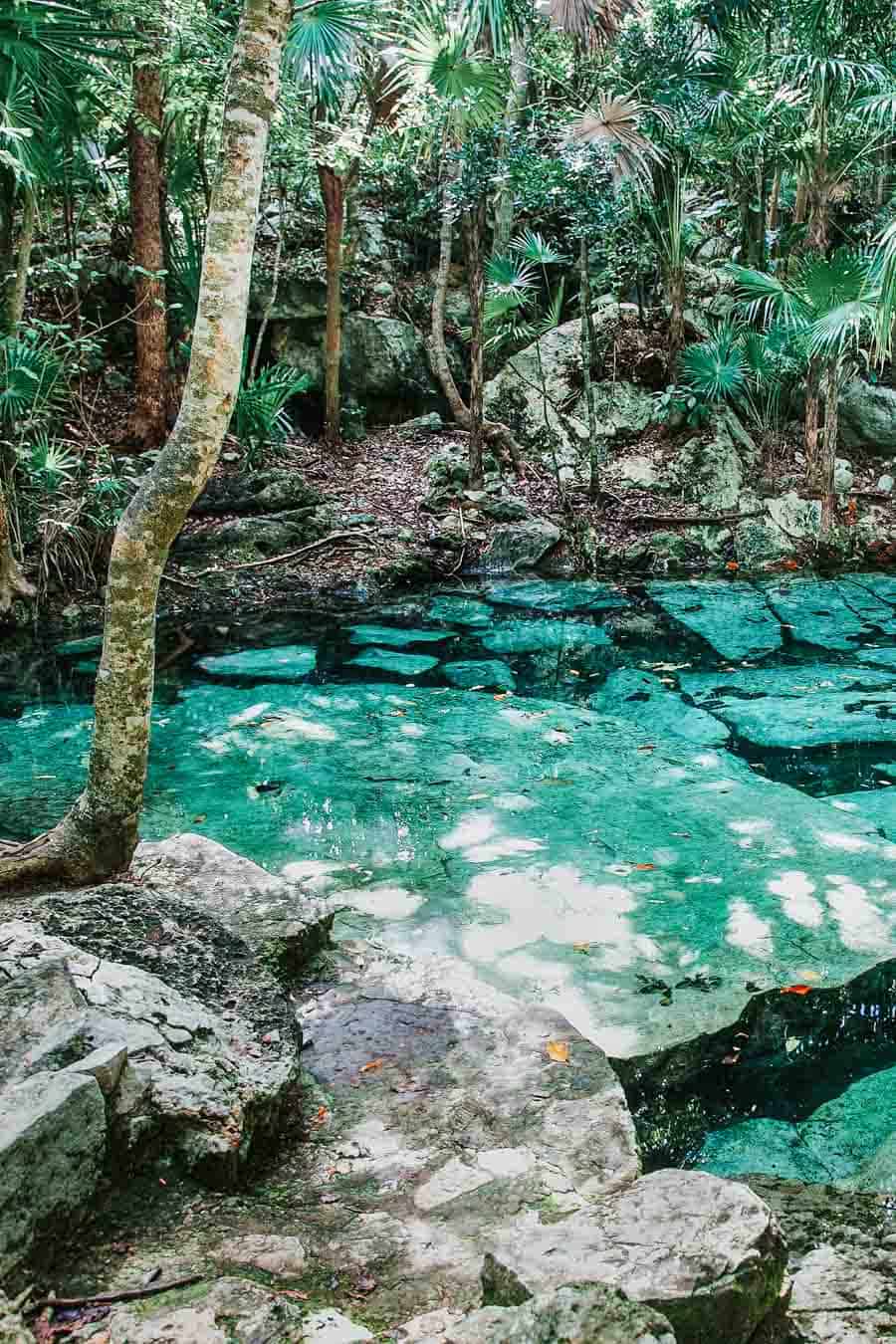 Cenote Azul – translation, Blue Cenote
This open air cenote is located right off the main highway, between Tulum and Playa del Carmen. Its name accurately describes what you will find, clear blue water that is also refreshing.
It is not as deep as some of the other cenotes, so if you aren't a strong swimmer or are planning on visiting with kids, this is a great option.
Cenote Jardin del Eden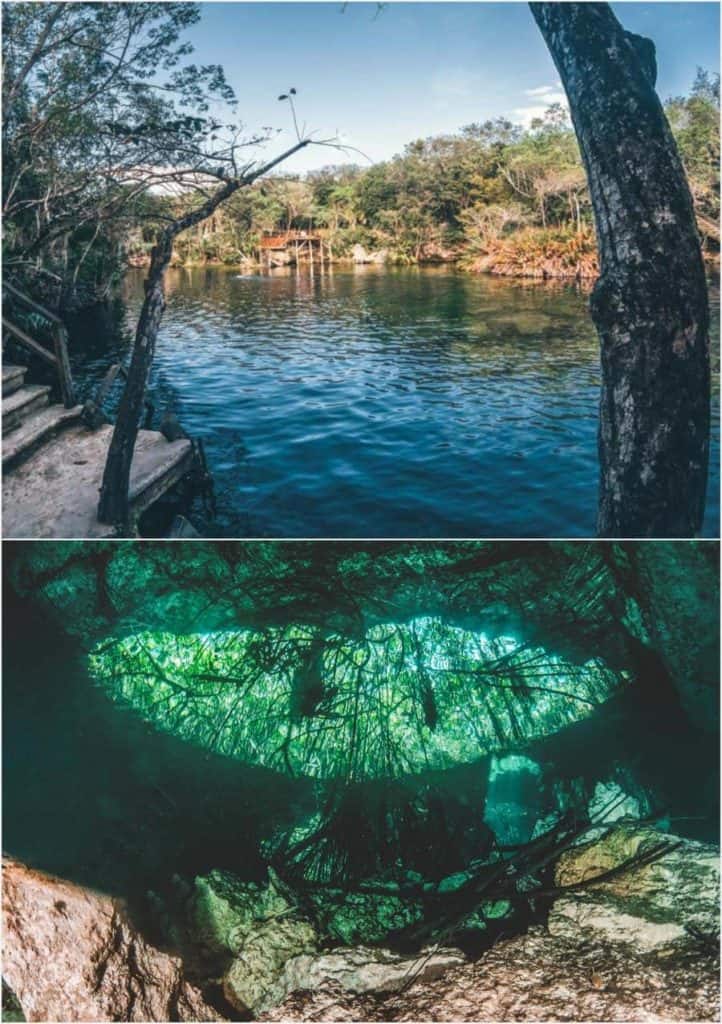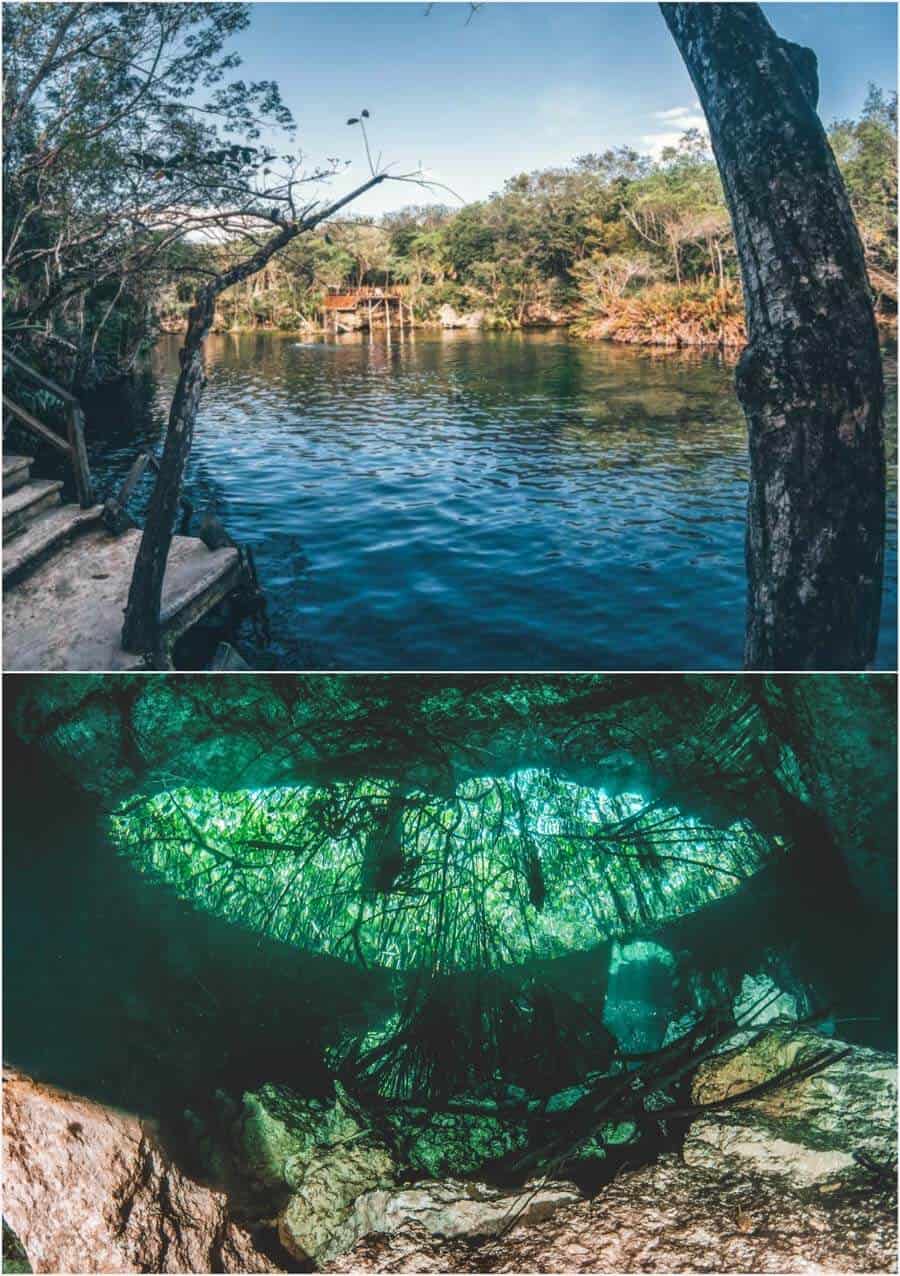 Cenote Jardin del Eden – translation Garden of Eden Cenote
Once again the name describes what you will find (though a cenote Mexico name will not always tell you what to expect – see Cenote Carwash). The lush vegetation surrounding Cenote Jardin del Eden is a perfect contrast to the clear blue waters.
This open cenote features lots of fish that will nibble the dead skin off your feet if you sit still for long enough. You will find most of the people at this cenote gathered on top of a cave/rock wall jumping into the water.
Cenote Cristalino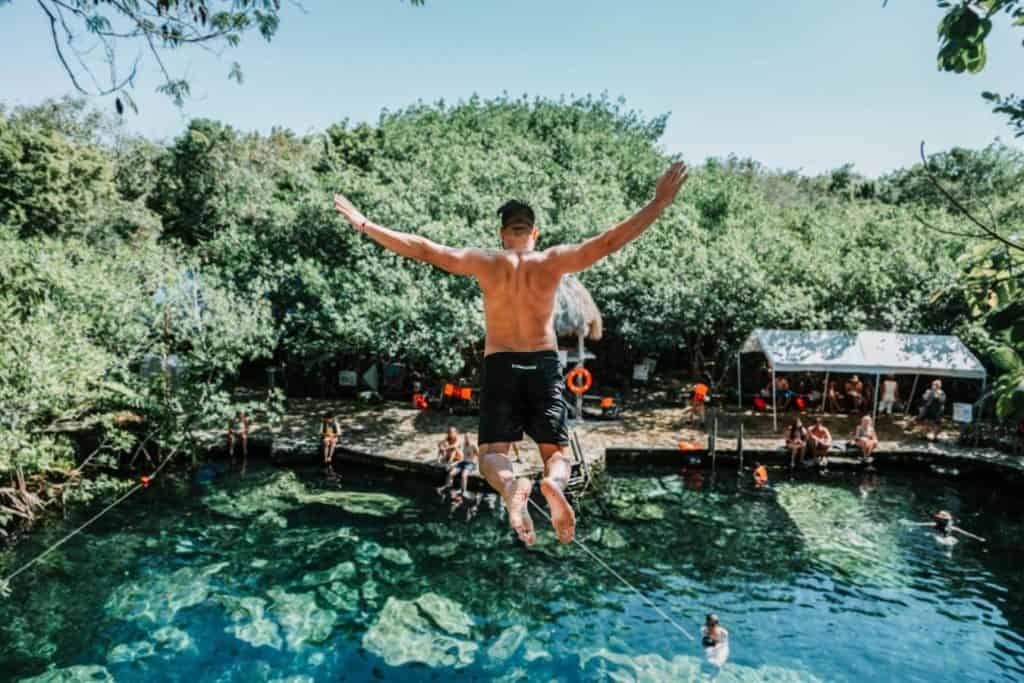 Cenote Cristalino – translation Crystal Cenote
This mostly open cenote is the least busy of the three in its immediate area. It is very similar to Jardin del Eden, but on a smaller scale.
I think the best part of it is that you can swim through a cave connecting parts of the cenote.
Cenotes Coba Offers – Three in one – (my favorite) – Cenote Choo-Ha, Cenote Tamach-Ha, and Cenote Multun-Ha
Even though these Coba cenotes are not as close to the highway as some of the others, I highly recommend visiting them to see the cave formations. They are located 10 minutes from the Coba ruins, so you barely need to detour at all to visit a Coba cenote.
You may also be interested in reading: Fun Things to do in Cancun
Also, given that they aren't immediately off of the main highway, they are not as crowded as some of the others, though you will want to make sure you figure out your transportation ahead of time.
The thing I love most about these three, is that they are cave cenotes while most others in the area are open air or only a combination.
Cenote Choo Ha
Cenote Choo Ha is a smaller cave cenote, but is still absolutely gorgeous. There is no cliff jumping and the water isn't that deep, but the clear water contrasted with the stalagtites overhead is a photographer's dream.
Cenote Tamcach Ha
This is the biggest of the three cave cenotes, and is where you are likely to find the most people jumping off of a cliff into the water. It is still beautiful, but you aren't going to find the detailed stalagtites and stalagmites of Choo-Ha.
Cenote Multun Ha
This cave cenote is the least visited of the three, but also gives you the best chance to be able to have it yourself. The clear water is refreshing if you want to swim, but it lacks the detailed rock formations of Choo-Ha and the cliff jumping of Tamcach-Ha.
Cenote Dos Ojos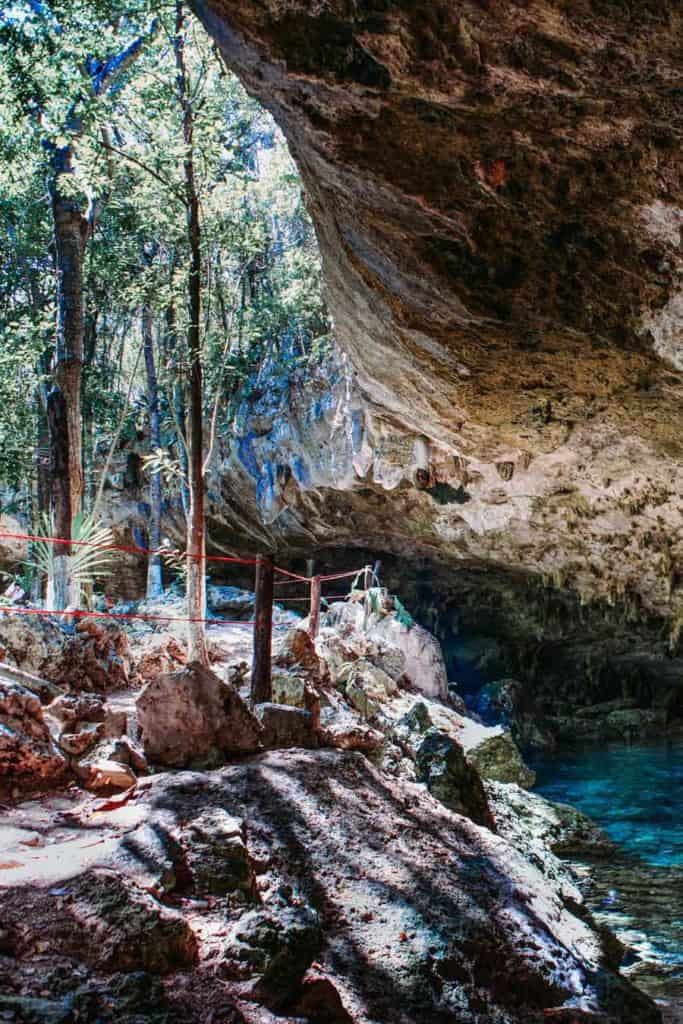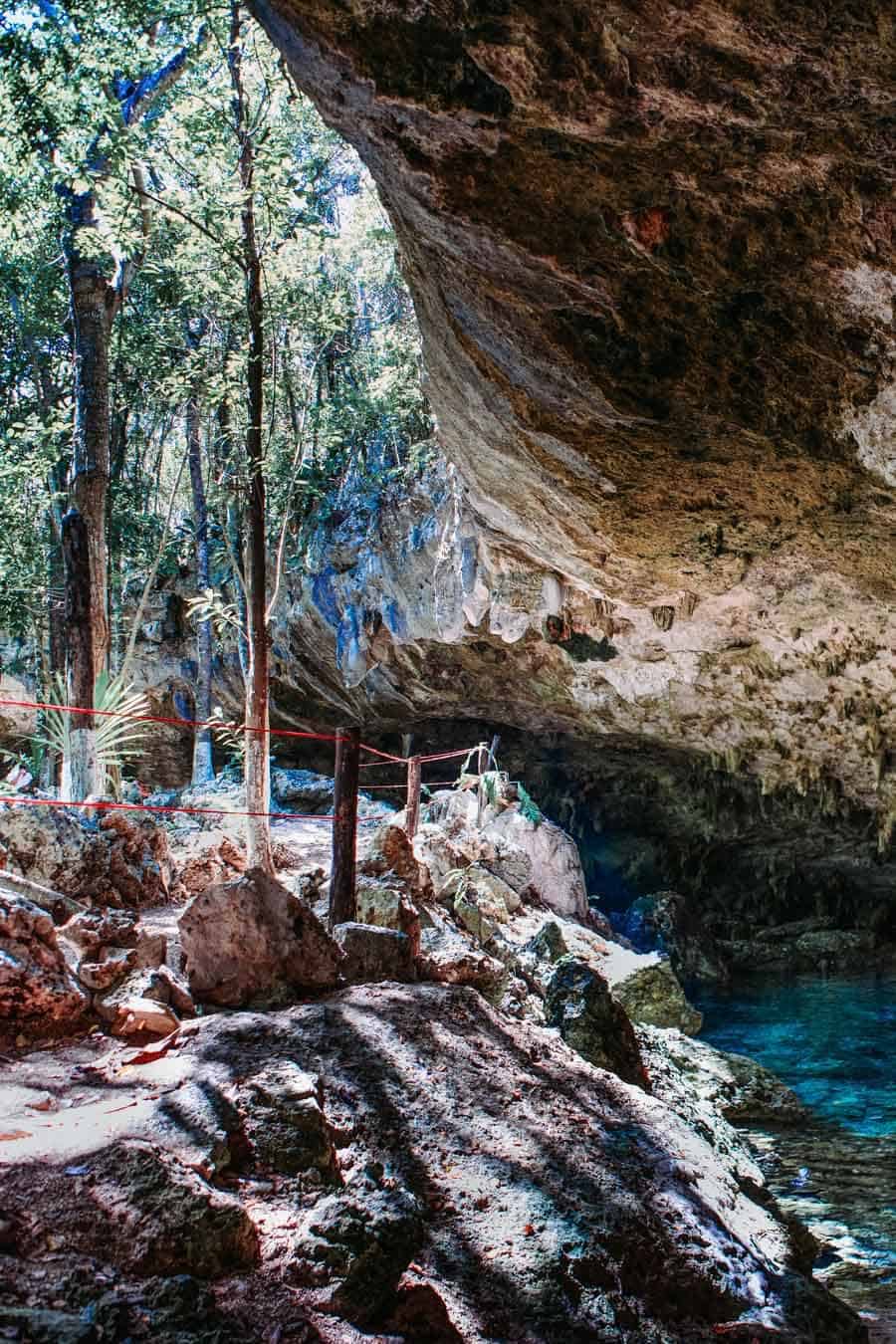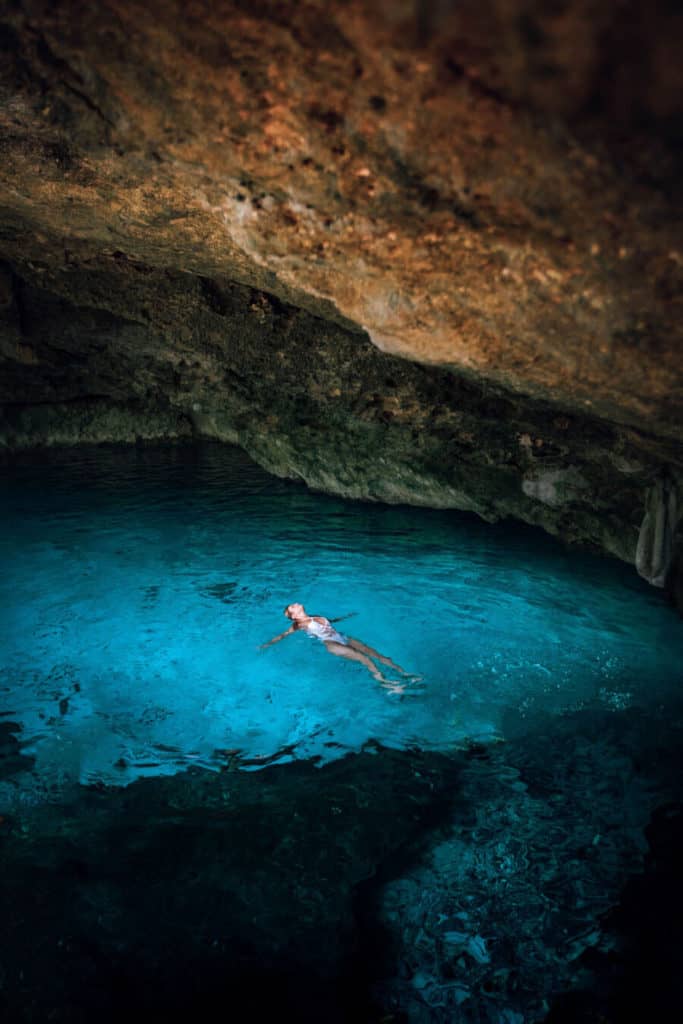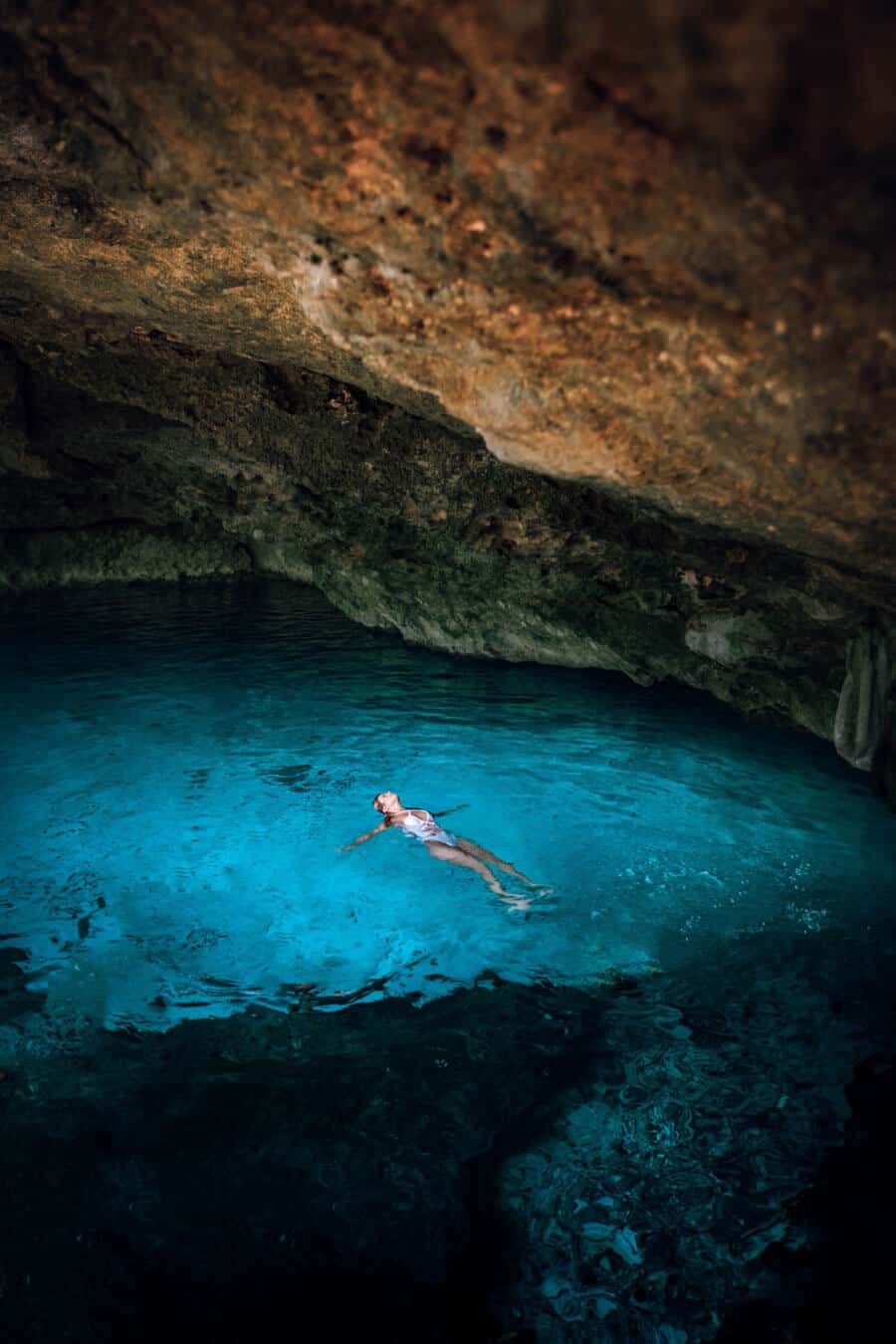 Cenote Dos Ojos – translation Two Eyes Cenote
Another extremely popular cenote close to the main highway between Tulum and Playa del Carmen is Cenote Dos Ojos. This cenote is especially popular with divers as there is a cave connecting the "two eyes".
Even if you aren't a diver you can still enjoy swimming in the combination of overhead caves and open air. It is easy to see why this is on of the most popular cenotes in the area. It gives a full breadth of cenote types in one area.
Get there early or stay late to avoid the crowds!
Have you been to any other cenotes in the area that should be added?