If you are wondering where to find the best cenote Mexico has to offer that is also a cenote near Chichen Itza, then you have to consider Cenote Suytun. This cenote has stunning features as well as less crowds (we had the entire place to ourselves in the morning).
Even though this cenote has less crowds than some others, gorgeous shots all over Instagram guarantee it still gets packed! Even with the crowds, this cenote is even better in person.
This post will tell you how to get there, what to expect once you arrive, and even how to avoid the crowds.
What to Pack?: Before you head off to Cancun, make sure you read my Cancun Packing List guide so you know what essentials you need to enjoy your tropical paradise.
Cenote Suytun – Our Favorite Cenote in Mexico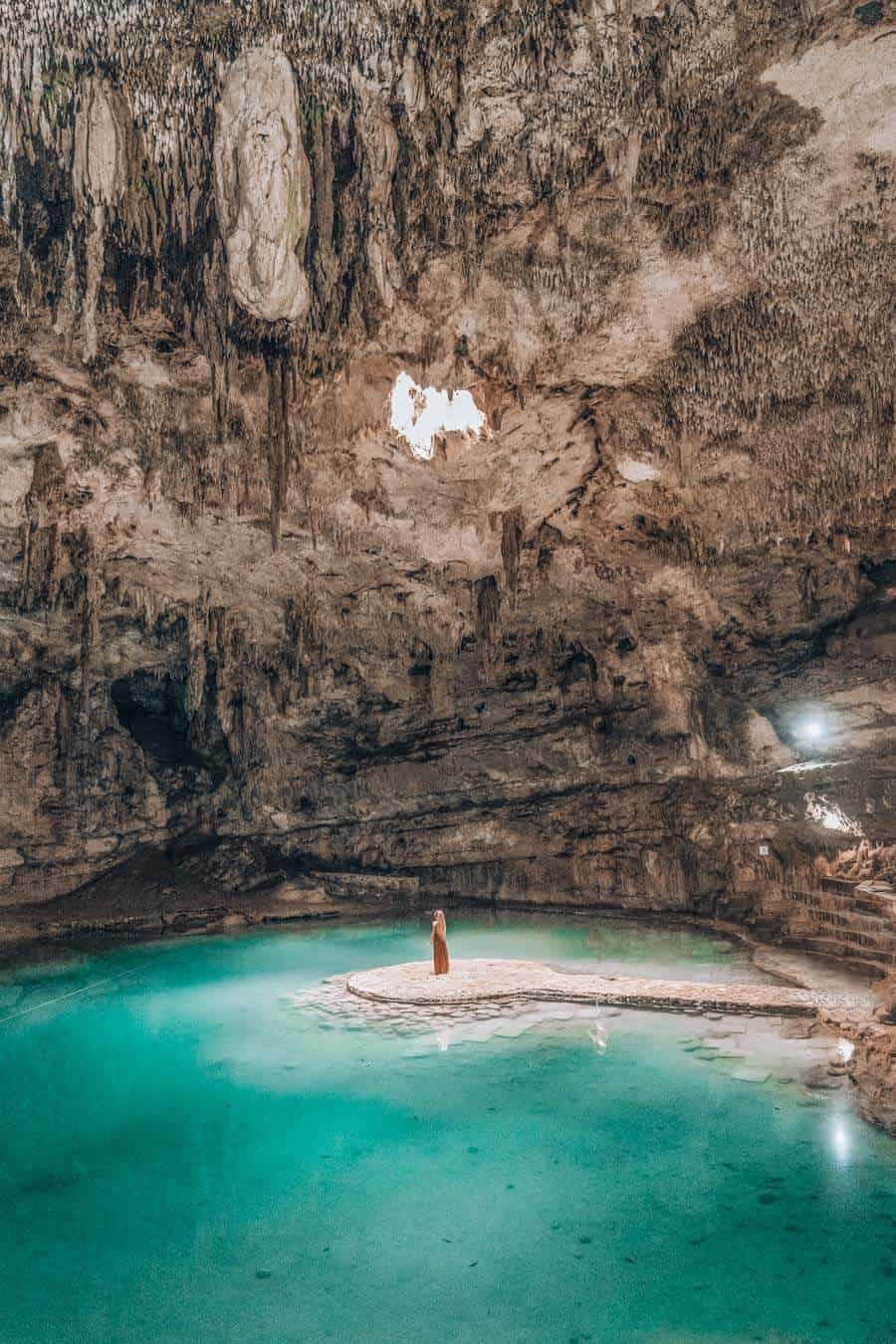 There are a ton of great cenotes in the Yucatan area, (Not sure what a cenote is? Check out our article here.) After visiting tons of different cenotes our favorite in the Cancun area was Cenote Suytum near Valladolid Mexico.
This underground cenote is a photographer's dream and the perfect place to escape for a cool swim (or snorkel, but isn't deep enough for diving).
The location might seem like it's in the middle of nowhere, (it's about 1 hour and 45 minutes driving from Cancun) but it is on the way to other hot spots in the Yucatan Peninsula.
Cenote Suytun is an underground cave with a manmade platform built into the middle. The most prominent feature is the single beam of light that shines into the cave through a hole in the top. At midday, when the sun is directly overhead the beam lights up the platform.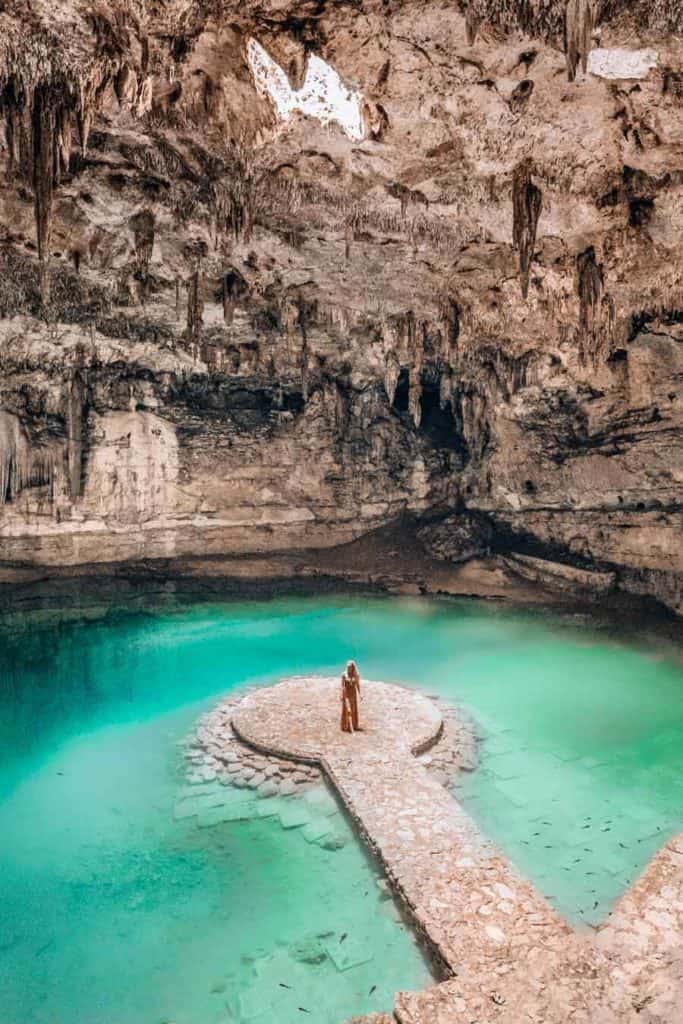 The cool waters of this cenote make for the perfect escape from the sweltering Cancun sun. When inside, it is easy to see why the Maya considered cenotes sacred. When crowded, people shriek and do cannonballs into the water, but when it was almost empty many people seemed to reverence the location by whispering.
Where is Suytun Cenote Located?
It takes about 1 hour and 45 minutes to drive to this cenote from Cancun. While that may seem like a long trip, it is barely out of the way if you are planning a Chichen Itza tour or climbing on the ruins of Ek Balam (highly underrated).
From the Cancun Hotel Zone the drive follows an incredibly well maintained highway that is almost perfectly straight. You can even work this cenote in to a trip from Tulum or Coba with only 1 hour and 20 minutes of extra driving. While busses and taxis are available, I HIGHLY recommend renting a car in Cancun – read why here.
When you arrive you pay your admission fee (120 pesos) and walk into a gift shop. Nothing there caught my eye, but immediately after you see people performers dressed in traditional Maya costumes.
You can pay for pictures with the performers, or if you are there at the right time of day (usually mid-day) you can even see them do a traditional Maya show on the cenote platform.
Tips to Avoid the Crowds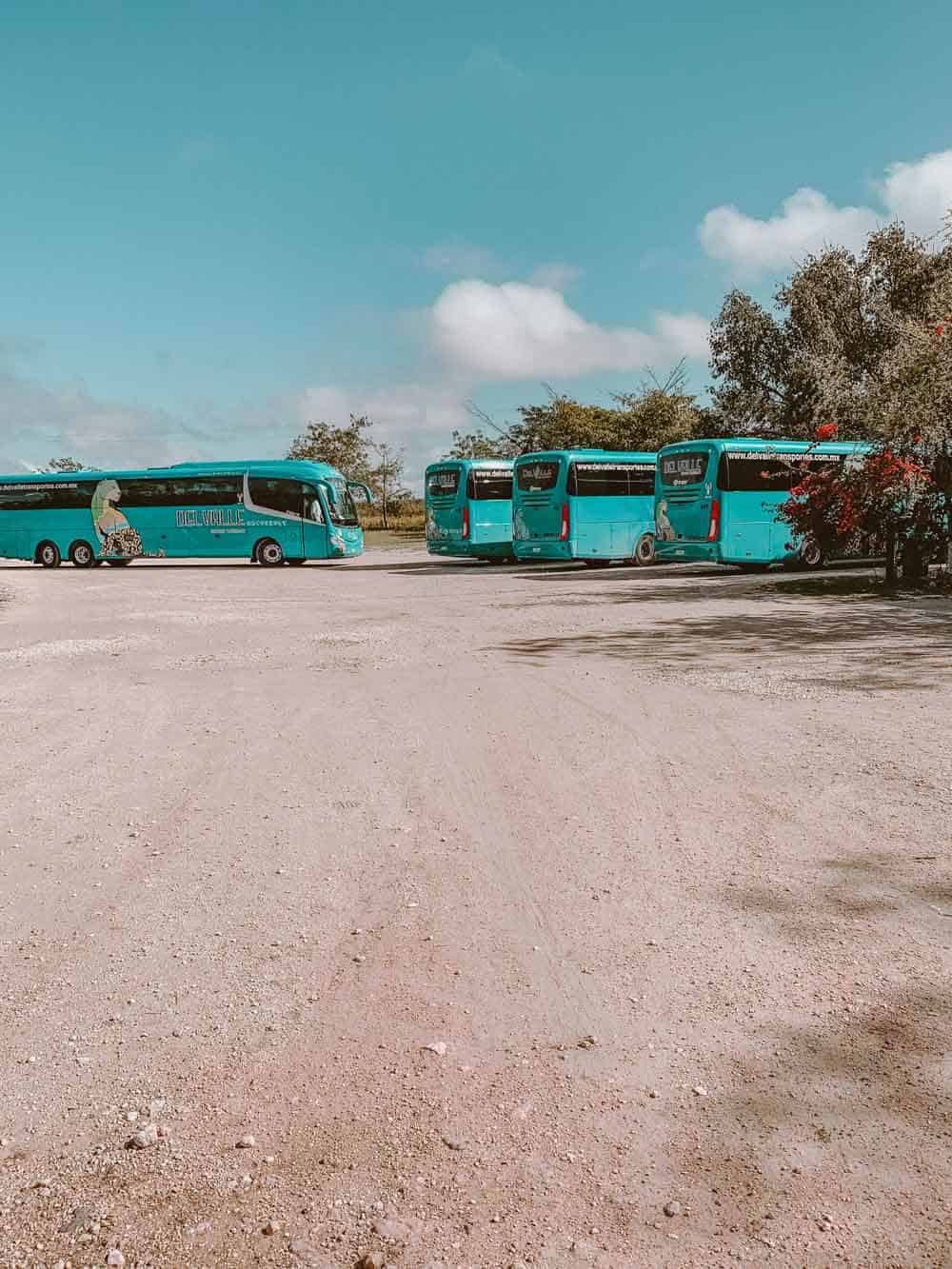 This cenote isn't located right next to one of the big tourist spots like Chichen Itza or Tulum. This actually helps it be less crowded that other cenotes (like Cenote Ik Kil). That being said, don't think you'll have it to yourself without some very careful planning.
If you want to avoid the crowds or get the perfect Instagram shot, then you have to rent a car and drive yourself. Get there early before the tour buses arrive. Note, there is a time change between Cancun and the Valladolid area. This means that you will have to leave Cancun even earlier to get there at opening.
There are a number of Chichen Itza tour buses that stop here, but most of them are in and out quickly. If you do go with a tour you are virtually guaranteed to be there with at least a full bus full of people.
To get it to yourself show up when they open, or when they are about to close. We got there first thing in the morning and were basically alone. Also, avoid the weekend days if you can as there are more people making the trek.
How Much Does It Cost?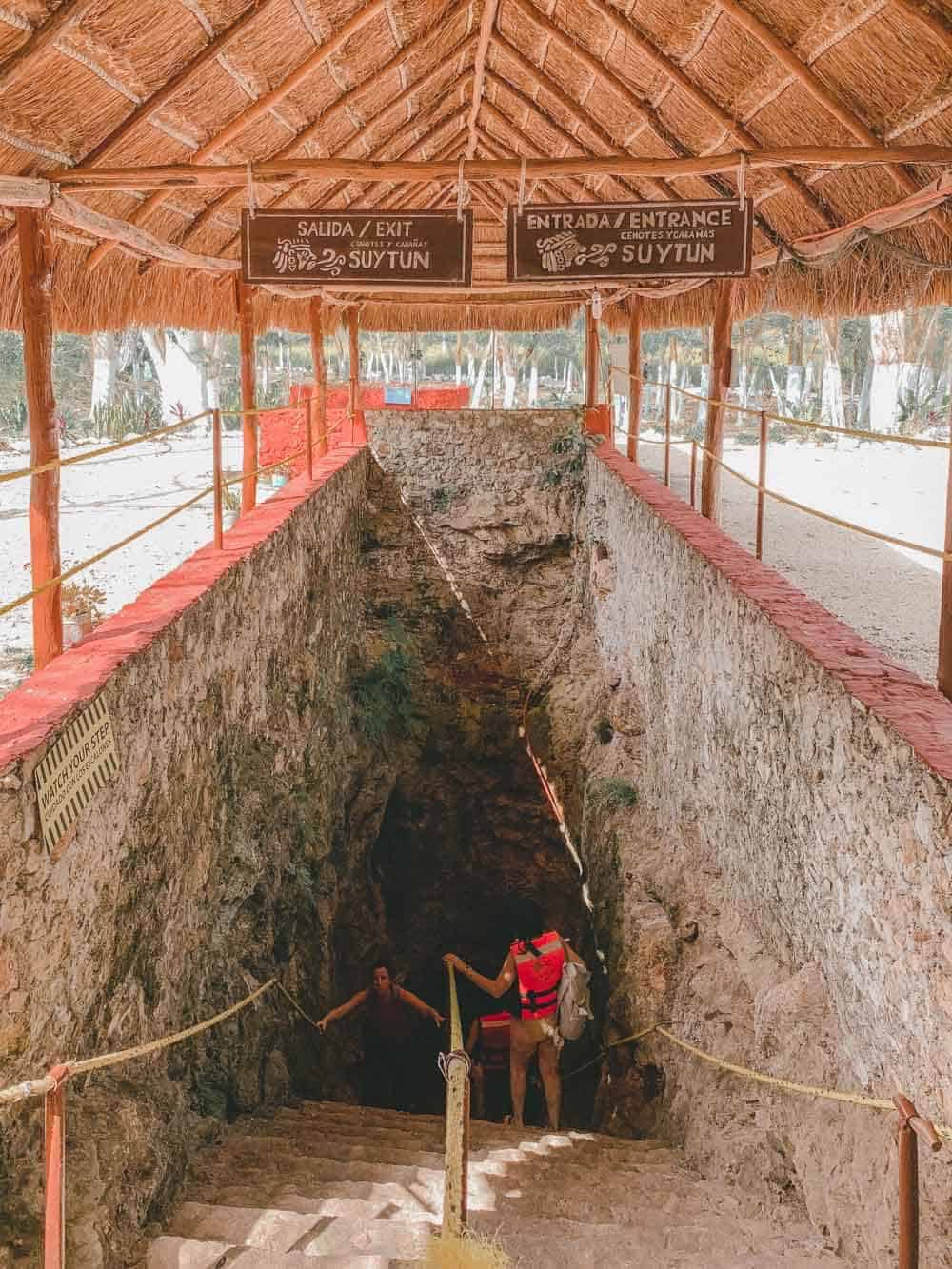 The cost was only about $4 per person (70 pesos) a couple years ago, but given its growing popularity that price is now about $6.00 per person (120 pesos). Even if you don't stay long it is not going to set back your budget too much.
This price covers the cost of 2 cenotes in the complex – most people don't even realize there is a second cenote in the same complex so be sure to check out the smaller one before leaving (just don't expect it to be as breathtaking as Suytun).
What are the hours of Cenote Suytun?
The hours of each cenote can change, but generally cenotes are open from 9 am to 5 pm. Cenote Suytun is open from 8 am to 7 pm. These hours make it even easier to tack it on before or after seeing some of the other area hot spots. I would plan on spending at least 1 hour there. Once again, make sure you check before you go.
Facilities
A couple other quick details to help you plan your trip there. When you pull up parking is free and close to the entrance. After paying your admission there are restrooms and a gift shop available. It isn't a long walk to the cenote, only about a hundred yards. You can rent a life jacket if you want to swim at the top of the dark staircase that leads down into the cenote.
Check out my video 1 minute on YouTube on Cenote Suytun below!
Pin it for later!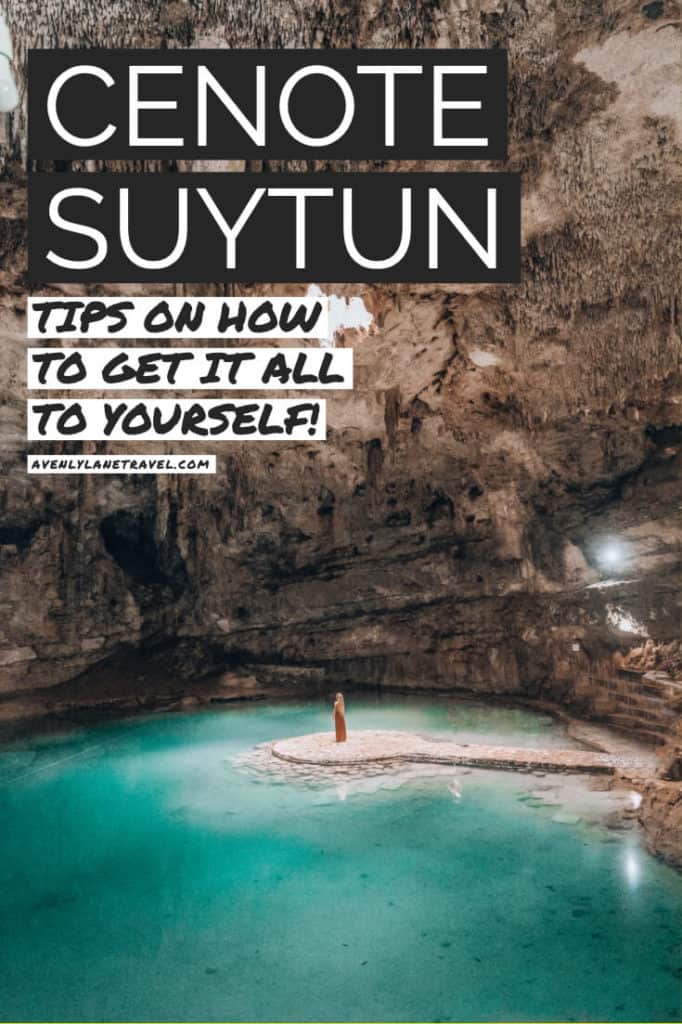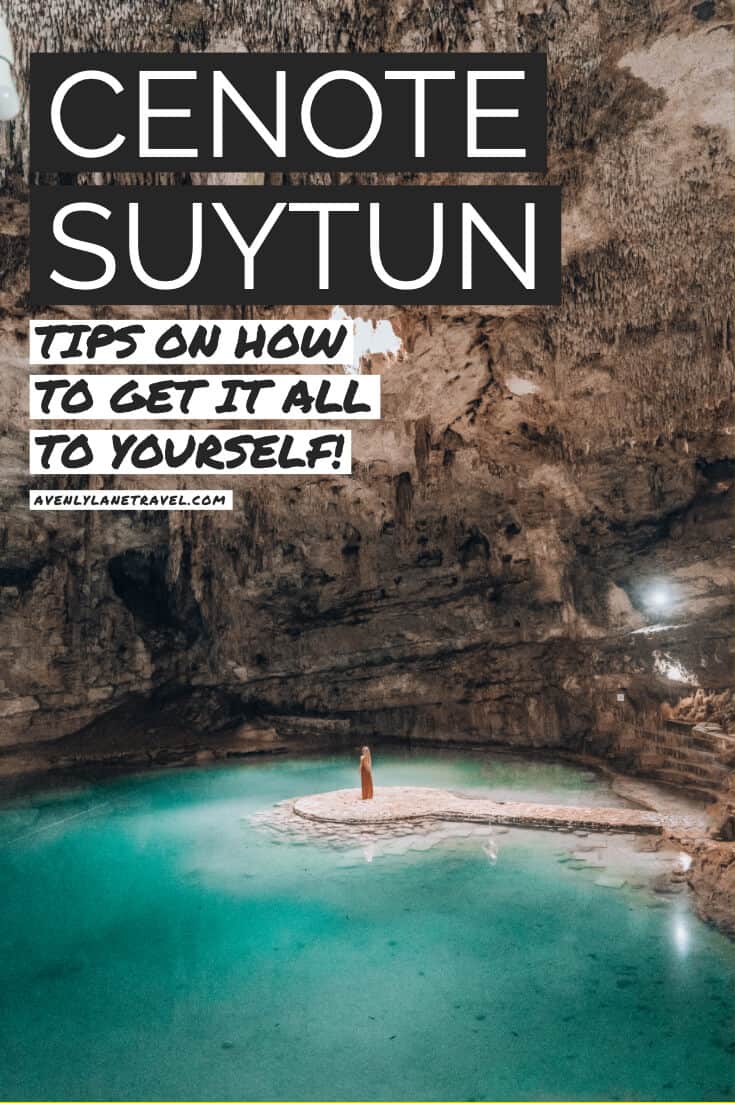 Of all the cenotes Cancun has to offer, which one was your favorite, or which one do you most want to go to?