If you are wondering where to find the best cenote Mexico has to offer that is also a cenote near Chichen Itza, then you have to consider Cenote Suytun. This cenote has stunning features as well as less crowds.
This post will tell you how to get there, what to expect once you arrive, and even how to avoid the crowds.
Our Favorite Cenote in Mexico – Cenote Suytun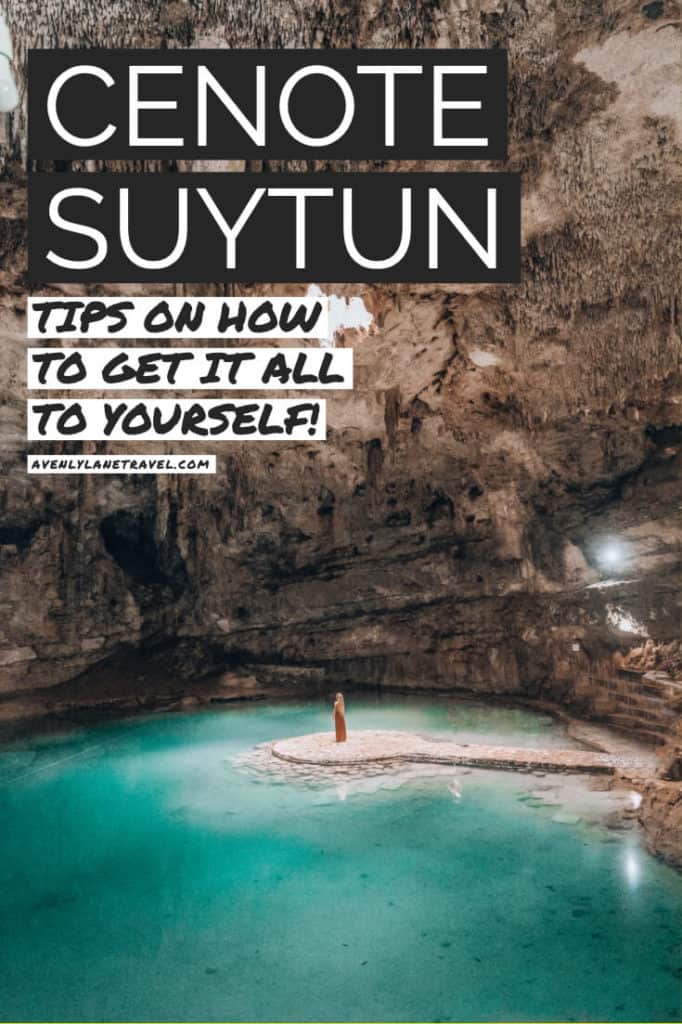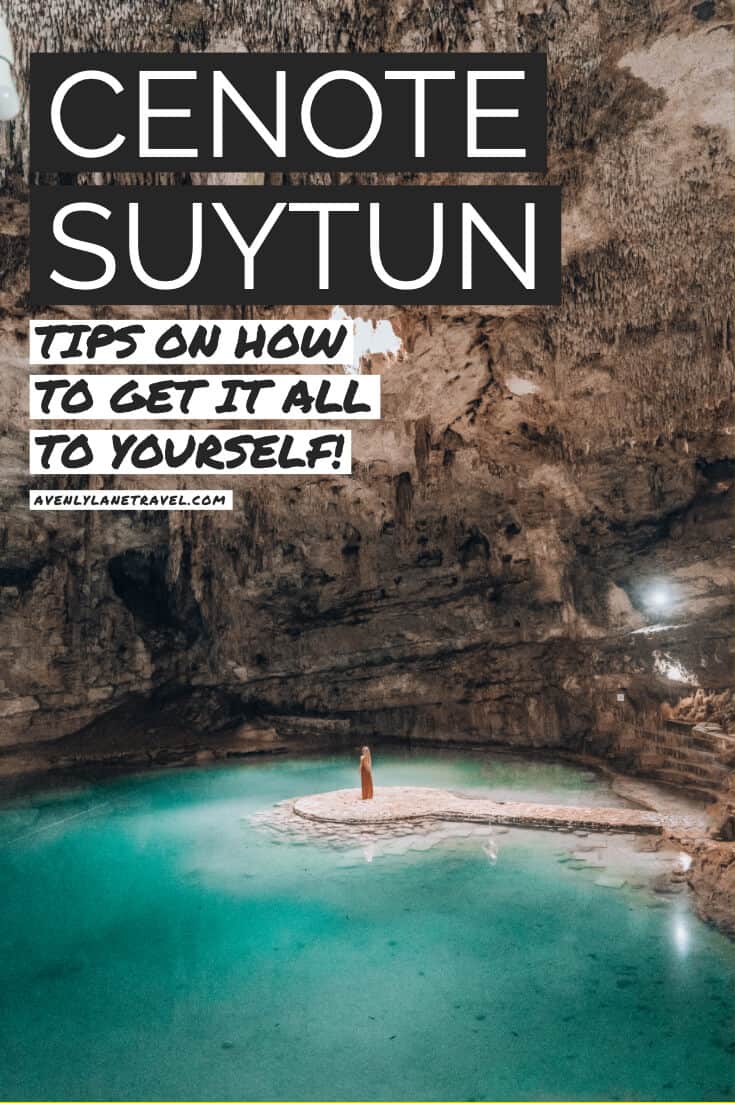 There are a ton of great cenotes in the Yucatan area, (what is a cenote). After visiting tons of different cenotes our favorite in the Cancun area was Cenote Suytum near Valladolid Mexico.
This underground cenote is a photographer's dream and the perfect place to escape for a cool swim. The location might seem like it's in the middle of nowhere, (it's about an hour and 45 minute drive from Cancun) but it is on the way to other hot spots in the Yucatan Peninsula.
Suytun is an underground cave with a manmade platform built into the middle. The most prominent feature is the single beam of light that shines into the cave through a hole in the top. At midday, when the sun is directly overhead the beam lights up the platform.
The cool waters of this cenote make for the perfect escape from the sweltering Cancun sun. When inside, it is easy to see why the Maya considered cenotes sacred. When crowded, people shriek and do cannonballs into the water, but when it was almost empty many people seemed to reverence the location by whispering.
Where is Suytun Cenote Located?
It takes about 1 hour and 45 minutes to drive to this cenote from Cancun. While that may seem like a long trip, it is barely out of the way if you are planning a Chichen Itza tour or climbing on the ruins of Ek Balam (highly underrated).
From the Cancun Hotel Zone the drive follows an incredibly well maintained highway that is almost perfectly straight. You can even work this cenote in to a trip from Tulum or Coba with only 1 hour and 20 minutes of extra driving.
When you arrive you pay your admission fee and walk into a gift shop. Nothing there caught my eye, but immediately after you see people performers dressed in traditional Maya costumes.
You can pay for pictures with the performers, or if you are there at the right time of day (usually mid-day) you can even see them do a traditional Maya show on the cenote platform.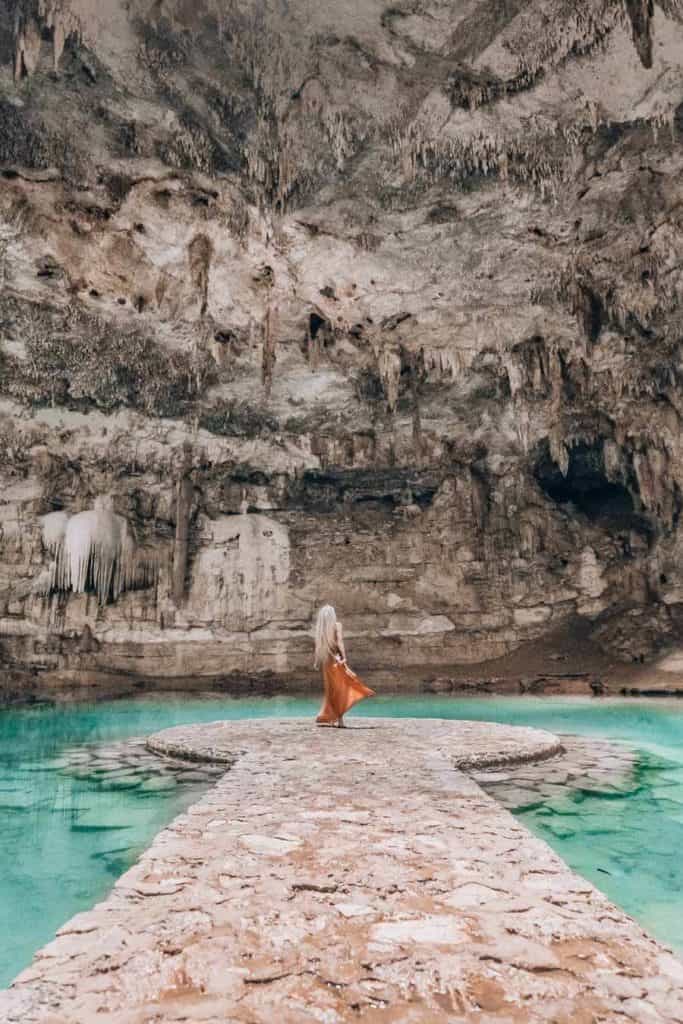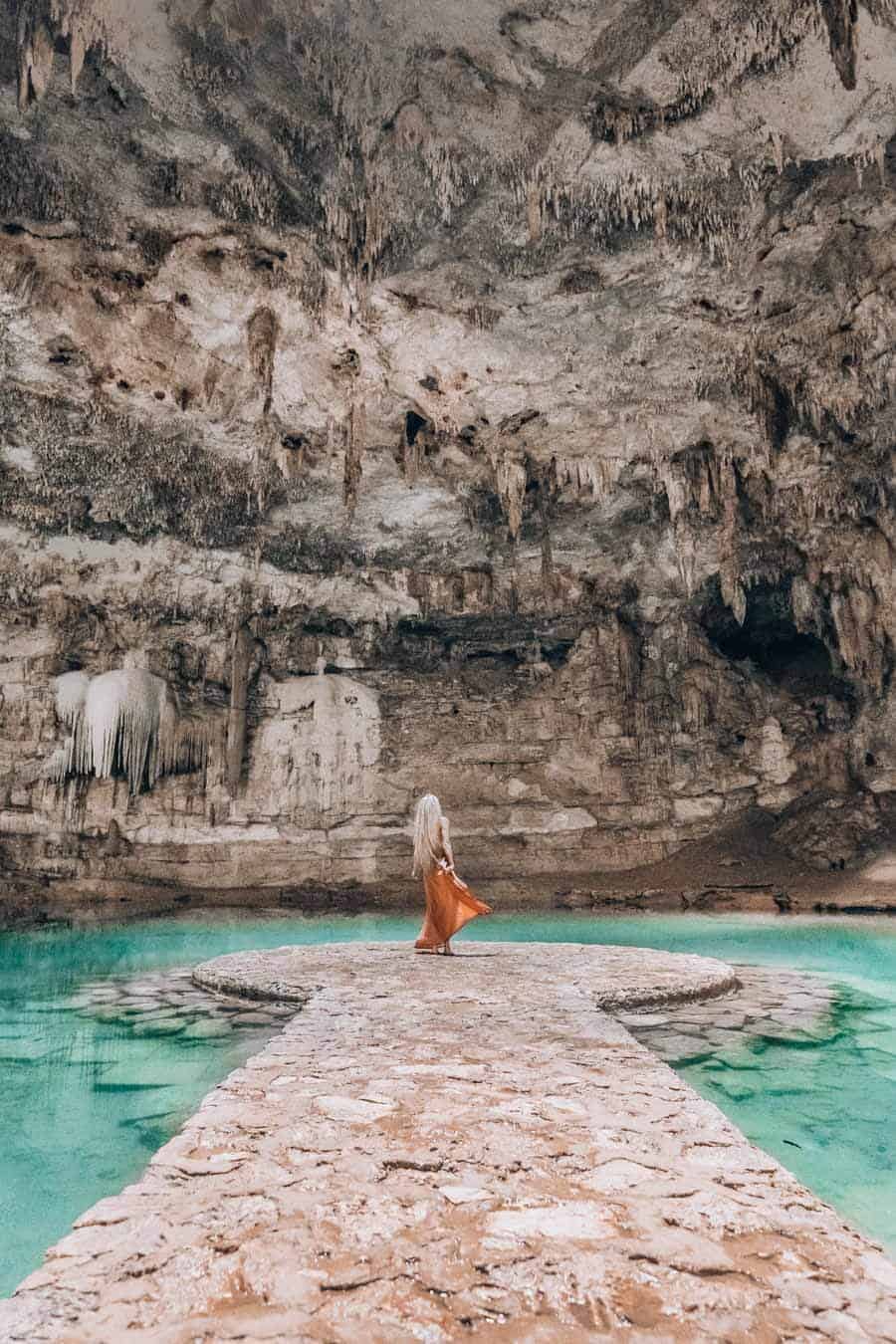 Tips to Avoid the Crowds at the Suytun Cenote
This cenote isn't located right next to one of the big tourist spots like Chichen Itza or Tulum. This actually helps it be less crowded that other cenotes (like Cenote Ik Kil).
If you want to avoid the crowds or get the perfect Instagram shot, then you have to drive yourself. There are a few Chichen Itza tour buses that stop here, but most of them are in and out quickly. If you do go with a tour you are virtually guaranteed to be there with at least a full bus full of people.
To get it to yourself show up when they open, or when they are about to close. We got there first thing in the morning and were basically alone.
Hours and Cost
The hours of each cenote can change, but generally cenotes are open from 9 am to 5 pm. Cenote Suytum is open from 8 am to 7 pm. These hours make it even easier to tack it on before or after seeing some of the other area hot spots. The cost was only about $4 per person (70 pesos), so even if you don't stay long it is not going to set back your budget.
Of all the cenotes Cancun has to offer, which one was your favorite, or which one do you most want to go to?